Honest Review: Stanly Ranch, Auberge Resorts Collection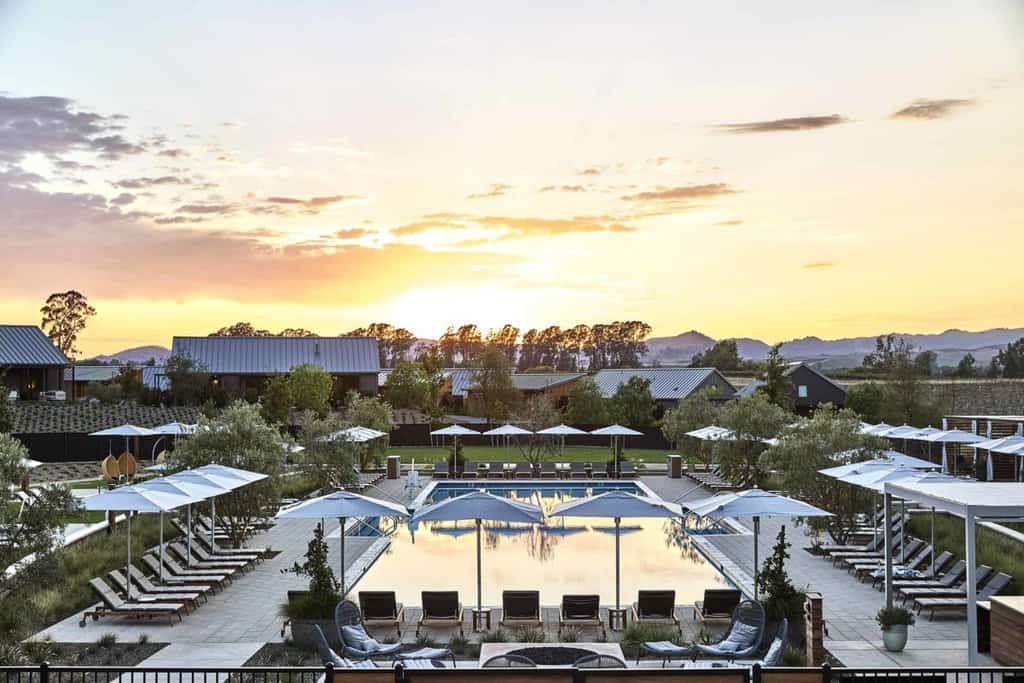 ARE YOU DREAMING OF STAYING AT STANLY RANCH IN THE HEART OS NAPA VALLEY?
I stayed at Stanly Ranch, Auberge Resorts Collection, for my best friend's wedding.
This stunning property offers the perfect blend of rustic charm and modern elegance, making it an ideal destination for travelers seeking a truly unforgettable experience.
In this honest review, we'll take an in-depth look at everything Stanly Ranch has to offer.
From its breathtaking views and world-class amenities to top-notch service, we'll leave no stone unturned.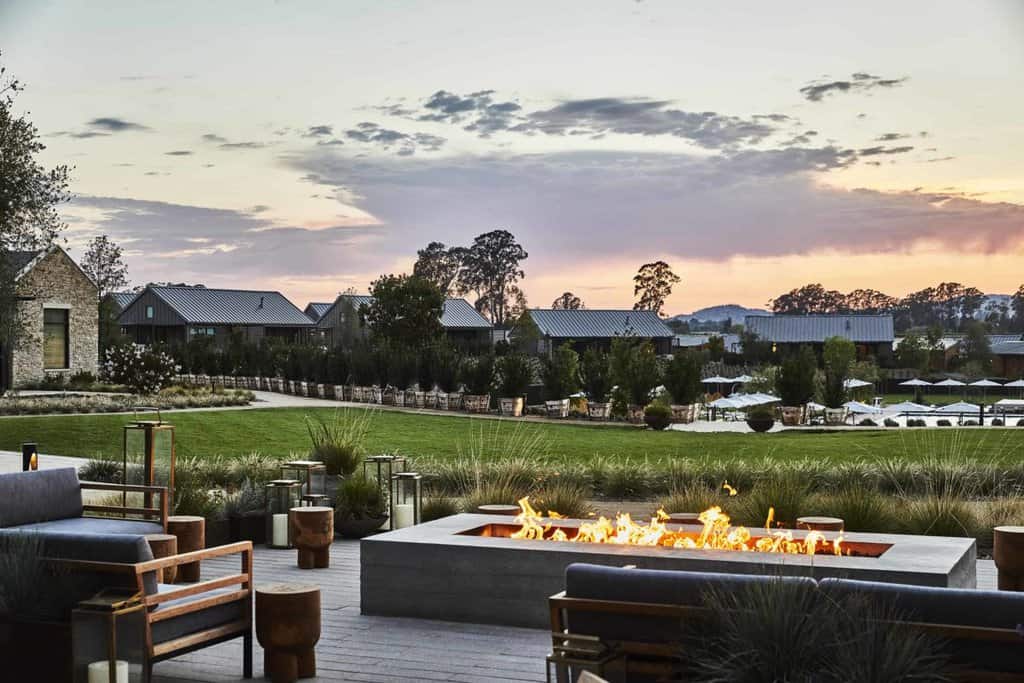 Stanly Ranch is Best For:
Couples
Families
Wellness lovers
Friends Trip
Whether you're looking for a romantic getaway, a fun-filled family vacation, or a rejuvenating retreat, Stanly Ranch has something to offer everyone.
Honest Review of Stanly Ranch, Auberge Resorts Collection
Check-In Process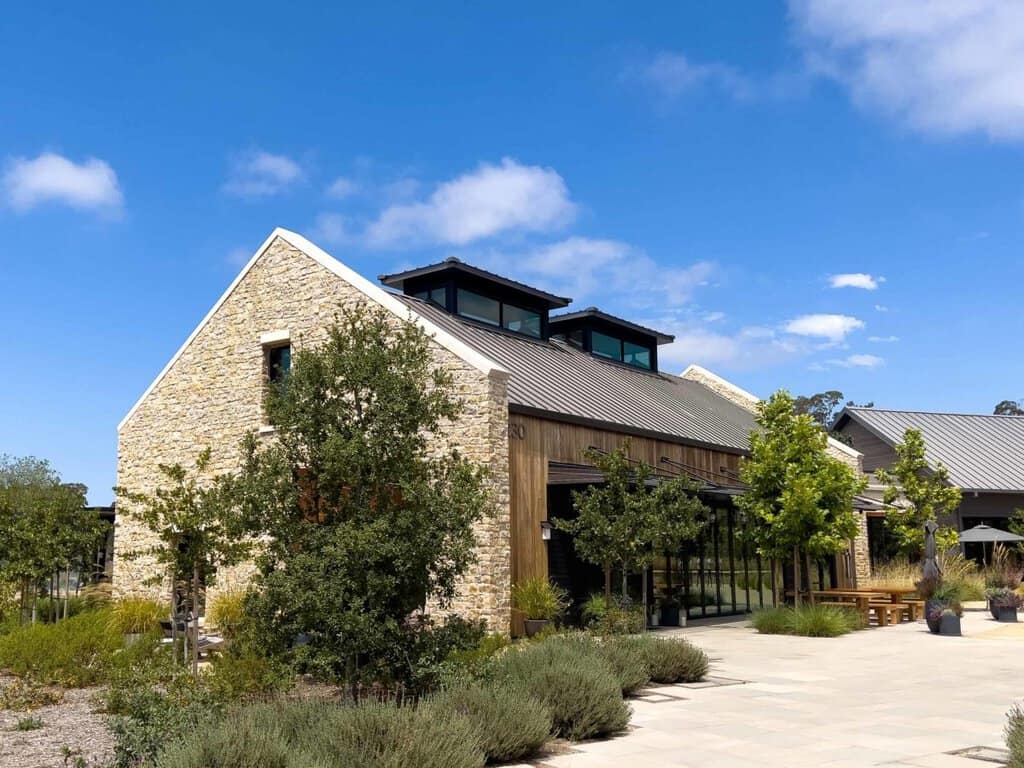 Upon arrival at Stanly Ranch, we were warmly greeted by the ranchers (bell boys) at the valet who efficiently tagged our bags and escorted us to the reception building.
The reception area exuded a cozy ambiance, and we were welcomed by friendly staff offering us a choice of welcome drinks – two wine options, perfectly fitting for being in Napa, or a delightful fresh lavender lemonade.
The reception staff was friendly and efficient, guiding us through the check-in process, having us sign necessary documents, and providing us with room keys to our cottages.
They also gave us valuable information about the property's amenities and activities available for the week.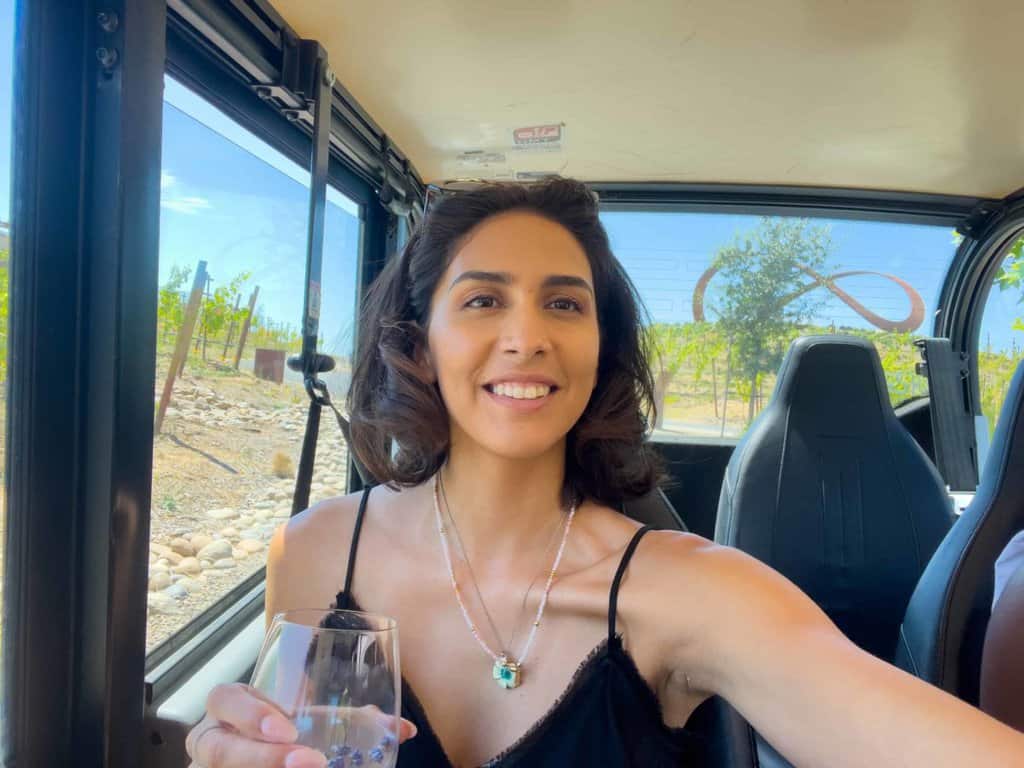 Overall, the check-in process at Stanly Ranch was seamless and accompanied by exceptional hospitality.
Check-in Rating: 5/5
The Rooms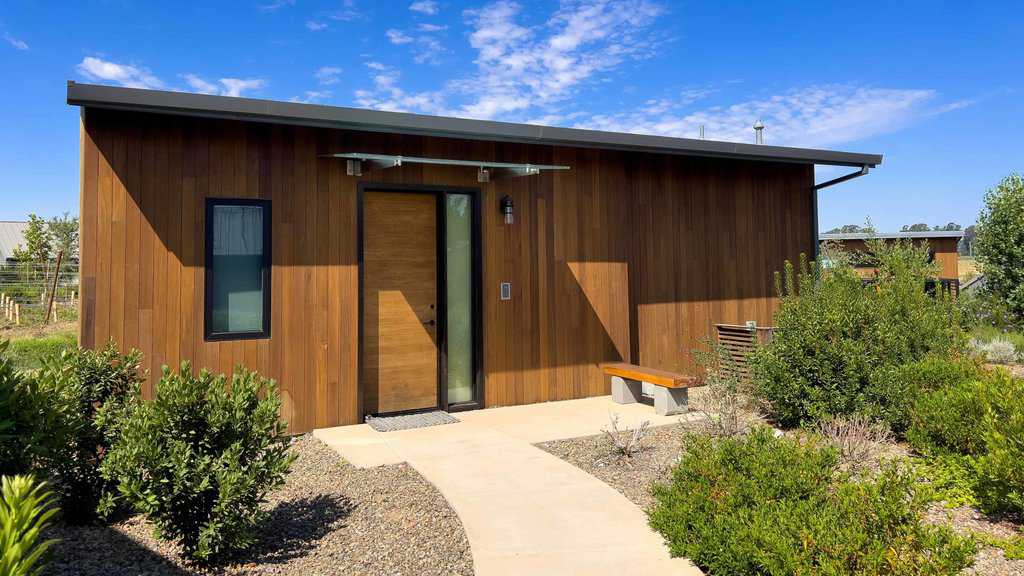 During my stay at the Stanly Ranch, I had the pleasure of staying in the Arbor King Cottage, and let me tell you, it was love at first sight.
The room exuded a cozy and relaxing ambiance while still maintaining an elegant touch.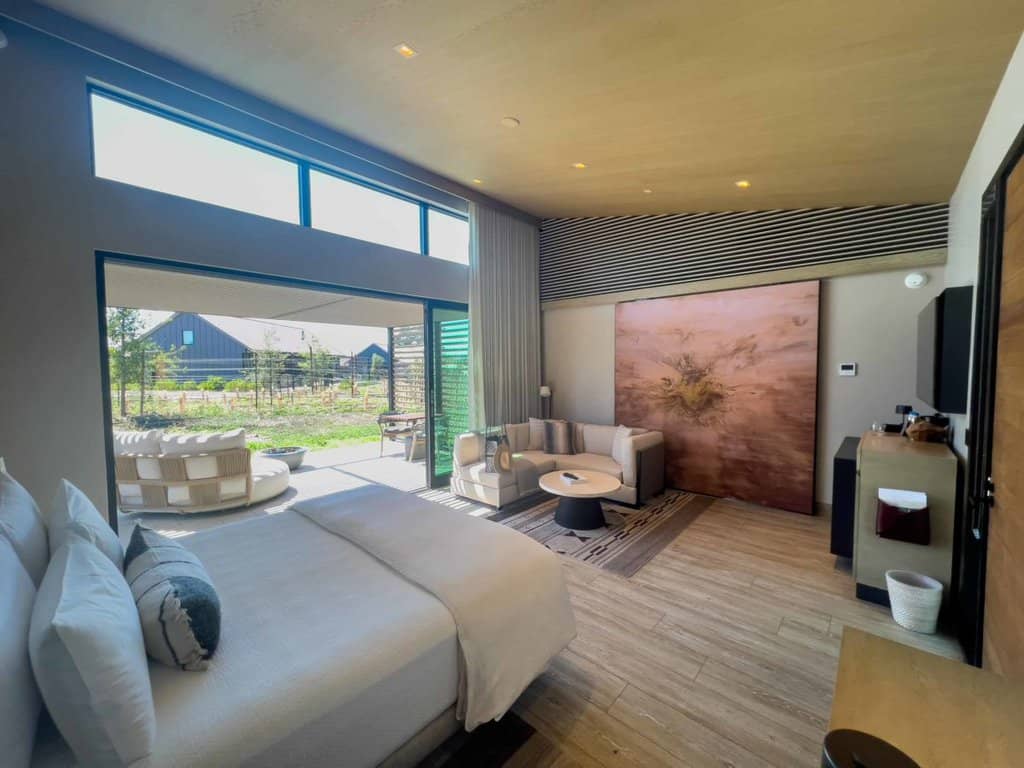 One of the highlights for me was the spacious separate living area, perfect for unwinding after a long day.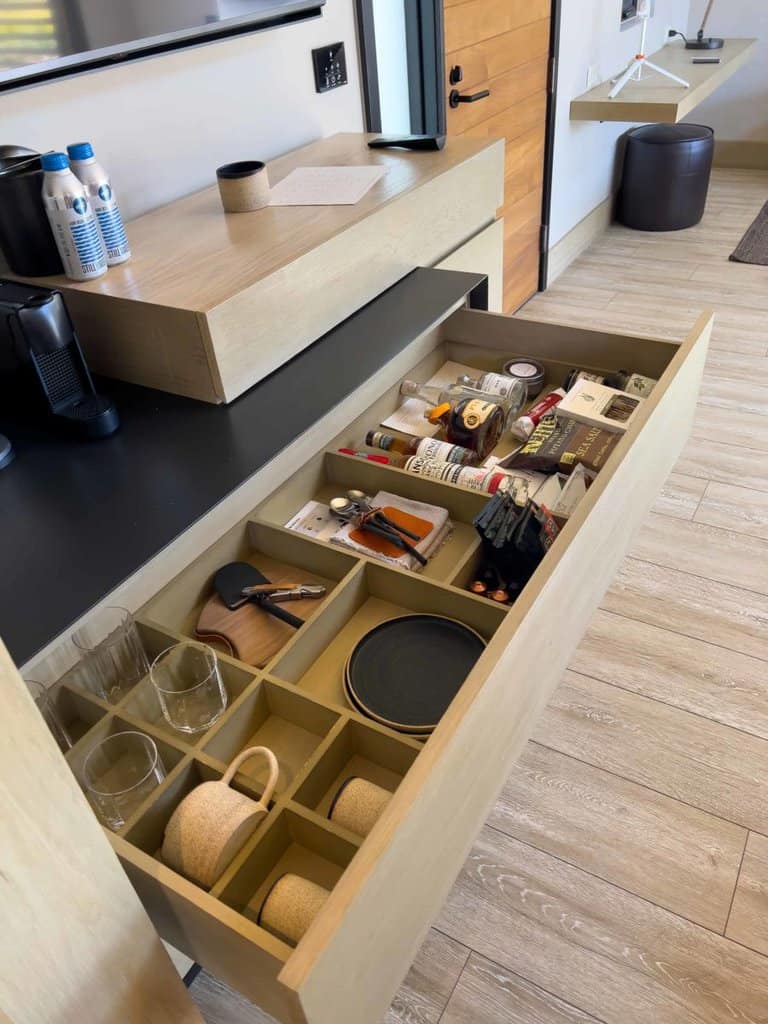 The desk provided a convenient space for catching up on work or writing postcards to loved ones.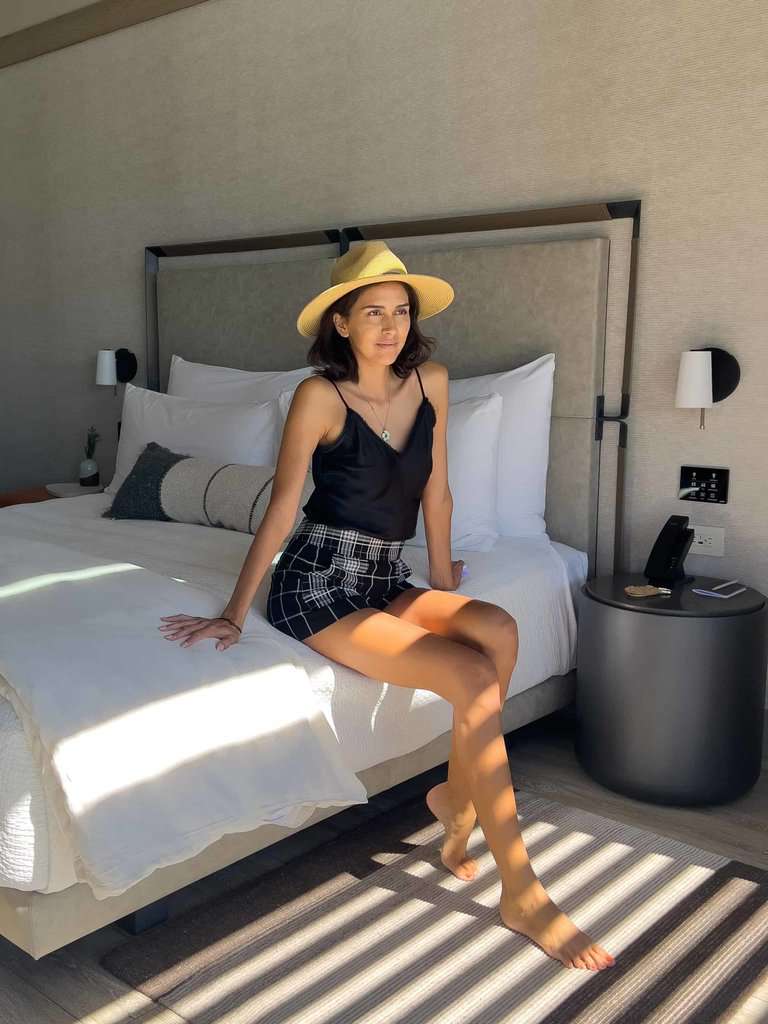 But perhaps my favorite feature was the patio, which boasted a generous size and included a comfortable day bed, a timed fireplace, and a charming little table where I could enjoy the tranquil nights and catch the beautiful sunrise in the early mornings.
The sliding doors that opened to the patio seamlessly blended the outdoor and indoor spaces, creating a harmonious and tranquil environment.
Allowing me to feel connected to nature without sacrificing any comfort.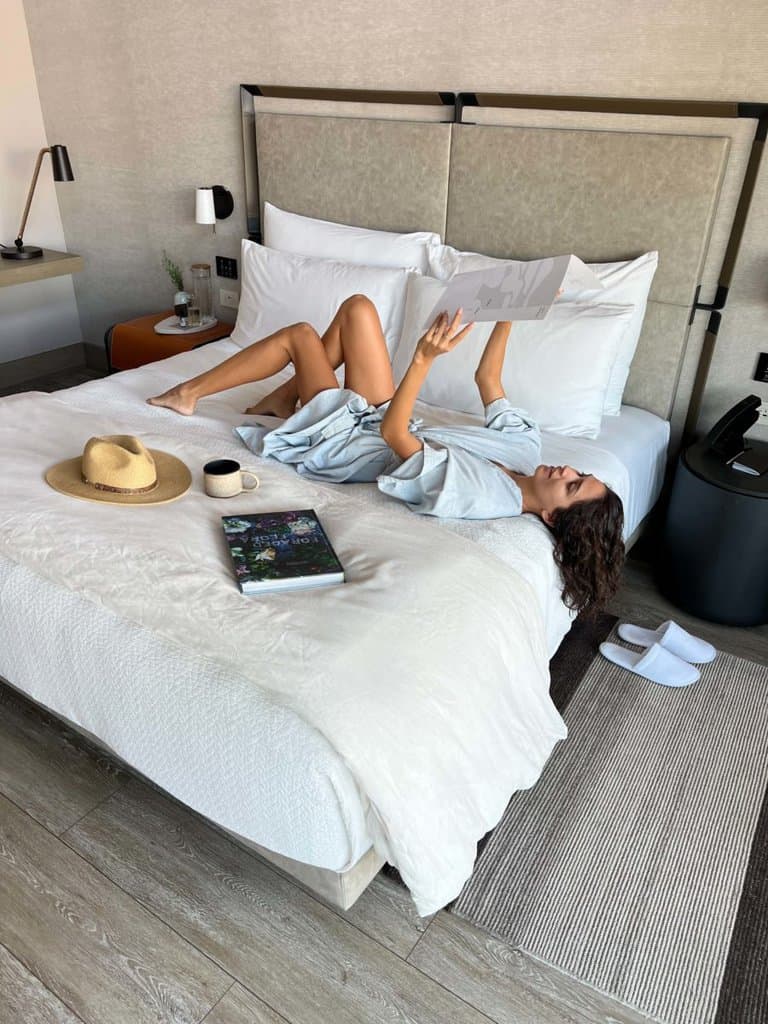 And let's not forget about the bathroom – with its large sliding painting as a door, it added a touch of modernity while keeping the room looking clean and tidy.
The bathroom was a luxurious haven with its heated floors, offering a comforting warmth during those chilly mornings.
And let's not forget about the shower options!
With a rain shower, bathtub, and even an outdoor shower with fresh eucalyptus, I had plenty of choices for my daily cleansing rituals.
This added touch of nature brought a sense of serenity and rejuvenation to my stay
Love to see it? Here is a room tour.
Room Rating: 5/5
Facilities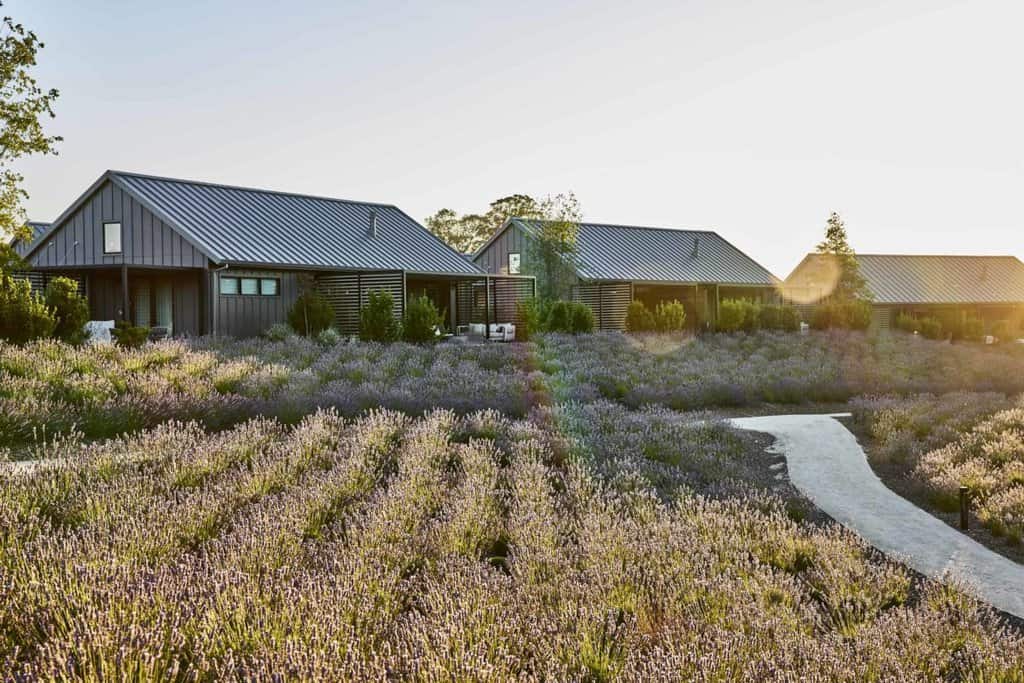 Facilities at Stanly Ranch offer a wide range of amenities to ensure that guests have a truly unforgettable experience.
From the exquisite dining options at BEAR Restaurant to the relaxing and rejuvenating treatments at Halehouse Spa, there is something for everyone.
Take a dip in the two pools or work up a sweat at the fitness center.
Families can enjoy quality time together at the family pool or let the little ones have a blast at the kids club.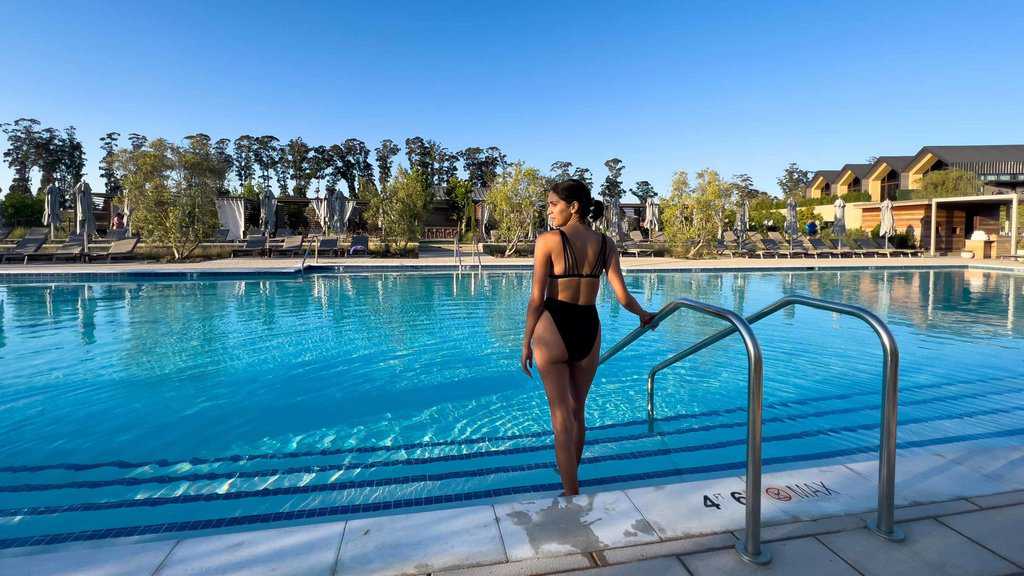 For those looking to unwind, outdoor fire pits provide the perfect setting to cozy up and enjoy the beautiful surroundings.
Guests can also explore the garden, where fresh ingredients are grown for delicious meals.
In-room dining is available for those who prefer privacy, and a house car and bikes are provided for convenient transportation around the area.
With such an array of facilities, Stanly Ranch ensures that every guest's needs are met and their stay is nothing short of extraordinary.
Facilities Rating: 5/5
Spa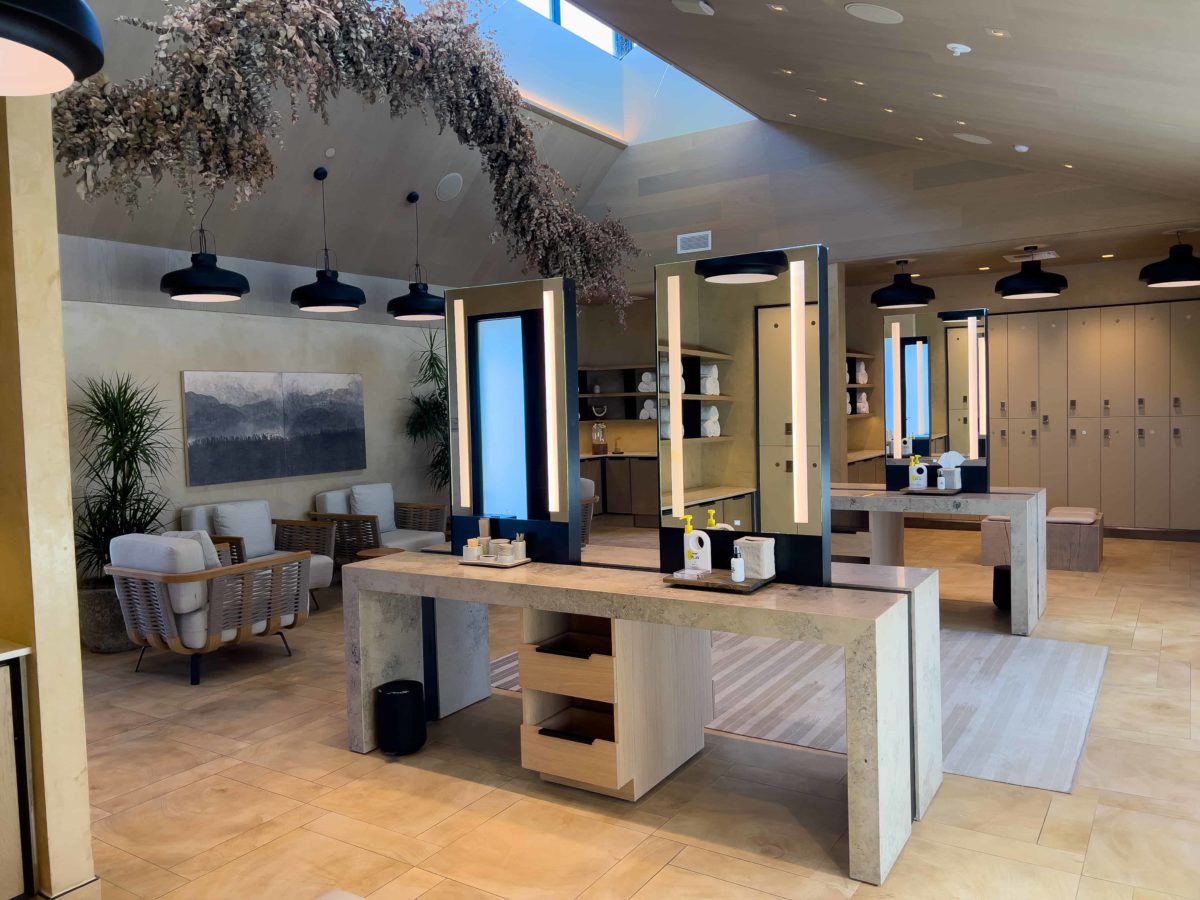 The spa at Stanly Ranch offers a range of amenities that are sure to enhance your relaxation experience.
One of the highlights is the Halehouse, which features a spacious sauna room with stunning views.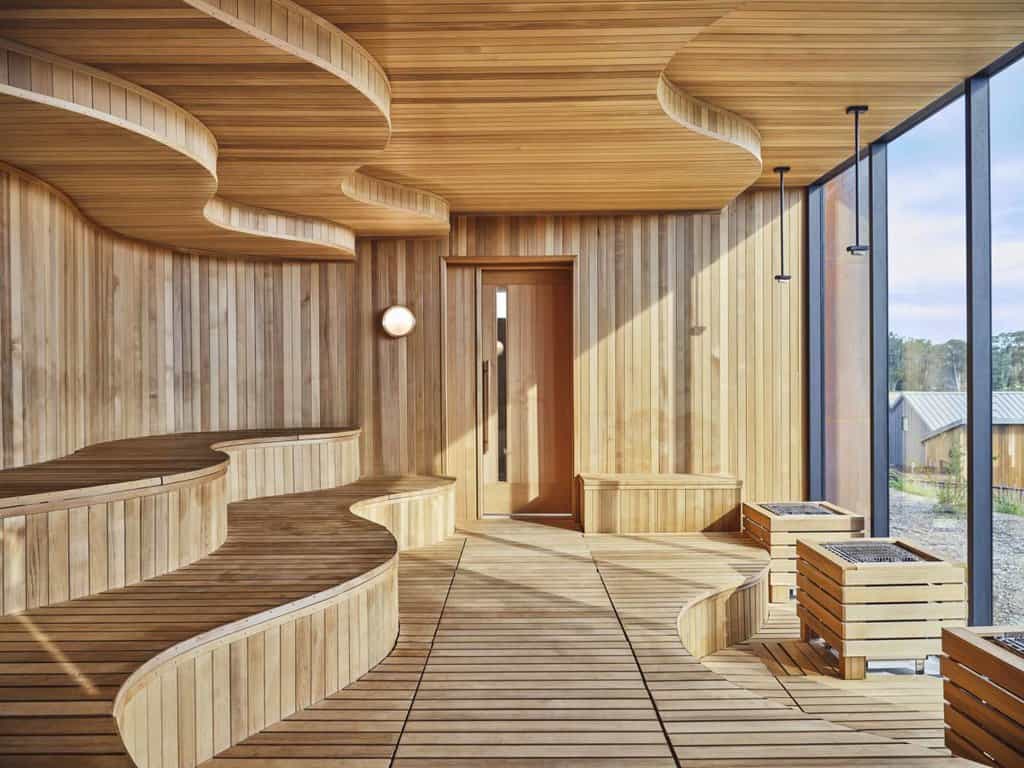 The steam room and salt room provide additional options for rejuvenation and detoxification.
The facility is well-maintained and never overcrowded, ensuring a peaceful and clean environment for your spa day.
For adults looking for some alone time, there is an exclusive pool and jacuzzi area where you can unwind in tranquility.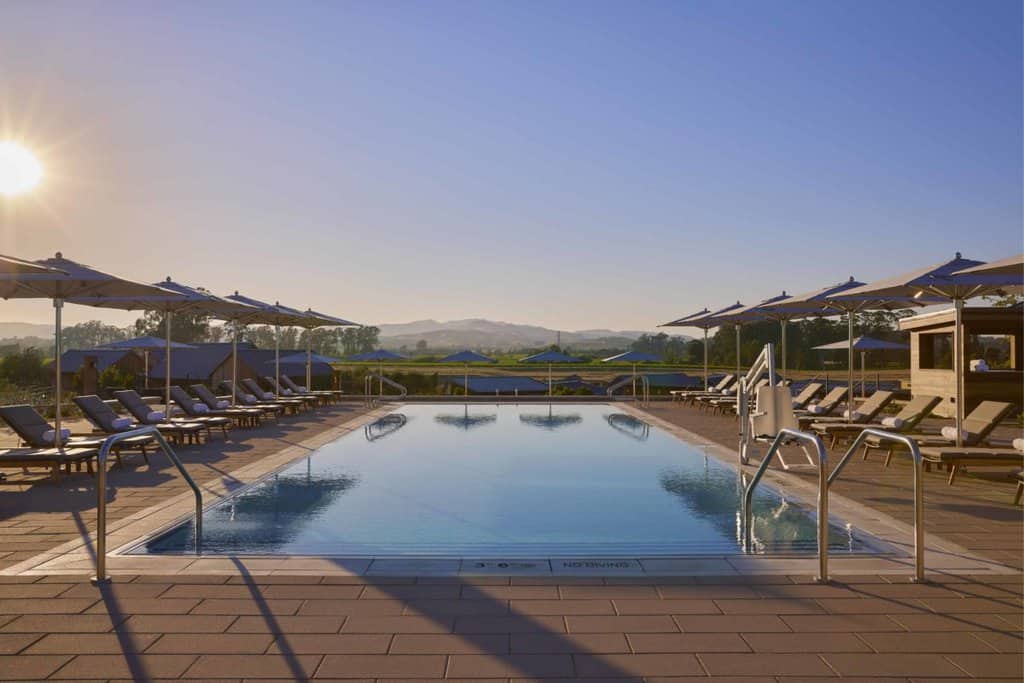 The heated pool adds an extra touch of luxury to your visit.
Just keep in mind that the spa closes at 6pm, so plan accordingly to fully enjoy all the amenities this wonderful facility has to offer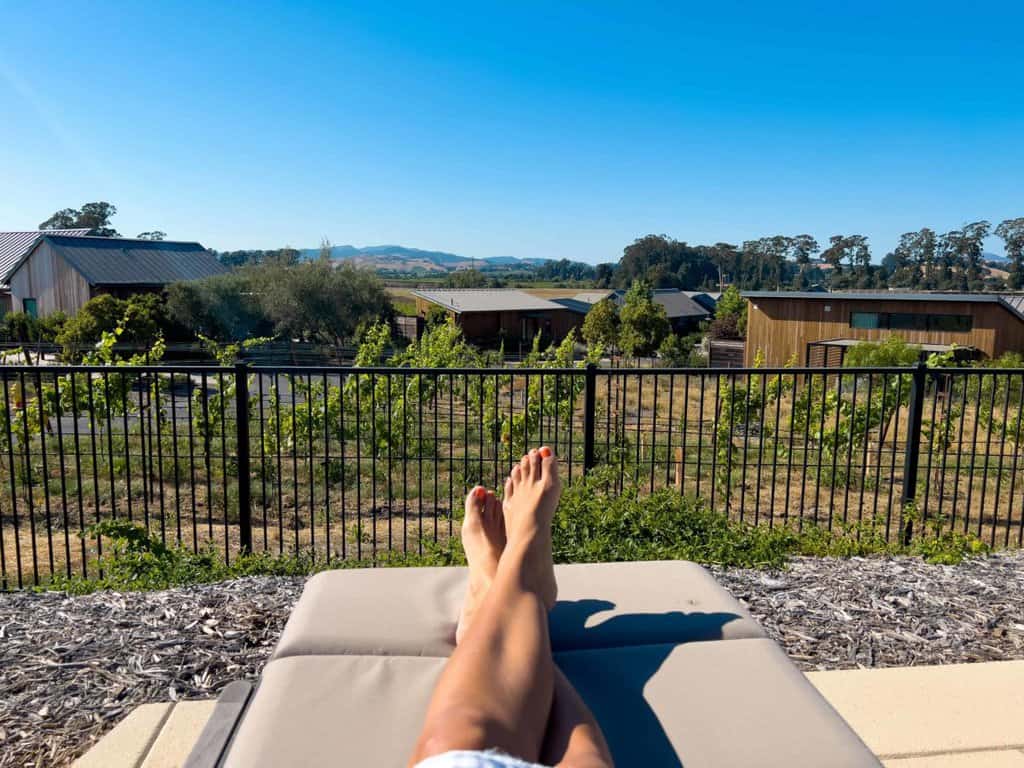 Spa Rating:4/5
Dining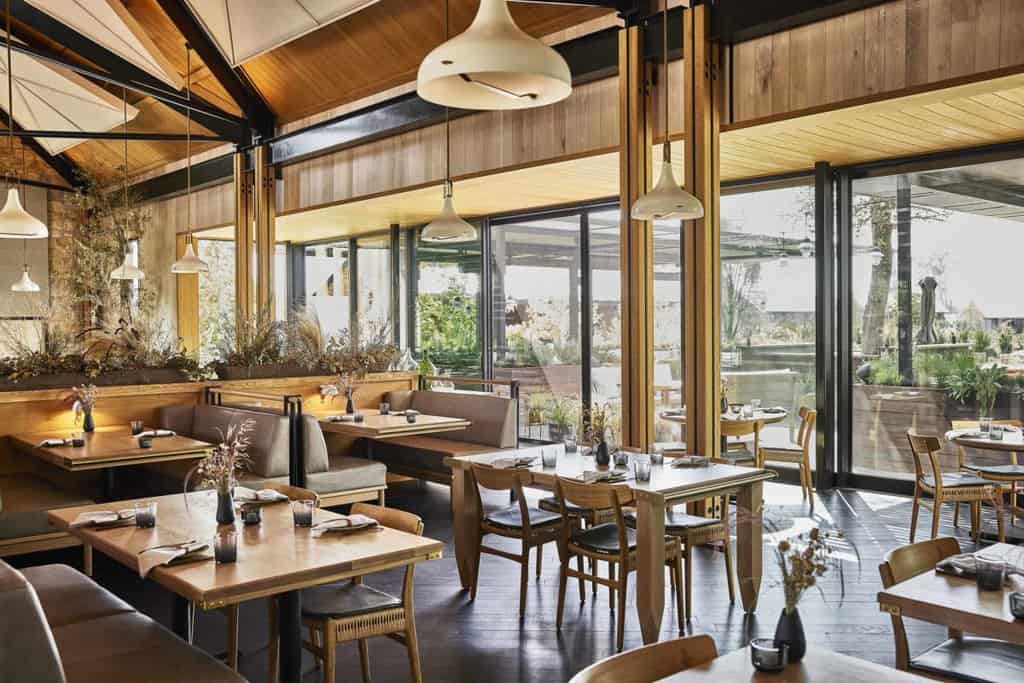 Dining at Stanly Ranch is a delightful experience with a variety of options to satisfy your culinary cravings.
The main restaurant offers a farm-to-table concept, using fresh ingredients sourced from local farms.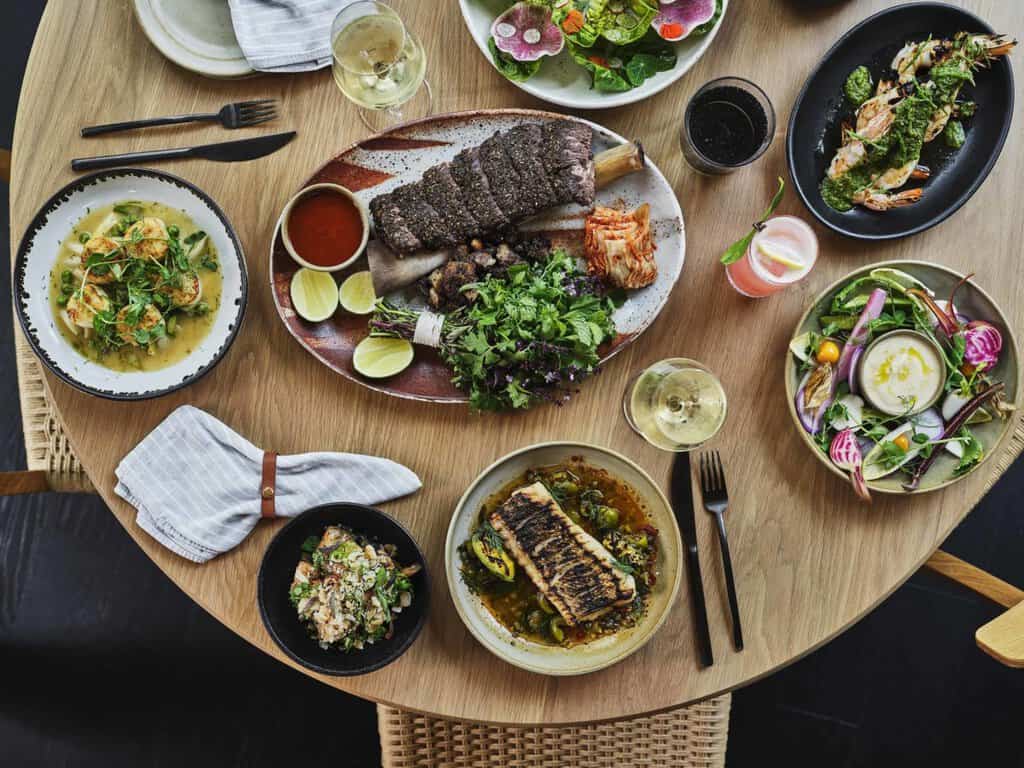 From breakfast to dinner, you can indulge in delectable dishes prepared with utmost care and attention to quality.
The coffee shop provides a cozy atmosphere for a quick bite or a leisurely cup of coffee.
And for those looking to relax by the pool, the pool bar offers refreshing drinks and light snacks.
Every bite we had on the property was bursting with flavor and crafted with utmost care.
It's clear that they prioritize quality and don't cut any corners.
What's even better is that the prices are reasonable, making it accessible for everyone to enjoy this culinary delight
Food Rating: 5/5
On-Property Activities/Pet Policy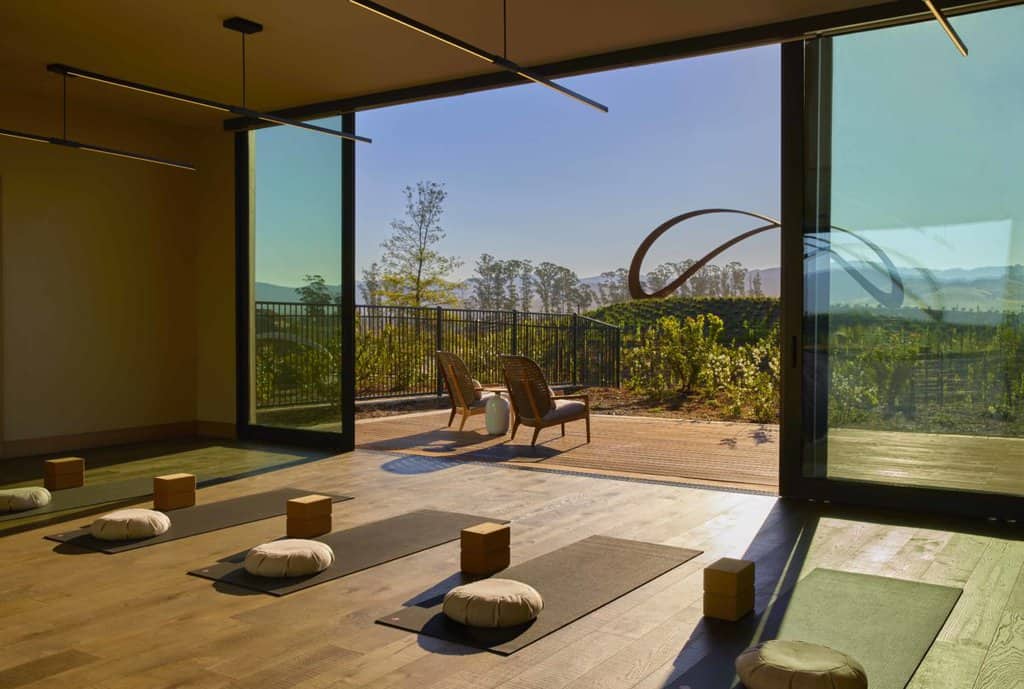 When it comes to offering a wide range of activities, this place has got you covered.
Whether you're visiting for wellness or with your kids, there are plenty of options to choose from.
For those seeking relaxation and rejuvenation, activities like yoga, meditation, sound bath, and pilates are available.
If you're looking for something more energizing and engaging, you can try boxing or barre classes.
And if you have little ones in tow, they'll be delighted with the exciting activities designed just for them, such as stargazing and visiting the chicken coop.
I also love that the hotel allows pets without any size or breed restrictions.
It's refreshing to find a place that welcomes furry friends with open arms.
Of course, there is a $250 fee/stay for bringing pets, just like most hotels.
However, it's worth it to have your beloved companion by your side during your stay.
Rating: 4/5
Location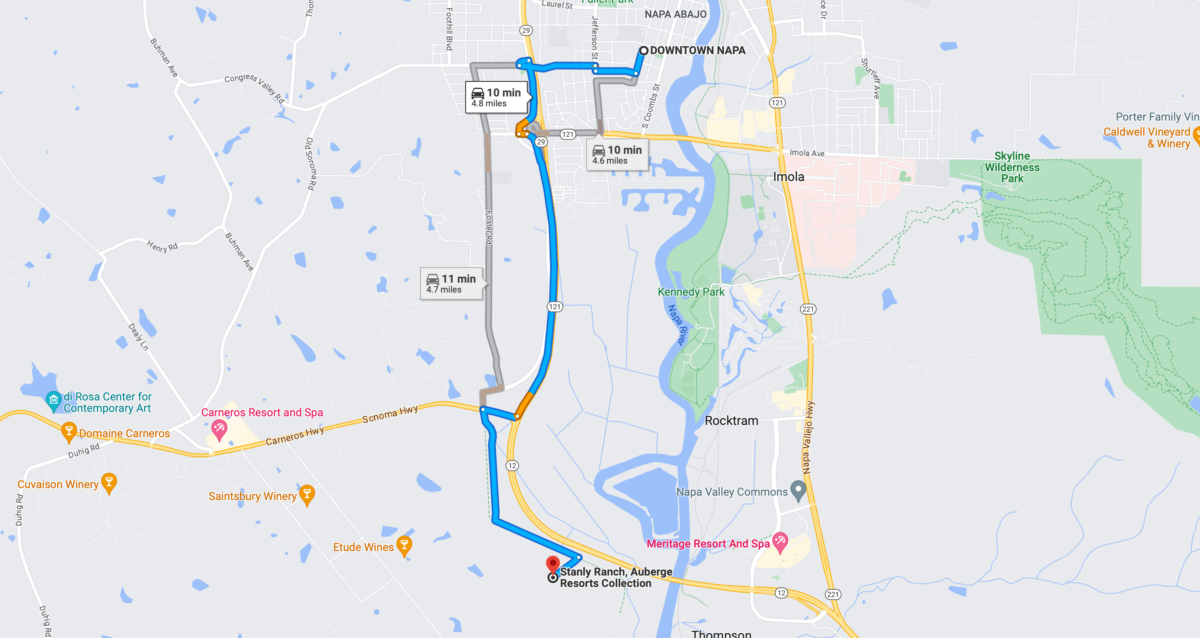 Stanly Ranch is conveniently located just south of downtown Napa, providing easy access to all the amenities and attractions of the area.
With its close proximity to downtown, it's only a short 10-minute drive to enjoy the vibrant city life.
The ranch is also conveniently situated within a reasonable distance from both San Francisco International Airport (SFO), which is approximately 70 miles away, and Oakland International Airport (OAK), which is approximately 63 miles away.
Despite its proximity to town, Stanly Ranch offers a serene and secluded atmosphere, allowing guests to escape the noise and hustle of the city.
It's truly the perfect location for those seeking both convenience and tranquility.
to make the journey even more enjoyable, guests are taken on golf carts and escorted by one of the ranchers directly to the door of their cottage.
Location Rating: 5/5
Stanly Ranch Review: Pros
1. Beautiful Cottages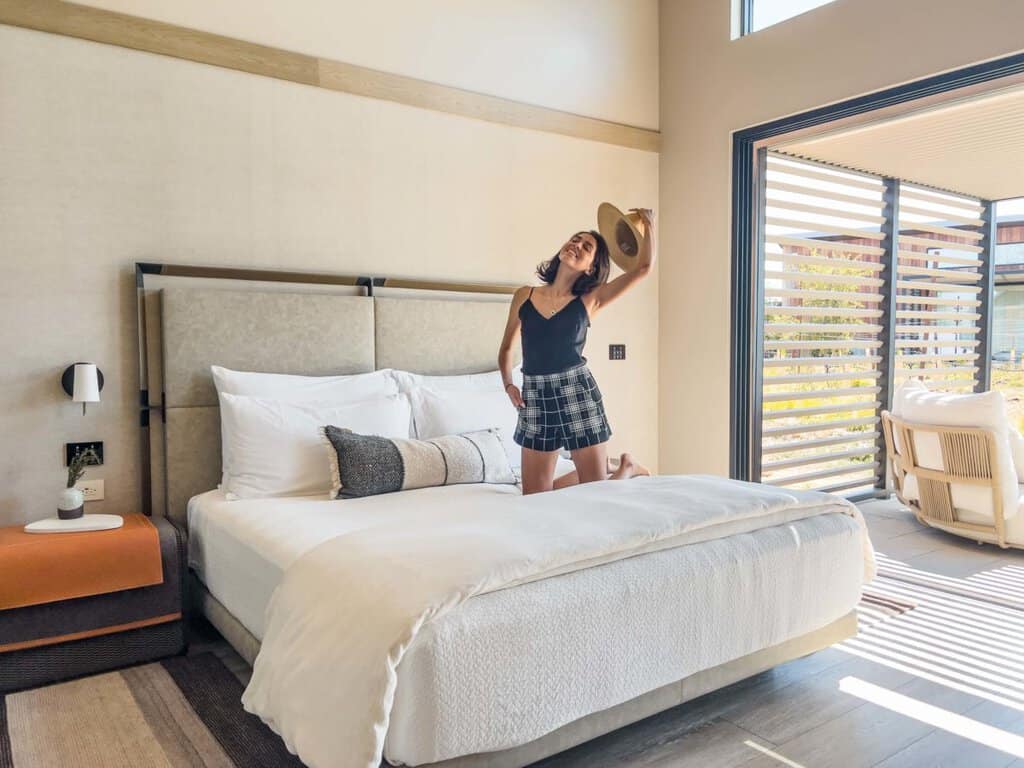 The beautiful cottages at Stanly Ranch offer a truly luxurious and immersive California indoor-outdoor living experience.
The highlight of the accommodations is undoubtedly the doors that open to a large private terrace, allowing guests to blend the indoor and outdoor spaces seamlessly.
The bathrooms are equally impressive, featuring a free-standing soaking tub and an indoor-outdoor shower.
With its thoughtful design and attention to detail, Stanly Ranch ensures that every guest enjoys a truly unforgettable stay.
2. Service
One of the standout pros of Stanly Ranch is the exceptional service provided by the staff.
From the moment you arrive, you are greeted by friendly and polite ranchers who go above and beyond to ensure your comfort and satisfaction.
And when it comes to dining, the restaurant staff delivers top-notch service, ensuring each guest feels welcomed and attended to.
3. Location
Stanly Ranch's location was perfect – nestled away from the hustle and bustle of Boise town, providing a tranquil escape from the city's noise and stress.
However, it was also conveniently close, allowing me to hop in the car and easily access the town for any necessities or to partake in various outdoor activities.
4. Eco Efforts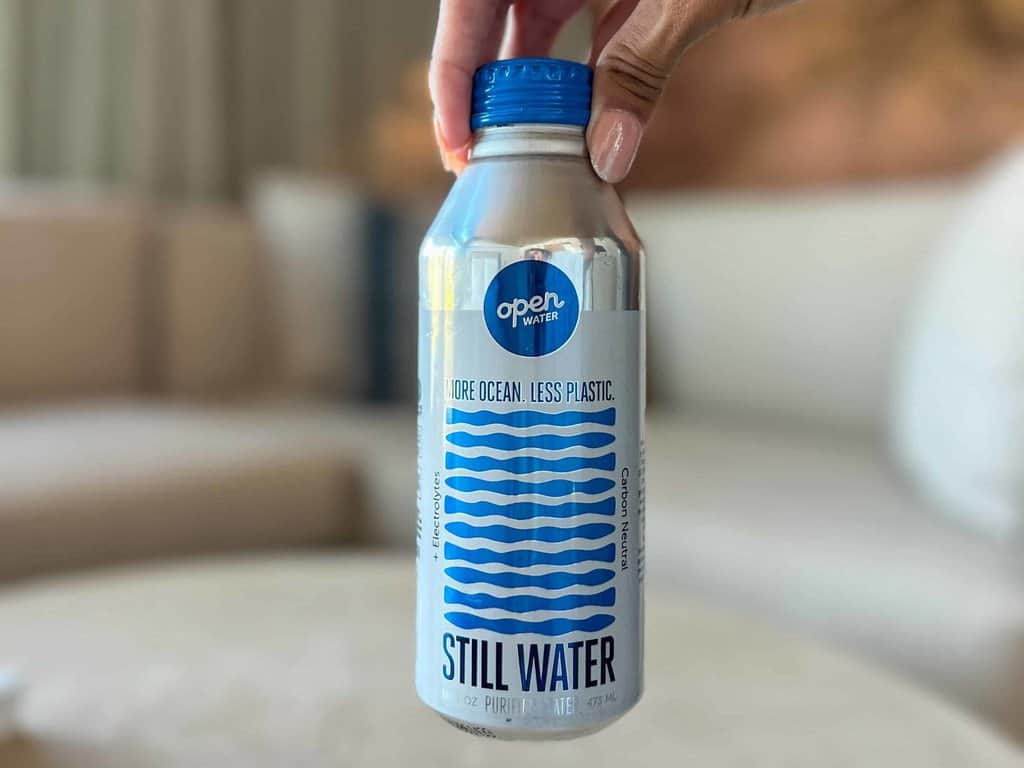 5. The Little Details
What truly set my stay at Stably Ranch apart were the delightful little details that made the experience so special.
I was genuinely touched by the thoughtful gestures of the hotel, such as finding raw local honey and relaxation drops in my room at the end of each day.
These small wellness gifts added a warm and personalized touch to my stay, showing that the staff at Stably Ranch truly cared about the well-being and comfort of their guests.
Cons of Stanly Ranch
Lack of Privacy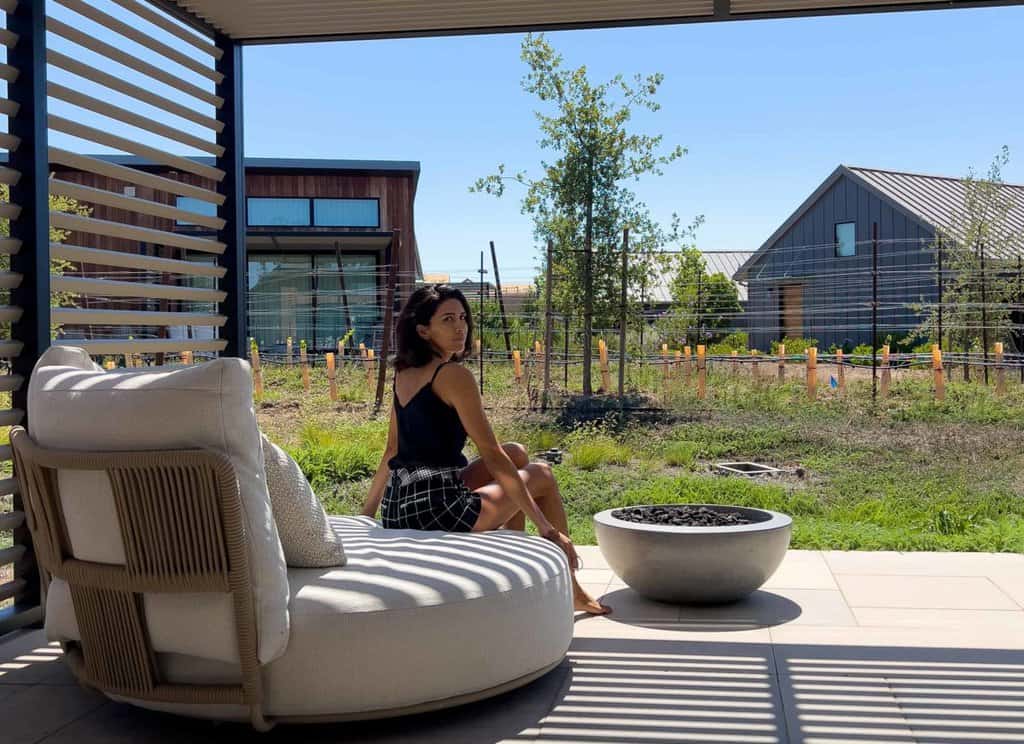 Stanly Ranch, while offering a charming and picturesque setting, does have some drawbacks when it comes to privacy in the cottages.
As a guest in one of the stand-alone cottages, I didn't have a connecting cottage, which provided a bit more privacy.
However, I had friends who stayed in cottages with connecting rooms and they mentioned that they could hear their neighbors.
In my own cottage, I had a small vineyard in front of my patio, but unfortunately, it didn't completely shield the view of three other cottages' patios and even into their rooms if the blinds were not shut.
Perhaps if the vineyards were grown out more, it would have provided a little more privacy.
Hotel Details & Information
Stanly Ranch, Auberge Resorts Collection
Location: 200 Stanly Crossroad, Napa, CA 94559
Accommodation: Luxury
Price Range: $$$$
Instagram: @stanlyranchauberge
Stanly Ranch in Napa FAQs
1. How far is Stanly Ranch from the airport?
Stanly Ranch is approximately 53 miles (85 kilometers) from San Francisco International Airport (SFO), the nearest major airport to Napa Valley. Travel times may vary depending on traffic conditions and the specific route taken, but the journey typically takes around 1 to 1.5 hours by car.
2. Does your resort offer a shuttle service?
No, Stanly Ranch does not currently offer a shuttle service
3. Is Stanly Ranch adults only?
No, Stanly Ranch is not an adults-only establishment. Guests of all ages are welcomed at the ranch, making it a suitable destination for families, couples, and individuals looking to enjoy the Napa Valley experience.
4. Are pets allowed at Stanly Ranch?
Yes, pets are welcome at Stanly Ranch, and there is a $250 fee associated with bringing your pet. Importantly, there are no size or breed limits, making it a welcoming destination for all pet owners.
5. How many rooms does Stanly Ranch have?
Stanly Ranch has a total of 135 rooms available, providing ample accommodation options for guests seeking a comfortable and luxurious stay in Napa Valley.
6. How many acres is Stanly Ranch?
Stanly Ranch in Napa Valley, California, encompasses approximately 712 acres of picturesque vineyards
FINAL VERDICT: Is Stanly Ranch Worth It?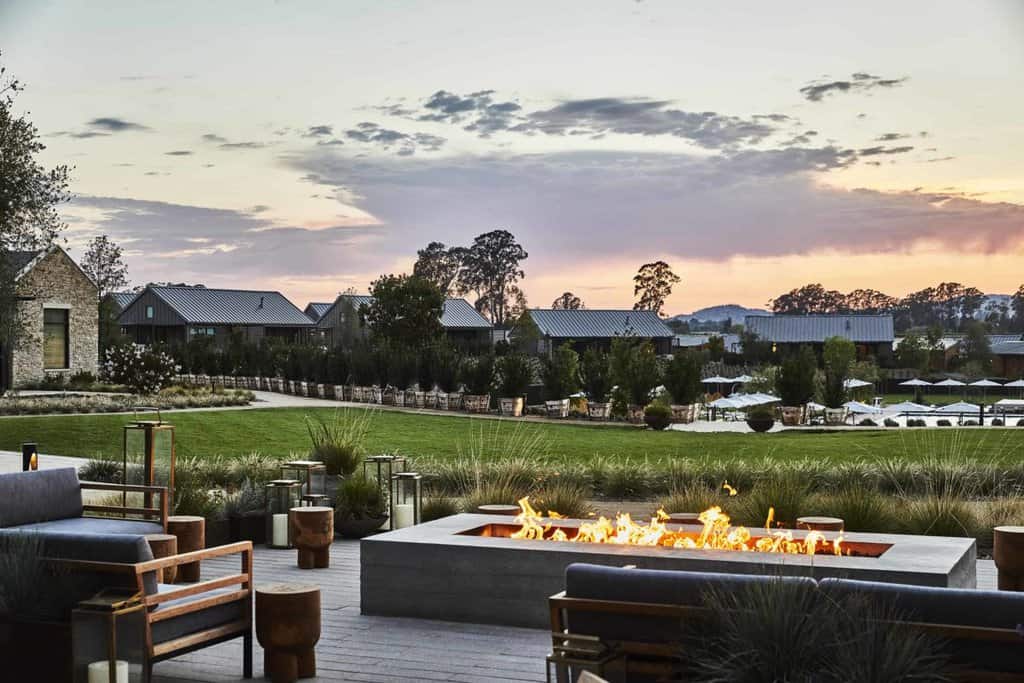 After carefully considering all aspects of the stay, it can be confidently stated that Stanly Ranch is indeed worth it.
The overall experience has been exceptional, with top-notch service and a luxurious atmosphere that surpasses expectations.
Whether it's a girls' trip, a romantic getaway for couples, or a family vacation, Stanly Ranch caters to all with its range of amenities and offerings.
The emphasis on luxury and relaxation makes it an ideal choice for those seeking a tranquil and rejuvenating escape.
With its stunning surroundings and unparalleled hospitality, Stanly Ranch comes highly recommended for anyone looking to indulge in the ultimate luxury experience.