Honest Cincha Travel Belt Review: Is it Worth The Hype?
Disclaimer: We received this product as a gift from Cincha, but this isn't a sponsored post. All opinions are our own. This page may contain affiliate links, which means I may earn a commission (at no extra charge to you) if you make a purchase after clicking my link. Thank you for being a loyal reader!
LOOKING INTO GETTING THE CINCHA TRAVEL BELT? THEN YOU ARE IN THE RIGHT PLACE!
If you're a female traveler who's tired of sacrificing style for security, then listen up.
In this honest review, we'll dive into the details of this sleek and stylish travel accessory.
You'll discover if the Cincha Travel Belt is a must-have for savvy female travelers.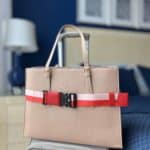 Cincha Travel Belt
✔ Makes travel easier
✔ Vegan
✔Adjustable & many colors
Who Is Cincha Travel For?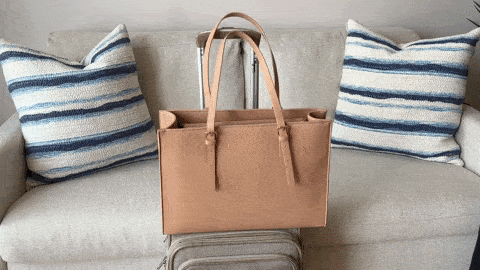 The Cincha Travel Belt is perfect for travelers with bags that don't have trolley sleeves and keep falling off of the suitcase and who want to make their travel experience easier.
Pros and Cons Of Cincha Travel Belt
Like most items, not everything is perfect, so here are the pros and cons that I found of the Cincha Travel Belt while I was using it during my travels.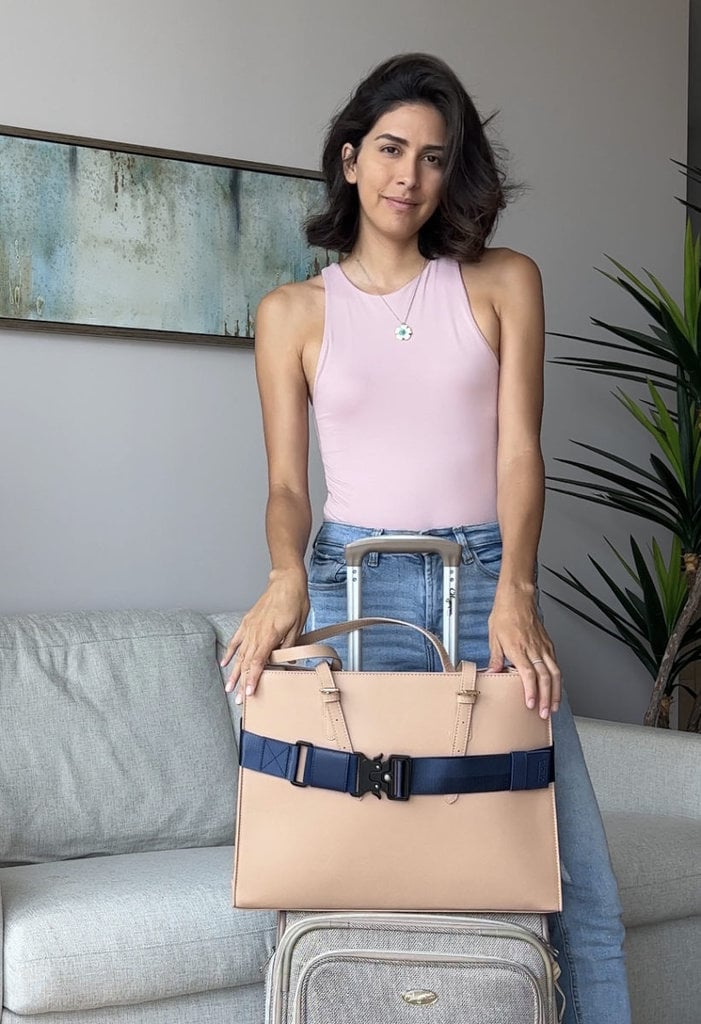 1. High Quality
When I took it out of the box, I immediately noticed the high quality of used materials, and it didn't feel cheap.
The threads on the belt feel tight and secure, well made, and even the accent leather has the branding name engraved .
Just by holding it and using it, I knew that this belt is going to last me a long time and it was going to keep its shape and its function.
2. Perfect for Bags Without Trolley Sleeve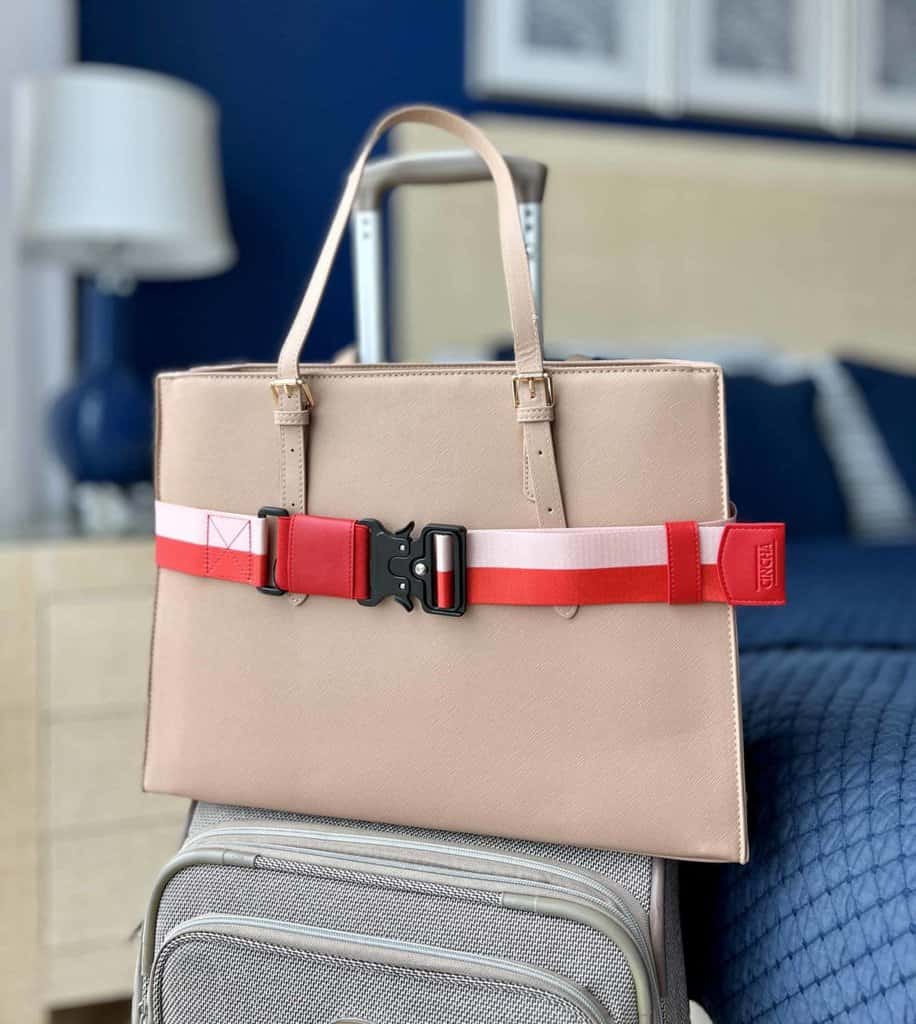 I don't have any bags with a trolley sleeve on them, and I was about to go purchase a specific bag to use in my travels that would have the trolley sleeve.
But I'm so excited that I saw Cincha on my Instagram feed and saw how it was perfect for all my handbags, totes, and even backpacks for all my travels.
This makes it easy to use my different bags depending on the type of trips I will have in the future. I can't wait to use it on every trip.
3. Every Purchase Gives Back

After purchasing my Cincha travel belt, I noticed on the box a section that said this belt gives back.
When you purchase a travel belt from Cincha, they will donate 100 miles to support Miles4Migrants.
A non-profit organization uses frequent flyer miles to safely relocate refugees displaced by war or disasters.
As a mindful shopper, I love brands that give back with purchasing.
This makes me value my purchase even more.
4. Its Adjustable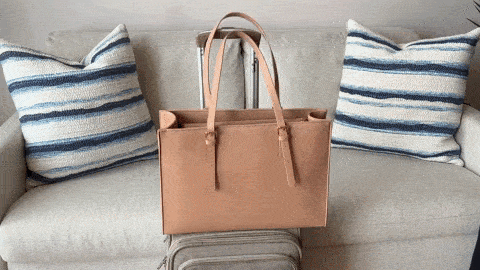 The most essential feature about this travel belt is that it's adjustable, and if it's, most bags, totes, and backpacks.
The belt adjusts up to 45 inches.
I found that when I tried to adjust the length of it, it would get stuck when I tried changing it when it was already on the trolley handle.
You should remove it and measure your back before placing it on the trolley to have a smoother adjustment.
5. Vegan
I was so happy that this belt is made of vegan leather accents and herringbone pattern leather. No animal was harmed make this item.
What other customers have said! So easy to use and it holds down my carry-on just perfect! My daughter-in-law loved so I'll be getting one for her.

-Jennifer, Read more reviews here
Cons of Cincha Travel Belt
1.Heavy Buckle
I don't want to mention this as a con because it's not really a con, but I did complain about it during my travels.
The quick-release buckle is made out of metal, and it is bulky and on the heavy side.
So when I didn't need the belt and placed it in my bag, it added weight.
But with it being a heavy buckle, it feels sturdy and good quality, which is essential because that keeps the belt attached. They know it's not going to break anytime soon.
My Overall Honest Review of The Cincha Travel Belt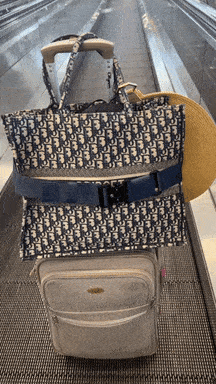 My overall experience with the Cincha travel belt has been nothing but positive.
It does its job. It feels good quality.
You know it's good when every time I use it at the airport.
I have someone come up to me and ask what that thing is around my bag and where they can get one.
I also enjoy how easy is to use this product.
I did see a lot of people online using the travel belt.
When it was time to remove your bag from the trolley, many people disconnected the belt, removed the bag, and removed the travel belt from the trolley handle, which seemed to me like too many steps.
Unconsciously I noticed that I just took the handles of my bag and pulled them up ,so the whole belt left the trolley handle so the travel belt was still attached to my bag.
When it was time to put my bag on the handles, the belt was still on.
I just slid the trolley slit over the handle and placed my back down, preventing me from unhooking the belt and hooking it back, which is faster and easy to use.
I can't believe I didn't get this sooner.
I especially loved using it on my oversized designer bag totes.
At the same time, I travel because it matches the color perfectly.
It keeps my heavy bag in place, and I don't have to worry about it falling over well I'm in transit.
➡️ CLICK HERE for best price on your own travel belt
Cincha Travel Belt FAQs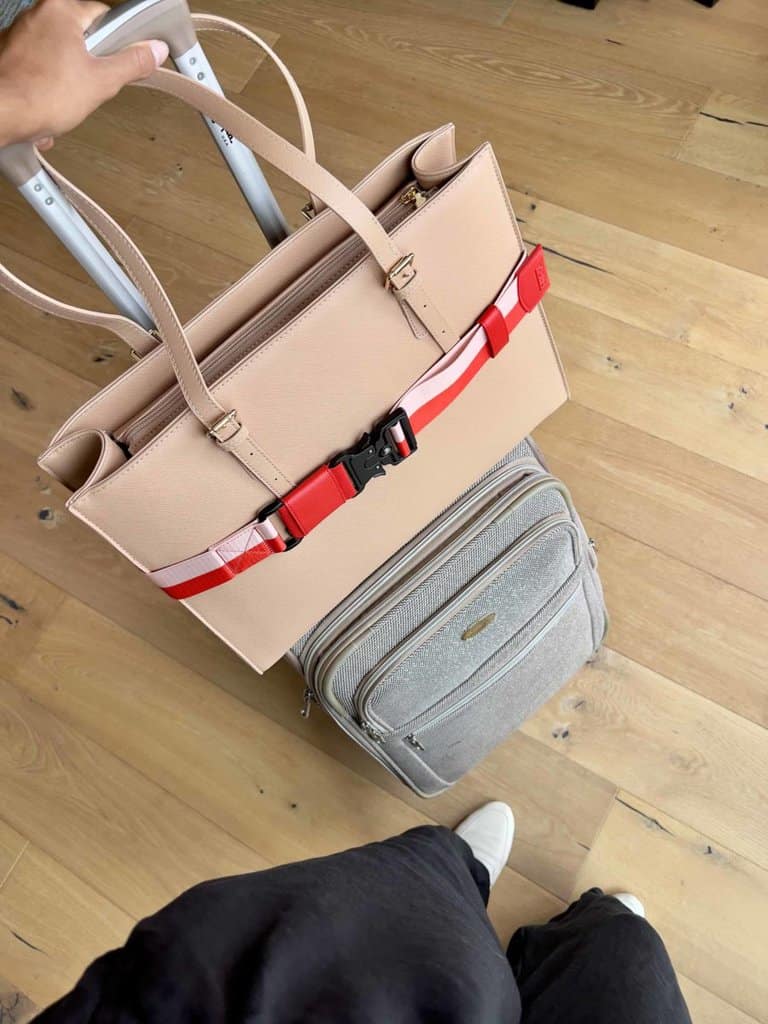 Is Cincha Travel Belt Worth It?
Yes, Cincha travel belt is totally worth it.
Not buying every type of bag with a trolley sleeve will save you so much money.
You will avoid so many headaches and no longer have to deal with your bag tipping over and getting ruined or your things falling out while you're on the train or even Airport.
Where To Buy Cincha Travel Belt?
You can easily purchase the travel belt and other products on cinchatravel.com, and recently, they launched their product duty-free store at San Francisco International Airport and JFK Airport.
➡️ CLICK HERE for best price on your own travel belt
What is Cincha's Return Policy?
Cincha offers a 30-day happiness guarantee. You need to email them the order number you want to return, and they will send you a link to start the return process.
Conclusion: Honest Cincha Travel Belt Review
To sum it up, my new travel belt has completely won me over, and I genuinely believe it's a must-have for every traveler out there.
It liberates me from worrying about the safety of my belongings, and knowing my bag is not going to fall and get dirty or damaged
In a nutshell, this travel belt isn't just an accessory; it's a game-changer.
So, if you're a traveler seeking a smoother, more secure journey, do yourself a favor and get this travel belt. Your future adventures will thank you.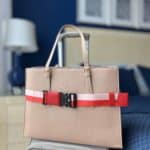 Cincha Travel Belt
✔ Makes travel easier
✔ Vegan
✔Adjustable & many colors