The BEST Reviewed Whale Watching Tours In Oahu To Book (2023)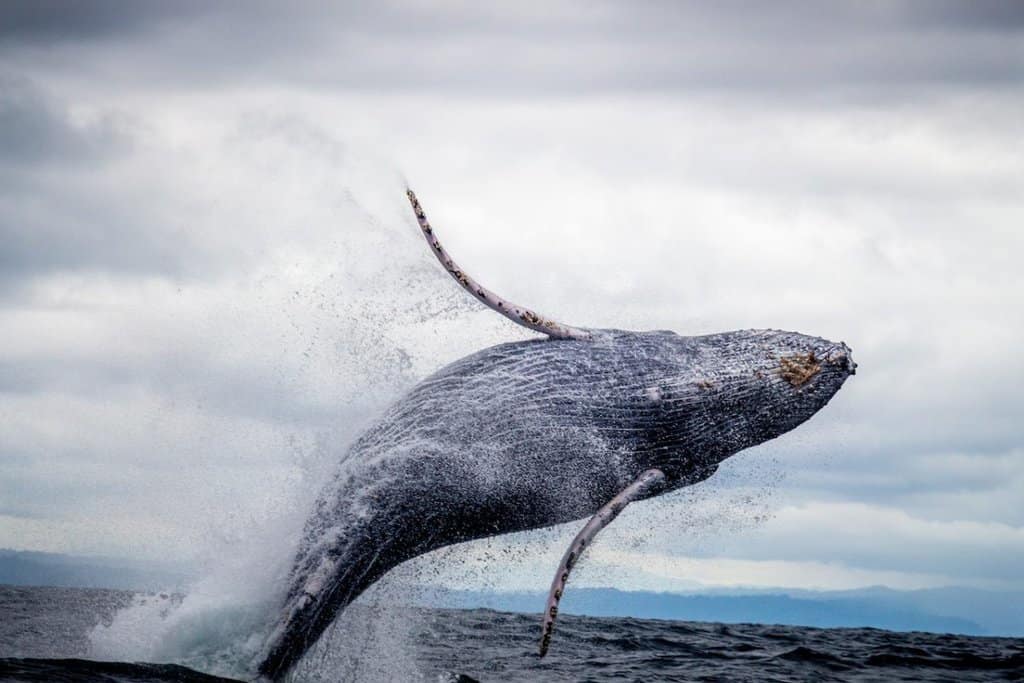 LOOKING FOR THE BEST WHALE WATCHING TOURS IN OAHU?
Oahu is not just known for its stunning beaches and vibrant nightlife; it's also one of the best places to see whales during their migration from the north to feed and give birth in the warmer waters.
As an Oahu resident and nature lover, I know how exciting it is to see mesmerizing animals like humpback whales up close and in their natural habitat. Choosing a tour with so many companies is hard, and finding some that make it memorable and educational is excellent.
We've rounded up the nine best-reviewed whale-watching tours in Oahu so you can make the most of your time on the island and create memories that will last a lifetime.
We have searched the web and found that these are the highly reviewed whale-watching tours oahu offers. This list includes private tours, catamaran boats, and big boats to accommodate your travel style.
Quick Guide: TOP 3 Whale Watching Tours In Oahu
BEST Whale Watching Tours In Oahu
These are the best whale-watching tours on the island, where you can witness majestic humpback whales in their natural habitat.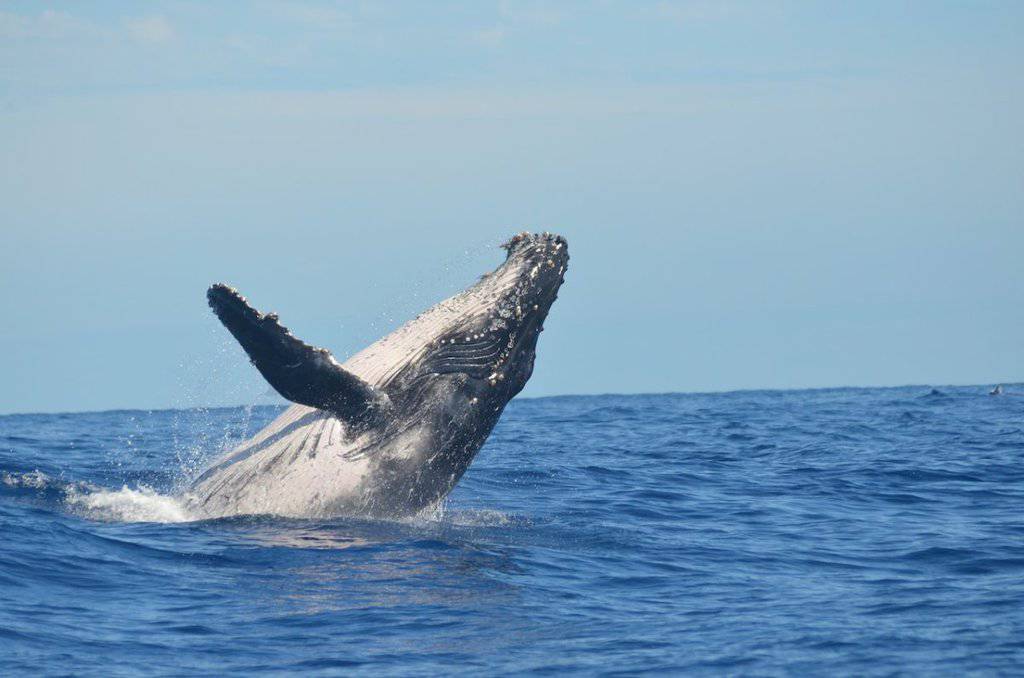 RATING⭐️: 4.5/5
TOUR DURATION⏳: 2 Hours
DEPARTS ⛴️: Kewalo Basin
INCLUDES ✨: Snacks and Drinks
The Hawaii Nautical Boat is an excellent choice for whale-watching in Honolulu.
The boat stands out for its fantastic atmosphere, with lively music that adds a delightful dimension to your experience.
It's not just about watching whales; it feels like you're hanging out with friends.
The staff and captain are renowned for their warm hospitality and joyous demeanor, creating a welcoming and enjoyable environment throughout the tour.
The boat itself is a catamaran, providing a unique and stable ride that adds to the fun of the journey.
What customers said about this tour:

Well worth the money. Fun ride on a catamaran and saw a mother and baby whale. They also served snacks and free drinks on the boat.

– Kerstin W ,Read more reviews
Book your tour with Hawaii Nautical HERE!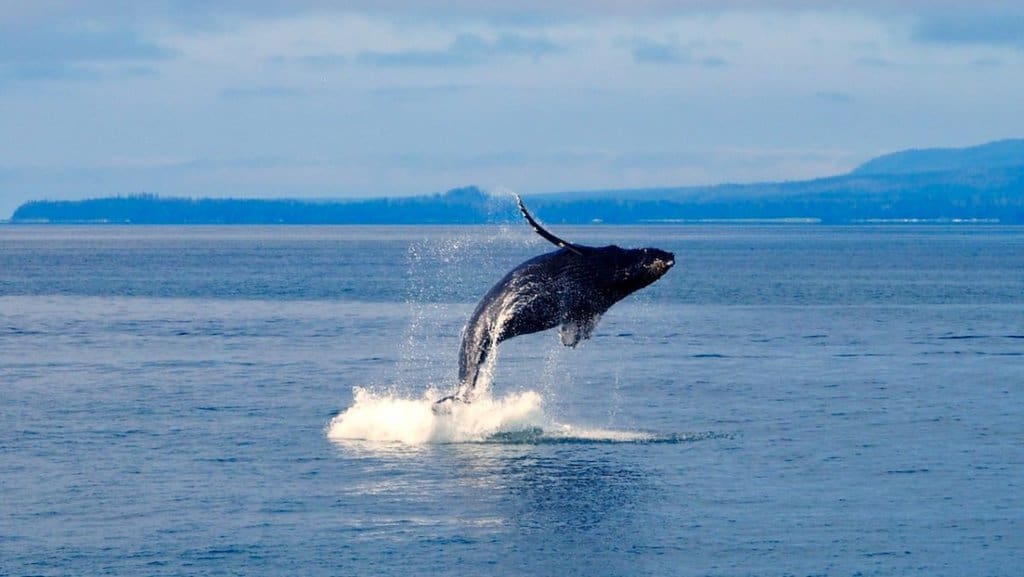 RATING⭐️: 4.5/5
TOUR DURATION⏳: 2.5 Hours
DEPARTS ⛴️: Aloha Tower
CAPACITY: 200
The Atlantis Cruise offers a variety of seating options, allowing you to take in the breathtaking ocean views from the fresh air decks or opt for the comfort of an indoor air-conditioned room with large viewing windows.
A buffet lunch is available, enhancing your onboard experience.
The Majestic Cruise is known for its superb crew, who are professional and exceptionally courteous.
A highlight of the tour is the knowledgeable naturalist who provides insights into the marine life you encounter.
The narrator adds an extra layer of excitement and enthusiasm, making this cruise a genuinely excellent and memorable experience for those exploring the beauty of Hawaii's waters.
What customers said about this tour

Seeing whales in Hawaii was a part of our bucket list. So exciting! We thoroughly enjoyed the cruise!

– Maribeth E , Read more reviews
➡️ Click HERE to book your tour with Atlantis Cruises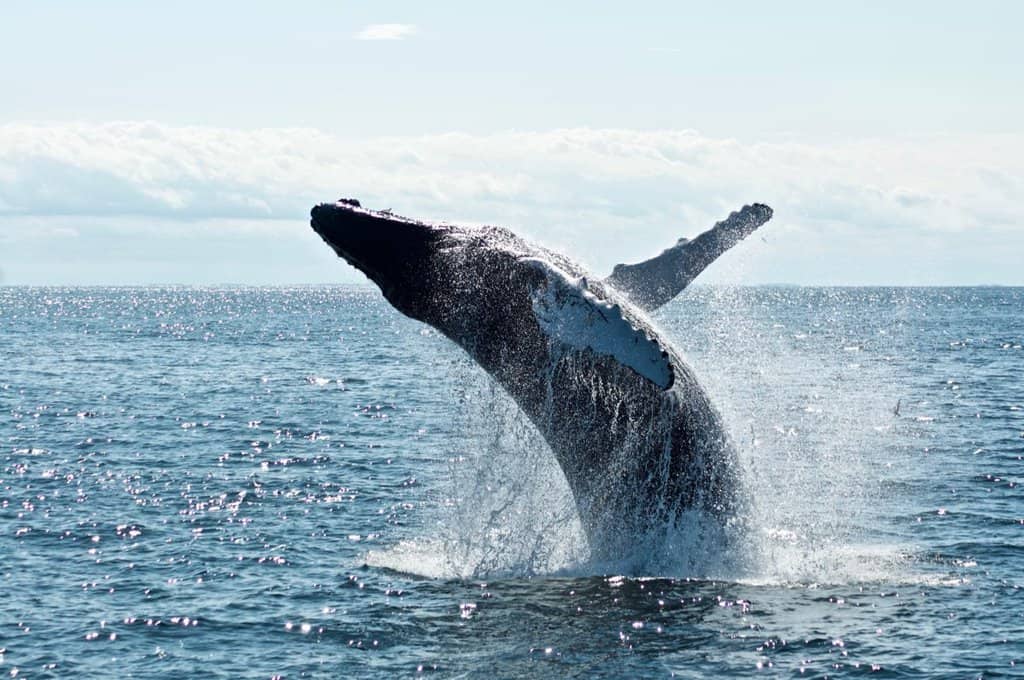 RATING⭐️: 4.5/5
TOUR DURATION⏳: 2 Hours
DEPARTS ⛴️: Kewalo Basin
INCLUDES: Breakfast
Whale watching with Prince Kuhio Tours offers a one-of-a-kind experience in Honolulu that you will want to experience.
What sets them apart is that they are the ONLY provider of chef-prepared, on-board dining cruises in the area.
Their breakfast is satisfying and absolutely delicious, setting the stage for a memorable journey.
Additionally, they offer the unique opportunity to dine in the open air on the upper deck, making the most of the stunning ocean views.
All cruises are currently BYOB, allowing you to customize your onboard experience with your favorite beverages.
The crew provides insightful commentary and excellent service throughout the tour, enhancing your understanding and enjoyment of the marine life.
If you're fortunate, you might even catch a glimpse of giant sea turtles, playful dolphins, and majestic humpback whales, making this whale-watching adventure with Prince Kuhio Tours a truly exceptional and thrilling experience.
What customers said about this tour

Outstanding!!!!! It was the highlight of our visit to Hawaii.

– Gerald J, Read more reviews
➡️ Click HERE to Check Availability for Prince Kuhio Tour
Private Whale Watching Tours In Oahu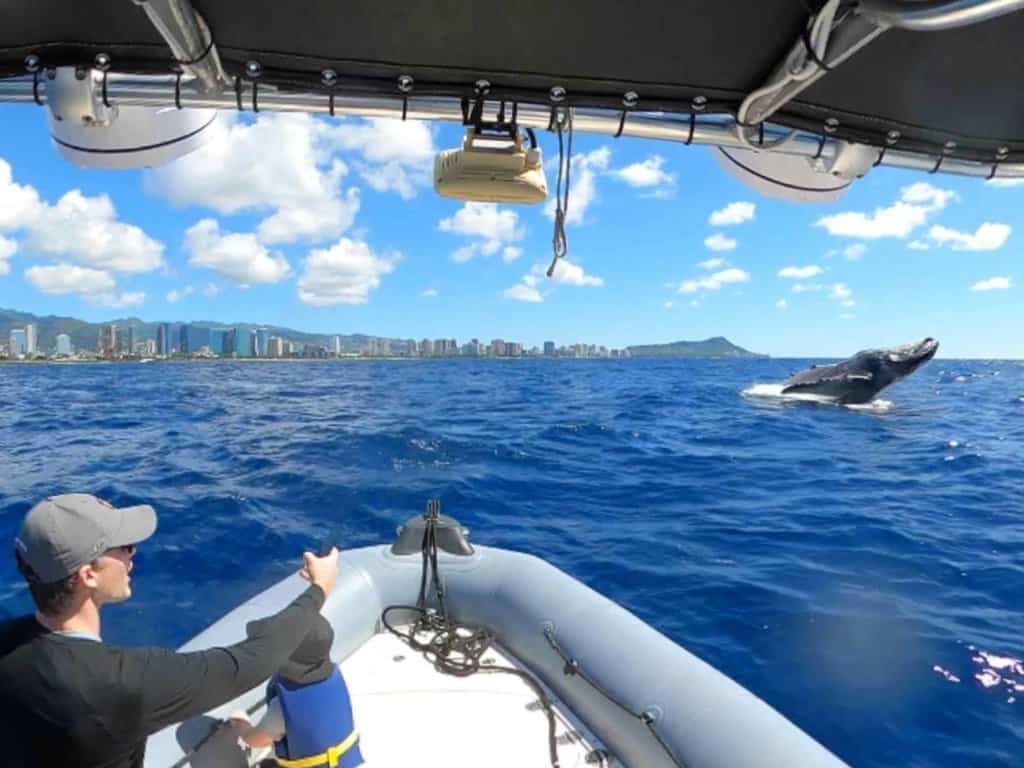 RATING⭐️: 5/5
TOUR DURATION⏳: 2 Hours
DEPARTS ⛴️: Ala Wai Boat Harbor
CAPACITY:
For an unforgettable whale-watching experience in Oahu, look no further than booking a private tour with the Adventure Boat Company.
Opting for a private tour is a choice you won't regret.
With a crew from the Navy, you can feel completely confident in their expertise and commitment to safety.
What sets this tour apart is the option for awesome music if requested, adding a personalized touch to your adventure, and the boat itself is maintained in a spotless condition for your comfort.
The crew is skilled, remarkably knowledgeable, and informative, making your journey exciting and educational.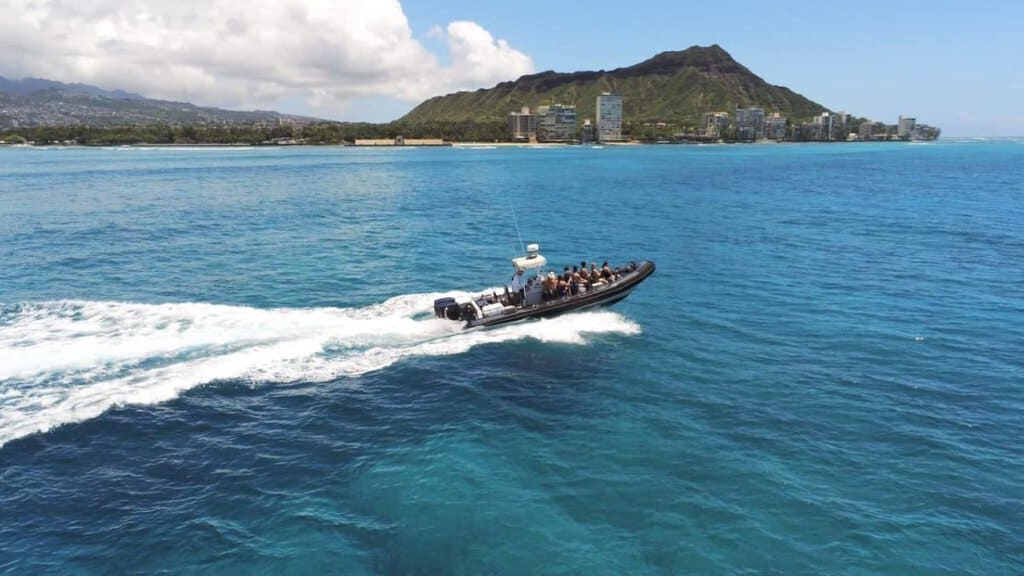 With a capacity of up to 12 people, it's an intimate and exclusive outing, ensuring that you and your group have the best chance to witness these magnificent creatures.
Booking a private tour with the Adventure Boat Company guarantees a luxury whale-watching experience you cannot miss when visiting Oahu.
What customers said about this tour

We saw several whales. We were able to get closer than any tour boat. We also were able to follow two of them at a safe distance for quite a while. The guides were very knowledgeable and friendly.

– Jordan L ,Read more reviews
➡️ Click HERE to book your Private Tour!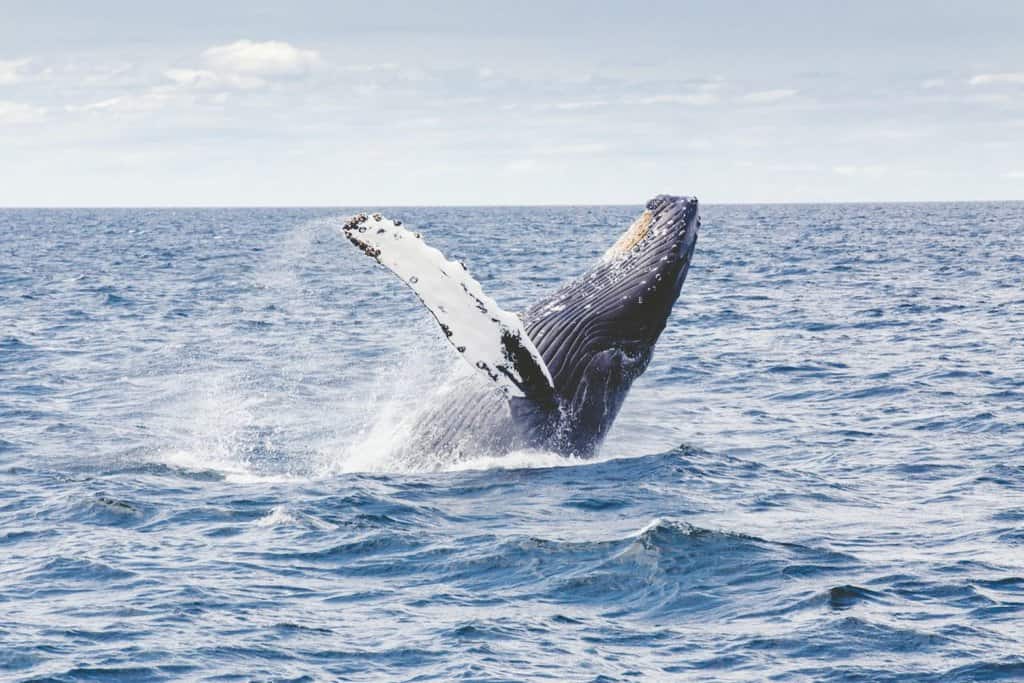 ⭐️ RATING: 5/5
⏳ TOUR DURATION: 2 Hours
⛴️ DEPARTS: Haleiwa
👨‍👩‍👧‍👦 CAPACITY: 6 Passengers
Go Adventures prides itself on maintaining an intimate atmosphere by limiting the number of passengers to a maximum of six per boat.
This exclusivity ensures that your tour remains personal and engaging, making it an ideal choice for those seeking a quieter and more profound connection with the marine world.
Go Adventures allows you to bring your own drinks and snacks on board, providing the freedom to customize your tour experience.
This means you can savor your favorite beverages and treats while taking in the breathtaking sights of the ocean and its magnificent inhabitants.
What customers said about this tour

We had a great time with Chris and Jordan today. The weather was perfect and the music was on point. I'd book these guys again. Excellent crew, very knowledgeable, and hard-working.

– Brad G
➡️ Click HERE to book a Private Whale Watching Tour
Are you planning a trip to Oahu? And feeling overwhelmed and lost? Do you have specific questions you'd like answered, need guidance around which activities to choose, review your itinerary, or want advice on travel logistics? Or maybe you want some simple reassurance about your trip. I'm here to help! ➡️ Click this link to schedule your call! ⬅️
Affordable Whale Watching Tours In Oahu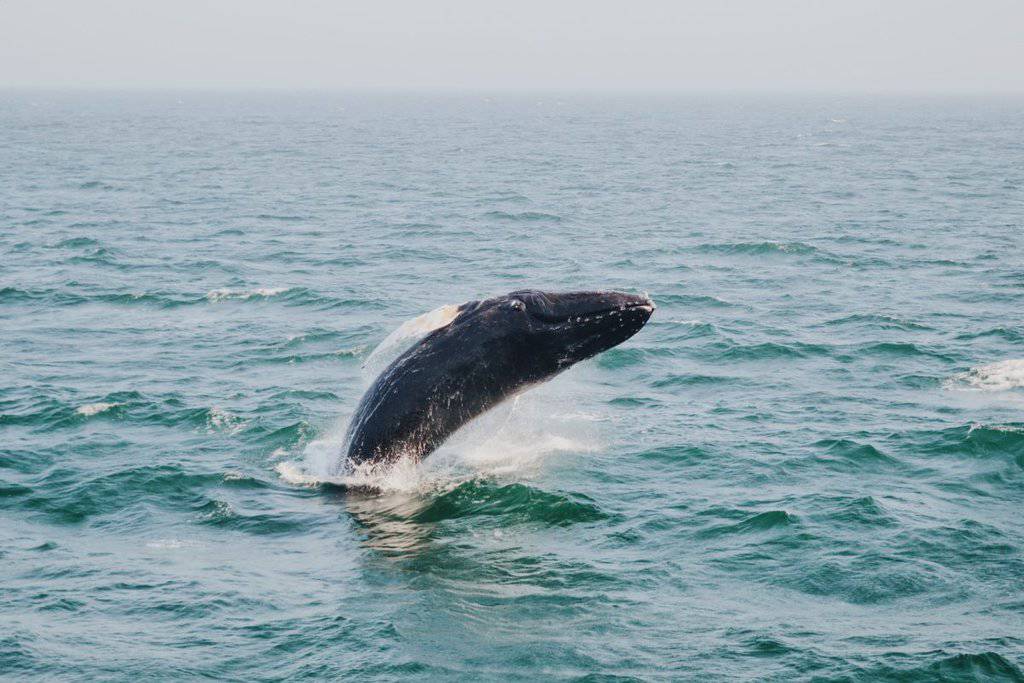 ⭐️ RATING: 4.0 /5
⏳ TOUR DURATION: 1.5 Hours
⛴️ DEPARTS: Kewalo harbor
✅ INCLUDES: Snack & water
Whale watching with E Sea Diver is a punctual and enjoyable experience that comes highly recommended.
Marlee, a friendly and engaging crew member, makes the experience even more memorable with her extensive knowledge and enthusiasm for marine life.
Her passion for the job and genuine customer care shine through, adding a personal touch to the adventure.
What customers said about this tour

We really enjoyed our time out on the water. The crew was fun and engaging. We were fortunate to come across a pod of whales and enjoyed watching them. Saw a few turtles as well. Our boat was not full allowing everyone room to move about for optimum viewing. Great experience and well worth it!

Lynn B- ,Read more reviews
➡️ Click HERE to Check Availability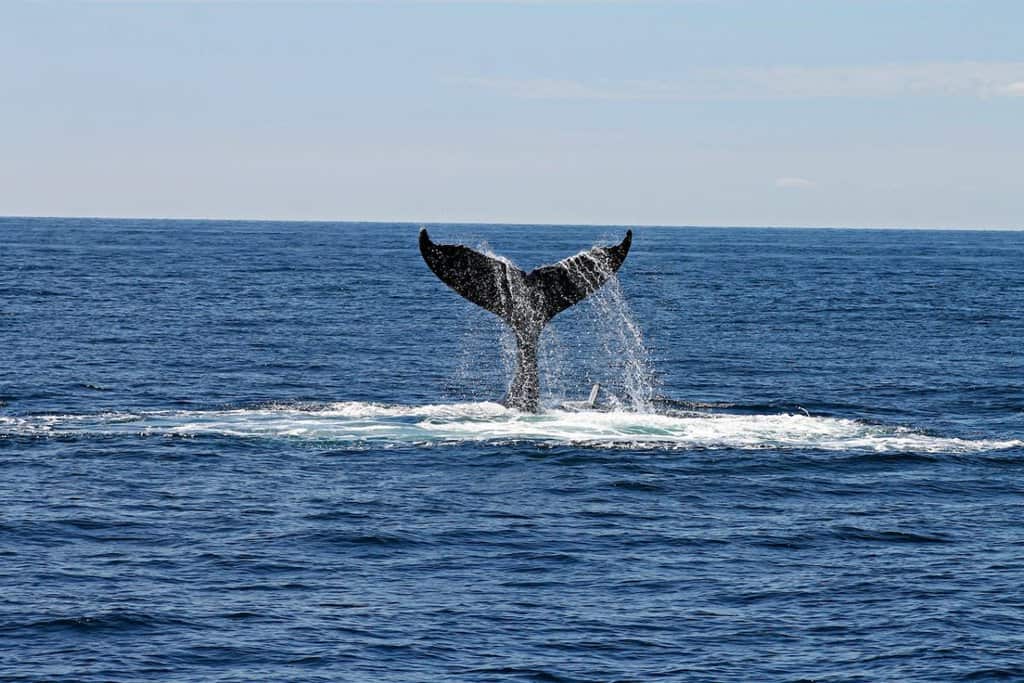 RATING⭐️: 4.5/5
TOUR DURATION⏳: 2 Hours
DEPARTS ⛴️: Aloha Tower
A whale-watching tour in Honolulu with the Star of Honolulu promises a well-rounded and enjoyable experience.
This significant vessel boasts four walk-around decks and three types of stabilizers, ensuring passengers a comfortable and stable journey, even in potentially choppy waters.
The tour provides live narration, enhancing the educational aspect of the experience, as passengers learn about the fascinating marine life they encounter.
Notably, the tour is wheelchair accessible, catering to many visitors, and the operation impressively organized.
The friendly and helpful crew further elevates the experience, ensuring every guest has a memorable and comfortable whale-watching adventure.
What customers said about this tour

So much fun! The boat is Huge & the staff was great. We saw a lot of whales. HIGHLY recommend this one!!!!

Jenna A – ,Read more reviews
➡️ Click HERE to book Early Bird Whale Watching Cruise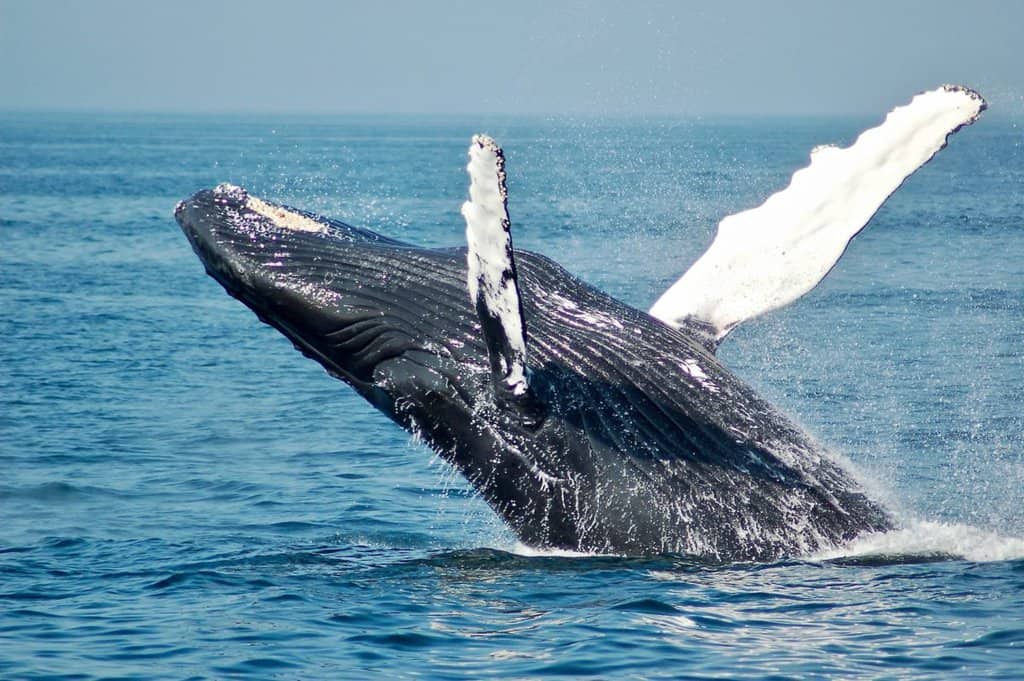 RATING⭐️: 4.5/5
TOUR DURATION⏳: 2 Hours
DEPARTS ⛴️: Aloha Tower
CAPACITY: 100 Passengers
Whale-watching with the Pink Sails is one of the most affordable tours.
Many passengers found that the crew's professionalism and the boat's cleanliness added to the enjoyment.
Captain Sam and the crew, known for their entertaining and professional demeanor, ensured a memorable journey.
However, it's worth noting that the boat can get quite crowded.
Despite this minor drawback, the awe-inspiring whale-watching adventure with Pink Sails at this low price is an experience to be noticed.
What customers said about this tour

It was an amazing experience! The crew was very friendly and knowledgeable. The captain was very funny. And we saw a baby whale and the mom. They popped out right next to the boat. It was an amazing tour. I highly recommend the tour

Yvonne K- ,Read more reviews
➡️ Click HERE to book Tour With Pink Sails
Things To Bring On Whale Watching Tours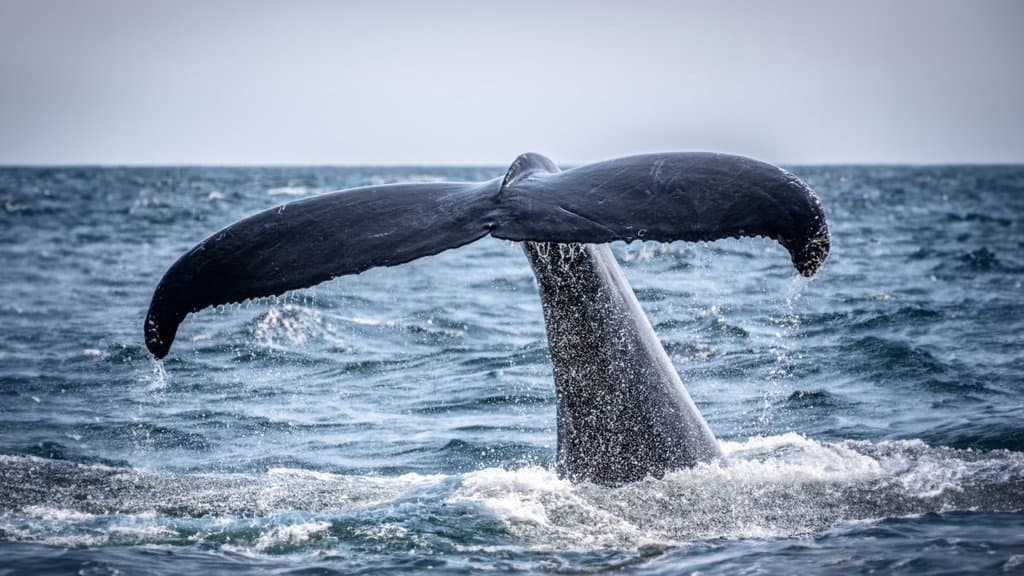 When going on a whale watching tour, it is important to come prepared with the essentials to ensure a comfortable and enjoyable experience.
Sunscreen-to protect your skin from the sun's harmful rays during the excursion.
A light jacket– whale watching tours often take place in open waters with windy conditions, and bringing a light jacket will help keep you warm.
Binoculars– are also highly recommended to enhance your viewing experience, allowing you to get a closer look at these majestic creatures.
Any medication you may require for those prone to seasickness, bringing along seasick medications is advisable to ensure a comfortable experience.
A small bag– to keep your belongings will keep them safe and easily accessible throughout the trip.
Money-credit card or cash for the bar if you wish to indulge in refreshments during the tour and for tipping.
Don't forget your camera.
Tips For Going On Your First Whale Watching Tour
Be Patient-
Going on your first whale-watching tour can be an incredibly exciting experience.
To make the most of your trip, it's important to remember to be patient.
Whales are majestic creatures, but they don't always appear on command.
It may take some time to spot one, so try not to get discouraged.
Instead, take this opportunity to enjoy the beautiful surroundings and appreciate the ocean's vastness.
Its nature, sightings are not always possible-
Whales are wild animals, and their appearances are unpredictable.
Remember, nature works on its own schedule, so embrace the serenity of the moment and let the whales reveal themselves in their own time.
It's a good idea to book a tour that allows you to reschedule if there are no sightings.
Having the flexibility in your itinerary to try again will increase your chances of seeing them.
Whale Watching In Hawaii FAQs
If you're planning on going on a whale watching tour, here are some frequently asked questions to help you make the most of your adventure.
When can you see whales in Oahu?
Whales can be spotted in Oahu during winter, specifically from December to May. However, the best time to see these magnificent creatures is between January and April.
What is the best month for whale watching in Oahu?
The optimal whale-watching experience will be from January to April .
Is whale watching in Oahu worth it?
Going on a whale watching excursion in Oahu is absolutely worth it for those who want to witness these majestic creatures up close. With its warm climate and stunning coastline, Oahu offers a unique opportunity to observe whales in their natural habitat. One of the key advantages of whale watching in Oahu is the favorable weather conditions.
Is whale watching better in Maui or Oahu?
Whale watching is a popular activity in both Maui and Oahu. The waters around Maui offer excellent opportunities to see these majestic creatures up close. Oahu also has a great whale-watching season, but the whale sightings tend to be less consistent than Maui.
How and Where to Spot Whales in Oahu Without a Tour?
There are a couple of great spots to catch a glimpse of whales in Oahu without booking a tour.
The Makapuu Lighthouse Trail is a popular choice (easy hike), as it not only provides breathtaking panoramic views of the ocean but also offers a higher vantage point to potentially spot humpback whales.
Another great spot is the Lānaʻi Lookout, which offers sweeping coastline vistas and is known for its frequent whale sightings. A favorite among locals and visitors alike.
Where To Stay In Oahu
✔️ Hotel Renew–  Hotel Renew's prime location in Waikiki offers easy access to some of the island's best beaches, shopping centers, restaurants, and nightlife. The hotel is perfect for travelers seeking the ideal blend of convenience, luxury, and relaxation.
✔️ Kaimana Beach Hotel– This beautiful oceanfront boutique hotel with stunning views of the Waikiki skyline and Diamond Head. It is an ideal accommodation for those seeking a peaceful and luxurious beach-front vacation away from the busy streets in Waikiki.
✔️ Halekulani Hotel– This hotel is a true gem for anyone seeking a luxurious and unforgettable vacation experience. Boasting stunning views of the Pacific Ocean, this hotel offers guests the perfect blend of natural beauty and contemporary design.
Conclusion: BEST Whale Watching Tours In Oahu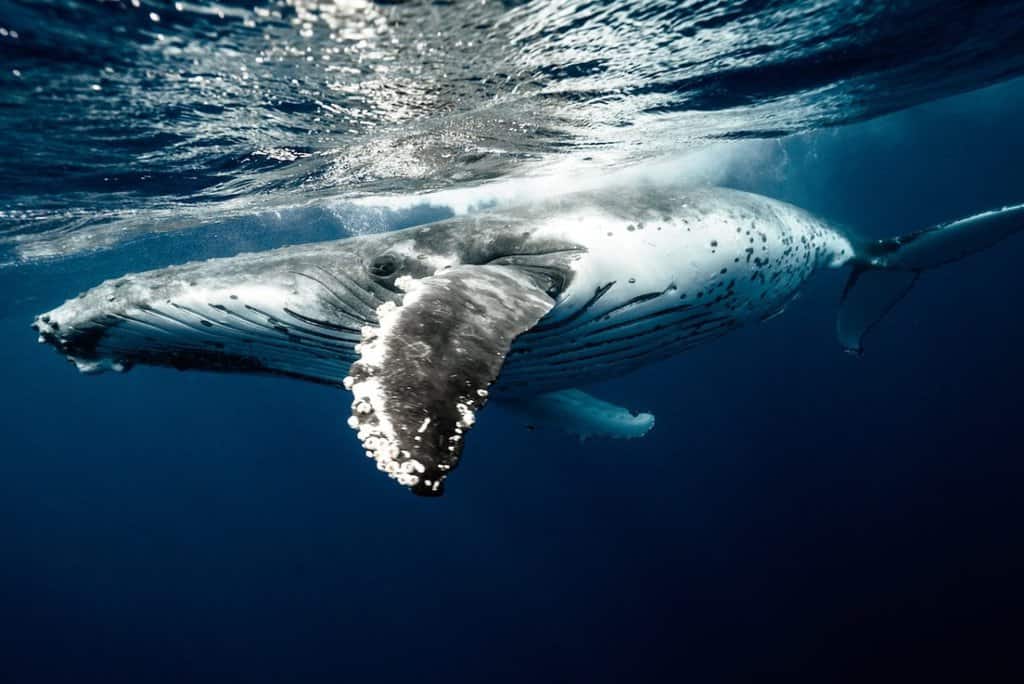 Embarking on a whale watching tour in Oahu is an unforgettable experience that allows you to witness the majesty of these magnificent creatures up close.
With so many companies offering tours, choosing the best one for your adventure can be overwhelming.
That's why we've compiled a list of the best whale watching tours in Oahu, ensuring you can access reputable companies with knowledgeable guides and comfortable vessels.
Whether you're a nature enthusiast, a wildlife lover, or simply seeking a unique adventure, these tours provide the perfect opportunity to observe humpback whales in their natural habitat and create memories that will last a lifetime.