The Best Time To Visit Oahu: A Locals Recommendation 2023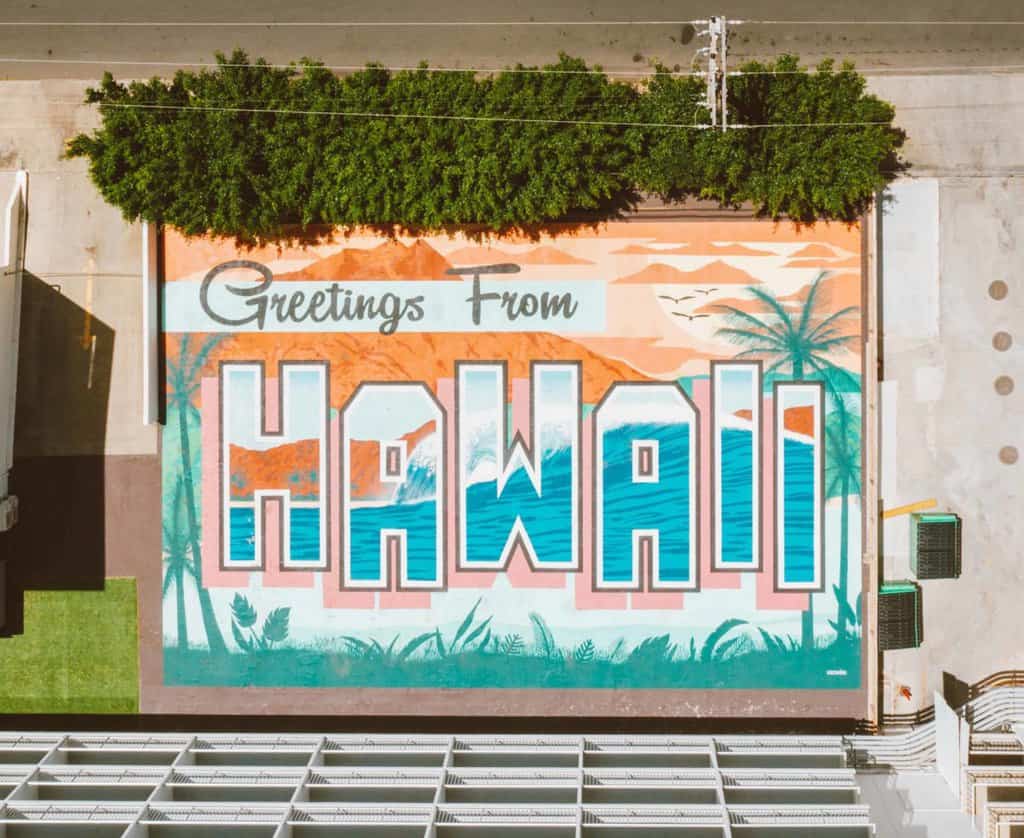 Aloha! Planning your first trip to Hawaii can be overwhelming, especially when deciding when it's best to visit the island of Oahu. With so much to see and do on the island, you want to choose the best time of year to suit your interests and budget.f
In this blog post, we'll explore the different seasons in Oahu and what they offer for first-time travelers.
From peak tourist season to the quieter months, As an Oahu local, we'll provide insider tips and tell which activities are must-dos during each season. So, we've got you covered whether you're looking for adventure or relaxation.
Get ready for an unforgettable vacation in paradise!
Overall Best Time To Visit Oahu
Depending on what you're looking for, different times of year may suit you better than others.
For instance, the high season from June through August is perfect for those who want pleasant weather and plenty of activities, but it can also be crowded and expensive.
On the other hand, the shoulder season from May to June and September to November offers lower prices and fewer crowds.
Are you planning a trip to Oahu? And feeling overwhelmed and lost? Do you have specific questions you'd like answered, need guidance around which activities to choose, review your itinerary, or want advice on travel logistics? Or maybe you want some simple reassurance about your trip. I'm here to help! ➡️ Click this link to schedule your call! ⬅️
Best Season to Visit Oahu
Spring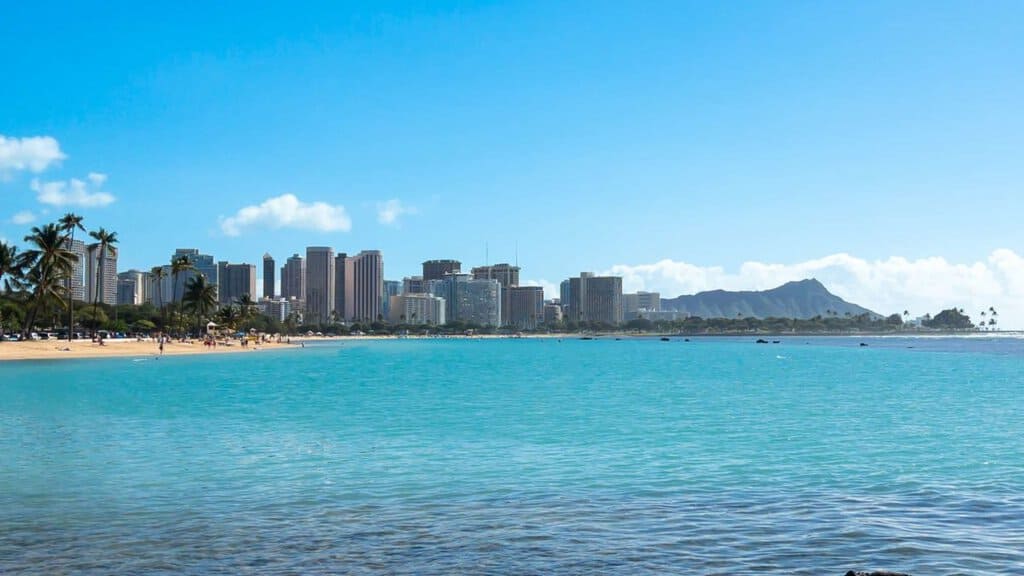 Spring on Oahu offers visitors some of the best weather the island offers. With temperatures ranging from the high 60s to the low 80s and less rainfall than during winter months, it's a great time of year for outdoor activities like hiking and surfing.
Surf conditions are optimal at Waikiki Beach, and North Shore surfers will find some great waves too. Visitors can also enjoy cultural events like the Lei Day celebration and Hawaiian Heritage Wine Festival.
Shoulder season airfare and accommodation rates are lower than high season rates in June through August, so it's an ideal time for budget-friendly travel.
Summer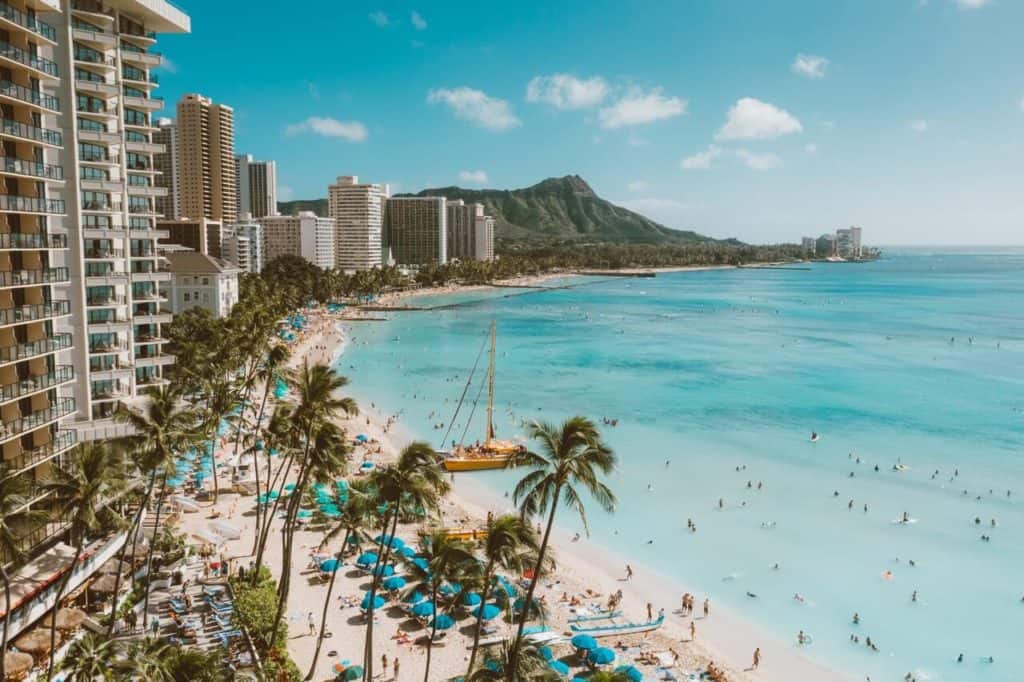 From mid-June through early September, Oahu experiences its peak tourist season.
With an average temperature in the low 80s, it's a great time for water activities such as surfing, snorkeling, and swimming.
While there may be occasional rain showers and high humidity levels that require some sunscreen application or even an umbrella, it's still considered one of the best times of the year to visit Oahu.
Do expect to have prices for hotels and flights to be high.
Fall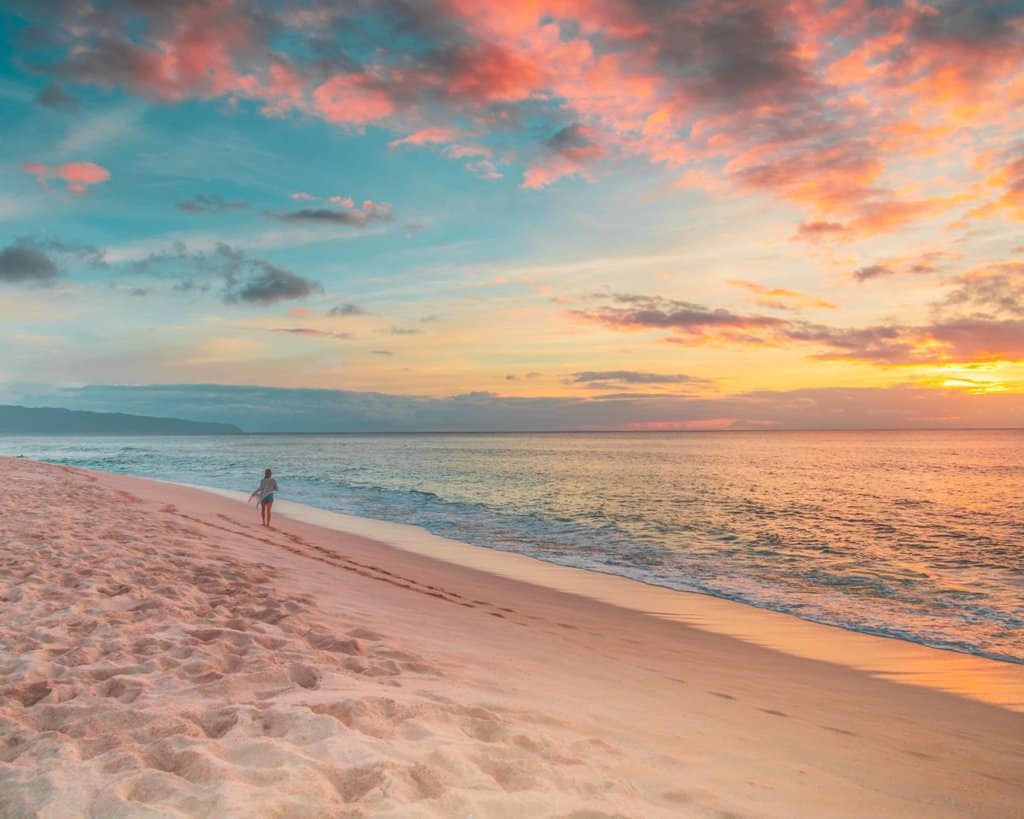 Fall in Oahu should be on every traveler's radar!
During this time of year, from mid-September through early November in Hawaii, the weather is warm and sunny.
With temperatures ranging from the low 80s to mid-70s during the day and cooling off slightly at night, in my opinion, it's the best time to visit Oahu.
You get to explore Oahu while enjoying fewer crowds compared to peak season.
Visit famous places like Waikiki without having to endure massive crowds!
This also means you can find accommodation at a lower rate than high-season rates.
Winter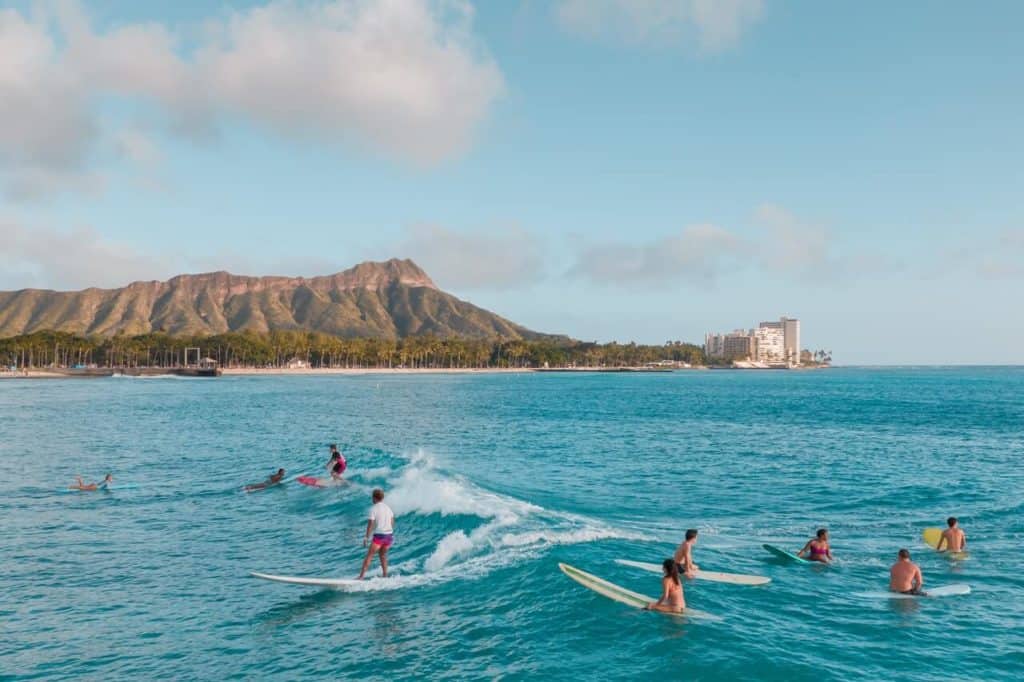 Winter in Oʻahu is the peak season with comfortable weather from the mid-70s to mid-80s°F that attracts many tourists, leading to higher prices.
It is when surfers from all over converge at the North Shore for a chance to surf some of Hawaii's most massive waves.
The whale-watching season also starts mid-December and lasts until mid-April when humpback whales migrate from Alaska.
Although rainy days are more frequent during winter, they don't last long and are followed by sunny skies.
During this period of high demand and excitement, though, it will cost more for accommodation and airfare.
If you're lucky, you might even glimpse a rainbow!🌈
Whats The Cheapest Time to Visit Oahu?
For those looking to save money on their trip to Oahu, consider visiting during the shoulder seasons.
This typically falls between mid-April and early June or mid-September through mid-November.
During these times, you can expect fewer crowds and lower room rates than peak season, making it an excellent time of year for budget-conscious travelers.
Airfare may also be cheaper during these months versus summer travel.
Additionally, if you're flexible with your travel dates and can book well in advance it is best to take advantage of fantastic deals on flights and hotels.
Read more about how much a trip to Hawaii will cost.
Least Busiest Time to Visit Oahu
Generally speaking, the least busiest time to visit is during mid-September to October.
Additionally, weekdays are less crowded than weekends.
Worst Time to Visit Oahu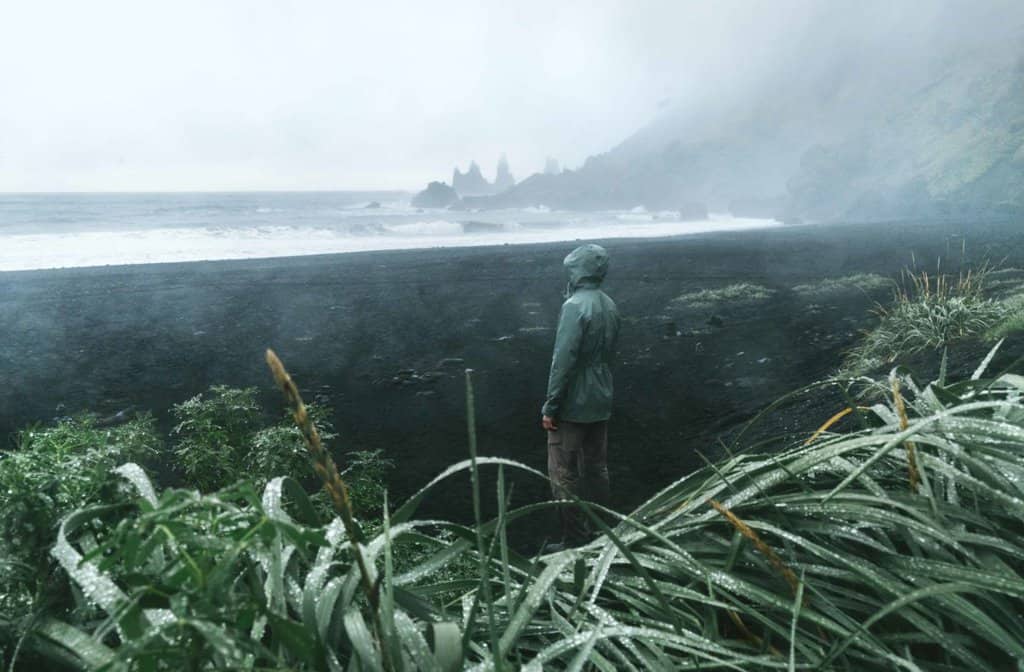 While Oahu may be a popular destination for tourists year-round, the rainy season can present some challenges for visitors.
The rainy season in Oahu typically lasts from November through March and can bring heavy showers, flash floods, and even landslides.
This can make outdoor activities such as hiking and boat tours difficult if possible.
Additionally, the rain can lead to muddy conditions that make navigating certain island areas difficult.
The risk of flooding and road closures due to inclement weather also increases during this time.
It is recommended that travelers consider visiting Oahu during the drier months if they are looking for optimal weather conditions for their vacation.
Oahu Hawaii FAQs
The Best Time to Go Swimming in Oahu?
Swimming enthusiasts visiting Hawaii should visit from May through September offer optimal conditions for swimming due to warmer water temperatures and calmer waves.
What is the Best Time of Year to See Humpback Whales in Hawaii?
For those seeking the awe-inspiring experience of observing Humpback Whales in Hawaii, planning a visit during the winter months is best.
From December to May, these majestic creatures migrate from the cold waters of Alaska to the warm and shallow waters of Hawaii to breed and give birth.
Seeing these magnificent animals breaching and tail-slapping is a once-in-a-lifetime experience that should not be missed.
What Is the Best Time of Year to Go Surfing in Oahu?
In Hawaii, you can surf every day of the year. If you are a pro surfer looking for the best big waves Hawaii offers, you must visit during the winter, specifically between November and February.
During this time, Hawaii's North Shore experiences some of the world's most significant and consistent waves, with swells often reaching 20 feet or more.
However, it's important to note that these powerful waves are best left to experienced surfers, as they can be dangerous for beginners.
For those new to surfing or prefer smaller waves, the summer months between May and September offer more manageable conditions on Hawaii's South Shore.
What Is the Best Time of Year to Go Snorkeling in Hawaii?
The best time of year to go snorkeling in Hawaii is during the summer months, between May and September.
During this time, the water is warm and clear, providing excellent visibility for snorkelers.
Additionally, the ocean conditions tend to be calmer during the summer months, making navigating the water and observing marine life easier.
Does it rain every day in Oahu?
No, it doesn't rain every day in oahu. The island has a warm and humid climate, so occasional rain showers are common throughout the year. There may be occasional rainy days during the wet season, but it is not a constant downpour. It's important to note that rainfall can vary depending on the island's location, with windward areas receiving more rain than leeward areas.
What is Oahu's hottest month?
Oahu experiences warm and humid weather throughout the year, with August being the hottest month. During this time, temperatures average around 85°F (29°C), making it a popular time for beachgoers and tourists.
When is Hurricane Season in Hawaii?
Hurricane season in Hawaii typically runs from June to November. During this time, tropical storms and hurricanes are more likely to form in the Pacific Ocean, bringing heavy rains, strong winds, and high surf to the Hawaiian Islands.
However, it is worth noting that Hawaii has a relatively low risk of experiencing hurricanes compared to other parts of the United States due to its location in the Pacific Ocean and its unique geography.
Is Oahu safe for tourists?
Oahu is considered safe for tourists, but taking precautions and being aware of your surroundings is crucial. Keep valuables in sight, and stay in well-lit areas at night.
How many days do you need in Oahu?
Dedicating 5-7 days to discover the must-see landmarks is advisable. If you wish to have a more comprehensive understanding of the island's stunning scenery and fascinating culture, it is recommended that you extend your stay for a week or more.
This duration will give you ample time to recuperate from a lengthy flight, partake in island activities, go sightseeing, and unwind on the beach without rushing through your stay.
Where To Stay In Oahu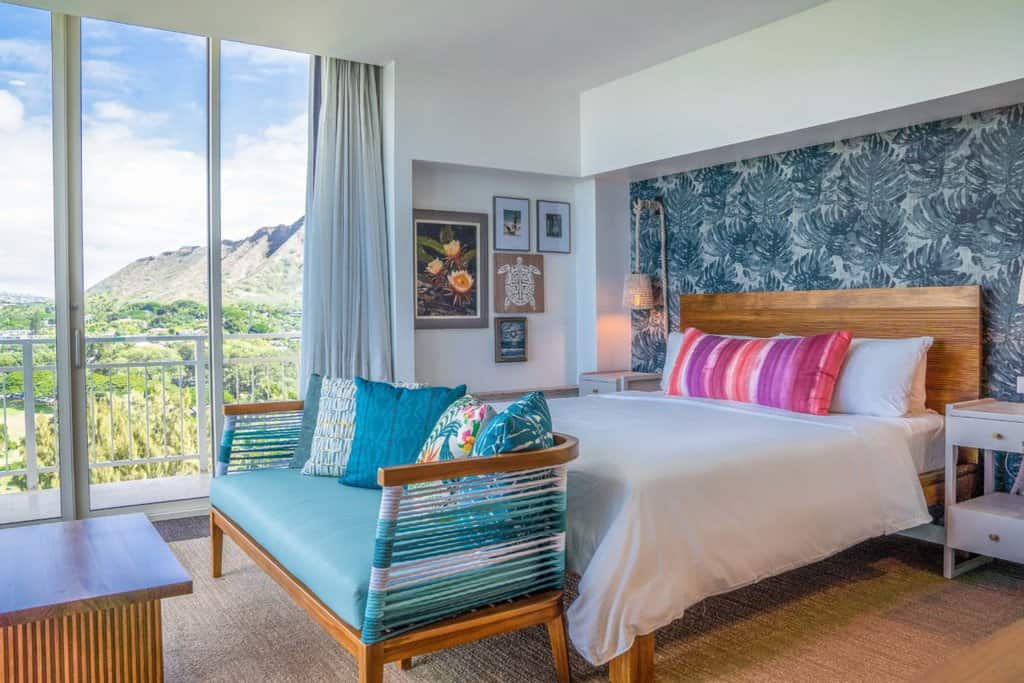 ✔️ Hotel Renew– Hotel Renew's prime location in Waikiki offers easy access to some of the island's best beaches, shopping centers, restaurants, and nightlife. The hotel is perfect for travelers seeking the ideal blend of convenience, luxury, and relaxation.
✔️ Kaimana Beach Hotel– This beautiful oceanfront boutique hotel with stunning views of the Waikiki skyline and Diamond Head. It is an ideal accommodation for those seeking a peaceful and luxurious beach-front vacation away from the busy streets in Waikiki.
✔️ Halekulani Hotel– This hotel is a true gem for anyone seeking a luxurious and unforgettable vacation experience. Boasting stunning views of the Pacific Ocean, this hotel offers guests the perfect blend of natural beauty and contemporary design.
Final Thoughts on the Best Time To Visit Oahu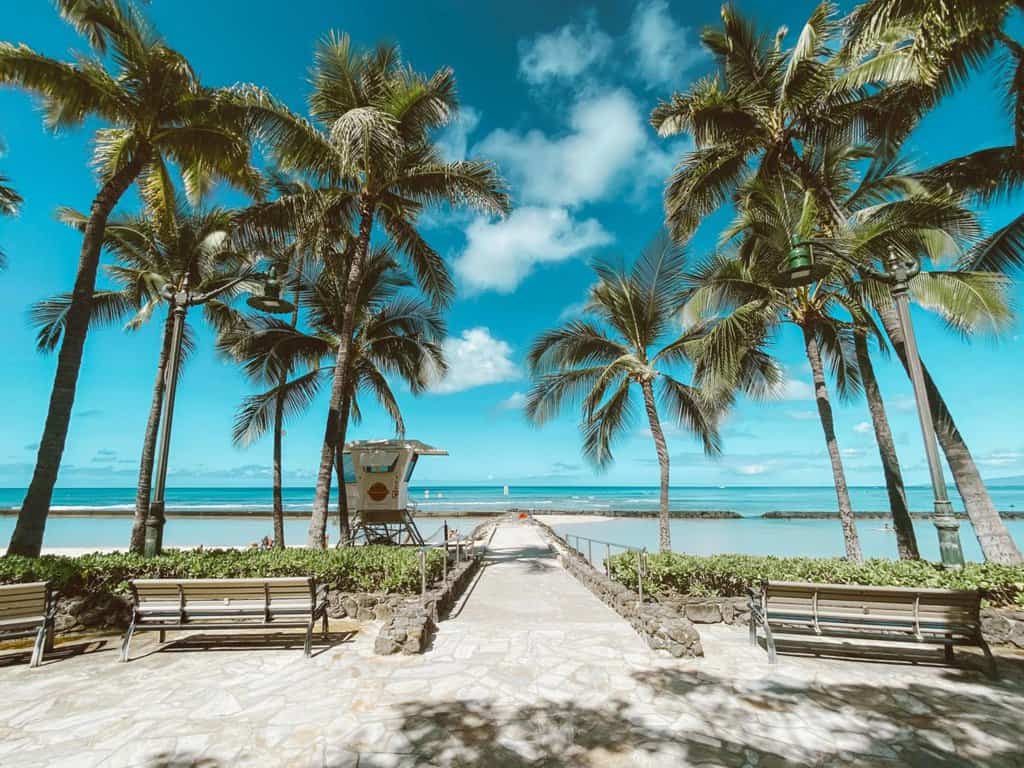 In conclusion, the best time to visit Oahu depends on your preferences and priorities.
If you're looking for warm weather and sunshine, summer is a great time to visit.
However, spring and fall shoulder seasons may be more suitable if you want to avoid crowds and save money.
Additionally, winter can offer some unique experiences, such as whale watching and big wave surfing.
Ultimately, it's essential to consider what activities and events you want to participate in during your trip and plan accordingly. With careful consideration and planning, you can make the most out of your visit to Oahu.