11 Best Activities to do in Waikiki,Hawaii
Waikiki is one of the most popular tourist destinations in the world.
This vibrant, bustling tourist hub offers something for everyone, from endless shopping to stunning beaches; it's easy to see why.
If you're spending some time in Waikiki, here are some things you shouldn't miss.
NO TIME TO READ NOW? PIN FOR LATER!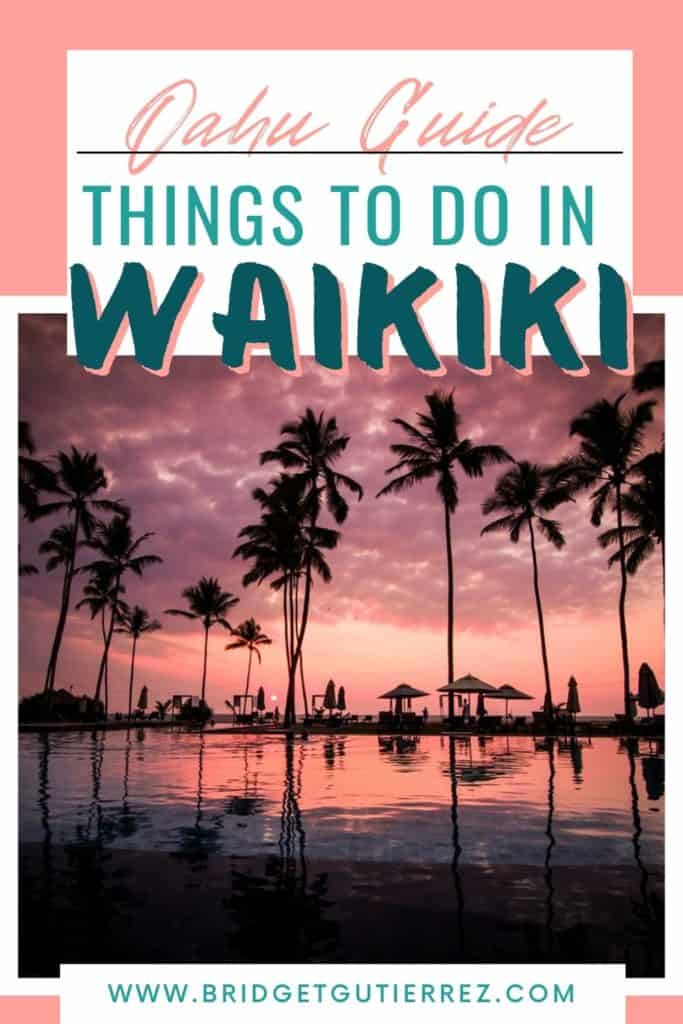 What to know about Waikiki?
Oahu is one of the eight islands that make up Hawaii! Oahu is also the most visited island, and Honolulu is the capital of Hawaii.
Waikiki is a neighborhood located in the city of Honolulu. Waikiki is a hotel/tourist area. Honolulu airport to Waikiki is about a 15-20 min drive.
Waikiki is walkable, being that it's only 3.5 miles. Hawaiian royalty used to live here.
Waikiki Beach is perhaps the world's most famous and most filmed beach. Waikiki Beach is not for you if you're looking for a quiet beach.
Where to stay in Waikiki?
Waikiki has over 60 hotels and 25 condo hotels.
The first hotel ever built in Waikiki was the Moana Hotel, now known as the Moana Surfrider.
Staying in Waikiki makes it easy to be picked up for your tours and excursions.
There are resorts, luxury, and boutique hotels, and there is something for all budgets. Just keep in mind the resort fee.
11 Best Things to Do in Waikiki, Hawaii
1. Surf lesson in Waikiki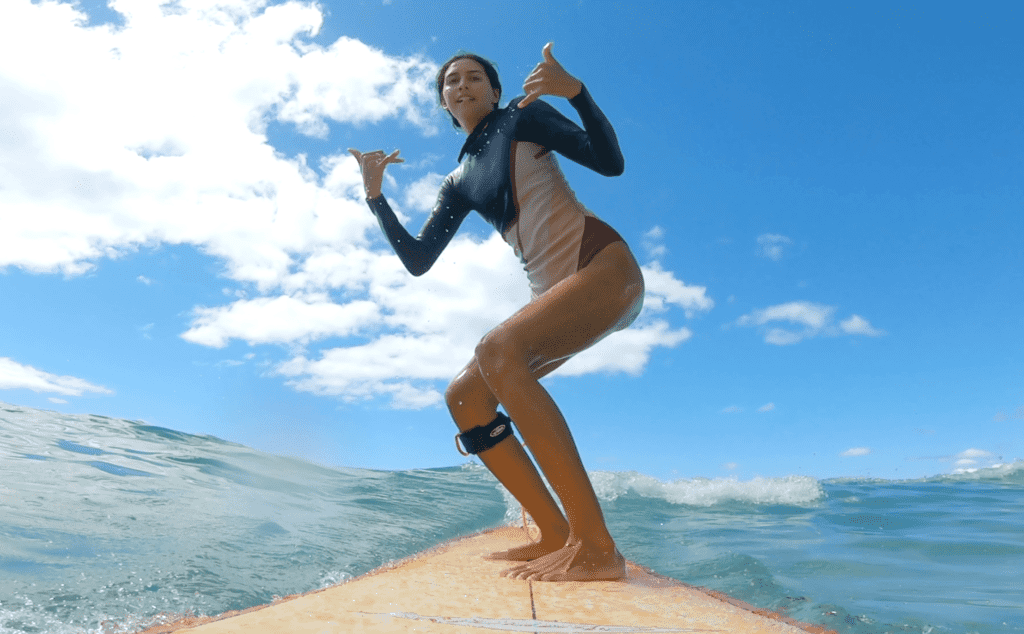 Did you know that surfing first started in Hawaii?
Yes, and at this same beach, to be more specific. Thanks to Duke, the whole world knows surfing.
Surfing is a big part of the Hawaii lifestyle.
You will see toddlers to 80-year-old surfing in the water.
I suggest everyone have a surfing lesson in Waikiki. From kids to adults is the perfect place to learn.
Waikiki has the right size waves year-round, making it a perfect destination for beginners.
Love that everyone is cheering each other on and sharing a couple of party waves.
Definitely a great memory to have and you will feel so accomplished.
There are many surf schools. Group lessons or private lessons are available.
2. Catamaran Cruise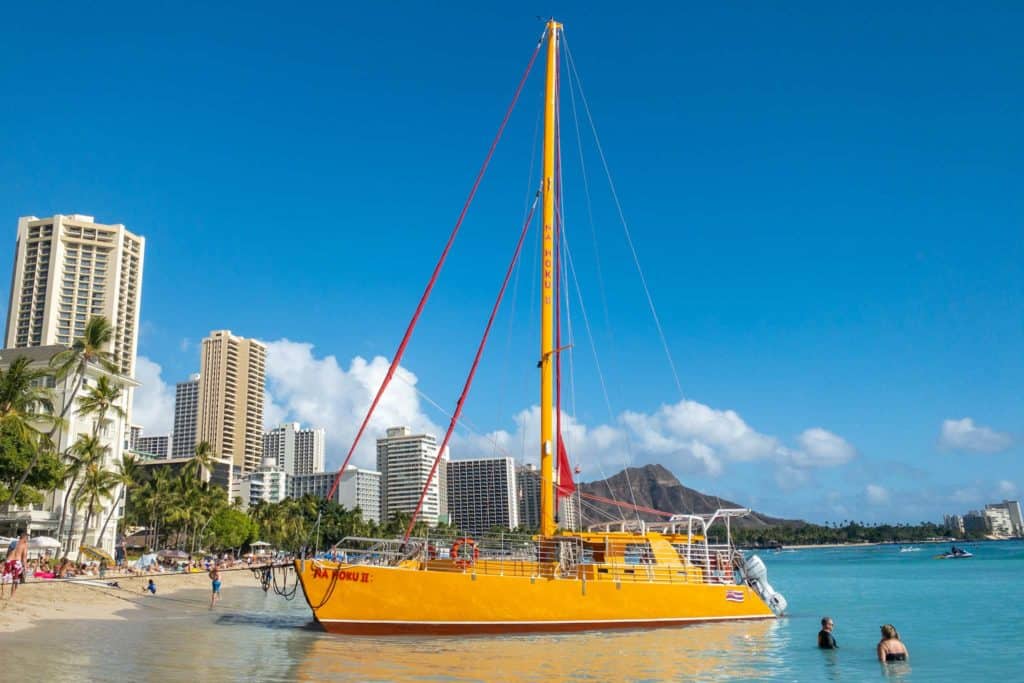 On Waikiki Beach, you will see three catamarans available for booking.
Super easy to get to and a great activity to do.
Enjoy a sail in the pacific ocean with drinks available.
The cruises tend to be less crowded earlier in the day, and the sunset one is the most popular and most crowded.
Make sure to book in advance to secure your spot.
3. Shopping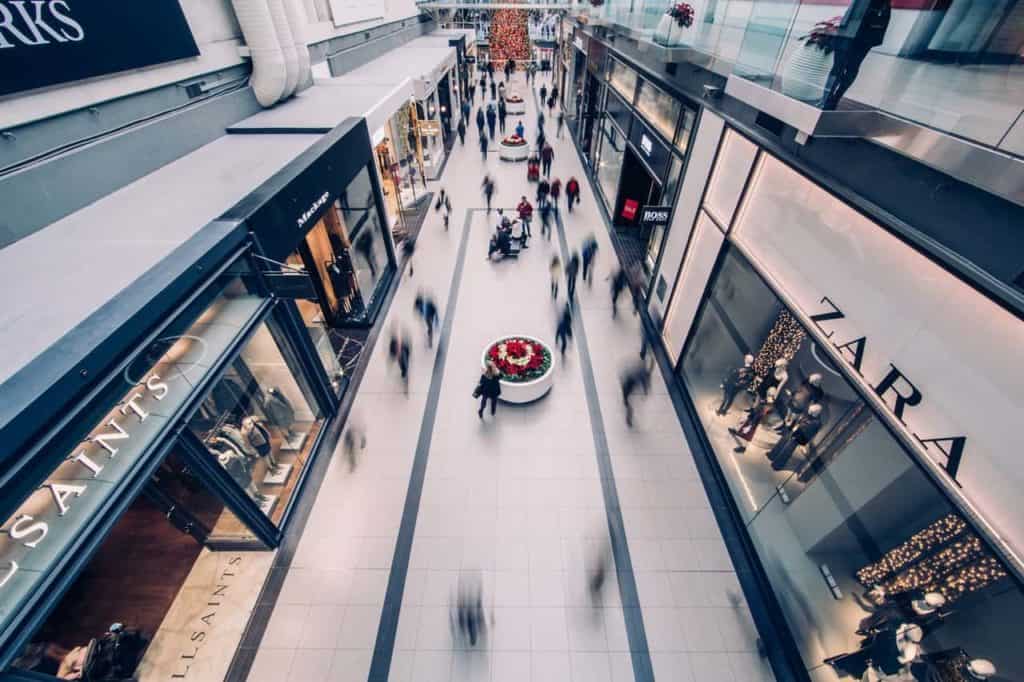 You can't go wrong with shopping in Hawaii, and Waikiki is no exception.
The great thing about shopping in Waikiki is that you do down from your hotel walk no more than three blocks to be on the beach, and then one block over is a street full of retailers from high-end shops like Chanel and Dior to your surf shops like Billabong and Roxy.
Amazing!
If you love designer stores and you are visiting from the mainland, you will be surprised that in Hawaii, some designer items are up to 20% cheaper than buying them in your city.
4.Lei-Making Class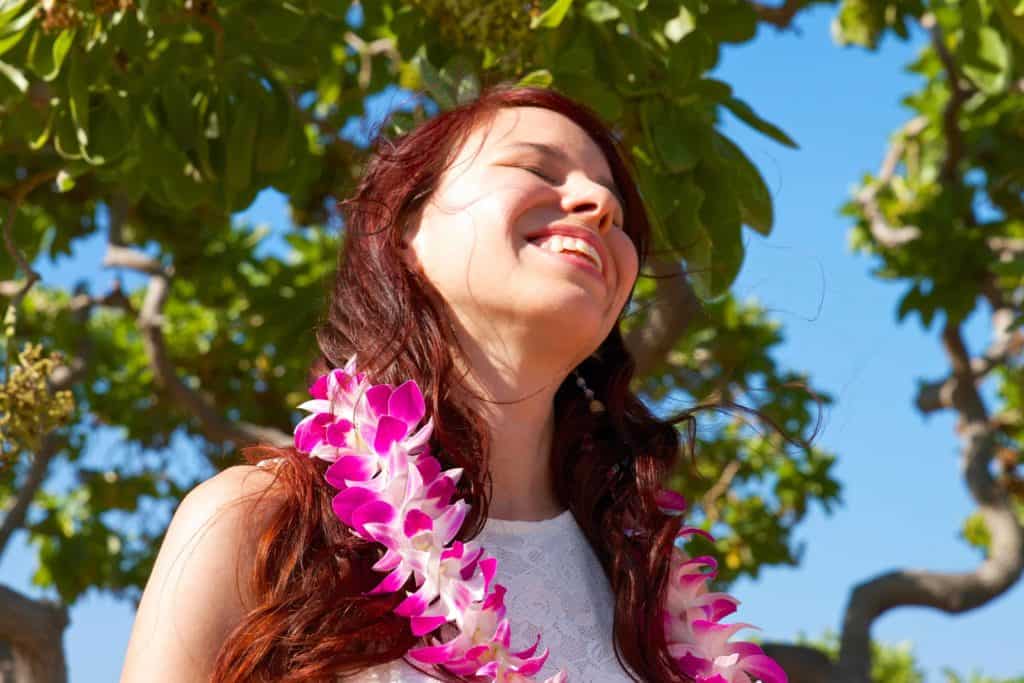 A lei is a garland worn by ancient Hawaiians to distinguish themselves from others.
Today they are given to guests and friends as a sign of welcoming and appreciation.
Learn how to a lei the traditional Hawaiian way. Great way to learn more about the culture.
Check the Royal Hawaiian for more details
5. Hike Diamond Head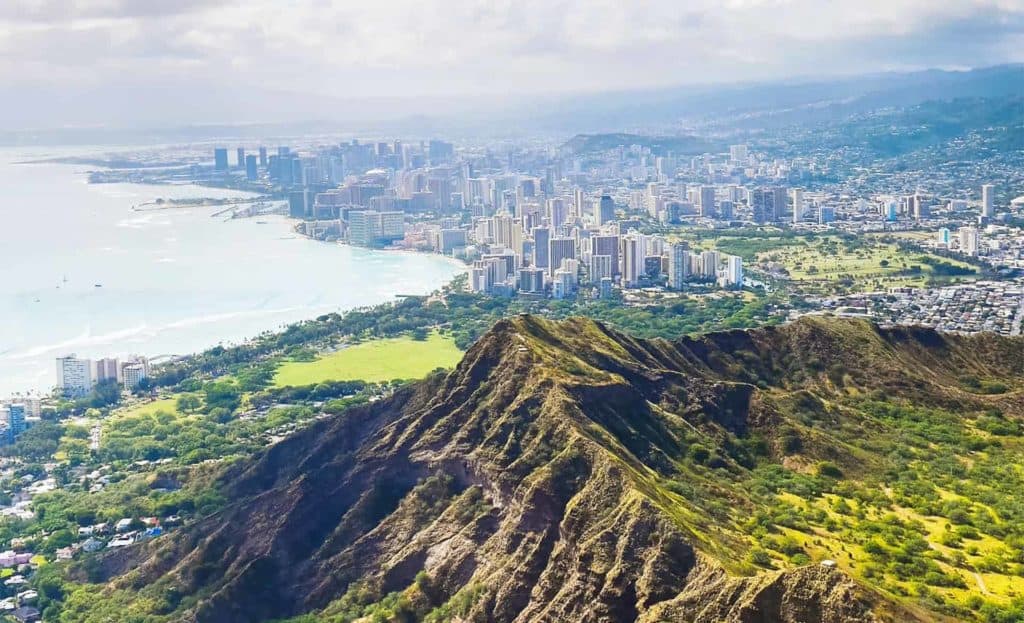 Hike the famous 300,000-year-old volcano crater Diamond Head.
This hike is perfect because it is a few min by car from Waikiki.
This hike is accessible for all family members, and the view is fantastic of all of Honolulu.
This is a popular hike, so know that there are also lots of people going to do this hike.
The trail is 1.6 miles round trip. Takes about 30-45 min to get to the top.
Don't forget to wear good walking shoes, bring water, and wear a hat and sunscreen.
---
Hours:6am-4pm
Parking Fee $10/car
Entry Fee $5/person as a walk-in
The entry fee payment with CREDIT CARD ONLY.
6. Waikiki Trolley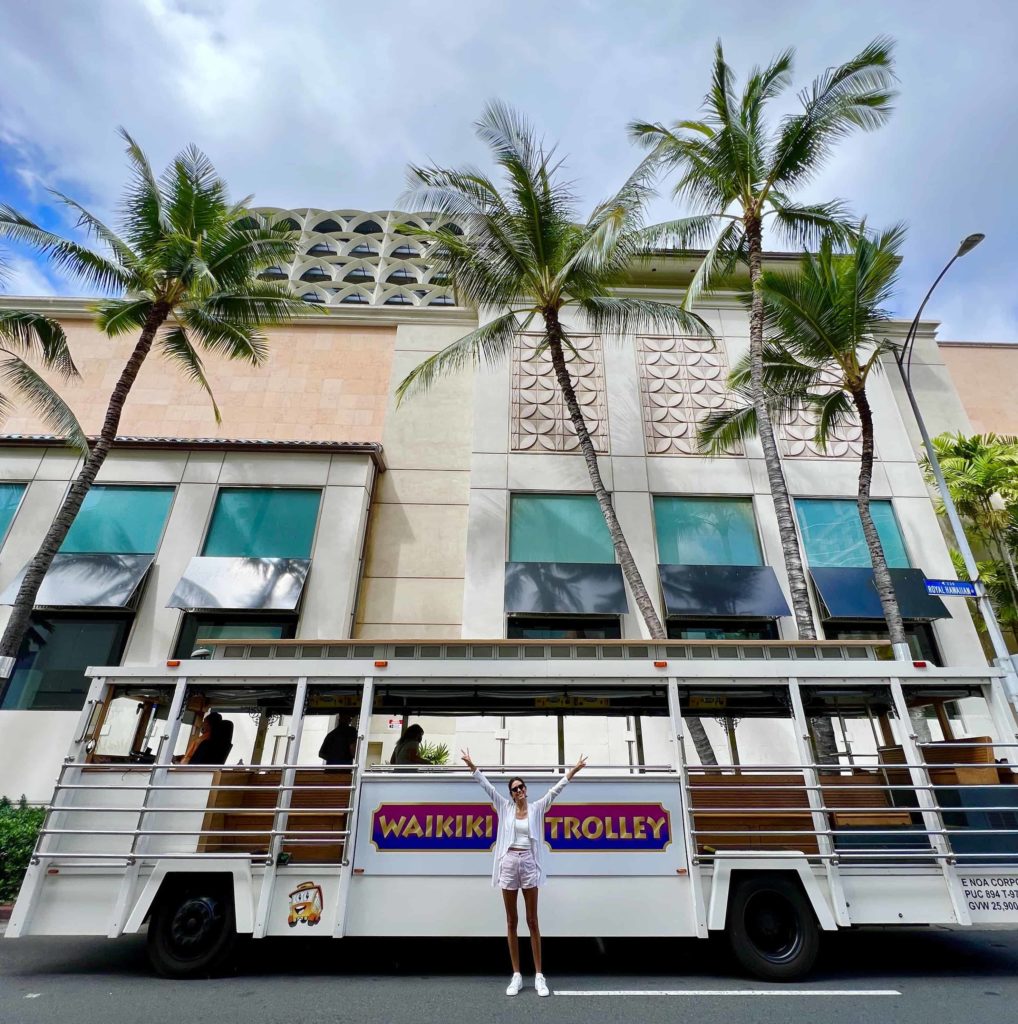 The Waikiki Trolley is a hop-on hop-off tour. They gave three different lines available.
They offer 1,4 and 7 day passes.
It's a great way to see the signs nearby without needing to rent a car also means no parking fee.
Go at your own pace.
7. Snorkeling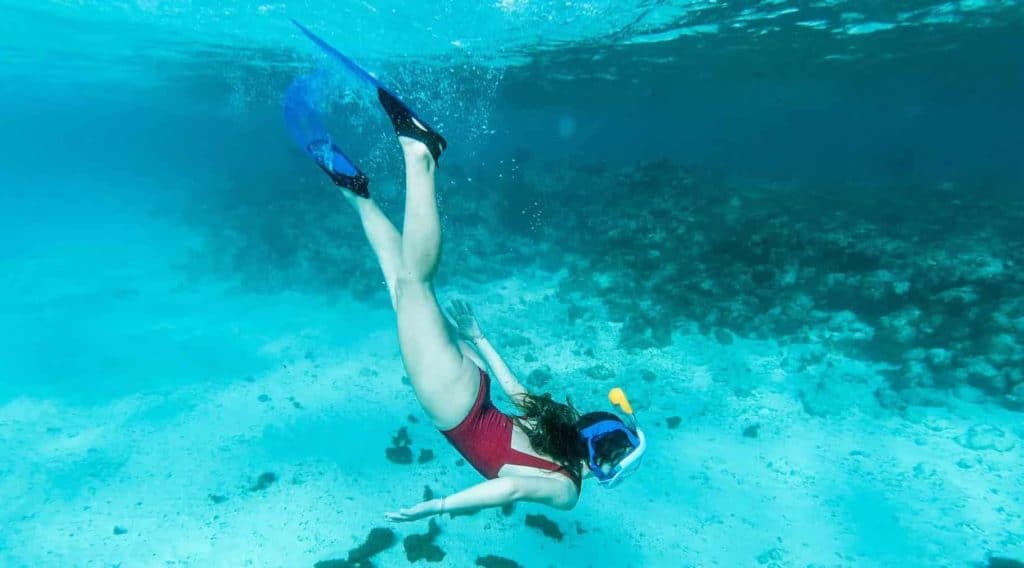 Love to go snorkeling?
Waikiki is perfect for snorkeling!
Most days, the water is clear enough to see some marine life.
You just have to be patient.
Don't be surprised to see a couple of fish from Nemo and some Honu (Hawaiian sea turtles).
Yes! Sea turtles I have seen countless times when I have gone snorkeling.
Just remember not to touch them! It's ILLEGAL and stays at least 10 feet away.
8. Eat at Hula Grill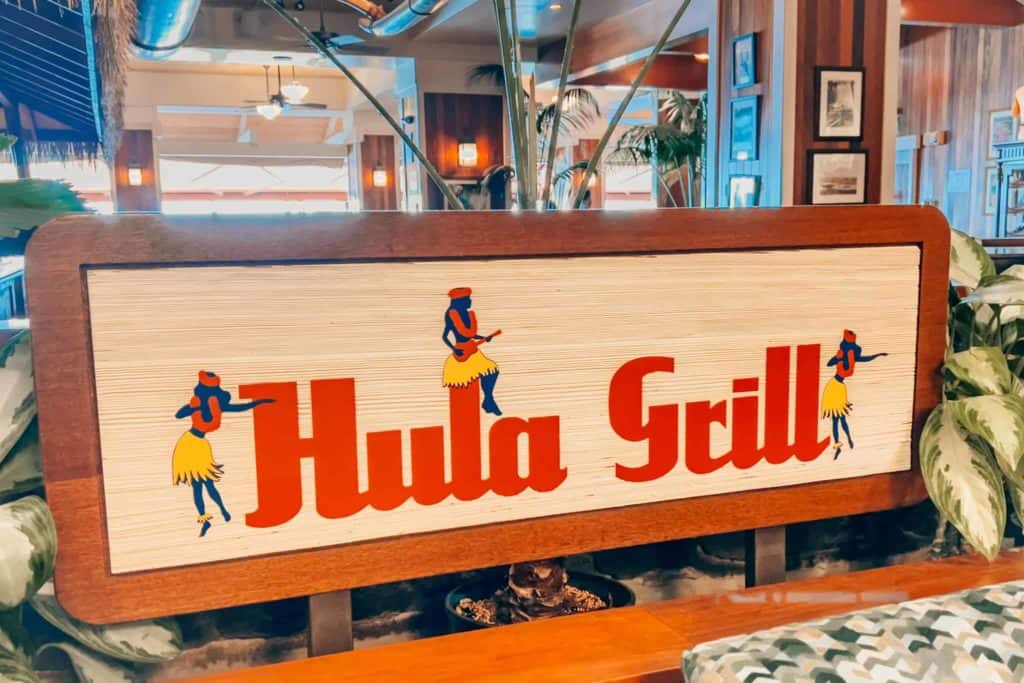 Hula Grill is located inside the Outrigger Hotel on the second level.
Most people eat downstairs at Duke, and Hula Grill is usually less crowded, has friendly staff, and has a better view of Waikiki beach.
Both of these restaurants have similar menus. I prefer Hula Grill because the view is better from up high and you will enjoy the live music from Duke!
9. FREE Entertainment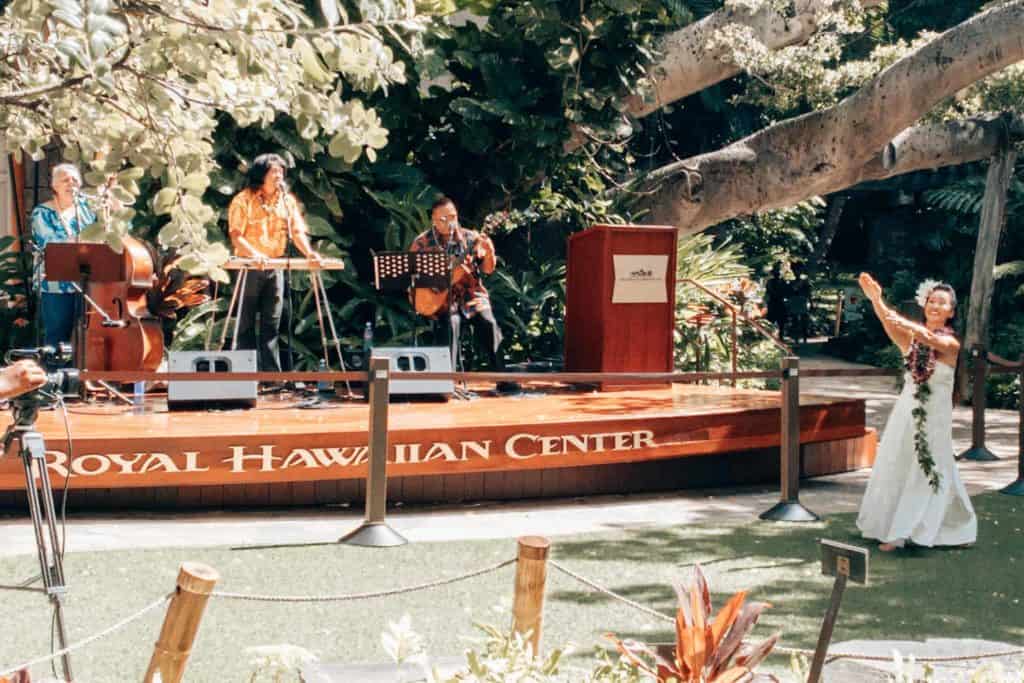 We all know that Hawaii can be expensive, and this doesn't mean you can't have the Hawaiian experience.
Fortunately, there are many free things to do in Waikiki.
The most popular are held by the Royal Hawaiian Center in Waikiki.
They have free hula shows, live music, and even hula ukelele lessons.
*FREE Things to do in Oahu* coming soon! Stay Tuned!
10. Canoe Ride
Not into surfing, no problem.
A great option is to go on a canoe ride and catch a few waves without getting completely soaked but still having a great time.
Waikiki Beach is currently the only place where you can experience the thrill of surfing a wave on an outrigger canoe.
11. Watch the sunset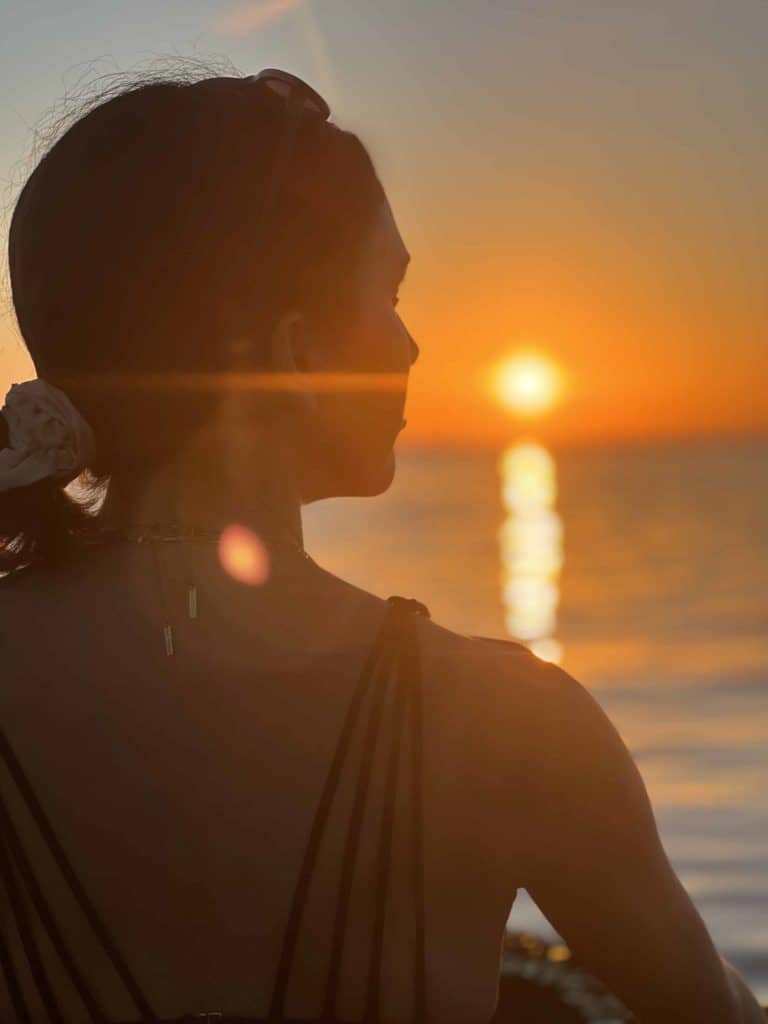 No need to travel far to see a fantastic sunset.
Just head to the beach.
Waikiki sunsets are one of my favorites.
Waikiki beach has a great view of the sunset, and you will see everyone gather to watch it before heading back to the hotel or before dinner.
Want more locations to see the sunset? Here are the best sunsets views on Oahu.
BONUS: Get Oahu Card
If you have read a few other of my posts here, you know I save the best for last!
If you want to experience more of what Oahu offers, Go City Pass: Oahu is a great option.
You can save more instead of buying individual tickets for activities by getting this pass.
They offer 1-7 day passes. Look through all the options available to see what is best for you.
If you're spending some time in Waikiki, be sure to check out these fantastic attractions. Whether you're a history buff, love nature, or just want to enjoy the sun and sand, Waikiki has something for everyone. And don't forget to let me know what your favorite was from the list!
Save for Later!