The 4 Best Places to go Swimming with Turtles on Oahu (2023)
Aloha, you have arrived in Oahu, Hawaii. Now you want to go swimming with sea turtles in Oahu in their natural habitat.
You are in luck because it's super common to see them on Oahu.
First, we need to remind ourselves to be responsible travelers.
The Hawaiian green sea turtle is endangered and needs to be respected to avoid getting fined on your vacation to Hawaii.
We will go through the best locations to go swimming with sea turtles in a bit.
But first, how about we address essential questions.
NO TIME TO READ NOW? PIN IT!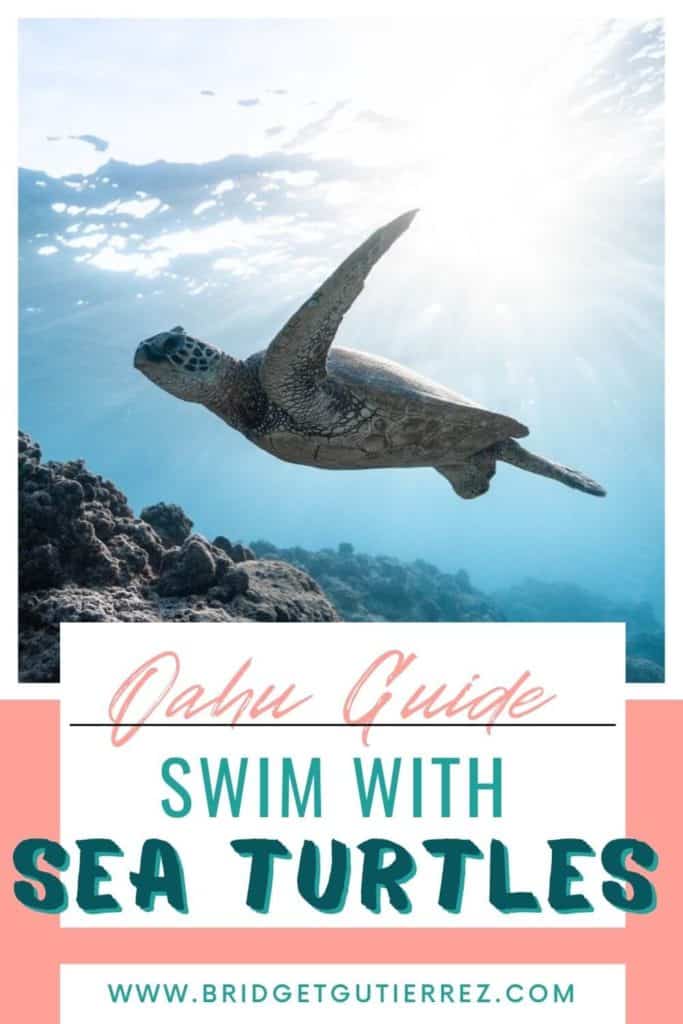 Swimming with Turtles on Oahu FAQ
How much is it to swim with turtles in Oahu?
Want to sail, snorkel with many fish, and even sea turtles? A snorkeling tour is perfect for enjoying a Hawaii trip. Snorkeling tours range from $85 to $185 per person, depending on the duration of the tour.
Is it illegal to touch a turtle in Hawaii?
It is illegal to touch or harass sea turtles as they are all protected by the Endangered Species Act.
How much is the fine for touching a turtle in Hawaii?
The fine for harassing or touching a sea turtle in Hawaii runs from $1,000 to $10,500. The crime needs to be reported to the police for action.
How far do you have to stay away from sea turtles in Hawaii?
NOAA and DLNR recommend that everyone stay at least 10 feet (3 meters) from all sea turtles for your safety and the protection of the animals.
What is the best time of year to see turtles in Oahu?
The best time of year to see honu (Hawaiian green sea turtle) is during the summer months. During the summer, the water is calmer, which honu love.
What time is best to see a sea turtle?
Yes, there is an optional time to spot a sea turtle. Try snorkeling from 11-to 2 pm; it will improve your chances of spotting them.
The 4 Best Places to go Swimming with Turtles on Oahu
1. Laniakea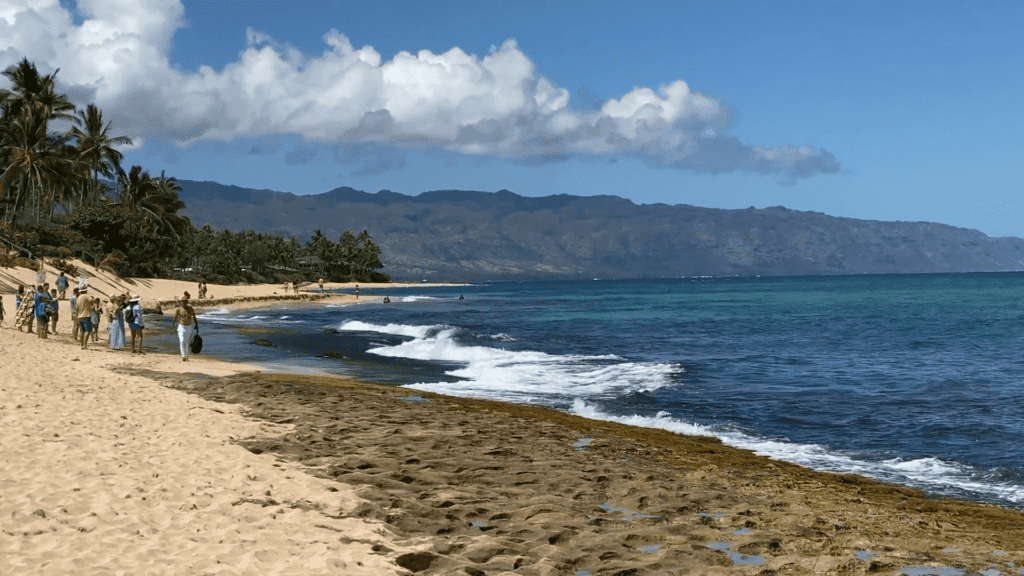 This place is not called turtle beach for no reason. It rarely disappoints, whether you are swimming in the ocean or watching from the beach.
The honu (Hawaiian green sea turtle) come to Laniakea Beach to take in the sun.
You can often see them swimming near where the waves break onto the beach.
However, the turtles do not like rough conditions, so you are not as likely to see them during the winter months.
Location: Laniakea Beach, North Shore, HI 96712
2. Haleiwa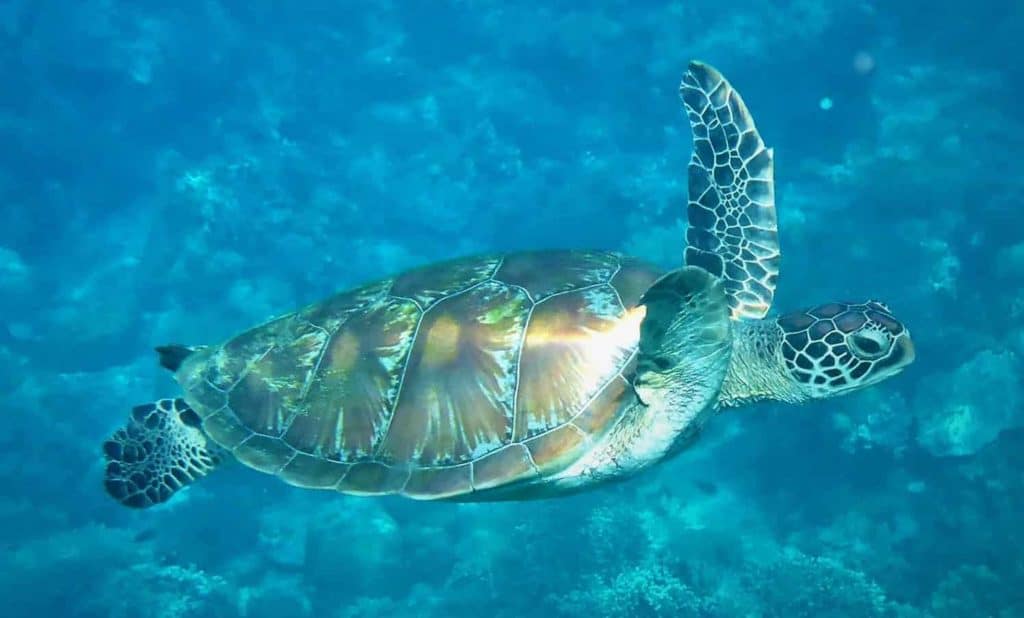 It is located on the North Shore of Oahu.
The water is of excellent quality for clarity, so if you don't see the Turtles on the beach,
you can venture out into the water with a simple snorkel set, fins, and mask, and you will likely see turtles piloting around the beach break the reef.
3. Electric Beach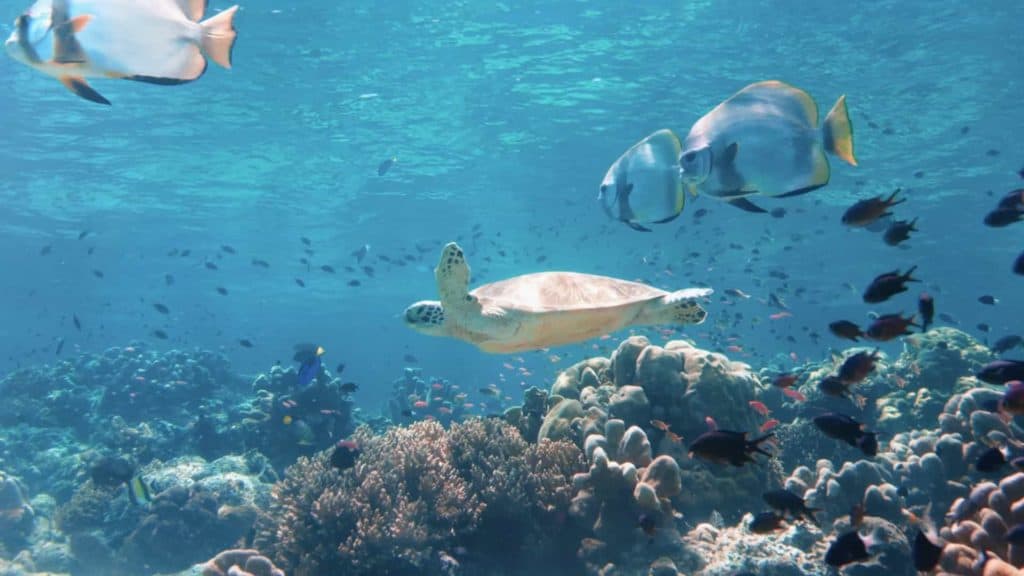 Located on the East side of Oahu, it is considered one of the best beaches for sea turtles and snorkeling.
The warmer water creates the perfect conditions for a variety of marine life.
Electric Beach has some of the most transparent water on the island.
This beach isn't a good spot for those not confident in the water or kids.
Location: 92-201 Farrington Hwy, Kapolei, HI 96707
4. Waikiki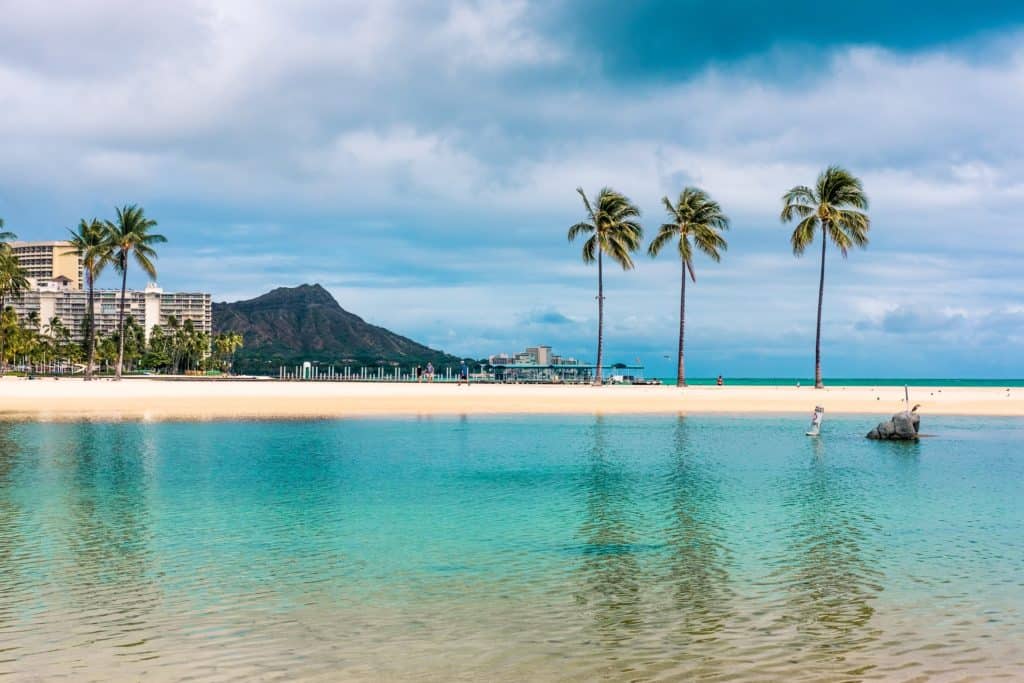 Yes, really! Waikiki beach is my favorite place to see them.
Every time I go out to surf, I see at least one popping its head out to take a breath or swimming under my board, catching the same wave; so surreal.
Don't surf, no problem. You can take out some snorkel gear.
Also, many people can see them from the beach popping their heads out of the water when people in the water are yelling out they saw a turtle.
Helpful tips to consider before swimming with turtles in Hawaii.
Wear reef-safe sunscreen. The chemicals in most sunscreen bleach the reefs and therefore cause damage to marine life. Here is my reef-safe sunscreen guide.
When you see a sea turtle, keep a respectful distance.
Never touch, chase or feed a sea turtle; it's illegal.
Swimming with Turtles in Oahu Summary
In summary, we can enjoy our trip to Hawaii and experience nature while being mindful and respectful travelers.
When we learn to love Hawaii the way locals do, it helps to preserve that natural beauty Hawaii holds, but we also get to experience it.
The more we are responsible travelers, the more these places will be here for future generations to also enjoy.
LOVE IT? PIN IT!