13 BEST Oahu Dog Friendly Beaches (2023)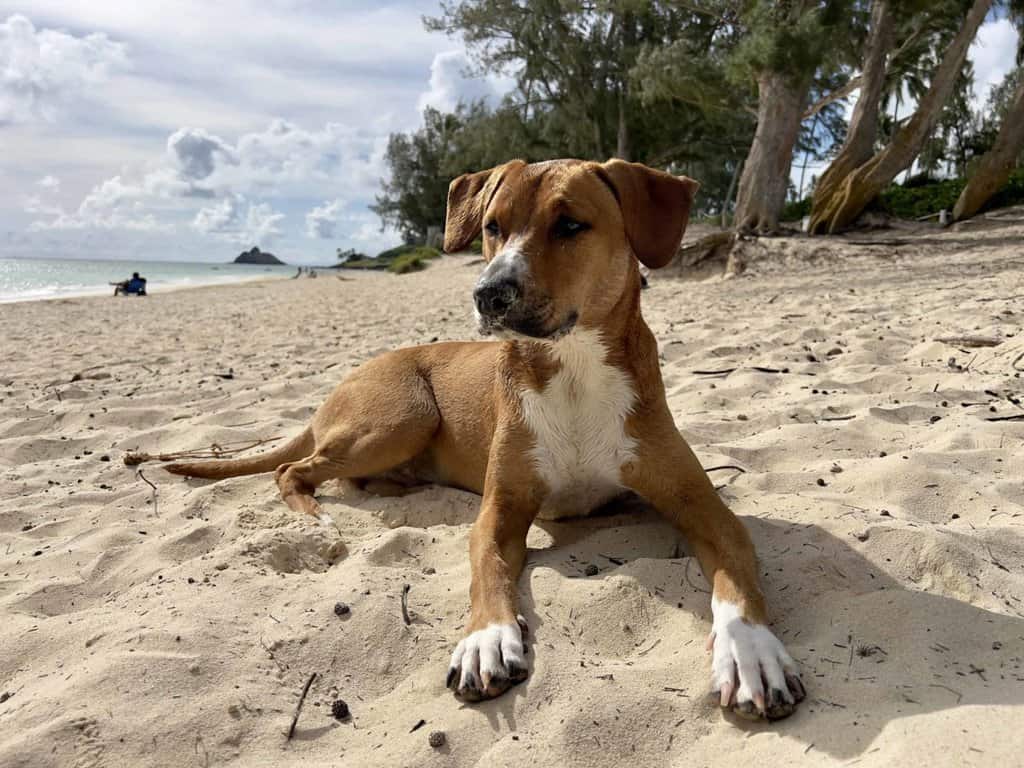 Hawaii is known for its clear waters and sandy beaches, but not all of them are dog-friendly.
Don't worry, we've got you covered.In this blog post, we have listed down the best Oahu dog-friendly beaches , categorized according to their location on the island.
From South Shore to Windward Shore and North Shore to Waianae (West) Shore, we have included all the dog-friendly beaches that you can visit with your furry friend.
As a Oahu dog mom, we have also mentioned some beaches where dogs are not allowed and the fines associated with breaking these rules.
Plan a beach day with your dog in Oahu! Our list of the top dog-friendly beaches includes everything you need to know, from amenities to leash laws.
✅ Top 3 Dog-Friendly Beaches in Oahu
🐾 Kuliouou Beach Park
🐾 Waimanalo Bay Beach Park
🐾 Kailua Beach
South Shore Oahu Dog-Friendly Beaches
The South Shore has several such beaches where you can take your pooch out for a day in the sun.
Located on the south shore of Oahu in Hawaii, Kuliouou Beach Park boasts calm waters, a sandy shoreline, and off-leash fun for furry friends.
It's best visited during low tide on weekends for maximum enjoyment. Its great beach to go running and swimming depending how deep you to into the water and tide of the water.
During high tide the water can get as high as hip hight. Perfect for dogs of all sizes.
Bring plenty of fresh water for your pooch and clean up after them to maintain this dog-friendly beach's pristine environment. There are also showers, and bathrooms available for use.
There is also a small parking lot .
This is my dog's favorite beach.
The weekend mornings and during sunset if a popular time to go and for your dog to have a chance to play with other dogs. Most dogs will be off leash here.
There is a small parking lot if full you can always park in the neighboorhood.
This dog-friendly beach requires dogs to be leashed. Its a peaceful and quiet beach.
The water is Shallow and usually has low waves,where your dog can run on the beach and play frisbee or go swimming.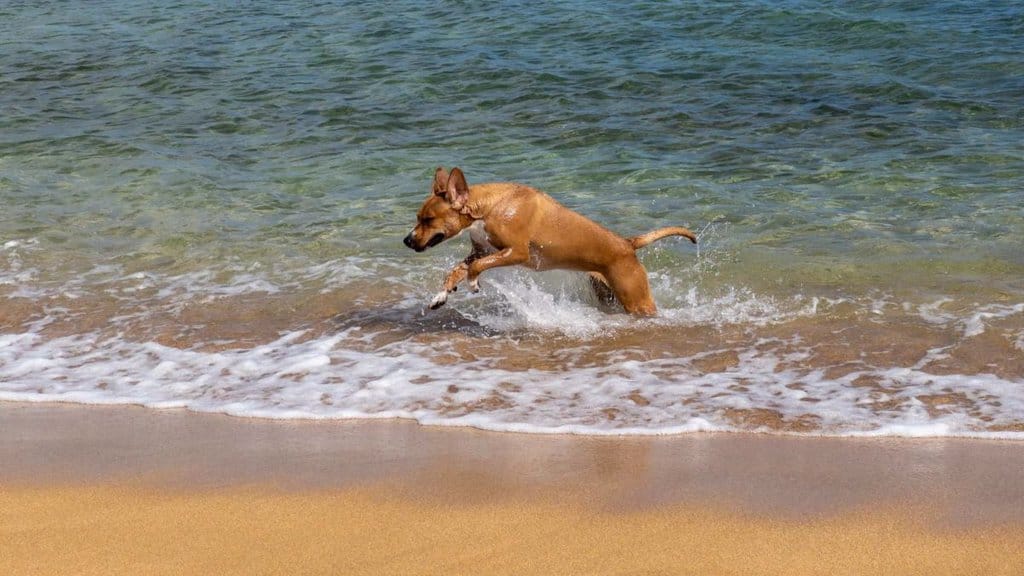 Kaluahole Beach is a serene dog-friendly beach that is more private and small with white sand and calm waters, perfect for some playtime with your furry friend.
The best time to go here is during the morning and when its low tide, as the beach is small. There is no parking but you can park at Kapi'olani Reginal Park and walk over.
There are picnic tables, showers, and shade under the trees.
4. Fort DeRussy Beach Park
Located in Waikiki on the South Shore of Oahu, Fort DeRussy Beach Park is one of the few dog-friendly beaches in the area.
This beach offers stunning views of Diamond Head and the surrounding coastline, making it a great place for a sunset stroll with your furry friend. Its also great to play fetch and toss a frisbee.
It features picnic areas and amenities such as showers and restrooms. The early mornings the beach park is going to be less crowded .
Windward (East) Shore Dog-Friendly Beaches
With its pristine shoreline and crystal-clear waters, the Windward (East) Shore of Oahu offers some of the most friendly beaches in Hawaii for dogs.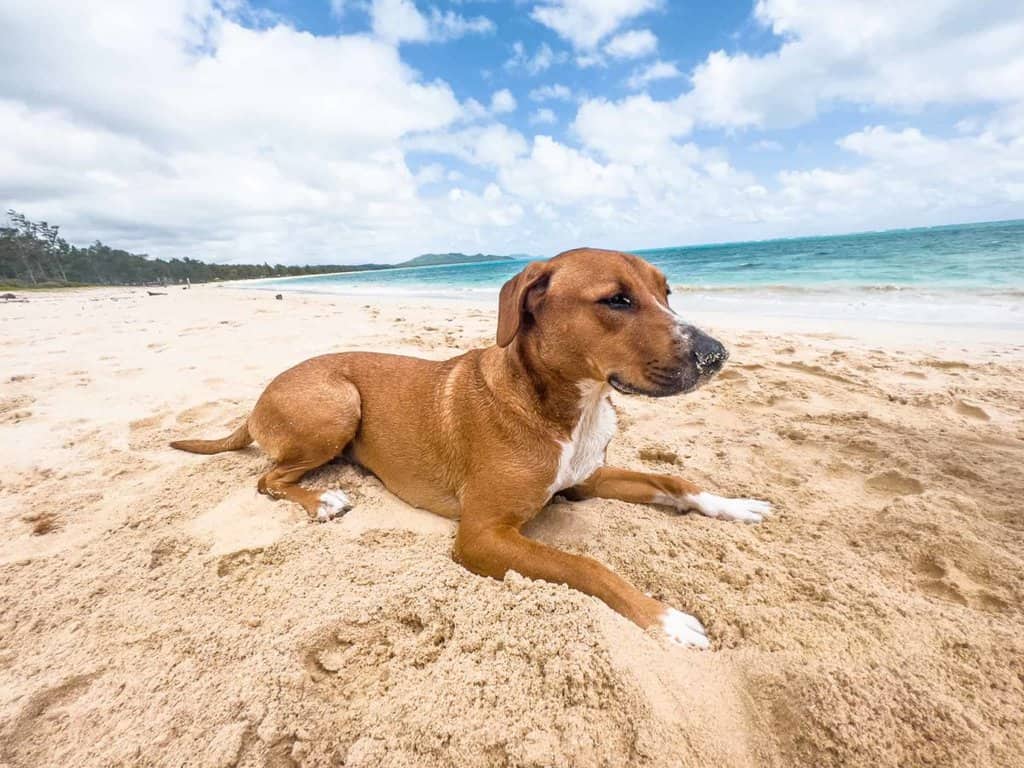 Located on the windward shore of Oahu in Hawaii, Waimanalo Bay Beach Park is a contender for the best dog beach in Oahu.
With its turquoise waters and fine white sand set against stunning views of the Ko'olau Mountains, this dog-friendly beach offers designated areas where dogs can roam off-leash as long as they're well-behaved.
This beach is perfect for long walks over a 3-mile stretch of pristine beachfront.
Also great for swimming.
This will be a more local beach with fewer tourists and less crowded. Bring plenty of water and waste bags for your furry friend to enjoy this paradise without worries.
Amenities are avaliable from, picnic tables ,restrooms and showers.
The only con about this beach there tends to be homeless living in the park. Dont leave visiable items in your can and lock it before going to the beach.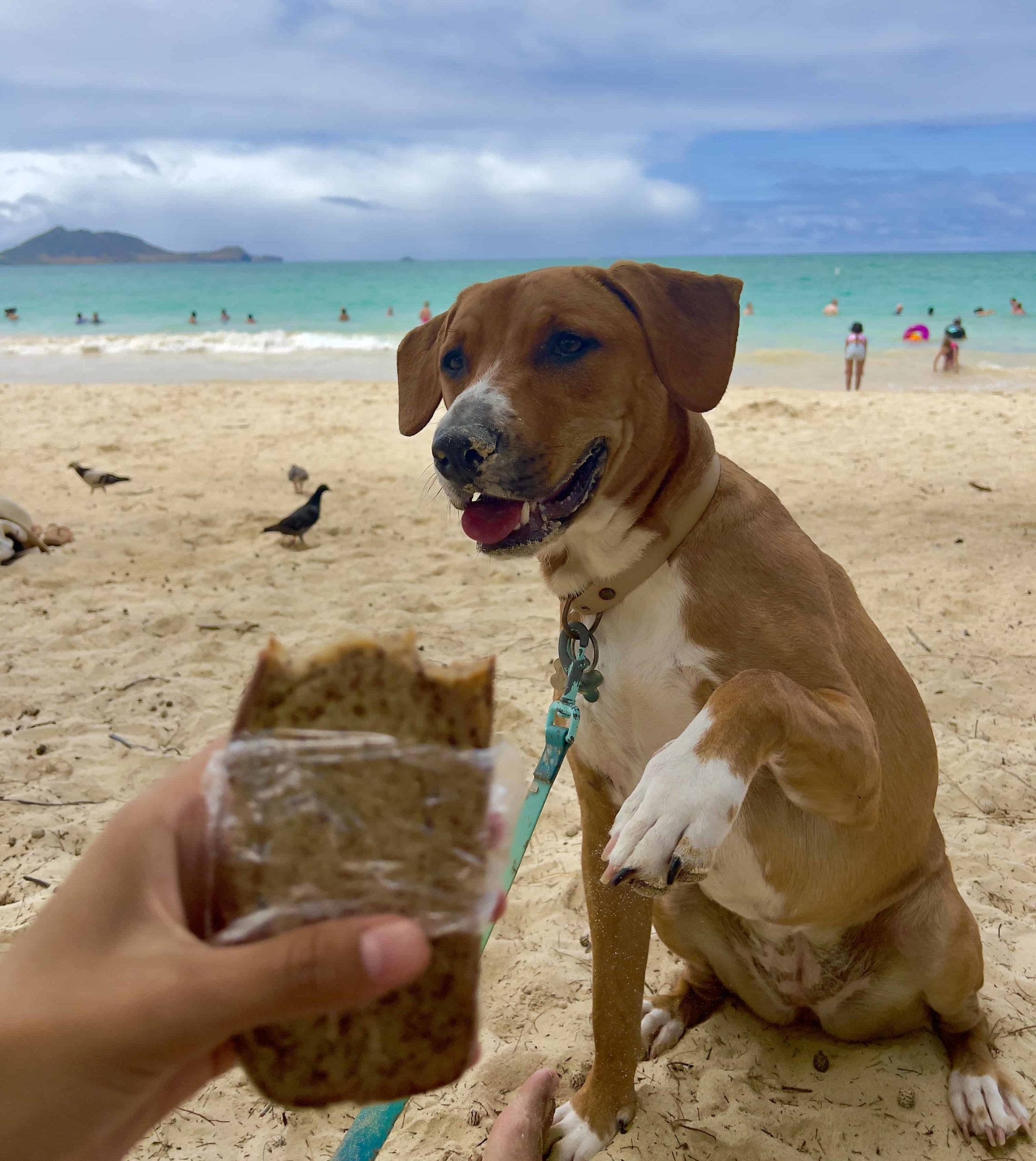 Kailua Beach is another best dog-friendly beach in Hawaii.
Dogs are welcome on a leash to frolic in the turquoise waters alongside their owners.
This beach is excellent for swimming, long beach walks, and a relaxing day.
Along with its reputation as one of Hawaii's most famous and stunning beaches, visitors can enjoy kayaking, windsurfing, and paddleboarding at Kailua Beach. Amenities include restrooms, showers, picnic areas, and more.
It is best to go in the morning to find parking as it fills up fast. Sunset time also a popular time for local come and walk and excerisise their dog on the beach.
We have a puppy that loves to run around. We tend to walk further down the beach to the left of the parking lot to get more space and be around less people.
Also if your pet have a high prey drive be careful as there alot of birds and chickens roaming in the beach park and on the beach.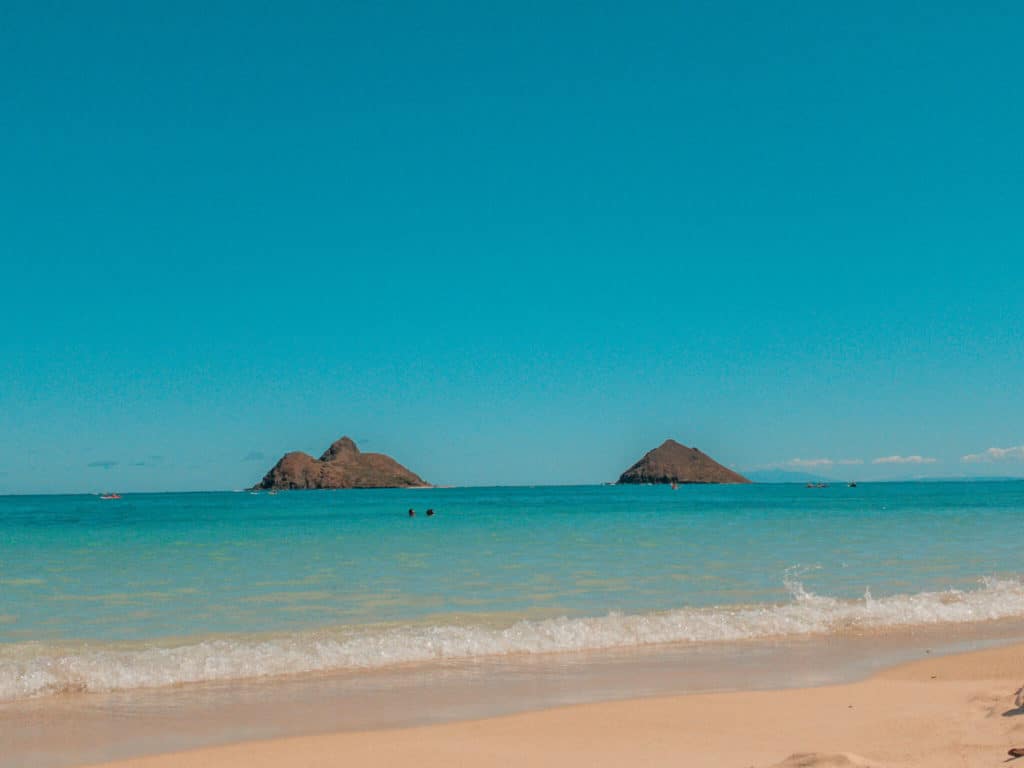 Enjoy stunning views of the Mokulua Islands at Lanikai Beach, one of Oahu's famous dog-friendly beaches.
Leashed dogs are welcome during certain hours on this peaceful shoreline, perfect for kayaking, snorkeling, and swimming with your pup.
You will see dog playing off leash.
This beach tends to be more crowded comared to other beaches on oahu.
Its also great to throw your dogs favorite toy into the ocean for them to catch to tire them out.
No designated parking is available, nor showers and restrooms.
With no amenities its important to bring plenty of fresh water the closes amenities will be driving/walking to Kailua Beach.
North Shore Dog-Friendly Beaches
The North Shore of Oahu is home to some of Hawaii's most beautiful and dog-friendly beaches that are a perfect place to relax with your furry friend. Keep in mind that during the winter months the current and waves are stong and even dangerous.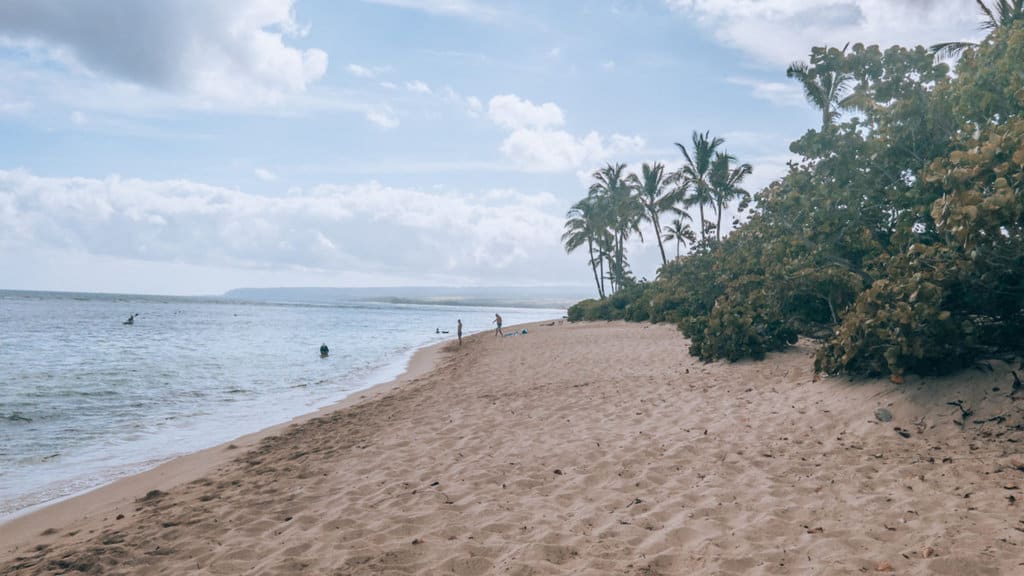 This North Shore Oahu gem is a beach to hang out with your pup.
Aweoweo Beach Park offers amenities like picnic tables, restrooms, and showers.
They even have a kid's playground.
The beach is narrow but very long, perfect for beach walks and playing fetch.
This beach doesn't have a parking lot as it's located behind a residential area.
Few parking spaces are available on the street.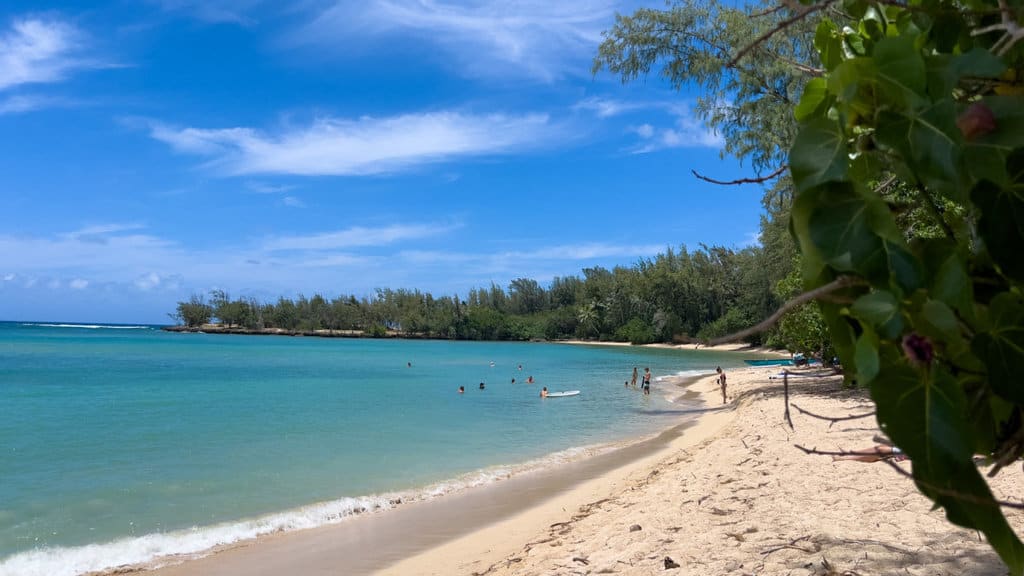 With its crystal-clear waters, Kawela Bay Beach in Oahu is the perfect spot for swimming, SUP, and playing fetch with your furry friend.
This beach doesn't have a parking lot, but you will see people parking on the side of the road.
If there is no parking, you can also go into the Turtle Bay Resort parking lot and walk 1 mile to this beach.
You will need to walk acouple of minutes in a forest to reach the bay.
On your way there make sure to clean up after your pet and dispose it in the trash bins.
This secluded Oahu dog-friendly beach offers peace and shade trees.
This beach doesn't have a parking lot, but you will see people parking on the side of the road.
If there is no parking, you can also go into the Turtle Bay Resort parking lot and walk 1 mile to this beach.
Located on the North Shore of Oahu, Turtle Bay Resort is the perfect destination for dog owners looking to spend a nice day at the beach with luxury amenities.
With its calm waters and stunning scenery, visitors can enjoy swimming and relaxation in this dog-friendly beach area. Just make sure to keep your dog on a leash the whole time.
And don't worry about exploring the shoreline as there are many hiking trails available where you can play with your pup.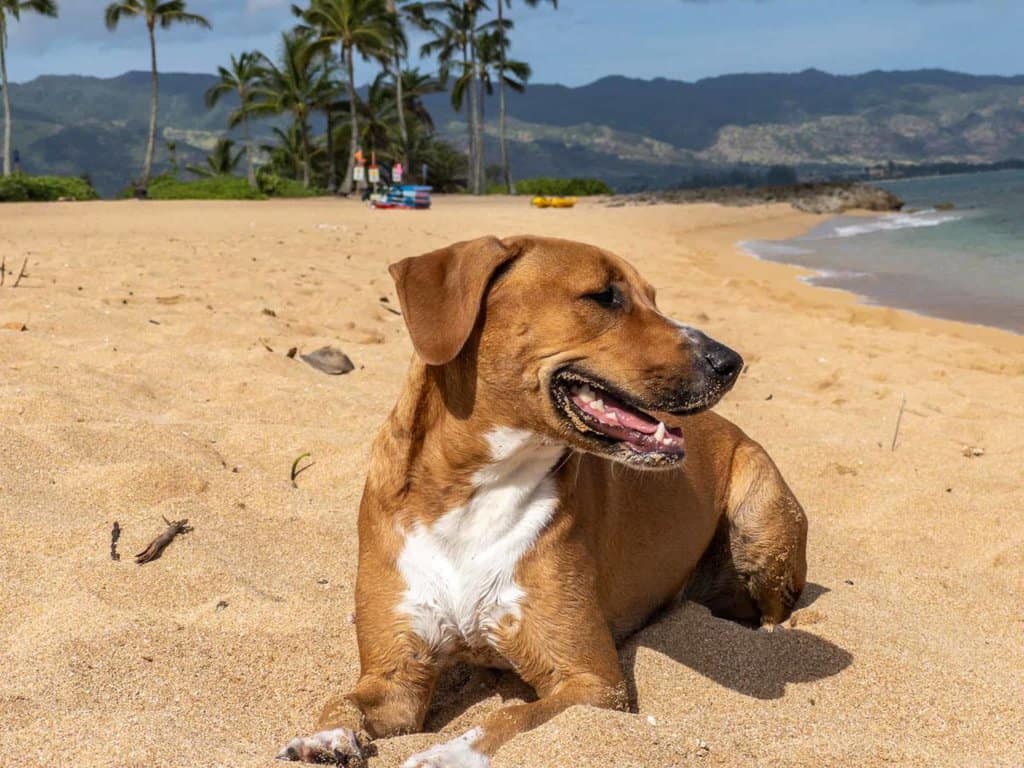 This beach a overall great beach for the perfect beach day, because it has all the beach park amenities plus with so many resturants and shops near by.
Haleʻiwa Beach Park is dog friendly beach with showers avaliable to remove all the salt water and sand.
Not the best place to go swimming as there is alot of reef and rocks.
The weekends this beach is more crowded. Also during sunset, but is still a great time.
There is plenty of parking spots avaliable.
Waianae (West) Shore Dog-Friendly Beaches
If you're looking for a friendly beach in Oahu where you can take your furry friend along with you, West Shore is an excellent option.
Ewa Beach Park offers plenty of amenities such as restrooms, picnic tables, and playgrounds that are ideal for dogs and their owners.
However, don't forget to keep your pooch on a leash during the visit.
Māʻili Beach Park is great for dogs and owners to enjoy nature and activities.
This beach park on the island of Oahu offers a perfect combination of sandy shores, gentle waves, and ample green spaces, a playground for our four-legged companions.
The park's dog-friendly atmosphere has a strong sense of community among pet owners, providing an opportunity to socialize.
With its breathtaking sunset views and calming ambiance, Māʻili Beach Park ensures an unforgettable beach day.
Oahu Beaches Dogs Are NOT Allowed
Even thought all Hawaii beaches are public there are some beaches prohibit dogs altogether; others may allow them but with restrictions such as leashes or designated areas.
Safety concerns for both the dogs and other beachgoers, sanitation issues, and protection of wildlife habitats are some of the reasons why these rules exist. It is important for dog owners to research and abide by the rules of the beach they plan to visit with their furry friends.
Ko Olina Lagoons
Banzai Beach
Ala Moana Beach Park
Magic Island Beach
Kaena Point State Park Beach
Waikiki Beach Center
Yokohama Bay Beach
Nimitz Beach
Dog Beach Fines
When visiting Oahu's friendly beaches with your pooch, it is important to observe the rules to avoid possible citations that could range up to $500.
Keep your furry pal on a leash, pick up after them, and ensure they don't disturb other beachgoers.
Respect the environment by keeping them from disturbing any wildlife or vegetation.
Dog-Friendly Beaches Rules
Following some basic rules, ensure a fun-filled day at Oahu's friendly beaches.
Keep your dog on a leash and clean up after them with provided poop bags.
Stay respectful of other beach-goers by following posted rules or regulations.
And remember to bring plenty of water for you and your furry friend to stay hydrated.
Oahu Dog Friendly Beaches FAQs
Are dogs allowed on the beach in Honolulu?
While most beaches in Honolulu allow dogs , some beaches dont allow them. Dogs must be leashed, and owners are responsible for cleaning up after them. Always check beach rules before bringing your furry friend.
Can dogs go to Hanauma Bay?
Visitors should avoid bringing dogs to Hanauma Bay due to the fragile ecosystem and wildlife. Service animals may be permitted with proper documentation, but nearby dog-friendly beaches like Koko Head District Park and Sandy Beach Park are better options. Always check pet policies before visiting public areas with pets.
Are dogs allowed at Makapuu beach?
Yes dogs are allowed at Makapuu beach.
Conclusion: 13 Best Oahu Dog Friendly Beaches
In conclusion, Oahu has some fantastic dog-friendly beaches that offer everything from calm waves to stunning views.
Remember to follow the rules and regulations set up by the local authorities to ensure the safety of all beachgoers, both human and furry.
Hawaii is known for its beautiful beaches and serene environment, and taking your furry friend along can make it even more enjoyable.
If you're your pet loves the water, make sure you visit one of these top dog-friendly beaches.