15 Hidden Gems in Hawaii You Must Visit (2023)

Hawaii is a dream destination for many travelers. But have you ever considered exploring the hidden gems that this paradise has to offer?
In this blog post, we will take you on a journey to discover 15 hidden gems in Hawaii (Oahu, Maui, Kauai, and Big Island) that you must visit during your trip in 2023.
From secluded beaches to majestic waterfalls, plenty of off-the-beaten-path destinations will inspire you.
But before we delve into the list , let's plan your Hawaii trip like a pro. We'll share some tips and tricks to help you maximize your time in Hawaii.
So sit back, relax, and get ready to explore the best gems in Oahu, Maui, Kauai, and beyond!
Best Hidden Gems in Hawaii
1. Pololū Valley , Big Island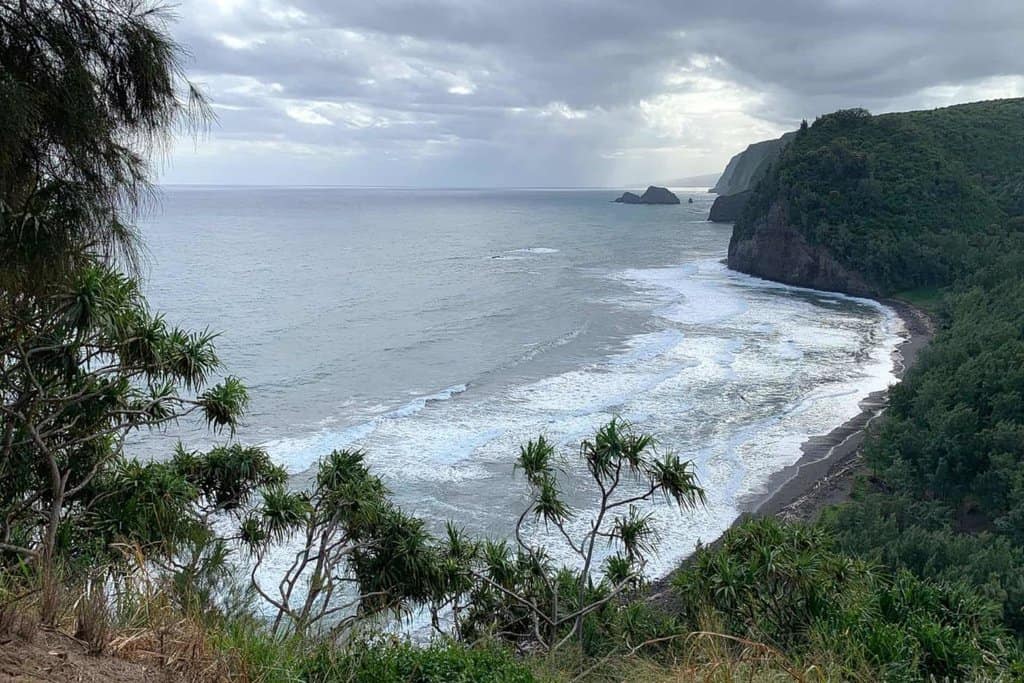 Pololū Valley is an ideal destination for those looking for tranquility away from the tourist hotspots on the Big Island.
Pololū Valley is located north of the island, at the end of Highway HI-270. The valley is in Kohala Forest Reserve. It takes about 90 minutes to get to the valley from Kailua-Kona. A trip from Hilo requires over 2 hours each way.
There are only a handful of parking spots at the Pololū Valley Lookout and Trailhead. An early arrival guarantees a spot. It is free to park at this viewpoint. But there are no facilities nearby.
The Pololū Valley Lookout offers excellent views of the valley below. But a hike to the valley floor is a must-do for a more immersive experience. The trail does not get crowded, thanks to the small parking lot.
It takes at least 30 minutes to hike this mile-long trail. A round trip hike gains 430 ft in elevation. The trail has 4 hairpin turns and uneven terrain. It could be hard to hike to the valley after recent rain. At least there is plenty of shade on this path.
A pristine black sand beach and a tropical forest await at the end of the trail. The ocean is unsafe to swim at Pololū Valley Beach due to high surf and rip tides. But the views alone make Pololū Valley a hidden gem on the Big Island.
Recommended by Anastasia from Travel Realist
Are you planning a trip to Hawaii? And feeling overwhelmed and lost? Do you have specific questions you'd like answered, need guidance around which activities to choose, review your itinerary, or want advice on travel logistics? I'm here to help! ➡️ Click this link to schedule your call! ⬅️
2. Pohoiki Hot Springs, Big Island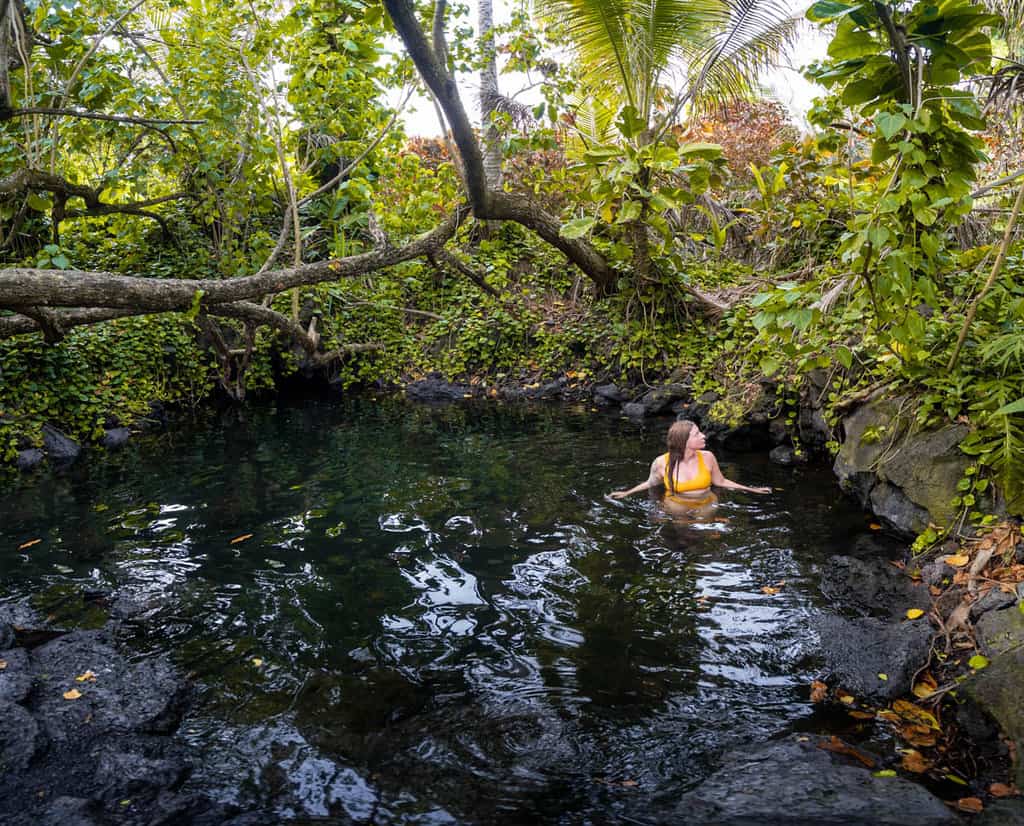 If you're looking for a unique place to unwind on the Big Island, Pohoiki Hot Springs should be on your radar. These springs are located in the Isaac Hale Park, near the hippie town of Pāhoa on the island's southeastern side.
Isaac Hale holds an interesting claim to fame as the youngest black sand beach on the Big Island, from the 2018 eruption of the Kīlauea Volcano. Because of its remoteness, it's typically one of the least crowded black sand beaches on the Big Island and also happens to be a favorite of surfers, thanks to its crunchy waves.
But, in addition to creating this beloved beach, the eruption also created new tide pools around the park, filled with volcanically-heated water. Now, locals and tourists alike sit and relax in its warm waters. There are five different pools here, some of which are right on the beach itself and some tucked away in the lush jungle surrounding the beach.
There are private residences adjacent to the beach park, so please be sure to be respectful to them by not straying from the defined paths and wearing swimsuits in the hot springs. You should also be sure to treat the hot springs themselves with respect—wash off any sunscreen, bug spray, or other lotions before you get in and pack out whatever you pack in. Pohoki are the only accessible hot springs in the entire state, so let's be sure they stay open for all to enjoy for a long time!
Recommended by Jessica from Unrooted Traveler
3. Snorkeling with Manta Rays , Big Island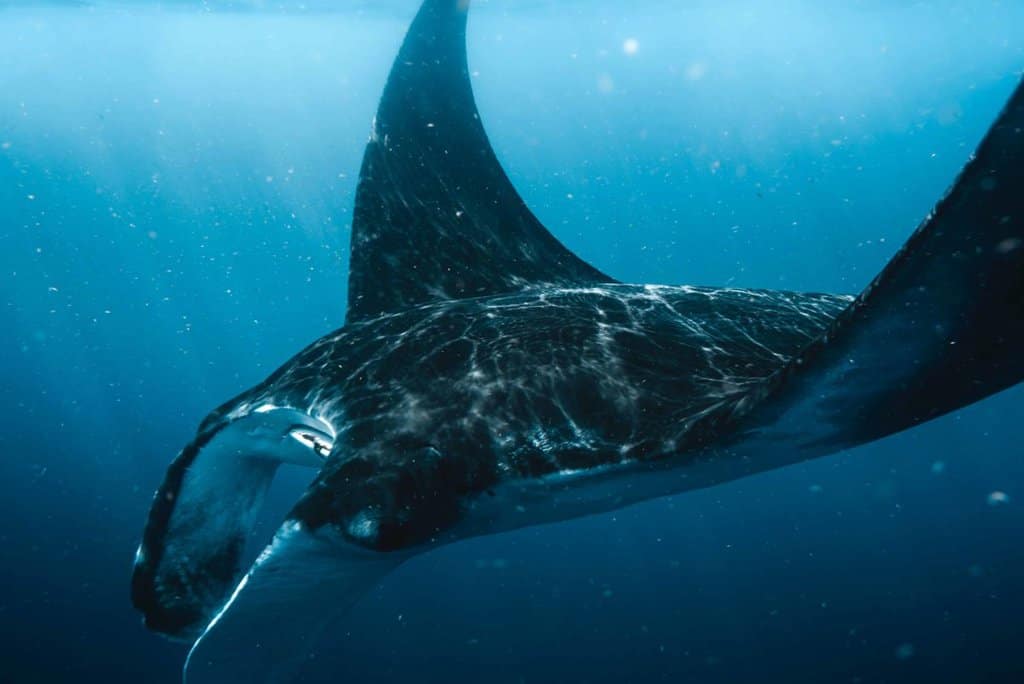 Night snorkeling with manta rays should be on every wildlife lover's bucket list – and the Big Island of Hawaii is one of the best places in the world to do it.
Manta rays gather almost every night off the Kailua-Kona coast, attracted to the plankton drawn to nearby hotels' lights.
The best way to see manta rays is by taking an organized tour. Your tour operator will take you out after sunset, provide a wetsuit and snorkeling equipment, and the guides will hop in the water with you, with lights and lighted surfboards to attract the plankton and, in turn, the mantas.
After that, it's just a matter of waiting for the manta rays to show up and engage in their nightly "ballet," gliding and flipping through the water right in front of you. Watching the mantas gather, and dance is an incredible sight to witness.
While the manta rays are wild animals and sightings aren't guaranteed, most tour companies have a good success rate.
Because there's no feeding or touching of these wild animals, this is an entirely ethical wildlife encounter.
Manta ray snorkeling tours start around $100 per person. There are also SCUBA diving tours available for those who prefer to dive.
Recommended by Adrienne from Destinations and Desserts
4. Two Ladies Kitchen Mochi , Big Island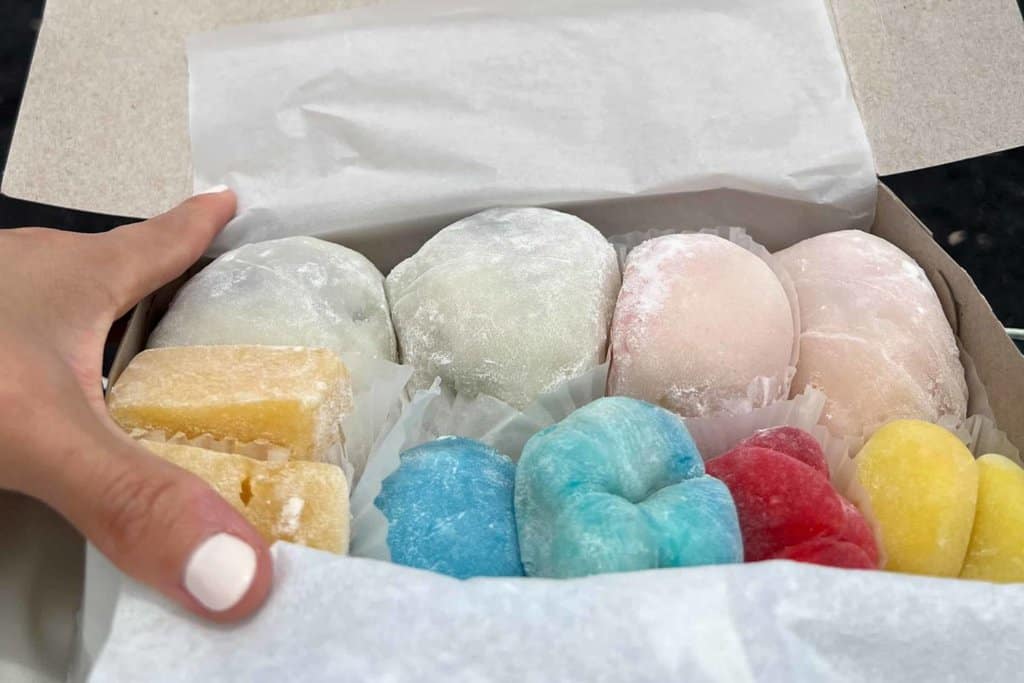 If you ever find yourself on the big island of Hawaii, make sure to carve out some time to visit Two Ladies Kitchen.
Tucked away in Hilo, Two Ladies Kitchen has been delighting locals and visitors alike with their handmade mochi for almost thirty years.
For a few dollars, you'll be rewarded with some of the best mochi in the United States. The two ladies of Two Ladies Kitchen make both classic and tropical mochi with flavors such as red bean, mango, and lilikoi.
However, the strawberry mochi is the crown jewel of all the flavors, which comes with a whole strawberry wrapped in a deliciously chewy exterior.
After picking up your mochi, drive south towards Pahoa and enjoy your mochi with ocean views at Kaimu Black Sand Beach.
Or stay in the area and take a stroll through the nearby Liliuokalani Gardens or the Hilo Farmers Market.
Once you have a bite, you'll know why this mom-and-pop shop is a local favorite and one of the best places to eat on the Big Island.
To make the most of your trip, check their Facebook page for their updated hours and call ahead to avoid the queue.
Recommended by Jina from By Jina Lee
Oahu Hidden Gems
5. Shangri La Museum of Islamic Art, Culture & Design
Shangri La, is truly a hidden gem with cultural and historical significance. Built by philanthropist and art collector Doris Duke, this stunning estate is a testament to her love for Islamic art and architecture.
The property boasts a breathtaking collection of over 4,500 artifacts from the Middle East, South Asia, and North Africa, making it one of the world's most influential Islamic art collections.
As you wander through the beautifully landscaped gardens and intricately designed interiors, you can't help but be transported to another time and place.
75-minute tours are available with reservations only Thursday through Saturday with four select times. Its best to book tickets at least one month in advance.
6. Experience Nutridge Luau, Oahu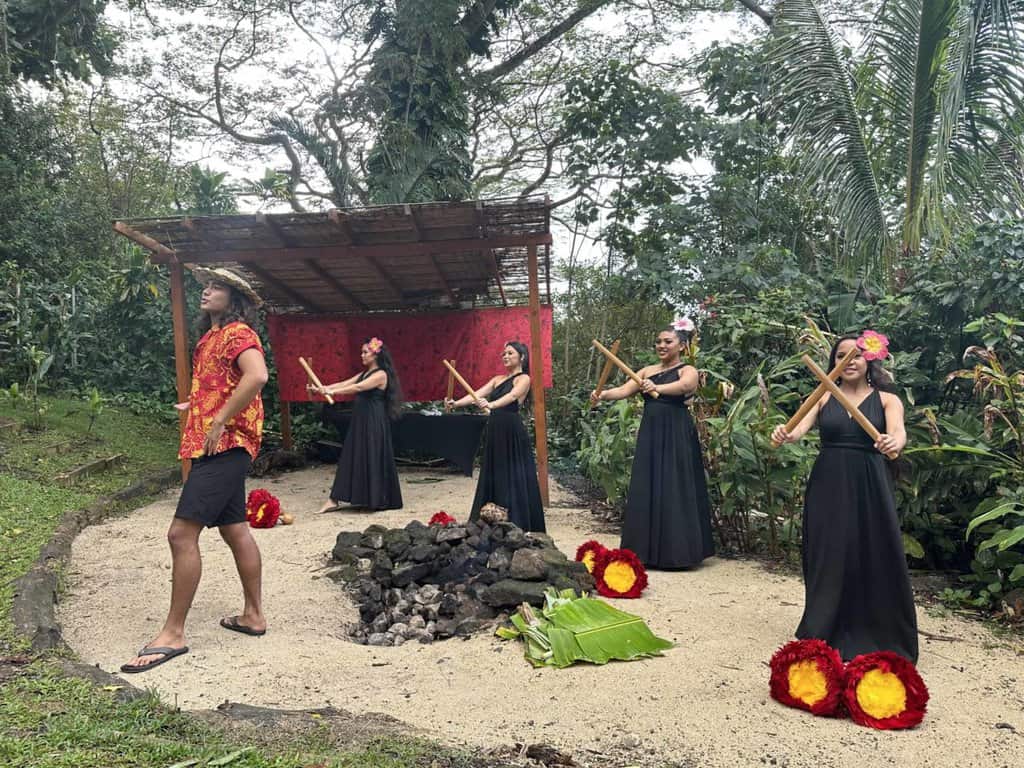 Tucked away on Oahu's southern shore, the Experience Nutridge Luau is one of the top luaus on Oahu. This hidden gem offers an unforgettable evening of cultural immersion and mouthwatering delights, perfect for those seeking an authentic Hawaiian experience.
One main thing that sets the Experience Nutridge Luau apart is its intimate atmosphere compared to larger luaus such as the Polynesian Cultural Center or Paradise Cove.
When guests arrive at the luau, they can feel the warm, family-like welcome rather than the feeling of attending a larger public luau.
It creates a friendly and inviting ambiance that instantly makes guests feel part of the ohana (family).
Located about a 19-minute drive from Honolulu, the Experience Nutridge Luau is a great way to escape from the bustling crowds of Waikiki. The luau is set on the Nutridge Estate, with gorgeous views of the Waianae Mountain Range, Honolulu's city lights, and the sunset.
Guests will enjoy a luau feast featuring traditional Hawaiian dishes such as poi, lau lau, kalua pork, and more.
There are multiple activities, such as local arts and crafts, hula dance lessons, and even getting a temporary Hawaiian tattoo. The luau also features a spectacular show with different dances from the islands of Polynesia, including a spectacular fire knife dance show at the end.
Standard ticket prices are $169/adult and $189/ adult, with transportation included. Guests will receive access to all activities, a buffet dinner, and two complimentary alcoholic beverages for adults.
Recommended by Traysta from This Travel Dream
7. Nu'uanu Pali Lookout, Oahu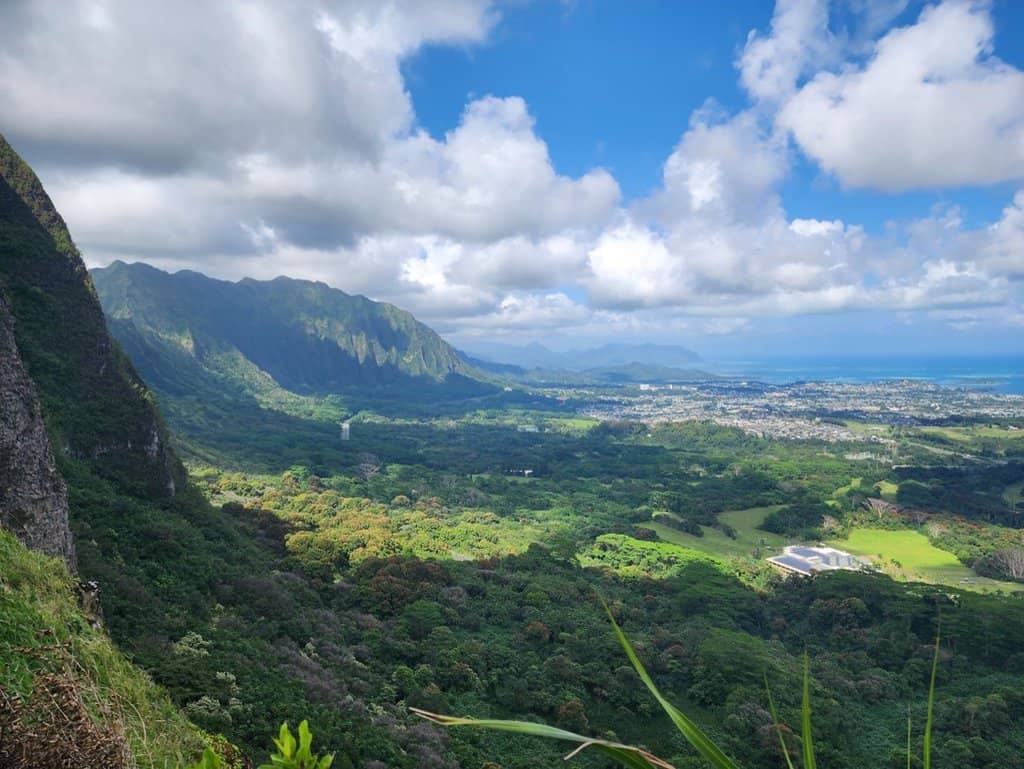 The Nu'uanu Pali lookout offers jaw-dropping panoramic views of the lush Windward Coast of Oahu. With cerulean Pacific waters stretching endlessly and emerald green mountains as a dramatic backdrop, it's a postcard-perfect tropical paradise.
But there's more than meets the eye here. This lookout holds rich historical importance, being the site of the historic Battle of Kaleleka'anae in 1795, where King Kamehameha I invaded Oahu and unified the Hawaiian Islands.
Legend has it that the Nu'uanu Pali lookout is haunted by the spirits of fallen warriors who met their tragic fate during the battle.
In the Battle of Kaleleka'anae, which translates to "leaping of the 'anae fish," men were forced off the cliff, and their voices are said to ride the howling winds. It's a spine-tingling experience for those seeking a connection with the supernatural.
In 1845, a road was constructed linking Oahu and Honolulu.
Later during the 1890s, a bone-chilling discovery during road reconstruction: around 800 human skulls in the Nu'uanu Valley.
These remains are believed to belong to the fallen warriors of the infamous Battle of Kaleleka'anae. So, history, stunning views, and haunting encounters await at the Nu'uanu Pali lookout.
This lookout is a free, historic, and haunted trifecta for an unforgettable experience. Prepare for breathtaking views, fascinating history, and perhaps a ghostly encounter.
Recommended by Phoenyx from Phoenyx Rises
8. Manoa Chocolate Tour, Oahu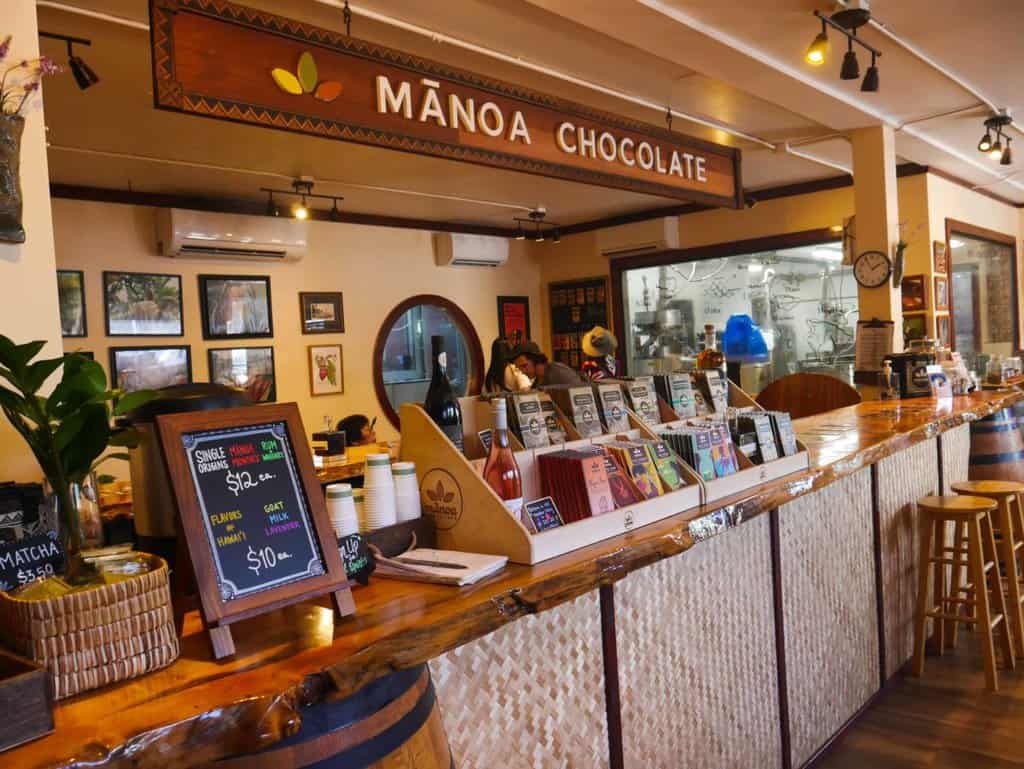 We all know and love Hawaii for those chocolate-covered macadamia nuts we bring home as souvenirs, but consider supporting a small business by going on a tour to Manoa Chocolate Factory.
Located in Kailua, roughly 30 minutes from Honolulu, you can take a 60–90 minute tasting tour at Manoa Chocolate Factory for $25/person.
The first half of the tour consists of the guide (a Manoa employee) sharing the bean-to-bar process, from harvesting and roasting the bean to winnowing (separating the nib from the shell), tempering, and molding the chocolate into a bar.
The second half of the tour is the fun part—tasting all of the Manoa Chocolate bars! Manoa has three chocolate bar collections with various flavors in each collection.
The Hawaiian Grown Cacao Collection is made with beans from different parts of Oahu and Big Island, and some bars have added flavors such as lavender and goat milk.
The Alcohol Collection has only two bars, one of which is infused with rum and the other with whiskey. Finally, the Flavors of Hawaii Collection bars are infused with Hawaiian-inspired flavors such as mango, banana, coconut, sea salt, coffee, and liliko'i.
You also sip chocolate tea to cleanse your palate between tasting different bars.
By going on the Manoa Chocolate Tour, you support the employees and the farmers they work with and give them fair wages. You play a part in reforesting Hawaii's islands. Lastly, who doesn't love delicious handcrafted chocolate?!
Recommended by Hannah from Hannah on Horizon
9. Ukelele Factory on Oahu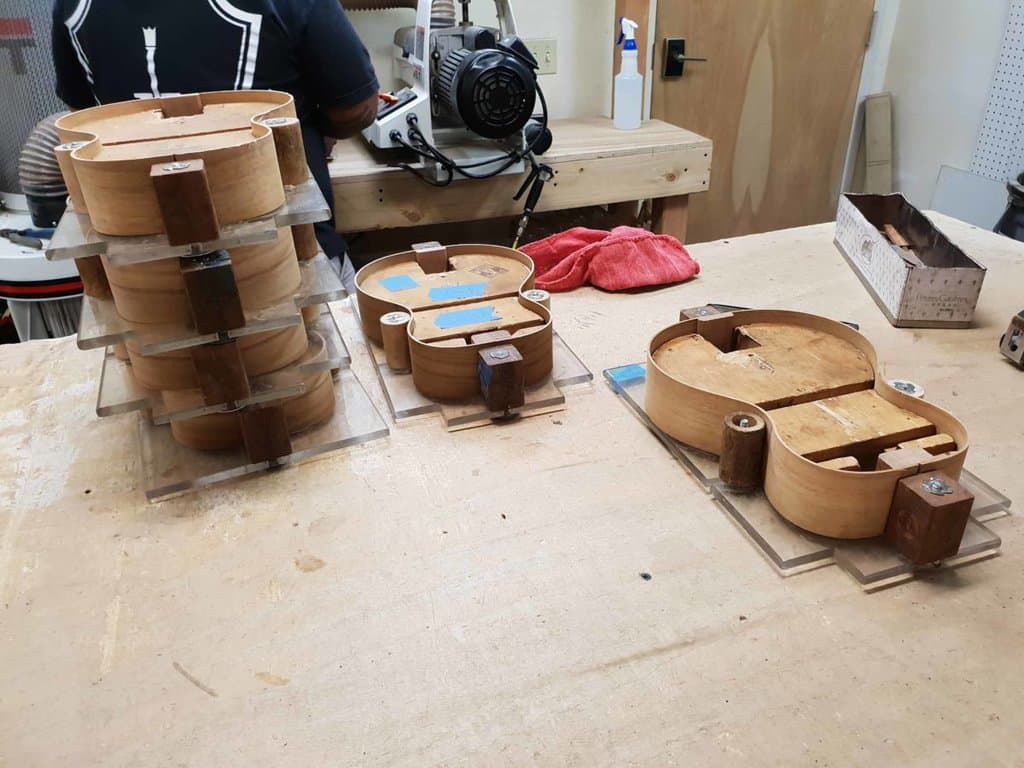 If you're looking for a uniquely Hawaiian cultural experience, visiting the KoAloha Ukelele Factory is a must inclusion on an Oahu Itinerary especially for music lovers.
Family owned and operated, KoAloha have over 20 years experience making highly regarded instruments.
You'll be warmly welcomed upon arrival at the factory and shown the various ukeleles on sale in the showroom before proceeding through the back into the factory itself.
You might even get a demonstration! The guys at KoAloha are passionate about their craft and love to share it with guests!
The factory is laid out in a linear fashion, so you'll see the process of making a ukelele step by step. You'll start by learning about Koa wood, the most expensive wood in the world which has strict restrictions around access.
Each piece of Koa wood is unique and interesting variations will make the instruments more valuable.
You'll then move through the factory and see every step of the process of making the Ukeleles, how they bend the wood, how they construct and polish it.
Located on Kona street in Honolulu, a short walk from the Ala Moana Center, it's an easy bus ride from Waikiki to the factory. This is an absolutely free activity! KoAloha run tours every afternoon from Monday to Friday at 1pm.
Recommended by Holly from Globeblogging
10. Lulumahu Falls, Oahu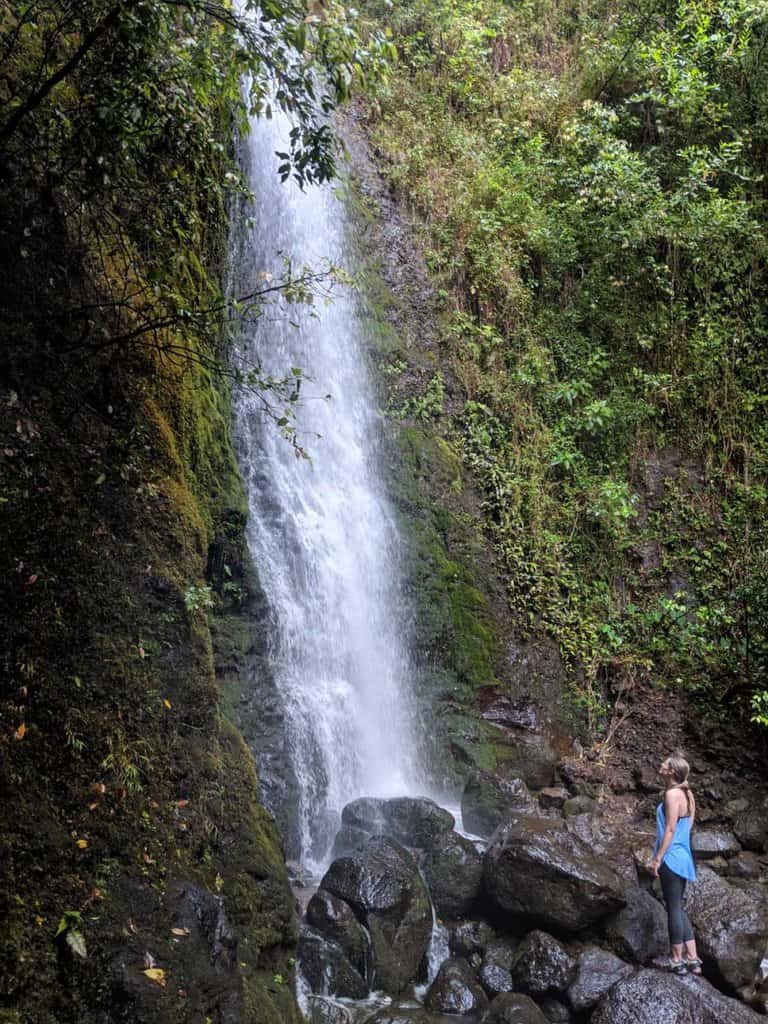 Lulumahu Falls is one of the most beautiful waterfalls on the island of Oahu. However, this stunning waterfall hike remains relatively unknown.
The trailhead is located right off the Pali Highway, although it can be hard to find because it is unmarked and unsanctioned – making this hike a true Hawaiian hidden gem. You'll likely know you are at the trailhead because you'll see plenty of other cars parked along the side of the road, as this hike – while unknown to tourists – is a favorite among locals.
The hike begins fairly easy and takes you through a lovely bamboo forest. But don't be deceived, it becomes moderately more challenging the deeper into the jungle you get.
Although the hike is only about 1.5 miles out and back, plan to hike for approximately 2 hours, crossing back and forth over the Lulumahu Stream before you finally arrive at the breathtaking Lulumahu Waterfall.
You can walk directly to the waterfall's base or dip in the refreshing water when you arrive. But be prepared, this hiking trail is muddy, and good hiking shoes are a must!
There are several paths to the waterfall in the jungle, and the trail does not have many directional markings, so it's easy to get lost. However, while some of the paths are more challenging than others, just follow the stream and the sound of the water, and all paths will eventually lead to Lulumahu.
After your hike head to Paradise Poke to refuel with a poke bowl – one of the best foods to try in Hawaii. While you won't find this hike or this restaurant in many guidebooks, the majestic Lulumahu Falls are worth adding to your Oahu itinerary.
Contributed by Melissa from Parenthood and Passports
Hidden Gems in Maui
11. Ali'i Kula Lavender Farm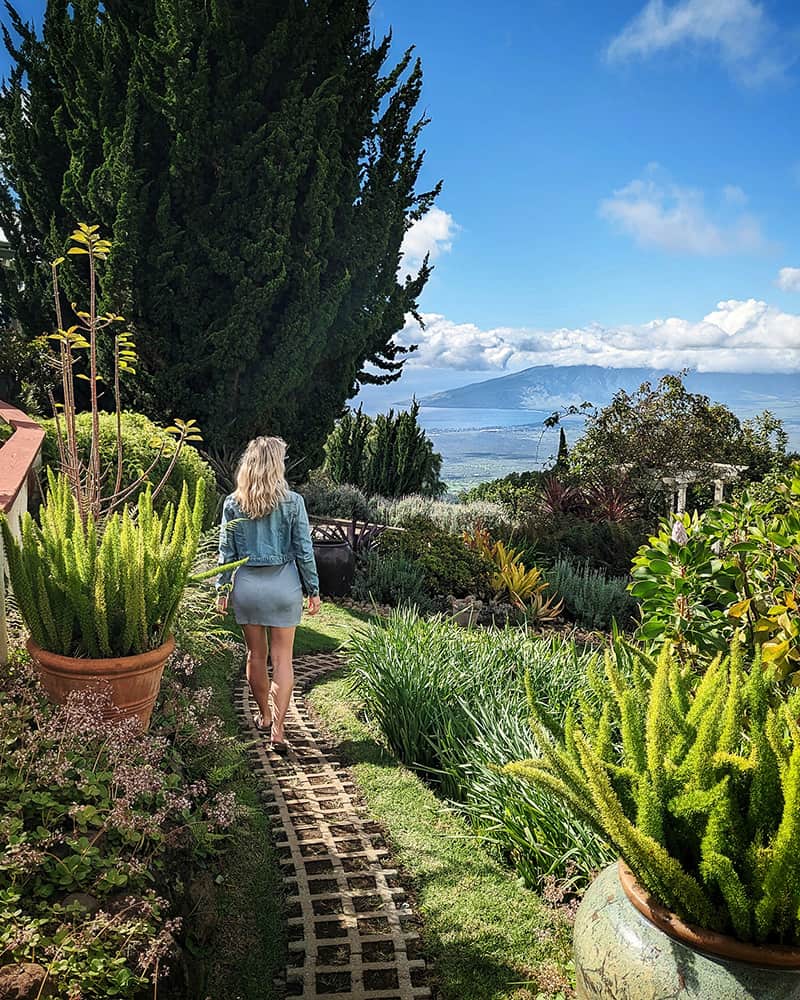 Located in Maui's Upcountry, at an elevation of 4,000 feet, sits the Ali'i Kula Lavender Farm.
A lavender farm in Maui is undoubtedly not something you'd expect to find, but there are a few reasons why you should include it on your Maui itinerary!
You can find rows of lavender blooming at the Ali'i Kula Lavender Farm between June and August. Although it doesn't grow year-round, there is also a stunning botanical garden with a huge variety of colorful Hawaiian plants and flowers.
Thanks to its prime location on the slopes of Haleakala, the views from the lavender farm are truly unbeatable. Boasting a panoramic view over Maui's west mountains and beaches, it is worth visiting just for the scenery alone!
Strolling through a beautiful garden while taking in spectacular views over the rest of the island results in a pretty special experience. Not to mention the many awesome photography opportunities to be had there.
In addition to the gardens, you can check out the gift shop, which sells lavender products, tea, coffee, and snacks. This is a great place to pick up a souvenir or a gift for a loved one back home.
The Ali'i Kula Lavender Farm is open from Friday to Monday from 10am – 4pm, it's closed Tuesday, Wednesday, and Thursday. Admission costs $3 per person.
Recommended by Ann from The Road Is Life
12. Ohai Trail
On the northern coast of Maui, the short and gorgeous Ohai Trail offers sweeping views of the rugged coastline, crashing waves, and cliffs that plunge into the sea.
This gorgeous hike is off the beaten path and is best visited as part of a scenic drive around the northwest part of the island.
To get to the Ohai Trail, drive past the Nakalele Blowhole on Route 30, and park in the small lot for the Ohai Trailhead. There is no fee to park or hike this trail.
For a quick stop, visit the scenic overlook, or walk the short 1.2-mile loop hike.
The hiking trail has easy footing and little elevation gain and takes 30-60 minutes to complete, with time to stop for the views and snap a few photos. Use caution near the cliff edges as some steep drops are along the trail.
In addition to the coastal views, the Ohai Trail also passes several interesting rock formations and passes through vibrant foliage.
The color of the foliage against the dark rocks is especially stunning. If you are looking for hikes off the beaten path in Maui, this hike is a must–see. See more about hiking the Ohai Trail
Recommended by Gretchen from Chasing ADVNR
13. Ocean Vodka Farm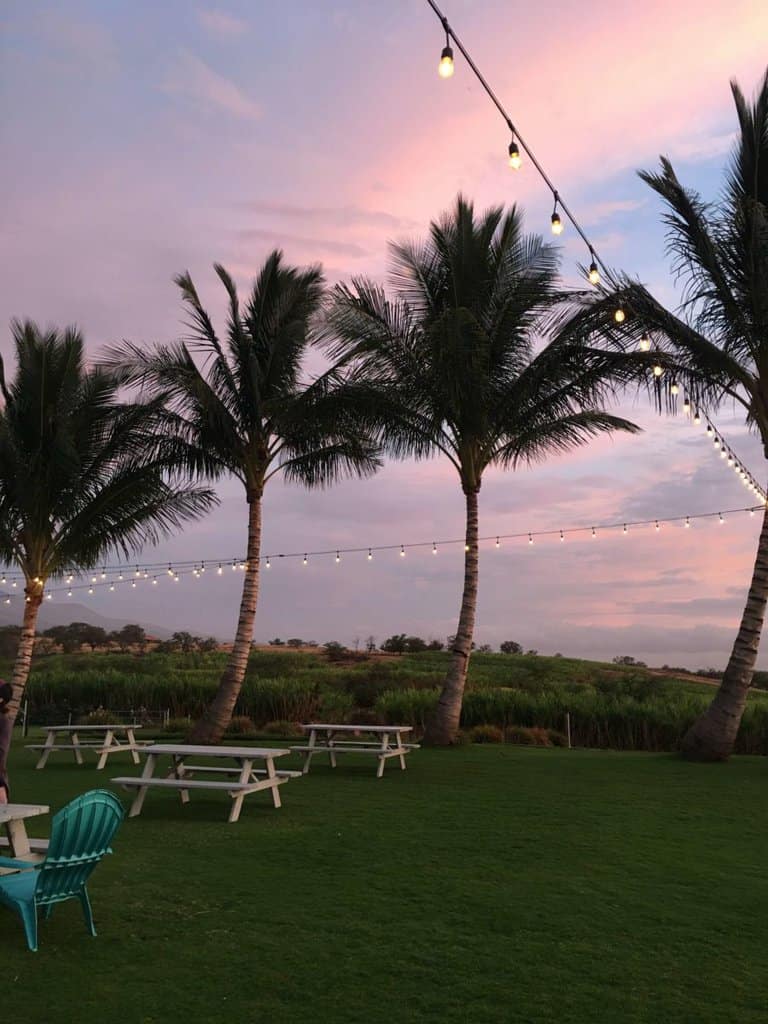 Located in the foothills of Maui's Mount Haleakala is the Ocean Vodka Farm. This 80-acre organic farm and distillery hosts guided tastings daily; you can enjoy cocktails, Hawaiian-style appetizers, woodfired pizza, and more.
The tasting experience costs $17 and some change but they offer discounts for locals, seniors, and military personnel. You'll learn about the local history of sugar cane, and their distillery process, and enjoy tastes of their unique spirits.
Book a late afternoon tasting and stay for sunset and dinner with a view. If you're not interested in the tasting, you can visit the farm's cafe and enjoy farm-to-glass cocktails, food, and the incredible view.
There is live music daily, and the vibe is relaxed and kid-friendly – truly a perfect spot to eat in Maui and go after a day at the beach and see a different part of the island.
Recommended by Emily from Em's on the Road
Hidden Gems in Kauai
14. Secret Falls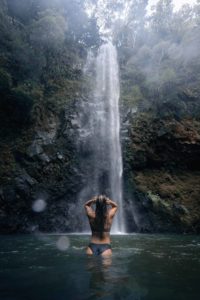 A must-visit hidden gem in Hawaii is The Secret Falls which is located on the island of Kauai.
Also known as the Uluwehi Falls, this destination is one of the most unique waterfalls in Kauai. This is because you can swim right up to the waterfall, making it a must on any Kauai itinerary.
Visiting The Secret Falls is at least a half-day activity. The trip will take 5-6 hours from leaving your accommodation to returning.
When visiting the waterfall, it is ideal that a tour guide is booked. This is because the waterfall is tricky to access, and there are no signs.
Participating in a group also allows travelers to meet each other and make the experience even more enjoyable.
However, you can definitely visit the waterfall without a tour guide. To do so, you need to rent kayaks or paddle boards since it is only accessed from the water.
During the journey to the waterfall, there are incredible mountain views to take in while cruising down the Wailua River. Then, a hike through a tropical oasis will lead you to this beautiful hidden gem.
Visitors will often pack a lunch and beach towels and spend hours enjoying something to eat while exploring this area. This is also a great location to take photos.
One tip to keep in mind for visiting is checking the weather conditions are clear and warm before heading out to ensure the trip is a positive experience. Kauai is known for flash floods, which would not be an ideal day for this waterfall.
Suggested by Sam Opp from Find Love and Travel
15. Bike Riding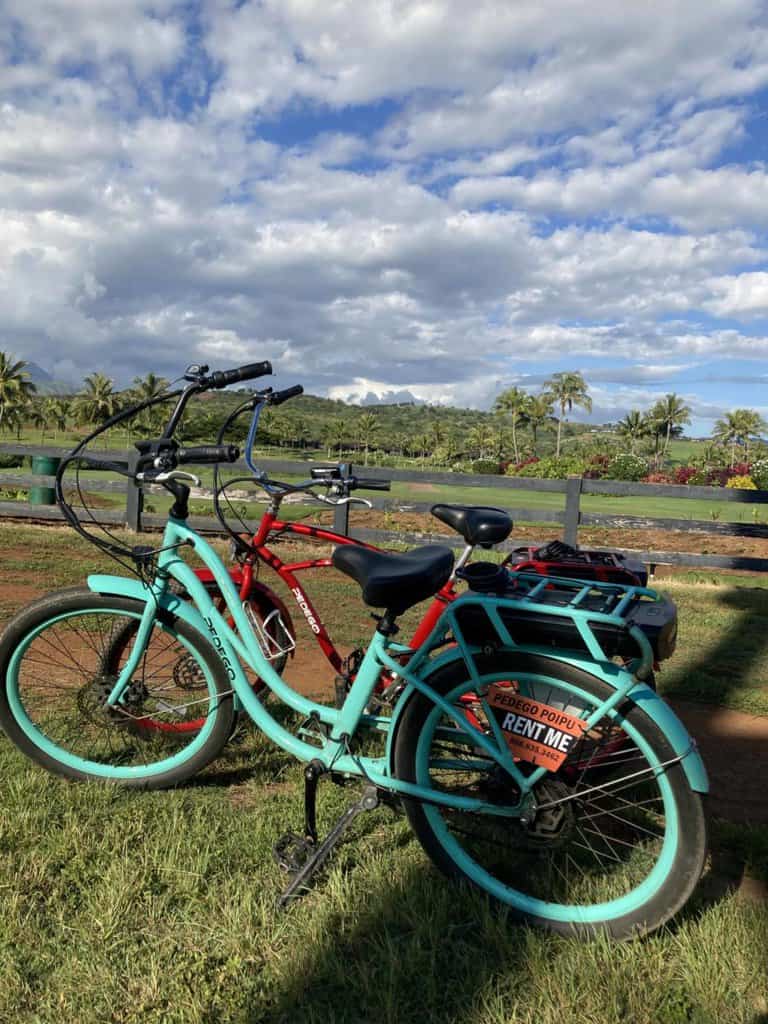 Renting a bike in Kauai and exploring the island on two wheels is a hidden gem activity in Hawaii. With numerous places to explore on two wheels, the east shore of Kauai stands out as the ultimate biking destination on the island.
Along the picturesque Royal Coconut Coast lies the renowned Kapaa multi-use path, also known as Ke Ala Hele MaKaLae, or "the path that goes by the coast." This paved path stretches over 8 miles, divided into two sections, offering a delightful experience for cyclists, strollers, and rollerbladers alike.
One of the significant advantages of this path is its complete separation from the road, ensuring a safe and enjoyable ride for everyone. Although the two sections of the path are currently not connected, there are plans underway to bridge them in the future.
In the meantime, you have two options: starting from Lydgate Beach Park and continuing to Wailua Beach Park, or embarking on the trail in Kapaa and venturing towards Ahihi Point.
Exploring Kauai by bike unveils breathtaking views and allows you to soak in the natural beauty surrounding you. Whether you're a seasoned cyclist or simply looking for a leisurely ride, don't miss the opportunity to discover the wonders of Kauai while pedaling along this scenic route.
Suggested by Faith from 3 Tickets Please
Visiting Hawaii FAQs
When is the best time to visit Hawaii?
The best time to visit the Hawaiian islands is during the low season. May, September, through October. During low season rates on flights and hotels are lower than peak seasoning.
What is the least touristy island in Hawaii?
The least touristy island in Hawaii is Moloka'i and Lana'i.Both are the most remote islands and limited tourist infrastructure.
What is the most affordable Hawaiian island to visit?
The most affordable Hawaiian island to visit is generally considered to be Oahu. Oahu offers many accommodations, from budget-friendly hotels to vacation rentals and hostels.
What is the most expensive Hawaiian island to visit?
The most expensive Hawaiian island to visit is undoubtedly Maui. Known for its luxurious resorts, upscale dining options, and high-end shopping, Maui offers visitors unparalleled luxury and indulgence.
Which Hawaiian Island is forbidden to the public?
The Hawaiian island that is forbidden to the public is Niihau.Access to the island is strictly limited to its residents and invited guests, making it one of Hawaii's most exclusive and least visited islands.
Where To Stay In Hawaii
Big Island
Oahu
Maui
Kauai
Conclusion: Hidden Gems in Hawaii
Hawaii is full of hidden gems waiting to be explored. The best way to make the most of your trip is to plan like a pro. Research extensively, cover all areas of interest, and list the must-visit places. Oahu has unique hidden gems like Shangri La that will take your breath away. Maui and Kauai also have their fair share of hidden treasures waiting to be explored. So what are you waiting for? Start planning your Hawaii trip now and explore these hidden gems.
Loved this Post. Pin it!