How much does it really cost to live in Hawaii?
Planning to make the big move to paradise? I bet you have so many questions about moving to Hawaii.
Yes, Hawaii is paradise but is so much more than just beaches and mai tais.
Hawaii is so rich in culture, nature, and wildlife.
The most popular question when thinking about moving anywhere is how much does it cost.
Hawaii is no different and because it is literally in the middle of the pacific ocean it's not that simple to just rent a Uhaul and drive over.
In this guide, I have broken down into categories of the cost of living in Hawaii
How much does housing cost in Hawaii?
How much do utilities cost in Hawaii?
How much does transportation cost in Hawaii?
How much does food cost in Hawaii?
How much does entertainment cost in Hawaii?
The prices are bases on cost of living in Honolulu,Hawaii
NO TIME TO READ NOW? SAVE IT FOR LATER!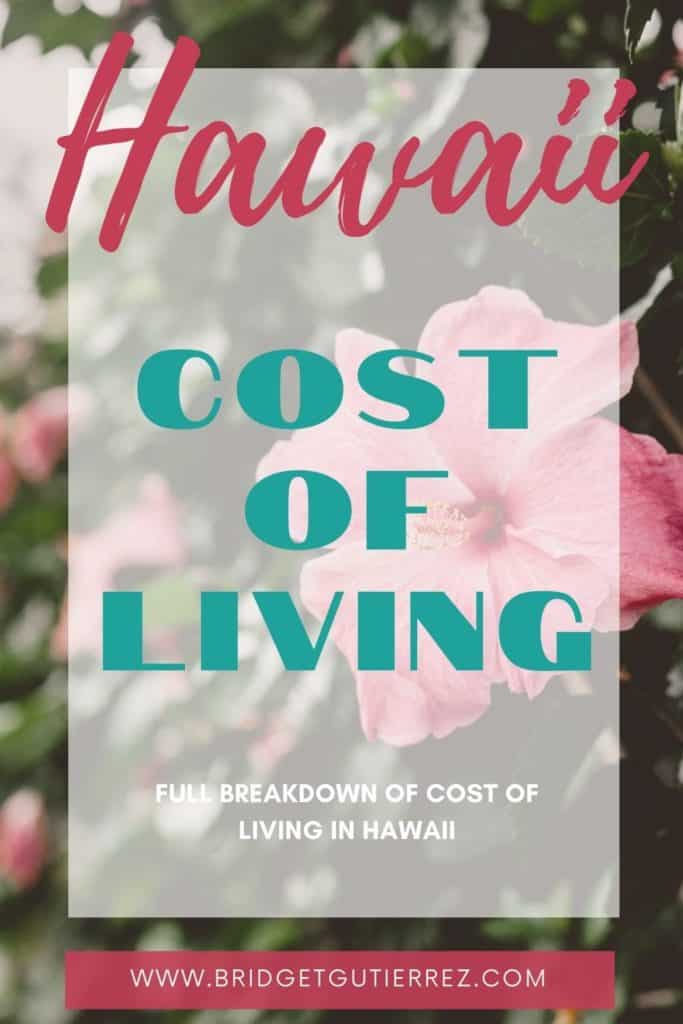 We will go through each cost of each category in a bit.
But first, how about we address some FAQs…
Is Hawaii expensive to live in?
Yes, Hawaii is the most expensive state to live in in the United States. Hawaii is always in the Top 10 list of most expensive places to live in the US
How much money do you need to live comfortably in Hawaii?
According to USA Today, studies show that you'll need a salary of over $122,000 to live comfortably in Hawaii.
What is the average living wage in Hawaii?
According to MIT living wage calculator $20.61 is the hourly rate that an individual in a household must earn to support his or herself. Currently, as of December 2021, the state minimum wage is $10.10 per hour.
Is Hawaii more expensive than California?
According to Nerdwallet, Honolulu, Hawaii's cost of living is 36% higher than Los Angeles, California.
Is Hawaii safe to live in?
Hawaii's violent crime rate is lower than the national average rate. Hawaii is tied with Washington for the second-lowest violent crime rate in the Pacific region.
Cost of Living in Hawaii
Hawaii's Housing Costs:
The cost of housing varies significantly depending on your location and, of course, the size of your home or apartment.
Housing is typically less expensive the further away you get from central Hawaii.
The median price of a single-family home on Oahu is $1,050,000 in August 2021.
In the past year its increased 25%.
The Honolulu Board of Realtors said low inventory and strong demand continue to drive up prices.
To help put things in perspective, the following table displays the average rent for some of the most popular cities on the island of Oahu:
| CITY | AVERAGE RENT |
| --- | --- |
| OAHU | $2,414 |
| HONOLULU | $1,845 |
| KAPOLEI | $3,010 |
| EWA BEACH | $2,939 |
| WAHIAWA | $2,465 |
Table Data from Rentcafe.com
Hawaii's Utility Costs:
According to the U.S. Energy Information Administration, you can expect to receive an energy bill at an average of $168.13 per month.
That's $50.48 more expensive than the national average of $117.65.
Hawaii has a commitment to 100% clean energy by 2045.
Therefore, there have been both Hawaii state and federal tax credits for buying solar energy panels, that may reduce your electricity cost down.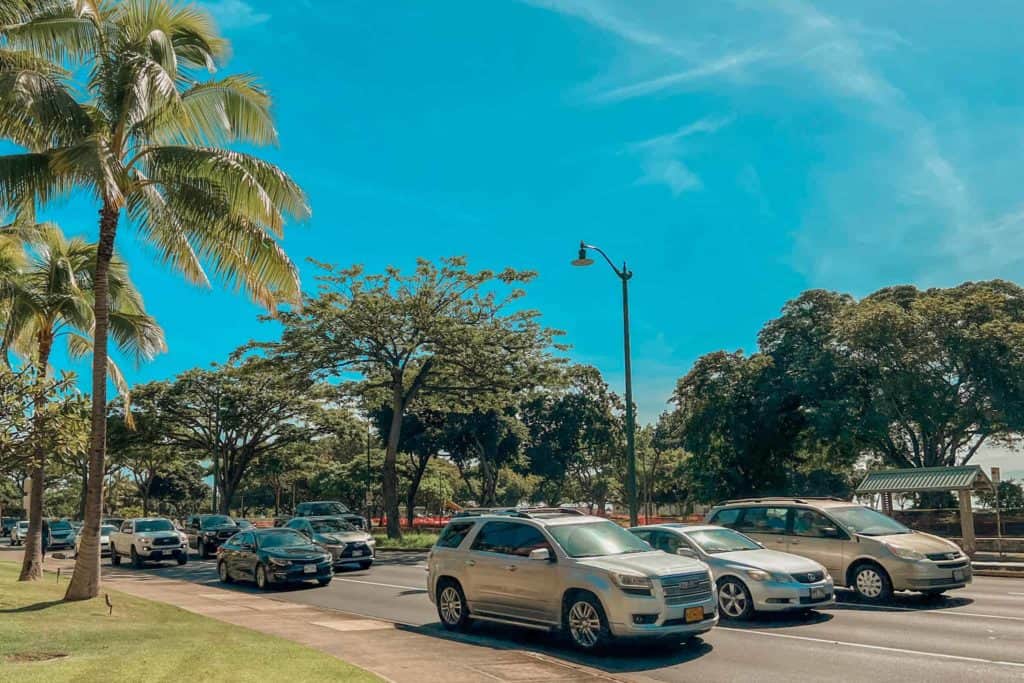 Hawaii's Transportation Costs:
The easiest and best way to get around Hawaii is by car, and if you plan to buy a car you'll need to take into consideration the price of cars in Hawaii are higher compared to the mainland.
Gas is also higher in Hawaii.
Currently, the price of gas per gallon is roughly $4.32
The average rates make Hawaii the least expensive state in the country for car insurance rates and 83% less expensive than the national average.
Parking is one of the main transportation issues on the island of Oahu.
Another cost that comes with owning a vehicle in Hawaii is parking.
Hawaii has public transport, you can buy a bus ticket for $2.75.
| ITEM | COST |
| --- | --- |
| GAS/GALLON | $4.32 (DEC.2021) |
| MONTHLY PUBLIC TRANSPORTATION PASS | $70 |
| TAXI TRIP TO AIRPORT | $35-45 |
| CAR INSURANCE | $122/MONTH |
Hawaii's Food Costs:
Did you know 90% of all food in Hawaii is imported to the islands?
Having food shipped from the mainland and keeping food from going bad requires lots of electricity which is why the price is higher.
While buying local produce in Hawaii is recommended, this can also deplete your funds significantly.
The following table for a more comprehensive comparison of the average prices for a variety of food items:
| GROCERY ITEMS | COST |
| --- | --- |
| DOZEN EGGS | $4.22 |
| GALLON OF MILK | $6.53 |
| LOCAL CHEESE (16. oz) | $11 |
| LOAF OF BREAD | $5.21 |
| CHICKEN BREAST(1lb) | $5.54 |
| BANANAS (1lb) | $1.74 |
| CEREAL BOX | $5.89 |
| 6 PACK OF BEER | $9.99 |
| LAUNDRY DETERGENT (3L) | $14 |
Hawaii's Entertainment Costs:
I found that going out cost similar to other large cities, not too much price difference.
The benefit of living in Hawaii is that there are countless water sports you are able to do.
Many people love to go out and surf. That's a one-time purchase of a surfboard.
| | COST |
| --- | --- |
| MOVIE TICKET | $13.14 |
| GYM MEMBERSHIP | $45 |
| YOGA CLASS | $30 |
| CAPPUCCINO | $5.32 |
| DINNER FOR 2 | $80-120 |
| FAST FOOD PLATE | $12.75 |
| SNORKEL TOUR /SURF LESSON | $65-$140 |
Taxes
Hawaii is a paradise – and its Cost Of Living Index matches that.
Taxes in Hawaii primarily consist of Income, General Excise (Sales), and Property Taxes.
| | | | |
| --- | --- | --- | --- |
| STATE | INCOME TAX | SALES TAX | PROPERTY TAX |
| Hawaii | 8.25% | 4% | 0.28% |
| California | 13.3% | 7.25% | 0.81% |
| Texas | N/A | 6.25% | 1.80% |
| New York | 4% to 8.82% | 4% – 8.875% | 1.69% |
| Florida | N/A | 6% | 0.98% |
In Summary
While the cost of living in Hawaii may be daunting at first, it requires planning to figure out if you are able to afford to live in paradise.
Be honest with yourself, what are your lifestyle standards?
If you're used to a certain standard of living, you may need to make a few sacrifices when moving to Hawaii.
Know that even tho you are paying a premium to live in Hawaii you have so many benefits to living here.
Hawaii is full of gorgeous views, fresh ocean air, and warm golden sand beaches.
Being surrounded by nature and city, amazing wildlife, countless water sports activities, and the aloha culture.
Hope you found this information helpful, would like to know would you move to Hawaii even though the cost of living is high?
LOVED IT? SHARING IS CARING!