7 Best Boutique Hotels And Resorts In Oahu 2023 (With Map!)

Get ready to dive into the ultimate guide to the most amazing boutique hotels in Oahu!
As a local resident of this beautiful island, I've personally recommended these jaw-dropping accommodations to my friends and family.
Guess what? They've been over the moon with their experiences!
Whether looking for an amazing getaway or an unforgettable family vacation, these handpicked gems will make your trip even more memorable.
These boutique hotels and resorts boast thousands of positive reviews across various platforms.
Let's dive into these incredible accommodations and create memories that will last a lifetime.
In A Hurry? Here Are Our Favorite Boutique Hotels In Oahu
Keep scrolling for more details of the best accomodations in Oahu HI
7 Best Boutique Hotels & Resorts In Oahu
These handpicked establishments go above and beyond to provide an intimate and unforgettable experience. So get ready to explore a curated selection of boutique hotels that will elevate your Oahu vacation.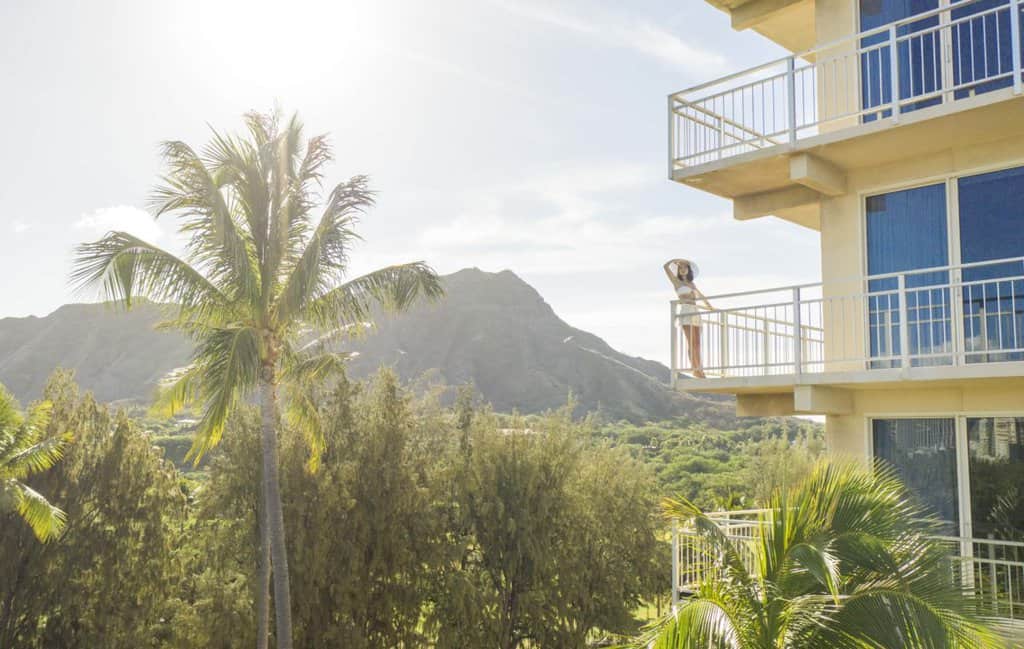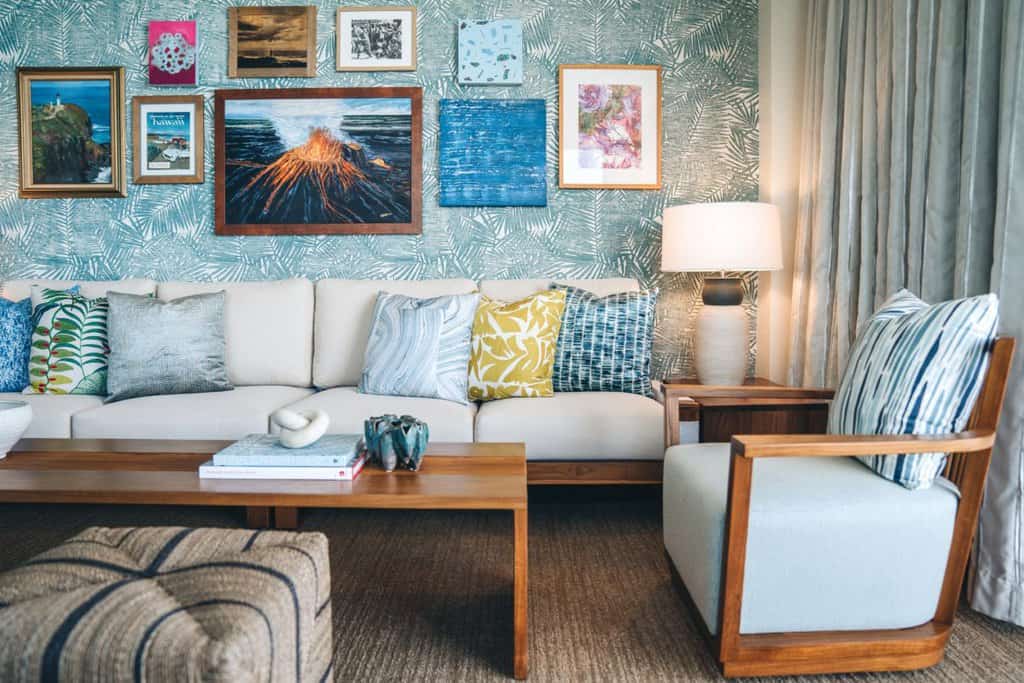 Kaimana Hotel in Oahu is an excellent option for those seeking a unique and authentic Hawaiian experience.
Situated in a prime location on the edge of Waikiki, this boutique hotel offers stunning ocean views that will leave you speechless, and guests can fall asleep to the sound of the ocean during their stay.
Most rooms also have lanais (balcony).
You'll enjoy a more intimate and exclusive stay at Kaimana Hotel than those larger chain hotels.
Traveling with a group? You can request connecting rooms for your convenience.
Unfortunately, this hotel doesn't have a pool, but you have a quiet beach right behind the hotel.
And if you are lucky, you can see a Hawaiian monk seal on the beach. But keep your distance and never touch them (it's illegal).
And talk about convenience! You'll have all the adventure with Diamond Head and the Honolulu Zoo nearby.
You can also take advantage of complimentary activities like lei-making, yoga, SUP, and beach gear during your stay here.
Oh, and let's remember the food! Brace yourself for a culinary delight at Hau Tree Lanai, the hotel's restaurant.
It's not just about the delicious food; the beachfront location adds that thoughtful touch to your dining experience.
Book The Best Guided Secret Falls Tour. CLICK HERE!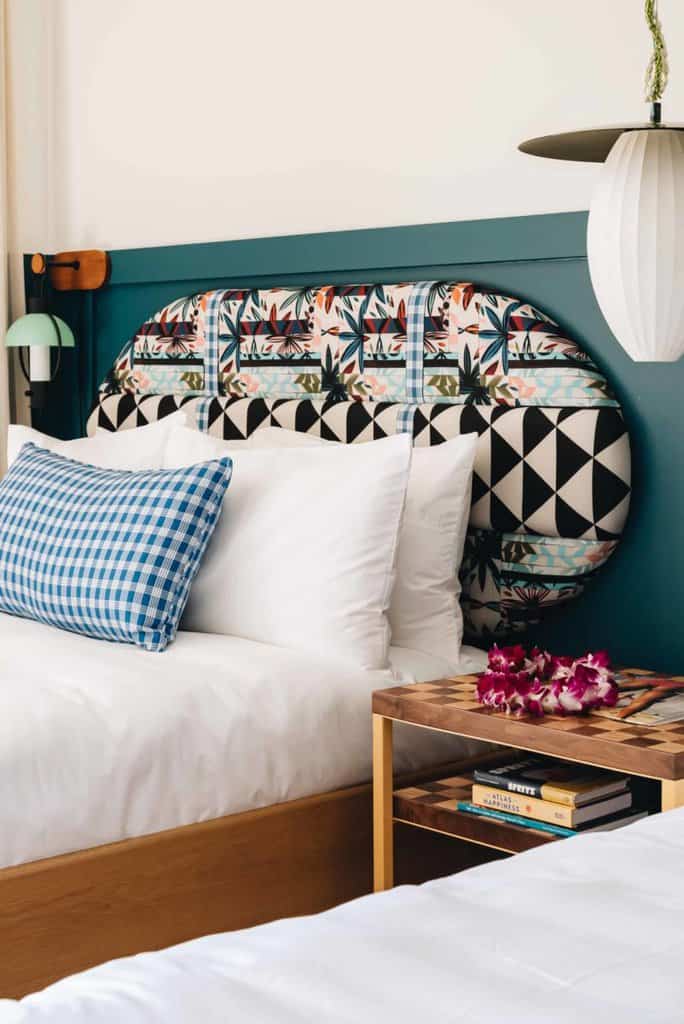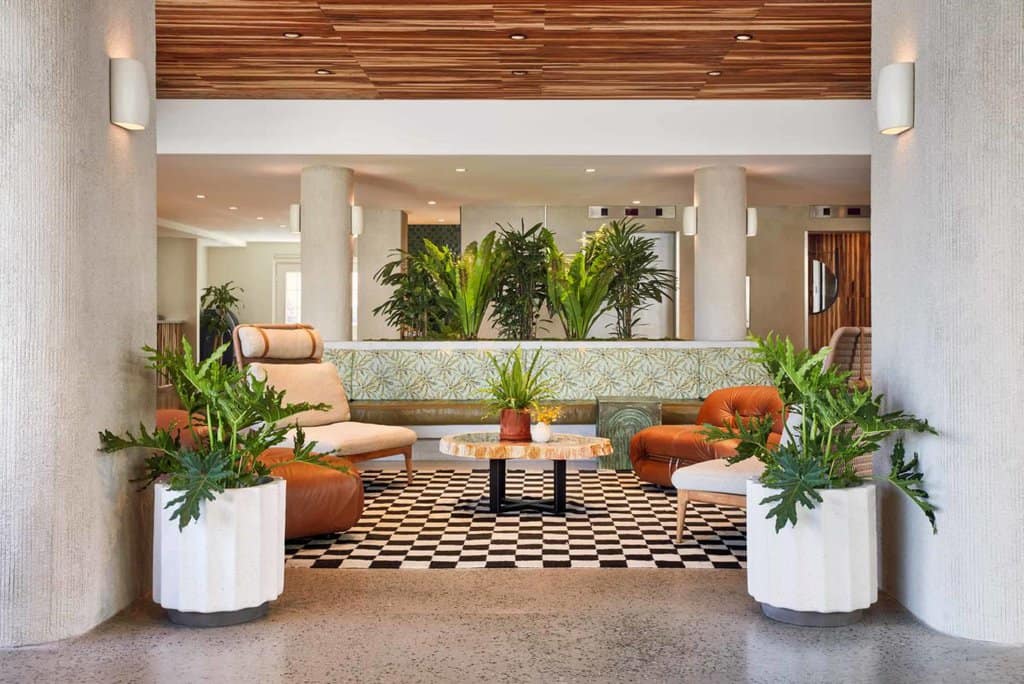 Wayfinder is a new hidden oasis that combines unique design and authentic Hawaiian culture.
They've combined the building's unique Brutalist architecture with tropical touches, vibrant colors, and patterns that will blow your mind.
The beautiful foliage surrounding the pool and jacuzzi makes you feel like you're in a tropical forest.
They've created rooms inspired by the rich history and beauty of Hawaii.
You'll find art and design elements everywhere, created by talented local artisans. Giving it that authentic local vintage island vibe.
Head to Lost + Found, a tropical poolside speakeasy that will take your relaxation to the next level.
And let's not forget about Redfish Waikiki. On this must-visit spot, you can try mouthwatering made-to-order authentic poke creations and locally inspired dishes exclusive to this location.
If you want a hotel on the beach or ocean view, this is for someone else.
Another plus is that they are pet friendly (yay!)
The location of Wayfinder is unbeatable. It's within walking distance of the beach, making it the perfect base for exploring the best of Oahu.
⭐ Click HERE to make your reservation at Wayfinder Waikiki!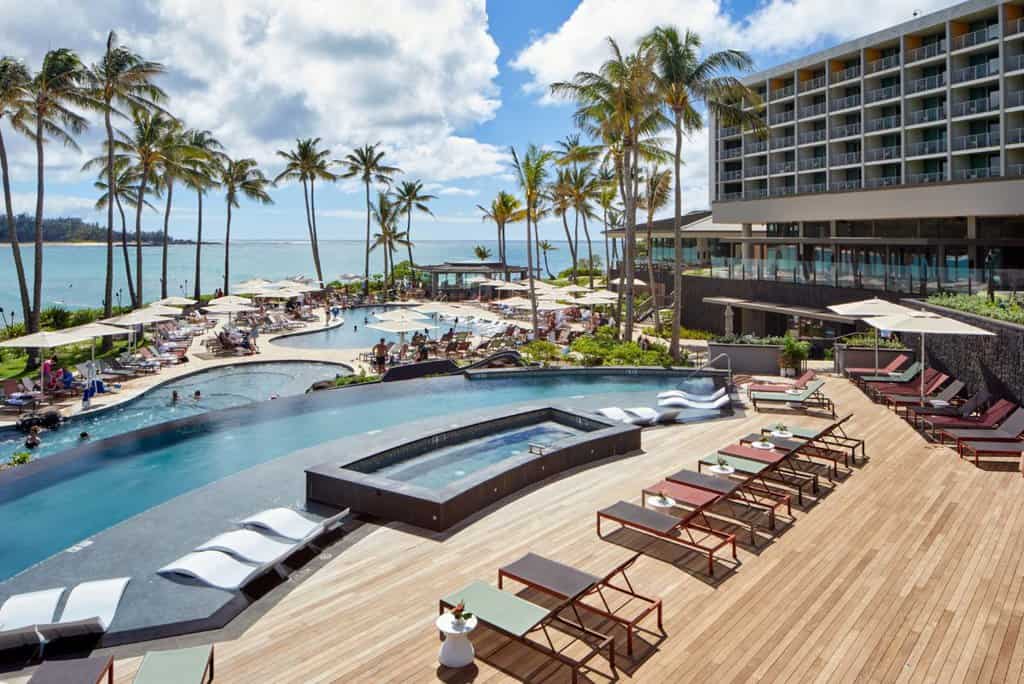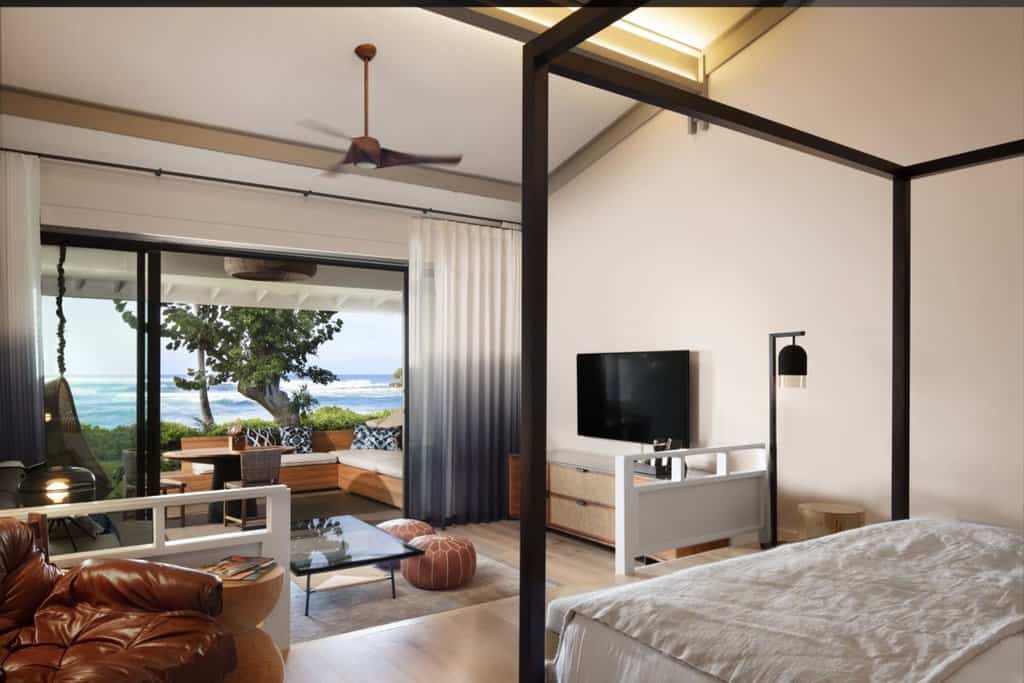 Turtle Bay Resort is a gem spanning 1,300 acres of pristine land, offering a secluded paradise just 55 minutes away from the bustling city of Honolulu.
Immerse yourself in the modern elegance and natural beauty of this stunning property.
The impeccable service and attention to detail will leave you feeling pampered and well cared for.
For those seeking relaxation, the Ocean Bungalows provide the perfect retreat. These luxurious accommodations combine comfort, style, and stunning oceanfront views to create an unforgettable stay.
The resort offers access to extraordinary water experiences for water enthusiasts, including a surf school and spa services to help you unwind.
When it comes to dining, you're in for a treat. Indulge in the unique culinary offerings at Alaia, where the ambiance and delectable dishes will leave a lasting impression.
Take advantage of the lively atmosphere and delicious food at the Beach House, a must-visit for a memorable lunch experience.
And if you're in the mood for a swim, Kulima Cove offers a calm beach, ideal for a refreshing dip and snorkeling.
Escape the crowds and immerse yourself in Turtle Bay Resort's tranquility and natural beauty.
⭐ Click HERE to book your stay at Turtle Bay Resort for the lowest price!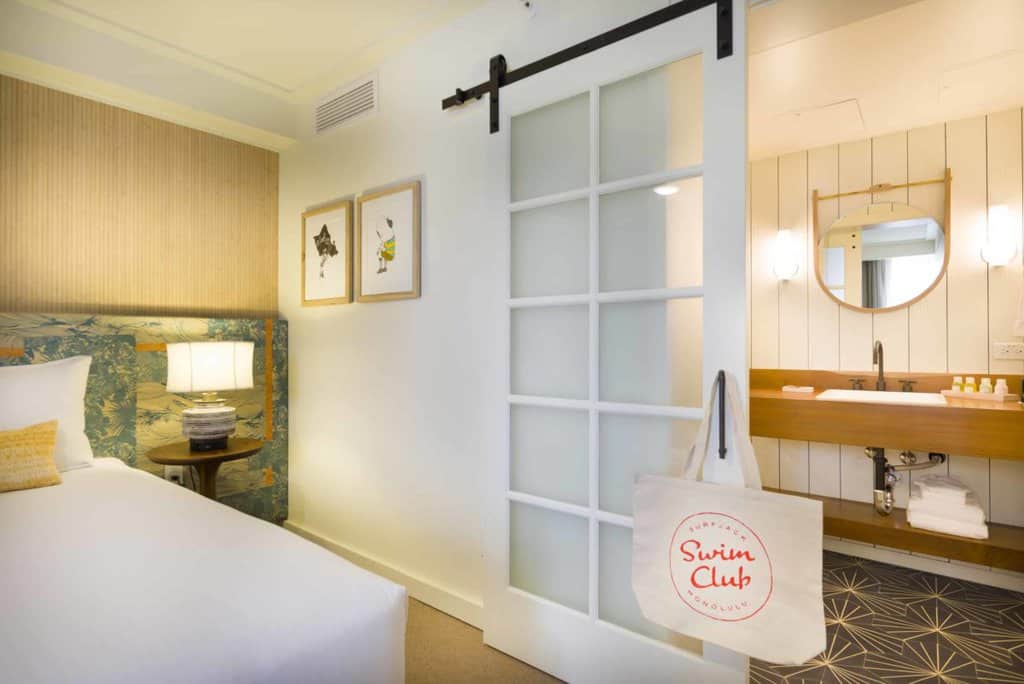 Surfjack Hotel is a budget-friendly hotel is an ideal choice for travelers seeking an authentic experience.
With free parking—a rare find in most hotels that charge exorbitant rates—this hotel immediately caught our attention. The rooms embrace a retro mid-century ambiance, adding to the hotel's fun and vibrant atmosphere.
What truly sets this hotel apart is its lively and vibrant ambiance, ideally situated in the heart of downtown Honolulu.
Enjoy delectable dining experiences; Mahina & Sun's restaurant will captivate your taste buds with its mouthwatering dishes from morning to night.
Enjoy live music serenading you by the poolside in the evening—an exquisite and soulful soundtrack to your vacation.
Immerse yourself in the pulsating energy of the surrounding area, where the city comes alive with its bustling activities and captivating attractions.
And remember to say hello to Jack, the hotel dog.
This charming boutique hotel takes pride in providing a memorable stay, ensuring every guest leaves with cherished memories and a longing to return.
⭐ Click HERE to book your stay at The Surfjack Hotel for the lowest price!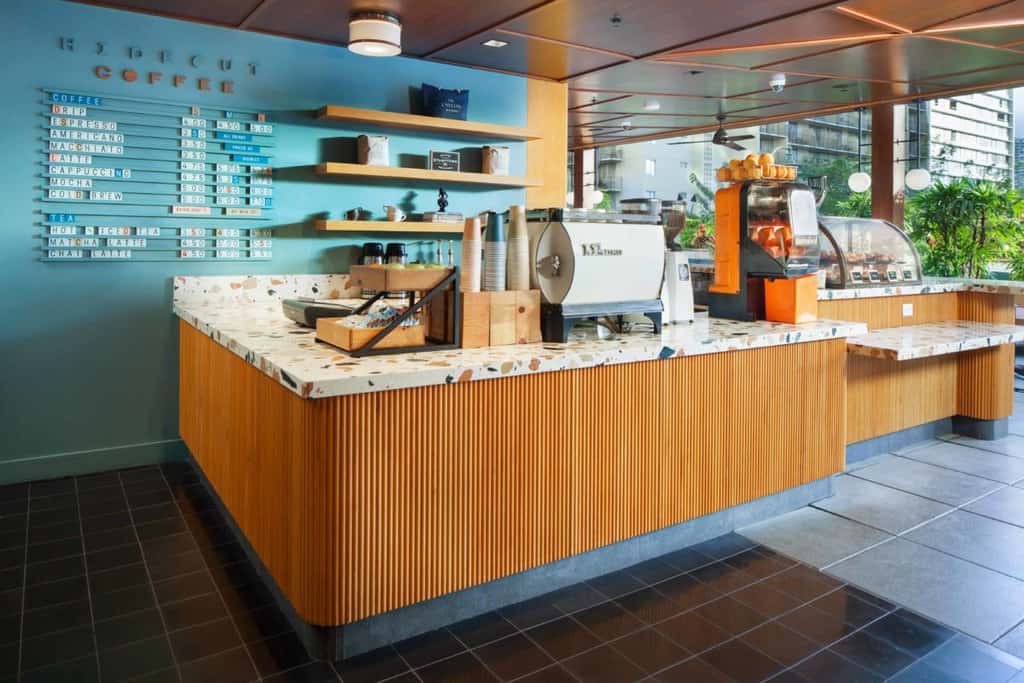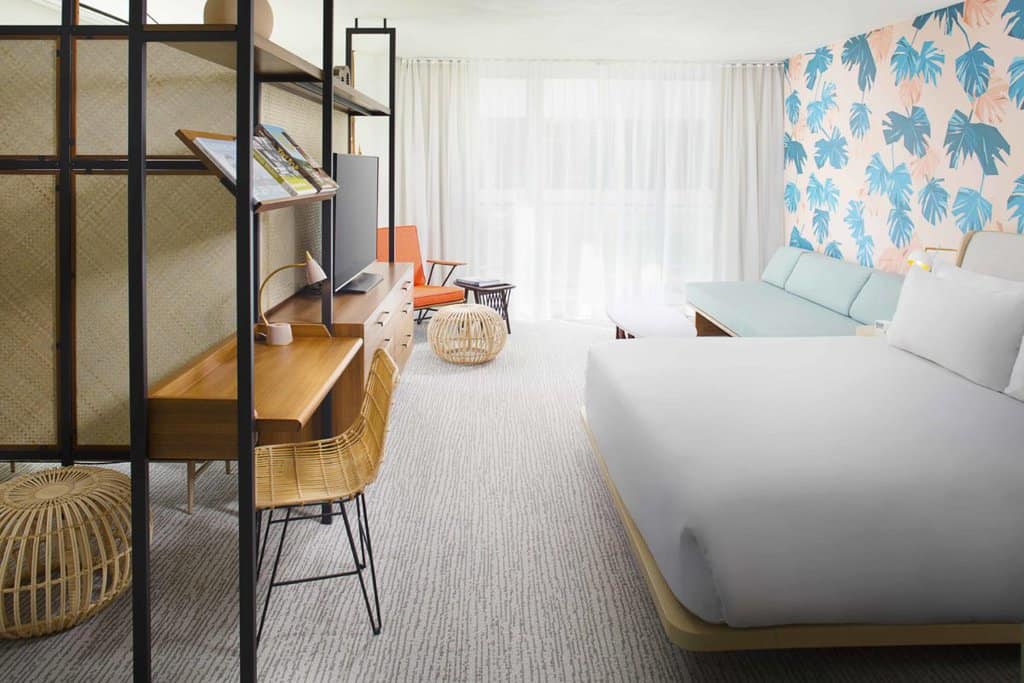 Laylow is a 1960s Hawaiian modern aesthetic with a relaxed vacation vibe.
The location is incredible, within walking distance of many shops, restaurants, and the beach.
The hotel offers a range of fantastic amenities to enhance your stay.
Take a refreshing dip in the inviting pool, or indulge in delectable dishes and craft cocktails at the on-site restaurant.
Head up to The Hideout, a hidden rooftop bar offering stunning views of Waikiki and serving craft cocktails and light bites in an intimate atmosphere.
To further immerse yourself in the local culture, make sure to catch the live music events at the bar.
Talented local musicians take the stage, serenading guests with soulful melodies and rhythmic tunes that transport you deeper into the vibrant spirit of Hawaii.
Whether you spend your days lounging by the pool, exploring the nearby attractions, or simply basking in the laid-back atmosphere, Laylow Waikiki promises an unforgettable vacation experience.
⭐ Click HERE to book your stay at Laylow for the lowest price!
Hotel Renew is a boutique hotel located just a block from Waikiki Beach, making it an ideal choice for travelers who want to be close to the ocean and away from the crowds.
The hotel's interior features a modern design with sleek furnishings, creating a chic, sophisticated atmosphere that relaxes you.
The rooms are well-appointed, with comfortable beds, high-quality linens, and a modern tropical style that meets the mid-century aesthetic.
Guests can also enjoy small bites, coffee, and classic cocktails at their Recess cafe and bar in their lobby.
There is no pool or restaurant in this hotel, but the hotel provides beach items that are available upon request. Also, parking is limited and is first come, first serve.
The staff is friendly, attentive, and always willing to go the extra mile to ensure guests have a comfortable and enjoyable stay.
Plus, they are dog friendly!
Overall, Hotel Renew is an excellent choice if you're looking for a stylish and well-located hotel in Waikiki.
⭐ Click HERE to book your stay at Hotel Renew for the lowest price!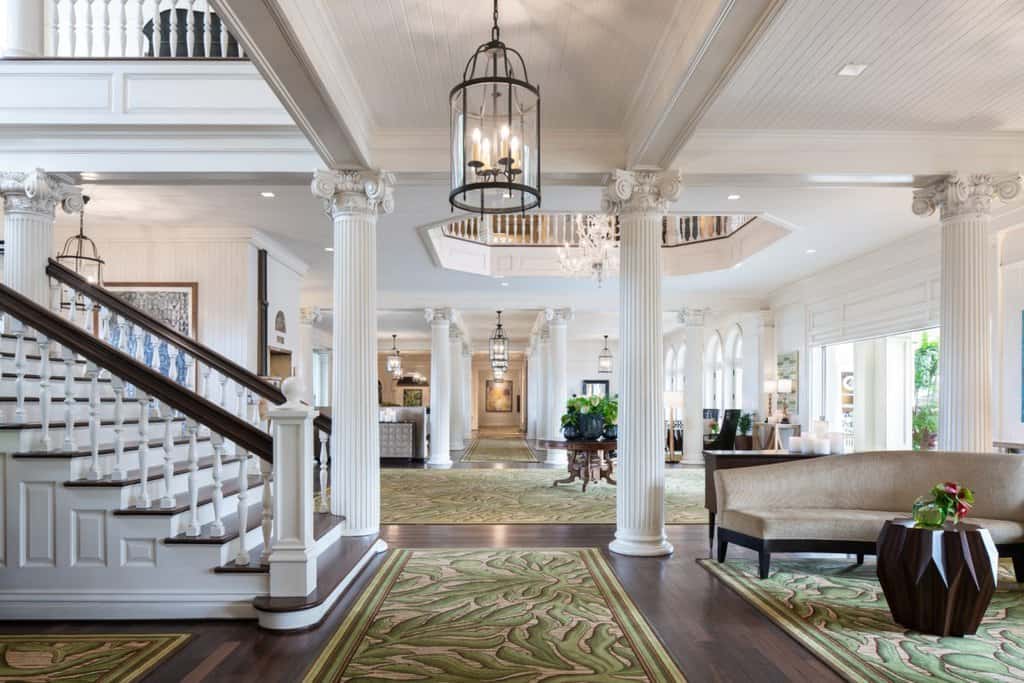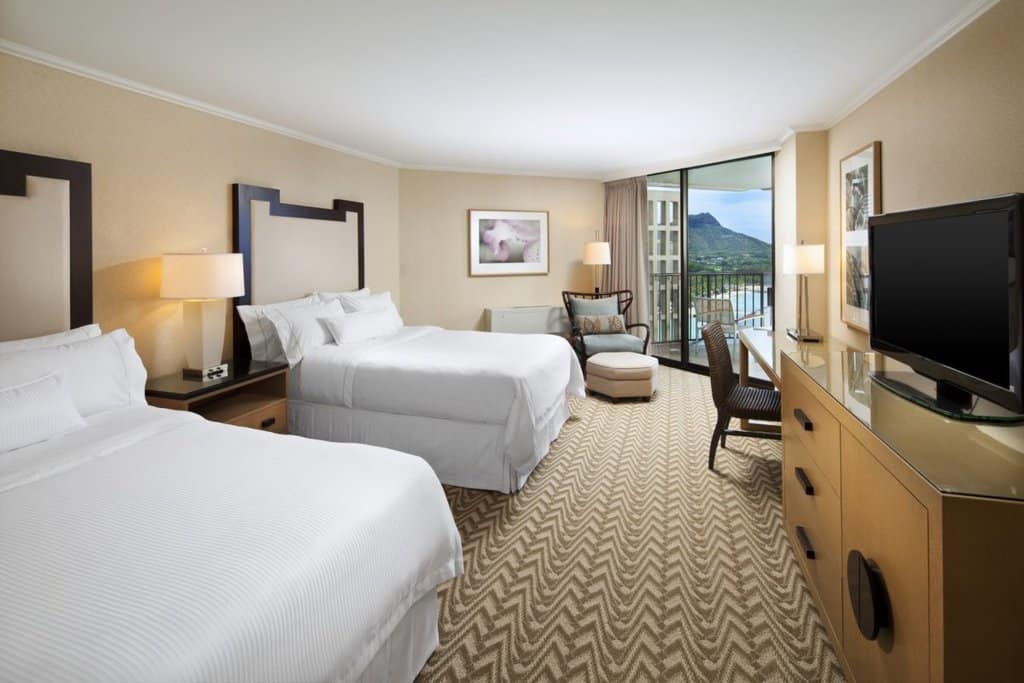 The Moana Surfrider, the first hotel ever built on the beautiful island. Affectionately known as "The First Lady of Waikiki," this exceptional hotel offers a glimpse into the past while providing modern comforts.
As you arrive, you'll be captivated by the elegance and charm that permeate its halls.
One of the remarkable features of this hotel is its direct access to the beach, eliminating the need to cross any street.
You can easily immerse yourself in the sun, sand, and surf without any hassle.
The staff at Moana Surfrider welcomes you with genuine kindness and warmth, ensuring your stay is memorable.The convenience of this hotel is truly remarkable.
Within a leisurely stroll of up to 10 minutes, you'll find an array of delightful restaurants and stores, allowing you to explore the local scene effortlessly.
The lobby, open to the air throughout the day, invites you to relax in its rocking chairs, taking in the soothing ambiance of the surroundings.
While the pool may be on the smaller side, it pales compared to the vastness of the ocean stretching out before you.
As day transitions into night, the Moana Surfrider comes alive with enchanting live music. Talented individual singers create a captivating atmosphere that adds to the hotel's allure.
Whether enjoying the ocean from your beachfront perch or marveling at the stunning pool, this hotel offers an excellent location that combines tranquility and accessibility.
⭐ Click HERE to book your stay at Moana Surfrider!
Map of Boutique Hotels In Oahu
Where To Stay On Oahu
Waikiki– Located in Honolulu, its the most popular and developed area in Oahu.
With a wide range of hotels and vacation rentals, Waikiki accommodates all budgets.
Enjoy stunning beaches, delicious restaurants, and fantastic shopping, all within walking distance. Expect crowds of tourists, but embrace the vibrant atmosphere.
Explore numerous tours, conveniently picking you up from your hotel. Discover the island's natural beauty, immerse yourself in its history, or try thrilling water sports.
Waikiki offers an unforgettable blend of relaxation and adventure.
North Shore– Is a peaceful and less crowded alternative to bustling Honolulu.
North Shore is perfect for those seeking tranquility. Surrounded by beautiful beaches and world-class surf spots, it's a haven for beach lovers and water sports enthusiasts.
Despite its serene ambiance, North Shore is just an hour away from the vibrant Waikiki.
Koolina/West Side– This beautifully manicured resort area offers a serene waterfront experience with its inviting lagoons, perfect for enjoying the ocean without the waves.
Families will find Koolina particularly appealing, thanks to the presence of the renowned Disney Aulani Resort.
If you're looking for alternative accommodation options, vacation rentals are also available.
Things to know Before Booking
Daily Resort Fees
Please note that most, if not all, hotels and resorts in Hawaii implement a daily resort fee to cover various activities and amenities.
These fees vary depending on the hotel and can include services such as Wi-Fi access, yoga classes, beach equipment, or cultural activities.
These fees typically range from $10 to $45 per night. It's essential to carefully review the terms and conditions when making a reservation to confirm whether the daily resort fee is included.
Being aware of this information upfront will help ensure no surprises during your stay.
Where NOT To Stay In Oahu
❌ Illegal Airbnbs❌
When visiting Oahu, it is important to know the new law prohibiting staying in illegal Airbnb rentals.
As of October 6, 2022,a new law prohibits short-term rentals of fewer than 30 days outside of designated resort areas.
Staying in an illegal Airbnb not only puts you at risk of being fined, but it also has negative impacts on the local community.
Best Activities To Do In Oahu
Oahu is a stunning island paradise with no shortage of things to do and see on this beautiful island. Below are the best activities you can do on the island!
Not only is it renowned as the best luau on the island, but what sets it apart is the authentic touch of being owned and operated by a local family, ensuring a genuine and immersive celebration of Hawaiian culture.👉 Sales Out Fast! Click HERE to book your spot!
🦖 Kualoa Ranch Ultimate Experience
The Kualoa Ranch Ultimate Experience is a must-do for adventure seekers and movie enthusiasts alike,combines three popular 90-minute immersive tours into one extraordinary journey. Embark on the Hollywood Movie Sites Tour to discover iconic film locations, delve into the depths of the Jurassic Jungle Expedition for an adrenaline-pumping exploration, and join the Aloha Aina Tour to gain insights into Hawaiian culture and sustainable practices.👉 Book HERE ASAP as this tour sells out fast!
🚁 Full Circle Helicopter Tour Of Oahu
This immersive helicopter tour offers a once-in-a-lifetime opportunity to capture breathtaking views of the lush landscapes, turquoise waters, and iconic landmarks of Oahu and gain a deep appreciation for the enchanting beauty of Hawaii.👉 Secure your booking now by clicking HERE!
Want more suggestions?
27 Best Things To Do At Night In Oahu From A Local
10 Non-Touristy Things To Do In Oahu From A Local (2023)
11 Best Activities to do in Waikiki,Hawaii
Traveling To Hawaii: FAQs
Planning a trip to Hawaii can be an exciting and overwhelming experience, especially if you're a first-time traveler. Here are some of the most frequently asked questions about traveling to Hawaii.
What is a boutique class hotel?
There's no strict definition of what makes a boutique hotel, but a critical feature that stands out is the fewer rooms than a regular hotel, with elegant decor and fancy features.
The whole idea behind these places is to give you a unique and personalized experience focused on the local vibes.
You'll love the cozy and luxurious atmosphere that sets them apart from those big chain hotels.And don't worry about missing out on anything – these places ensure you have all the amenities you need to feel totally satisfied during your stay at these delightful retreats.
What is the difference between a boutique hotel and a motel?
When you think of a boutique hotel, picture a small, stylish, and often luxurious place with a unique design and personalized service.
It's all about creating an intimate and upscale experience, focusing on local vibes and giving you that wow factor. On the other hand, a motel is more of a practical and budget-friendly option.
It's typically larger, with simple and functional rooms, and often located near highways for easy access.
While motels provide basic amenities, they may have a different level of attention to design and personalized service than you'll find at a boutique hotel.
How many days do you need in Oahu?
When visiting Oahu, spending around 7 days is the perfect time to fully enjoy this fantastic island. It gives you enough days to unwind, soak up the stunning sights, and explore the rich historical landmarks. With a week-long trip, you won't have to rush through your itinerary, allowing you to truly embrace the island's laid-back vibe.
What is the best month to visit Hawaii?
The best months to visit Hawaii are September and October.
The weather is generally pleasant, with warm temperatures and lower humidity during this time. These months are considered the shoulder season, meaning fewer tourists than in the peak summer months, resulting in less crowded attractions and beaches.September and October also offer better deals on accommodations and flights to Hawaii.
Conclusion: Best Boutique Hotels In Oahu
For those looking for a unique and personalized experience in Oahu, boutique hotels are definitely worth considering.
Each boutique hotel has its own unique features that make them stand out from the rest.
From the luxurious amenities of Waikiki to the laid-back charm of the North Shore, each hotel has its own distinct personality and charm.
Whether you're looking for a romantic getaway or a family vacation, there's a boutique hotel in Oahu that will fit your needs perfectly.
Your tropical paradise awaits!