27 Best Things To Do At Night In Oahu From A Local

If you're planning a trip to Oahu and looking for exciting nighttime activities, you're in the right place!
Oahu has so many options, and with limited time, deciding what to do at night in Oahu can be overwhelming, especially if you're visiting for the first time.
Remember that Hawaii businesses close earlier than most major cities, so don't expect many things to open late at night.
This blog post has listed 27 things to do in Oahu at night that are accessible, outdoors, unique, and so much more!
NO TIME TO READ NOW? PIN FOR LATER!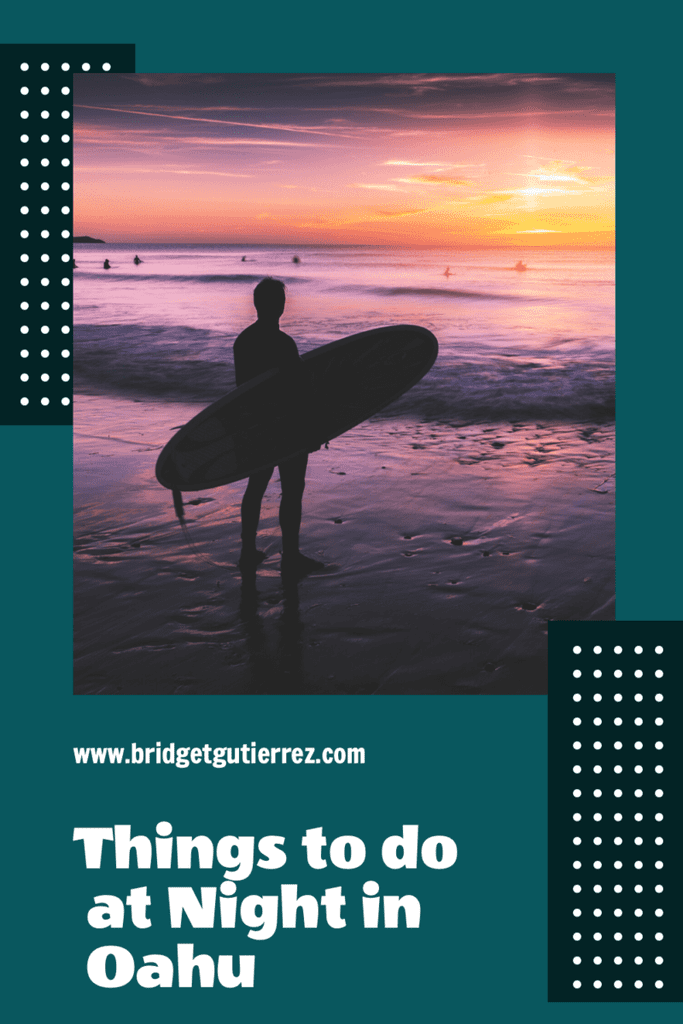 Are you planning a trip to Oahu? And feeling overwhelmed and lost? Do you have specific questions you'd like answered, need guidance around which activities to choose, review your itinerary, or want advice on travel logistics? Or maybe you want some simple reassurance about your trip. I'm here to help! ➡️ Click this link to schedule your call! ⬅️
27 Best Things To Do At Night In Oahu
If you're a night owl, Oahu is the perfect place, with various indulgence activities. From the bustling city lights to the serene sound of the ocean, Oahu offers a unique experience for all. While there are numerous options, we've compiled a list of things you cannot afford to miss when in Oahu at night.
1. Go to a Family Owned Luau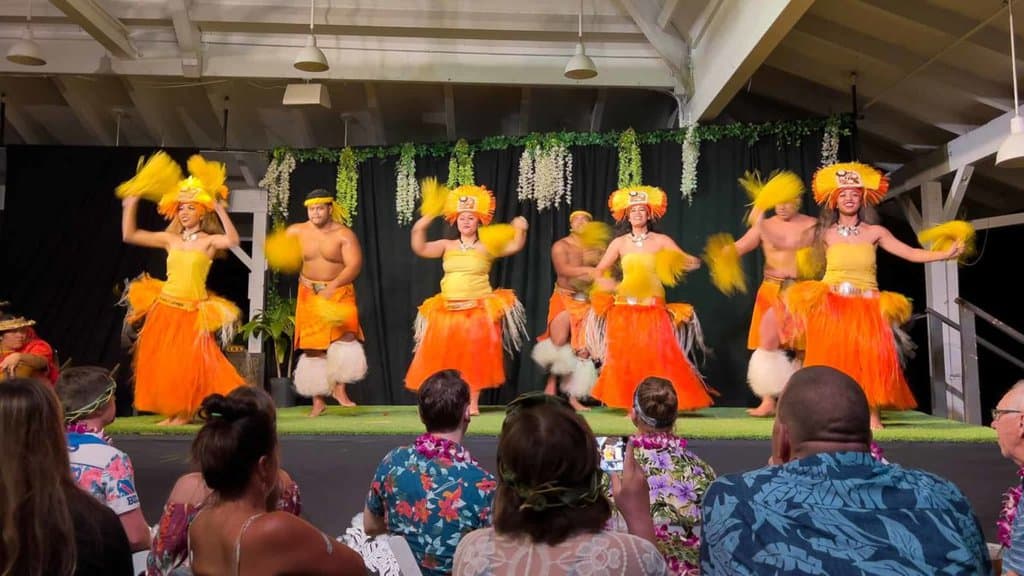 While visiting Hawaii, going to a Luau is a must. After two years living in Hawaii, I finally went to a Luau.
I enjoyed it from the minute it started to the end!
Oahu has many Luaus run by both big corporations and family-owned.
Going to a family-owned luau in Hawaii is not only a fun experience but also essential to support local businesses and connecting with the culture on a deeper level.
Unlike the large corporate luaus, family-owned ones have a personal touch that can make you feel like you are part of their family.
So, if you want a genuine taste of Hawaiian culture, skip the corporate events and head to a family-owned luau.
*Pro Tip* book tickets in advance as they sell out for weeks and months.
🤙🏽 I recommend this family-owned luau in Oahu.
2. Drink Mai Tai at Duke's Waikiki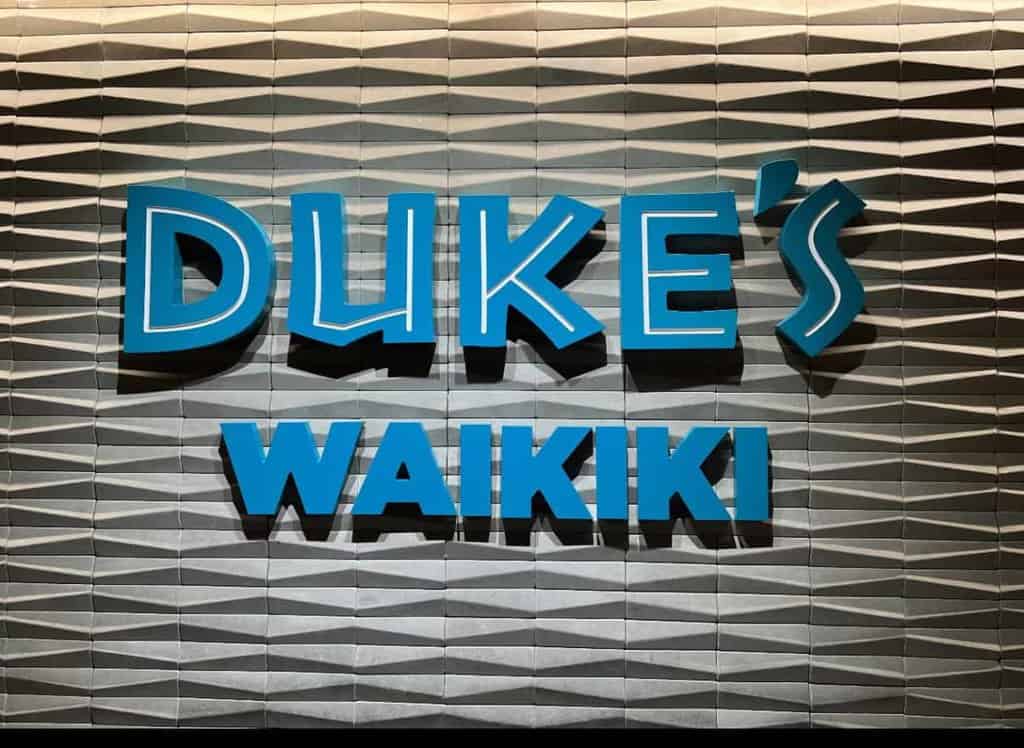 Duke's Waikiki is a world-famous beachfront restaurant and bar in the heart of Waikiki Beach.
Named after legendary surfer and Olympic swimmer Duke Kahanamoku, Duke's Waikiki offers a warm and welcoming atmosphere that celebrates the rich cultural heritage of Hawaii.
Duke's Waikiki is the perfect place to indulge in the flavors of Hawaii while enjoying the sunset and the sea breeze while drinking mai tais.
Mai Tai has a rich history rooted in the Hawaiian islands. The Mai Tai is an authentic taste of island life with its blend of rum, lime, orange curaçao, and orgeat syrup.
3. Dine at House Without a Key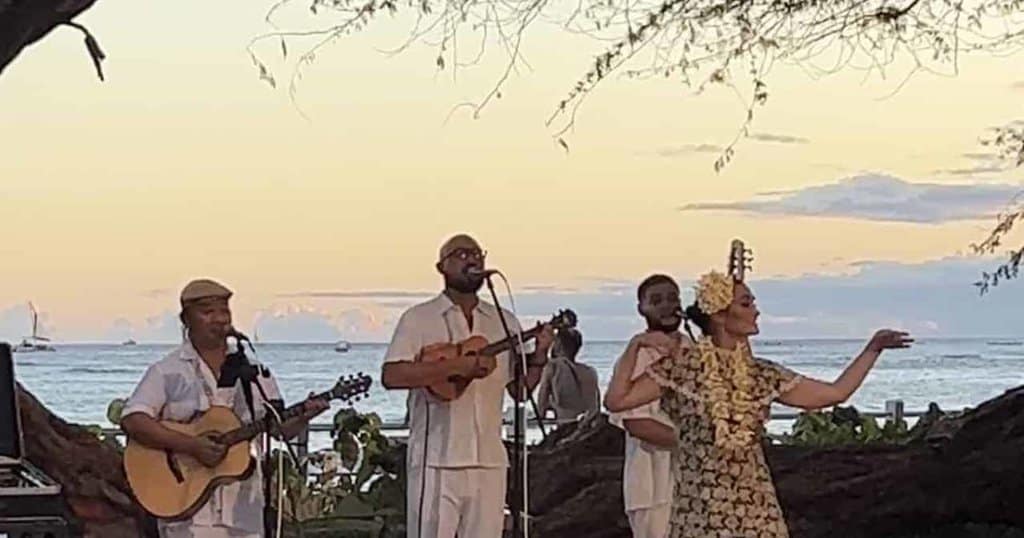 Dining at House Without a Key is located within the iconic Halekulani Hotel.
House Without a Key offers upscale island dining, a fabulous backdrop for your evening meal, live Hawaiian music, and nightly dancing.
You can enjoy an exquisite meal and a stunning Pacific Ocean view beside the hotel's gorgeous beachfront.
The restaurant's menu features a variety of Hawaiian and Asian-inspired dishes, with many using local ingredients sourced from nearby farms.
The House Without a Key also serves signature tropical cocktails, perfect for sipping while watching the sunset.
Whether you're a foodie, a romantic looking for an intima
Things To Do At Night In Waikiki
4. Shop at Duke's Marketplace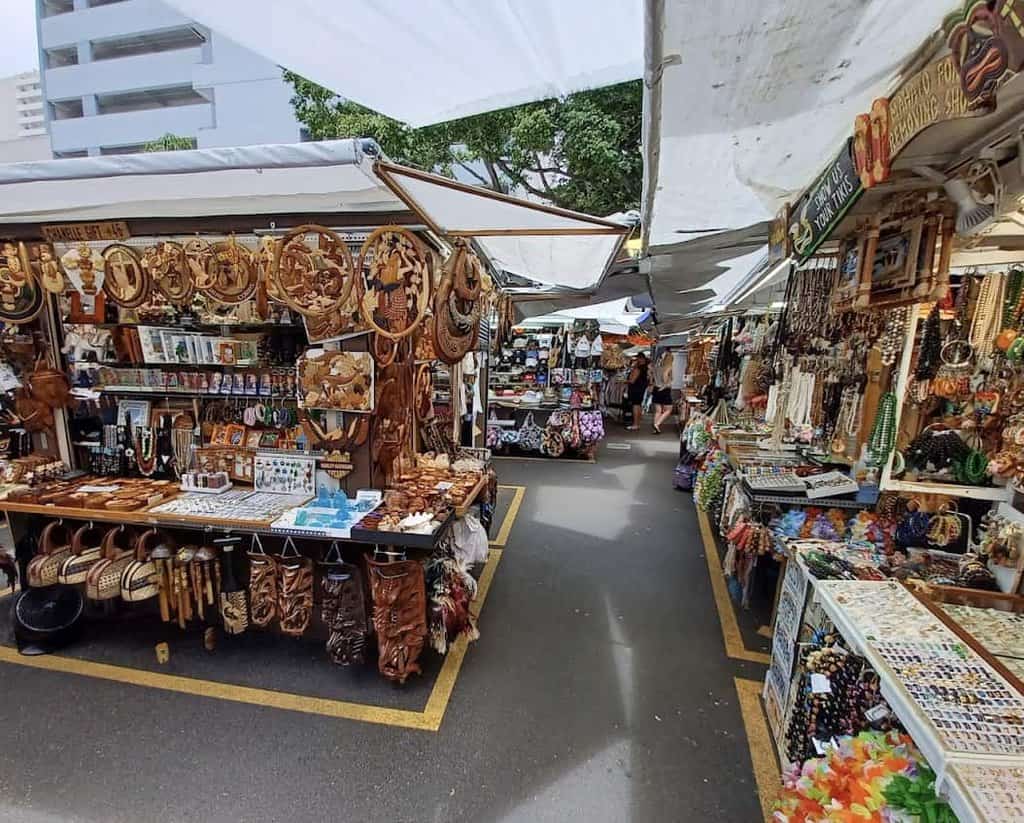 Duke's Marketplace is a popular shopping destination in the heart of Waikiki.
Duke's Marketplace offers various shopping options to suit every taste and budget.
It's an excellent place for souvenirs.
You can browse a range of locally made products, including handmade jewelry, clothing, and artwork that you won't find anywhere else, whether you're looking for a unique gift to take home or want to indulge in some retail therapy.
5. Sunset Beach Yoga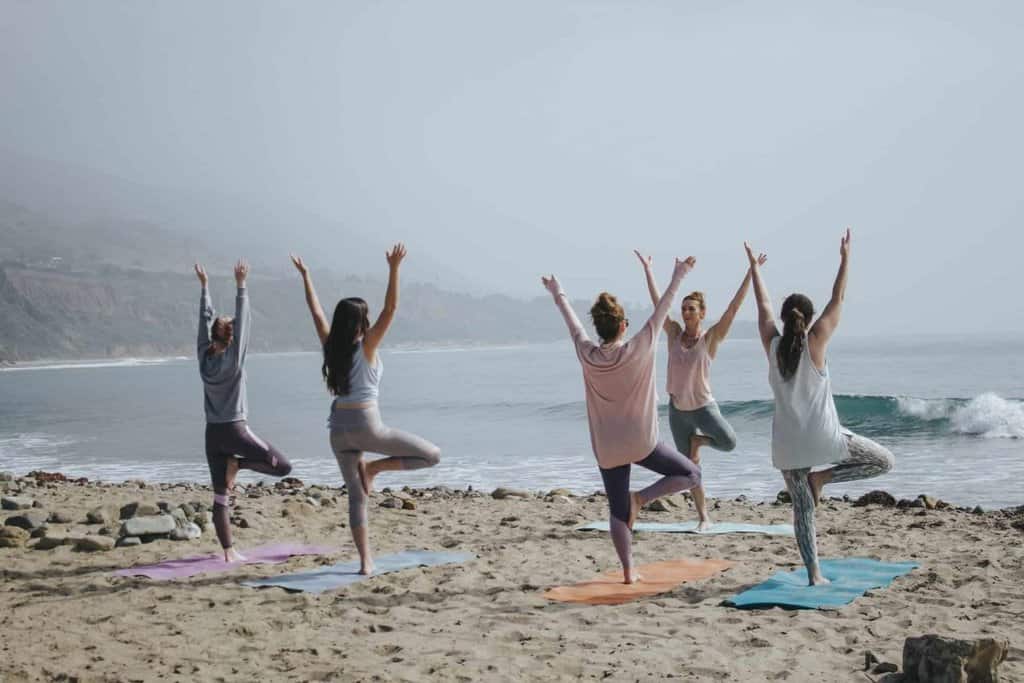 This unique class is held on the beach, adding a natural element to the experience you can't find in a studio.
Waikiki's warm, sandy beaches provide the perfect backdrop for this relaxing and invigorating experience.
Whether you're a beginner or an experienced yogi, Sunset Beach Yoga in Waikiki is the ideal way to recharge your batteries and reconnect with yourself.
6. Twilight Tours at Honolulu Zoo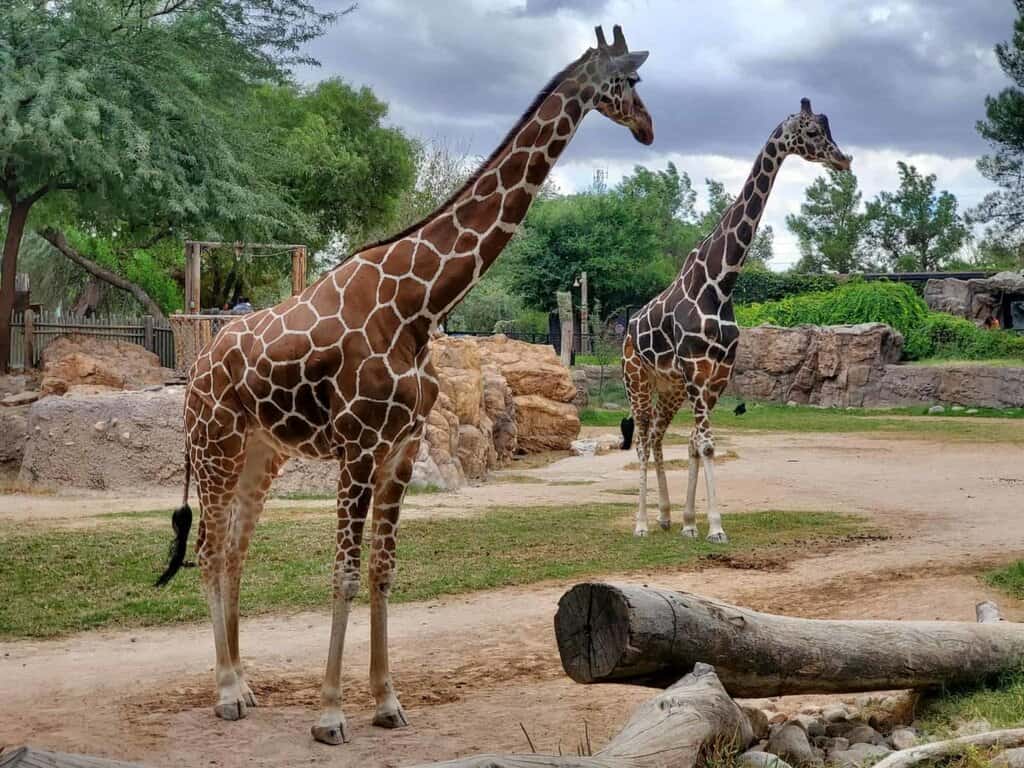 Twilight Tours at Honolulu Zoo is a must-try experience for animal lovers and adventurers alike.
It offers visitors a unique opportunity to explore the zoo after hours, when the animals are most active, and the atmosphere is truly magical.
Led by knowledgeable guides passionate about conservation and education, these tours offer a rare opportunity to witness the nocturnal behaviors of many of the zoo's residents.
Whether you're a first-time visitor or a long-time fan of Honolulu Zoo, Twilight Tours offers a memorable and fascinating experience you will want to experience
🎟️ Get your Twilight tickets here!
7. Go Out Dancing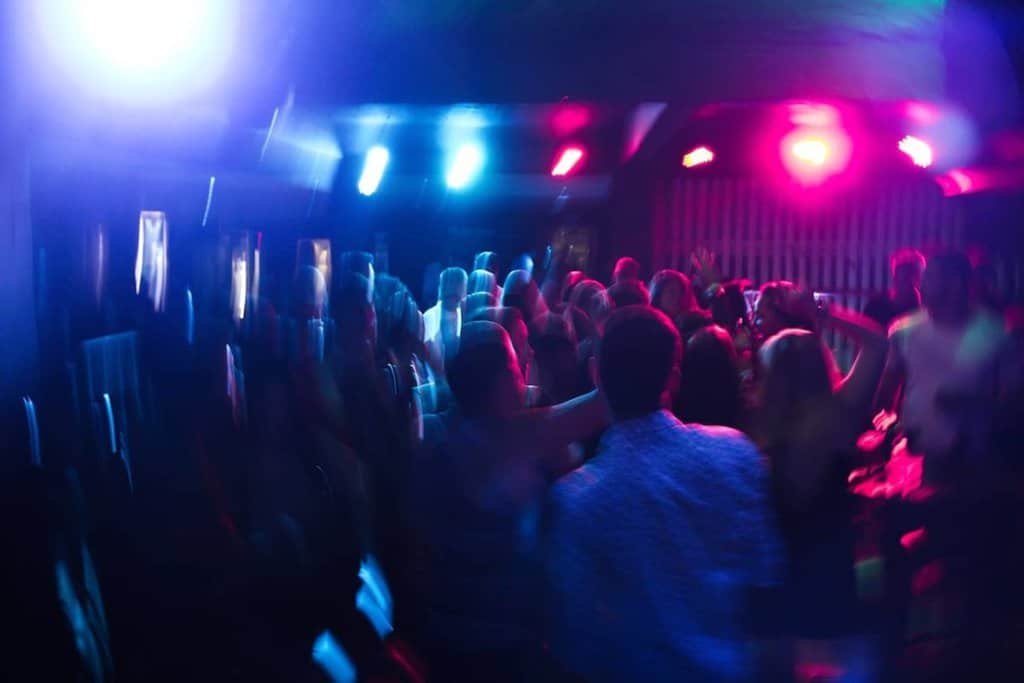 Oahu, one of the most popular islands in Hawaii, is known for its vibrant nightlife and rich cultural heritage.
The island offers a variety of clubs and music venues that cater to different tastes and styles.
Some popular places to dance in Oahu include The District, NextDoor, Buho Cocina y Cantina, and The Republik.
Each of these venues has a unique ambiance and attracts a diverse crowd.
Do you want more activities? Check out these fun activities while in Waikiki.
8. Honolulu Ghost Tour
This tour takes you through some of the most haunted locations in the city, where you'll hear spine-tingling stories about the supernatural and paranormal activity that still lingers to this day.
Along the way, your friendly guide will regale you with tales of mysterious figures and ghostly apparitions as you explore hidden corners and deserted alleyways.
Whether you're a true believer in the supernatural or a skeptic, this ghost tour will be an unforgettable experience.
👻 Book your spooky Honolulu tour today!
9. Sunset Dinner Cruise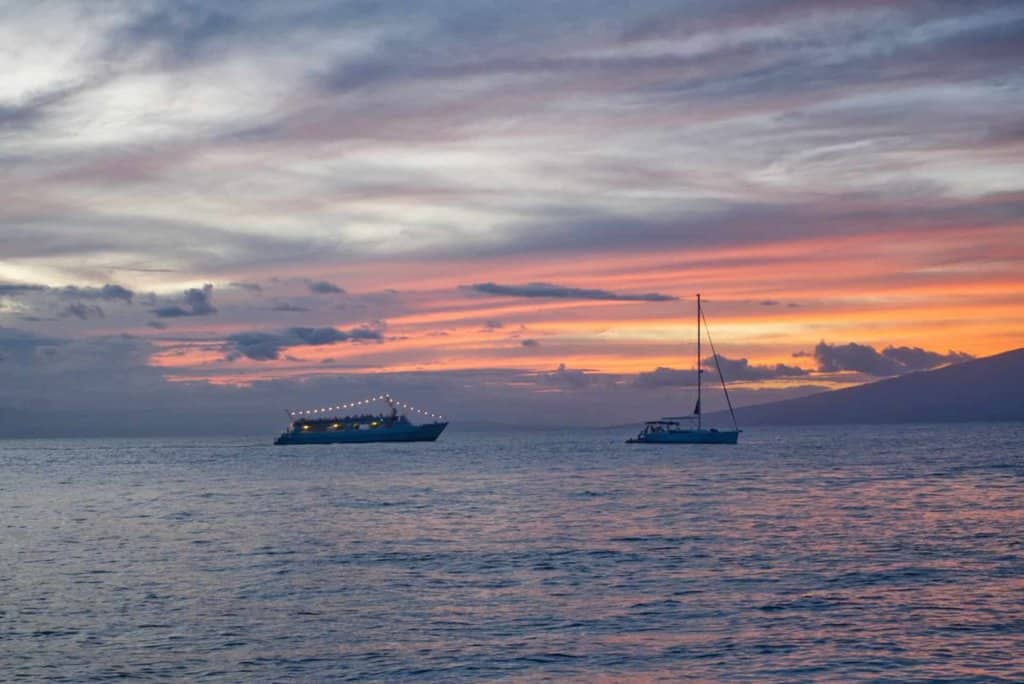 Not only will you enjoy stunning views of the Hawaiian sunset, but you'll also be treated to a delicious meal and live entertainment.
It's the perfect way to unwind and relax after a day of exploring the island.
Plus, the ocean breeze and gentle waves will create a serene atmosphere that is hard to replicate on land.
Whether celebrating a special occasion or looking for a romantic evening out, a Sunset Dinner Cruise is the perfect addition to your Oahu trip.
🛳️ Check the availability for your romantic dinner cruise!
10. Go to Blue Note Hawaii
Blue Note is inside the Outrigger Waikiki Beach Resort at the heart of Waikiki.
Blue Note offers standup comedy or singers to enjoy throughout the month.They offer food and drinks though out throughout the night.
Locals and tourists always have a fun night out when at Blue Note.
🎭 Book your Blue Note tickets here.
11. ROCK-A-HULA
Rock-a-Hula is a show that attracts many tourists and locals by bringing the best in entertainment, music, and dance under one roof.
The performance takes you on a nostalgic journey showcasing the history of Hawaii, its culture, and traditions through various musical genres like rock and roll, country, and Hawaiian classics.
✅ Check availability for Rock-A-Hula Show
Free Things To Do At Night
12. Fireworks at Hilton Hawaiian Village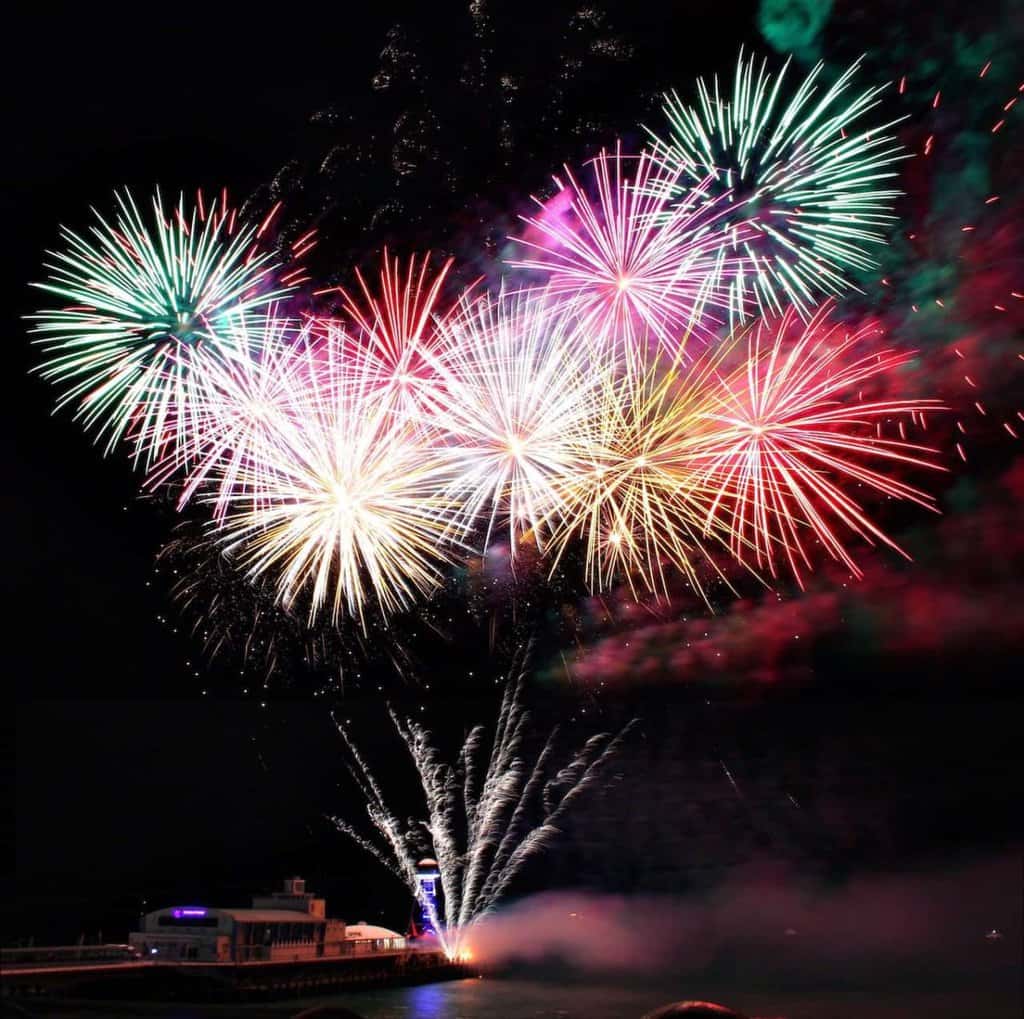 You can take advantage of the free firework show every Friday night. It's been happening since 1988.
You can see this show from the famous Waikiki beach, and I recommend heading to the beach near The Hilton Village for the best view of the fireworks.
In the summer, the show starts at 7:45 pm.
13. Go on a Moonlight Hike
Going on a moonlight hike in Oahu is an experience unlike any other. With the moon lighting your way, you'll see some of the island's most stunning natural landscapes as you hike through the dark under the stars.
The magic of the experience is truly unlike anything else, and it's a great way to connect with nature and uniquely experience the island's beauty.
14. Stroll throught Kalakaua Avenue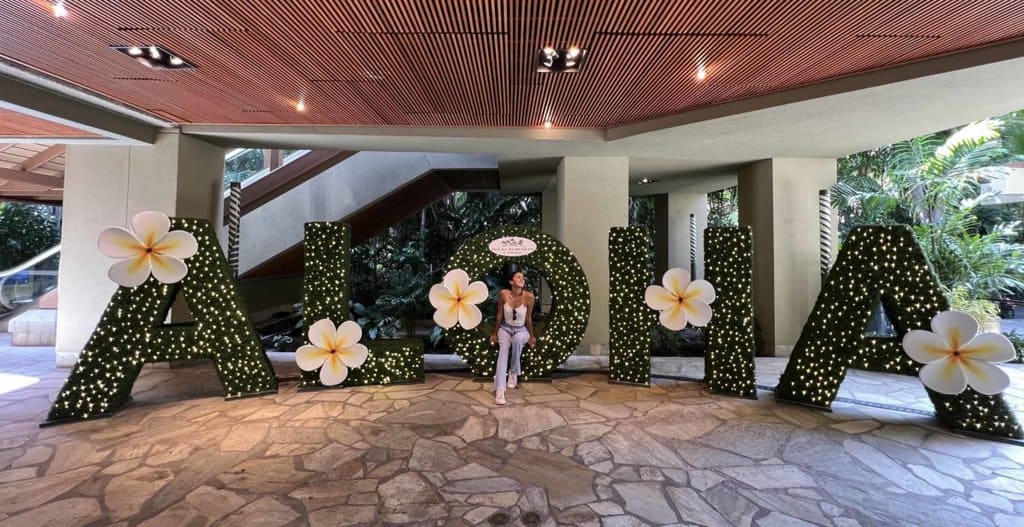 It's a must to walk along Kalakaua Avenue. This famous street has many shops, from high-end clothing stores and souvenir stores like ABC stores and restaurants.
Along this street, you will also see different local street performers too. Walking here is safe as it's well-lit and many people walk here all day.
Outdoor Things To Do After Dark
15. Night Diving Excursion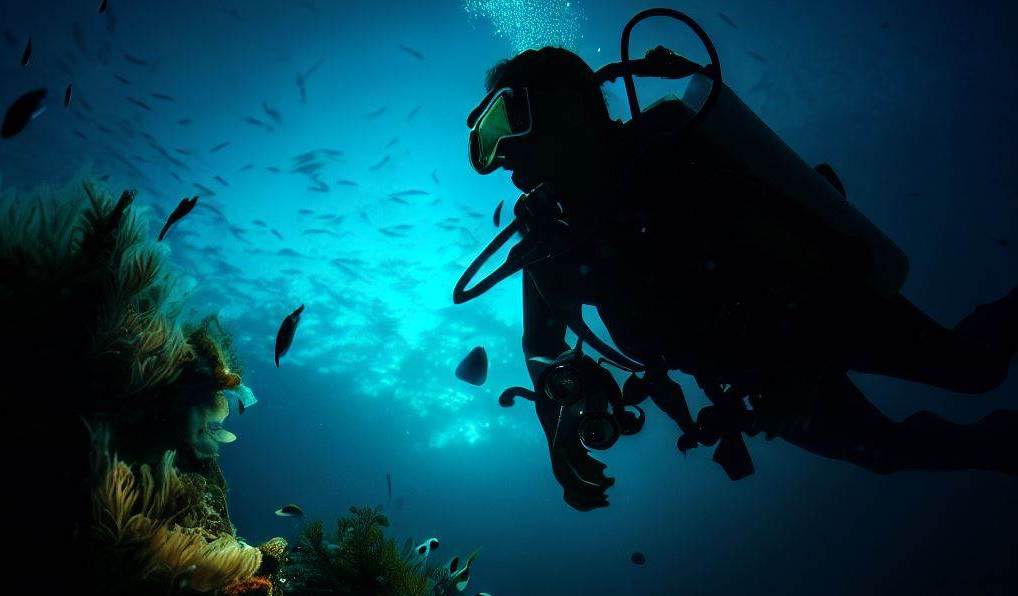 Calling all certified divers is a great bucket list item to check off your list.
Going on a night dive in Hawaii's clear water is an experience you will never forget.
During this night dive if you are lucky to see Honu (Hawaiian Green Sea Turtles, reef sharks, and even humpback whales during the winter season.
No need to bring any gear, and they provide everything you will need for your dive.
🤿 Book this night diving tour today!
16. Moon Walks in a Botanical Garden
Once a month during the full moon Waimea Valley is open for you to experience at night.
The night walk starts at 8 pm and leads by a botanical garden specialist.
Experience the botanical garden and waterfall with all the night sounds at night, and it's truly a unique experience.
✦ Check out the dates for Moonwalks Here!
17. SUP during Sunset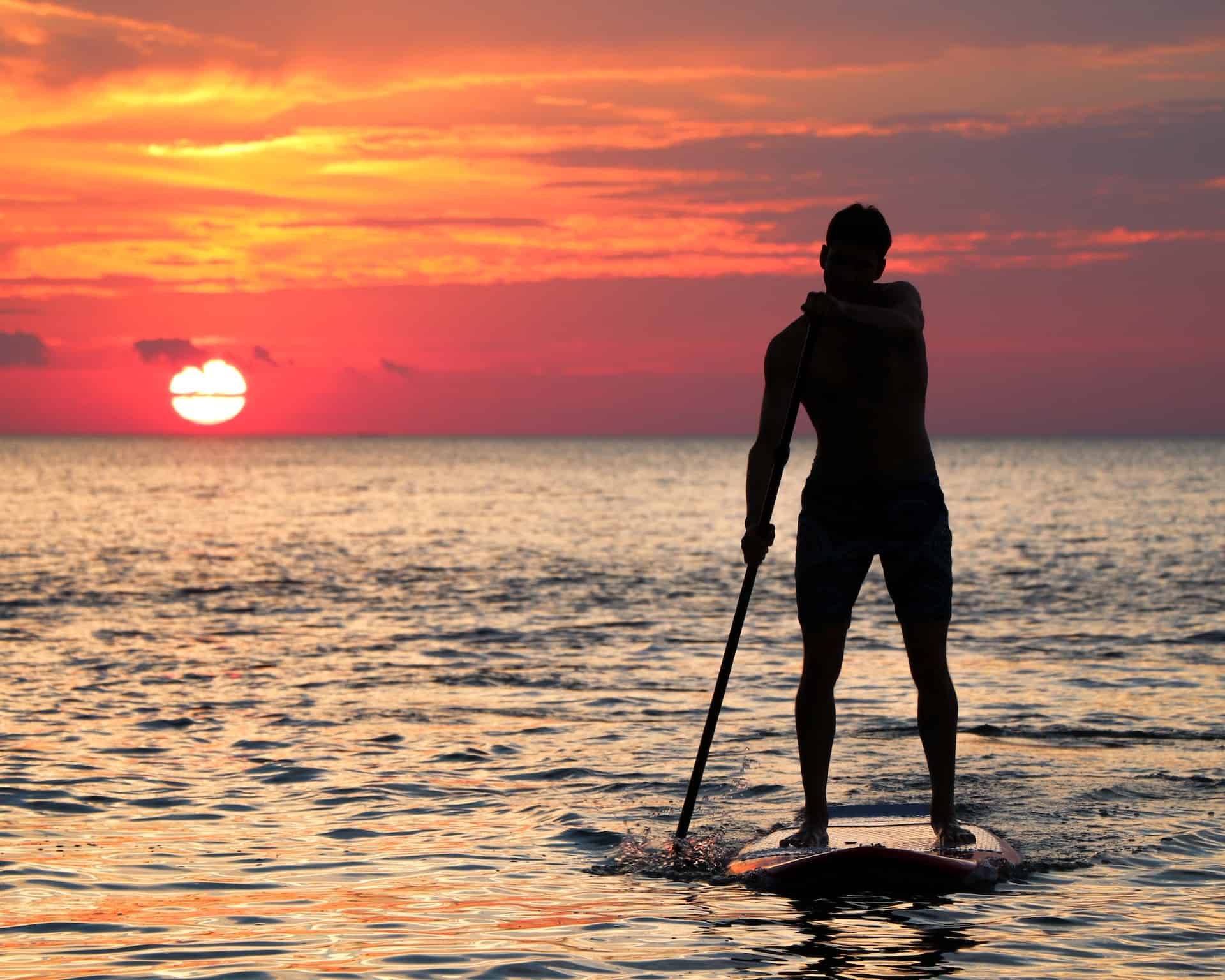 Paddleboarding is already a super fun and easy activity that anyone can enjoy, but it's even more special when you do it at sunset.
Nocturnal Adventures Hawaii offers breathtaking Sunset SUP experiences and adventures you will never forget in Waikiki and North Shore.
As you paddle along, you may even spot some sea turtles as you enjoy the tranquility and peacefulness of Paddleboarding in Hawaii.
✅ Click here to book your SUP Nocturnal Adventure!
Oahu is in the middle of the pacific ocean, with few places not affected by light pollution. It's a great place to go stargazing.
A great spot to go stargazing is on the westernmost part of the island. Kaena Point State Park is one of the darkest places on Oahu.
It's even possible to see the Milky Way.
The best time is between the months of February and September.
The space tourist guide also has more location suggestions on Oahu.
Fun Things To Do In Oahu At Night
19. Breakout Waikiki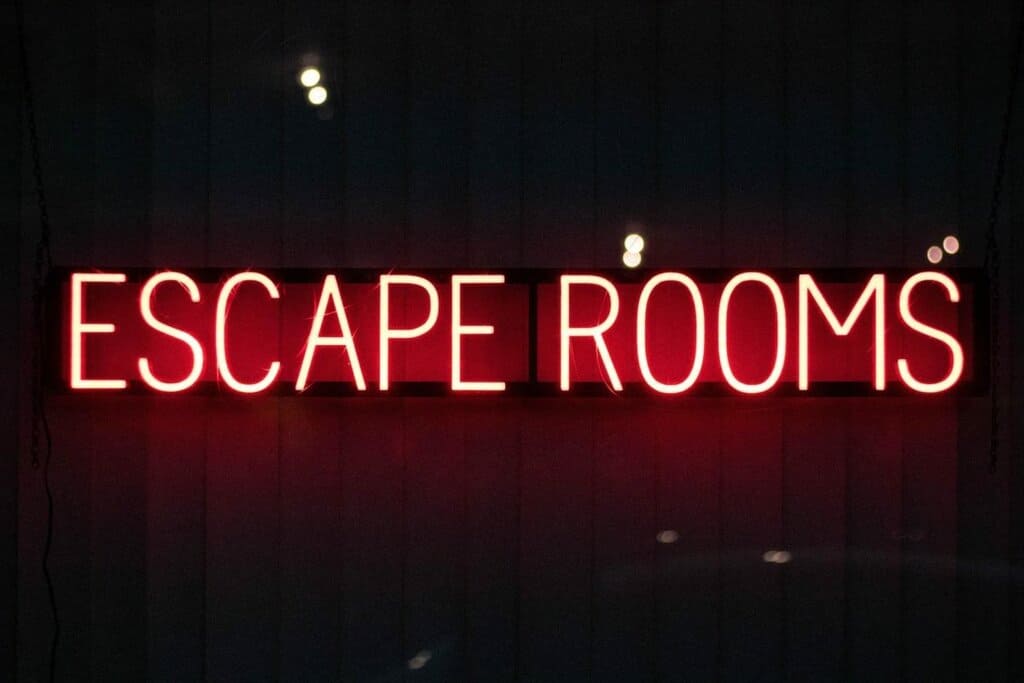 Escape rooms have become increasingly popular in recent years, and it's easy to see why.
Breakout is the top-rated escape room in Waikiki.
They offer five unique escape room themes and stories so that you can pick the most appealing to you.
Expect to fully immerse in the game and work with your group to overcome obstacles and beat the clock.
Whether a first-time escape room player or a seasoned veteran, you'll have a blast at Breakout Waikiki.
20. Visit Kaka'ako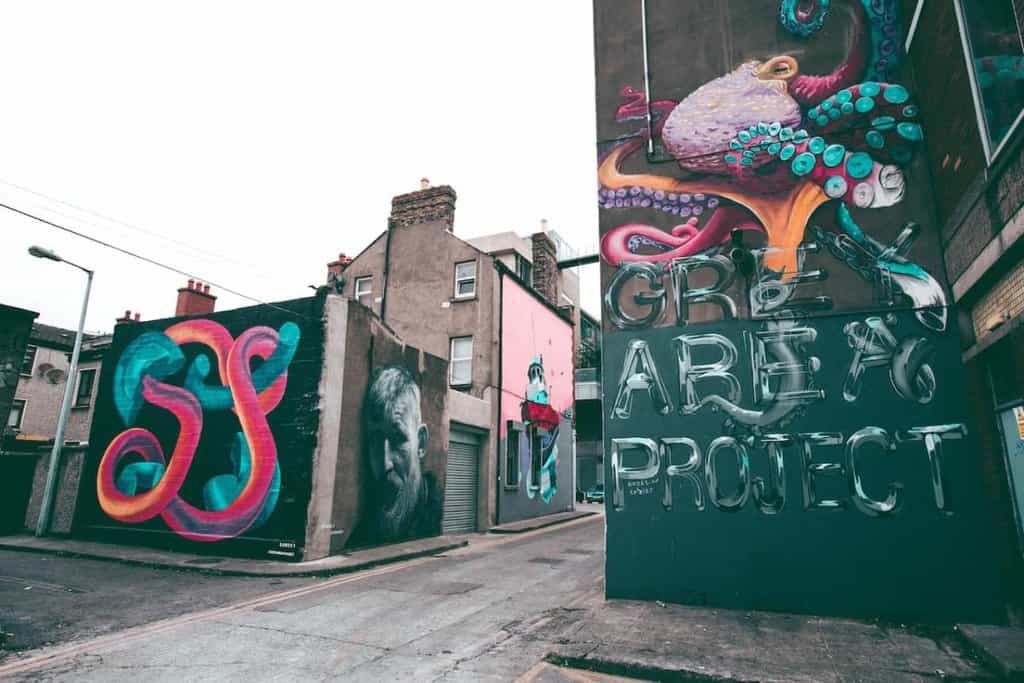 Just a 10 min drive from Waikiki is the neighborhood of Kaka'ako.
This hip neighborhood is perfect for those who want to experience the island after dark.
From trendy bars and restaurants to art galleries and events, Kaka'ako has something for everyone.
You'll be met with colorful murals and lively music as you wander the streets.
Whether you're looking for a solo adventure or a night out with friends, Kaka'ako is the place to be.
21. Go Indoor Mini Golf
Glow Putt Mini Golf is an indoor mini golf course offering a unique experience with its glow-in-the-dark decor and challenging holes.
The system has various obstacles and challenges to entertain you and your friends for hours.
The neon and black lights also create a fun and vibrant atmosphere that adds to the overall experience.
22. Go Axe Throwing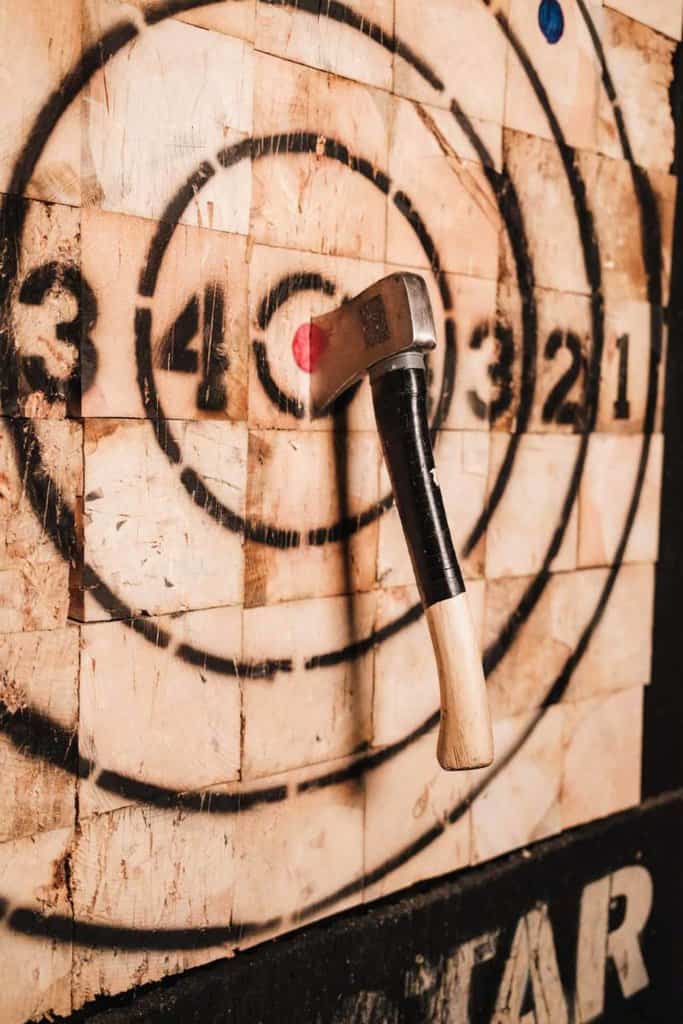 Axe throwing is a thrilling and satisfying sport requiring focus, precision, and a little technique.
Blade & Timber has safety-certified axe coaches who explain how safely master axe throwing.
Plus, it's incredibly satisfying to hear that satisfying thud as the axe successfully hits the target.
They offer chips and soft drinks as they are a new location, and you can bring your food and non-alcoholic beverages.
Pro tip: Wear closed-toed shoes, and reserve lane online before going. Walk-ins are available on a first-come, first-serve.
23. Go Bar Hopping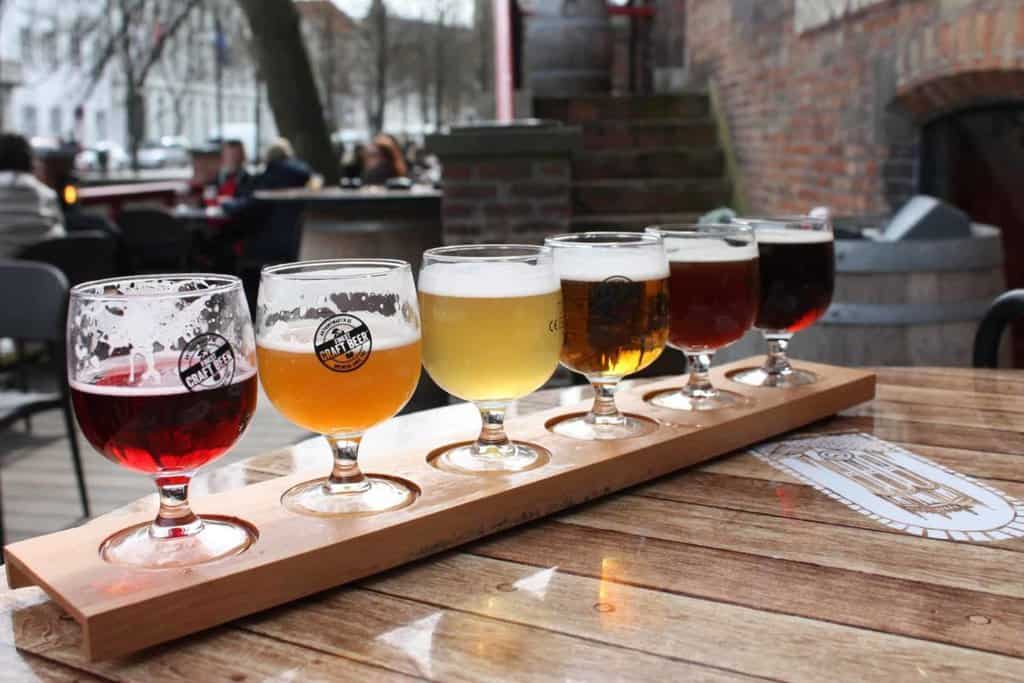 Bar hopping in Oahu's local spots at night is a must-do activity for tourists as it offers a unique opportunity to taste the local flavors and culture.
Still, you'll also get to mingle with the friendly locals and fellow travelers.
24. Break'N Anger
Break' N Anger is a rage room if you're looking for a unique and exhilarating way to blow off steam or release your creativity.
They offer a rage room where you can smash objects, and they provide all the equipment.
They also have an art splatter studio where you can get paint water guns to express your creativity or shoot at your friends and the room without cleaning up the mess.
It's a great way to bond with friends or family and make unforgettable memories. So, if you're ready to let loose and have some fun, get ready to unleash your inner Hulk!
25. Lucky Strike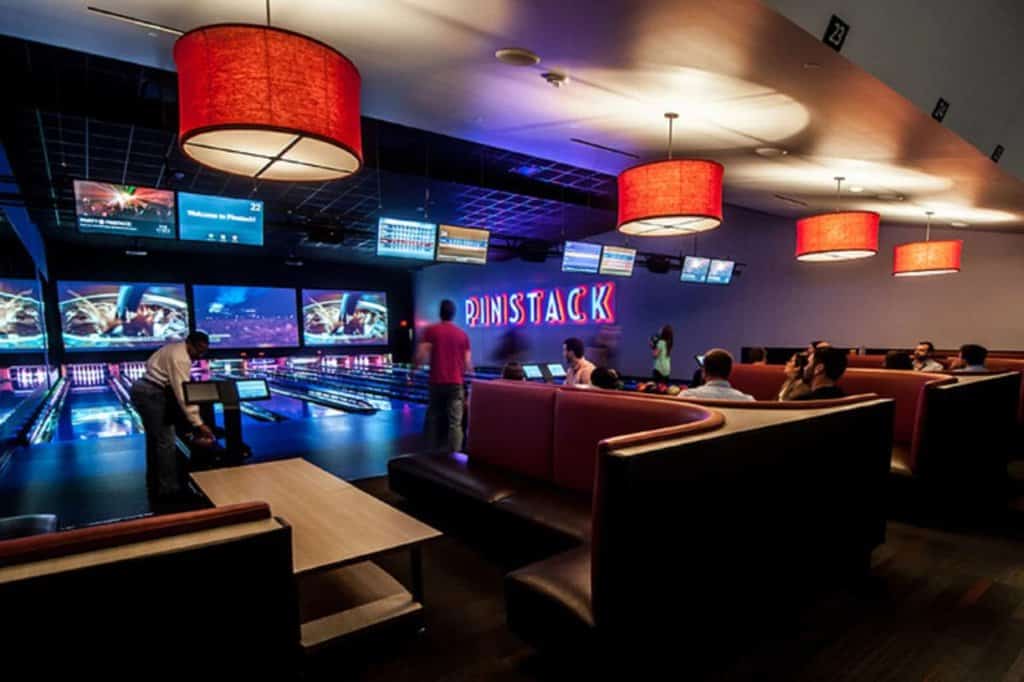 Head to Lucky Strike at Ala Moana Center for an upscale bowling alley with a luxurious atmosphere, full bar, restaurant, and high-tech games.
The high-end amenities and upbeat atmosphere make it a great place to hang out with friends or enjoy a date night.
In addition to bowling, Lucky Strike also offers food and drinks and arcade games, ensuring there's something for everyone to enjoy.
Plus, located in the heart of Honolulu, you can easily explore the surrounding areas.
26. HoMA Nights at The Honolulu Art Museum
If you enjoy museums and want a unique experience, head to the Honolulu Art Museum during after-hours.
During HoMA Nights, visitors can expect to enjoy live music, performances, and special exhibitions.
The event also includes food and drinks from local vendors, adding to the lively and social atmosphere.
The museum stays open late, allowing visitors to explore the galleries and exhibits at their own pace, without the usual crowds.
HoMA Nights also often feature workshops and activities enabling visitors to engage hands-only with art.
27. Karaoke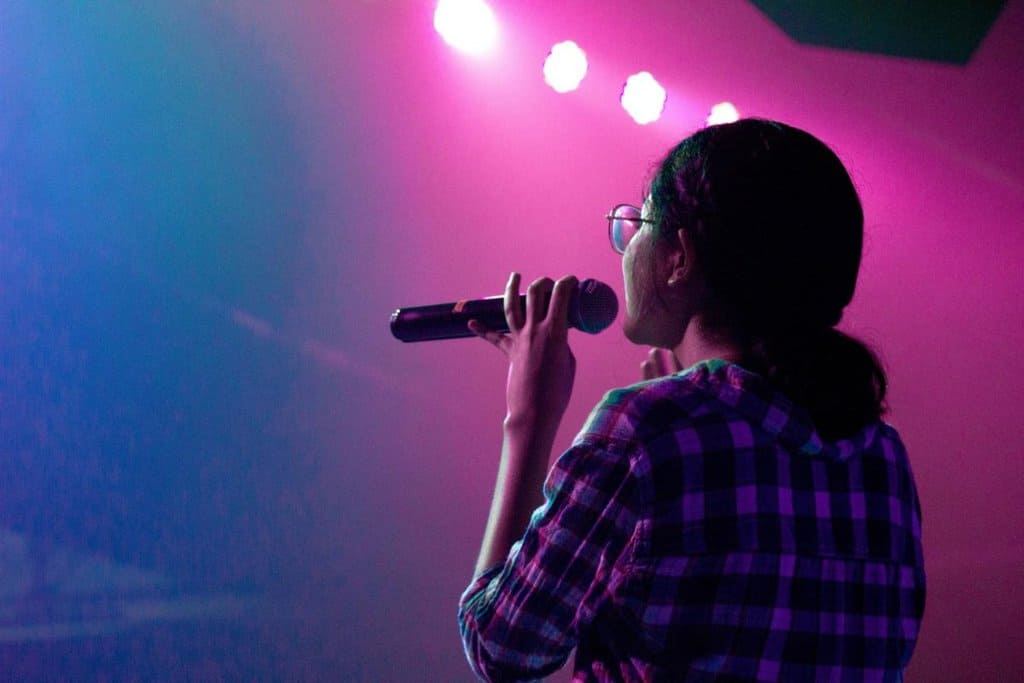 If you're looking for a fun and interactive way to spend your night in Oahu, heading to a karaoke spot might be worth considering.
Karaoke is a popular activity in Oahu, and it can be an excellent way to bond with your friends and family while showing off your singing skills.
Plenty of excellent karaoke bars are scattered throughout the island, some offering private rooms or more public settings.
What makes karaoke so much fun is that anyone can participate, and you're sure to find a song you'll enjoy singing.
How Many Days Do You Need In Oahu?
Oahu has a lot to offer, 7 days are enough time to explore the island and relax during your time on this beautiful island.
Read my suggested Oahu itinerary to ensure you get to do everything during your visit.
Does Honolulu have nightlife?
Yes, Honolulu has a nightlife scene, with plenty of options for entertainment, dining, and nightlife activities.
The city has numerous bars, nightclubs, and lounges, particularly in the Waikiki neighborhood.
Can you swim in Hawaii at night?
While it is technically possible to swim in Hawaii at night, it is not recommended due to several safety concerns.
The ocean conditions can be unpredictable, hazardous marine life may be present, and visibility may be limited.
Additionally, many beaches in Hawaii close at sunset, making it illegal to swim at night. It is always important to prioritize your safety and follow local regulations when participating in ocean activities.
Where To Stay In Oahu
✔️ Hotel Renew– Hotel Renew's prime location in Waikiki offers easy access to some of the island's best beaches, shopping centers, restaurants, and nightlife. The hotel is perfect for travelers seeking the ideal blend of convenience, luxury, and relaxation.
✔️ Kaimana Beach Hotel– This beautiful oceanfront boutique hotel with stunning views of the Waikiki skyline and Diamond Head. It is an ideal accommodation for those seeking a peaceful and luxurious beach-front vacation away from the busy streets in Waikiki.
✔️ Halekulani Hotel– This hotel is a true gem for anyone seeking a luxurious and unforgettable vacation experience. Boasting stunning views of the Pacific Ocean, this hotel offers guests the perfect blend of natural beauty and contemporary design.
Read more in details about the best hotels in Oahu.
Conclusion: 27 Best Things To Do At Night In Oahu
Oahu is an excellent destination for adventure, relaxation, and everything.
Which things to do in Oahu at night will you add to your itinerary?
And remember to take lots of pictures along the way – you'll want to remember you're lovely time on this fantastic Hawaiian island!
LOVED THIS POST. PIN FOR LATER!