15 BEST North Shore Beaches On Oahu From A Local (2023)

If you are planning a trip to Oahu, Hawaii, you can't miss out on visiting beaches on the North Shore.
Known for their stunning scenery and world-famous surfing spots, these beaches are a must-see for any beach lover.
In this blog post, we will take a closer look at some of the top North Shore beaches in Oahu and what makes them so special.
From the popular Waimea Bay to the more secluded Ehukai Beach, we'll provide tips on what to expect and how to make the most of your visit.
So pack your sunscreen and towel, and get ready to explore some of the most beautiful beaches in Hawaii!
🗺️ Map Of North Shore Beaches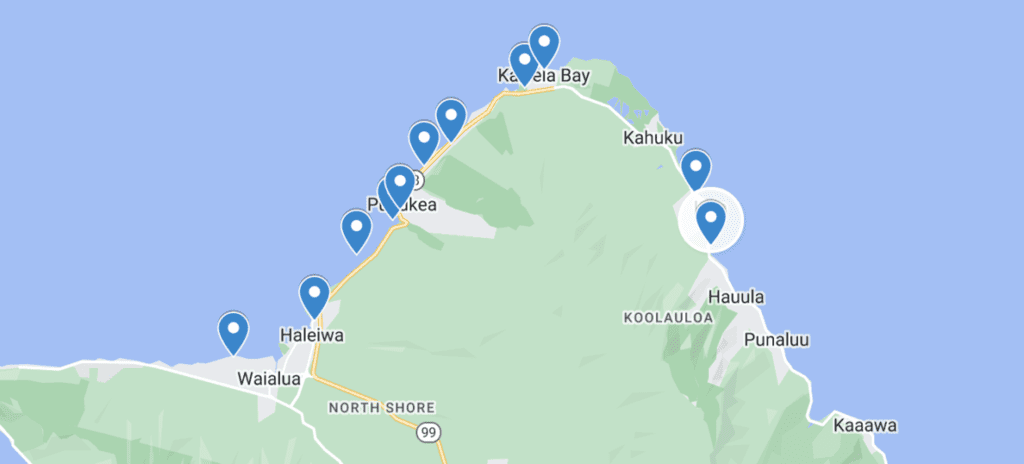 The Best North Shore Beaches on Oahu
1. Waimea Bay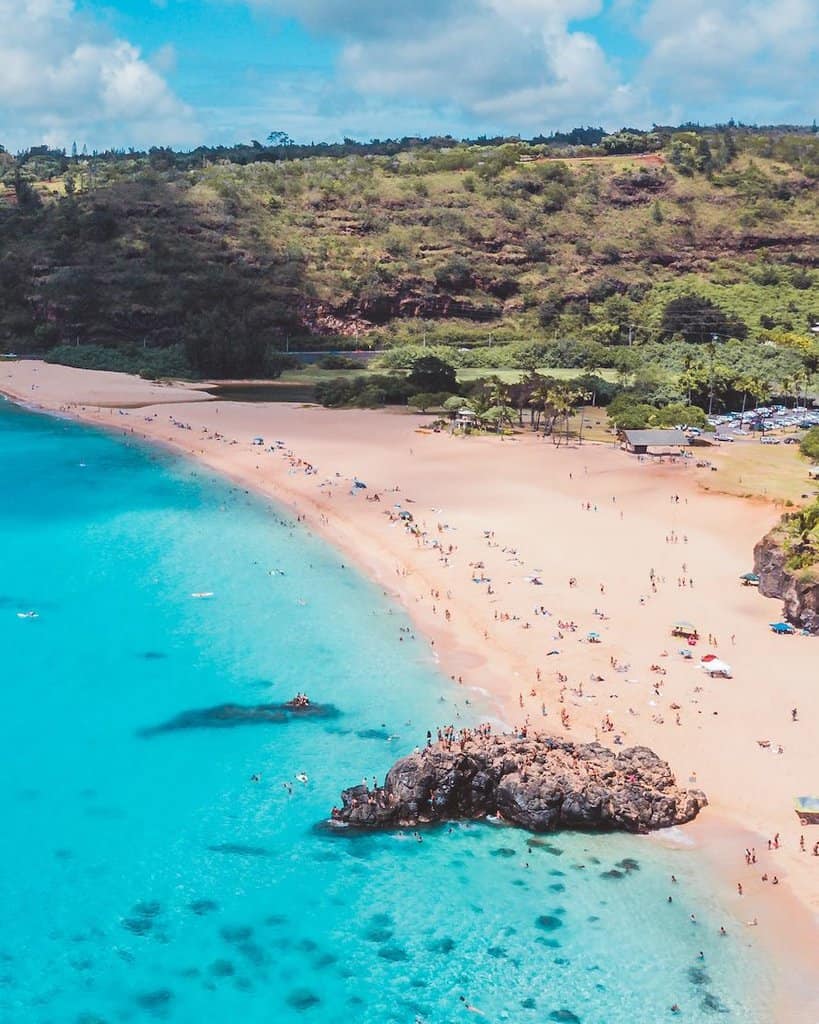 📍Google Map Address |Parking:Designated parking available
Waimea Bay Beach Park is a beach lover's paradise and definitely one of the best beaches to visit.
It has crystal-clear water that's perfect for swimming and snorkeling and has some of the best waves for surfing in the world during the winter.
During the winter you might even catch a surf competition of professional surfers catching +30-foot waves.
And if you're feeling adventurous, you can even jump off the famous Waimea rock – just make sure to check the tide before you take the plunge.
2. Sunset Beach Park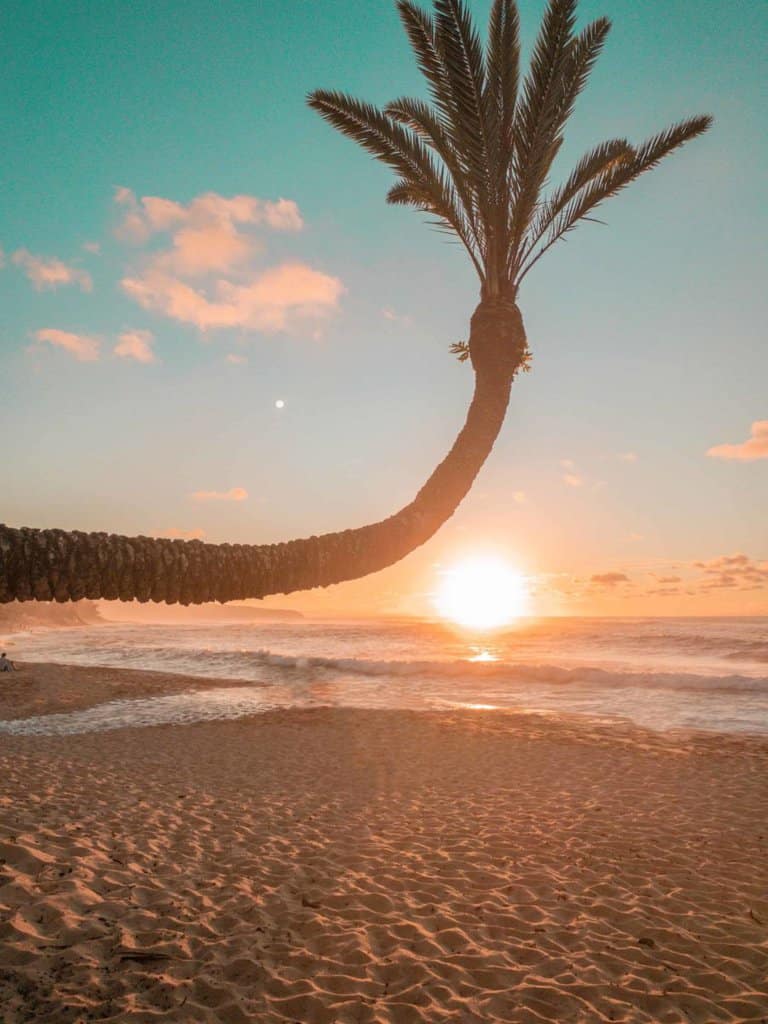 📍Google Map Address |Parking: Limited spots|
Sunset Beach Park is famous in Oahu for several reasons.
First and foremost, it's the perfect spot to watch the sunset – hence the name.
But that's not all!
The beach is known for its incredible waves, which attract surfers from all over the world.
And if you're not into surfing or sunsets (who are you?)
You can stroll along the beach, picnic with friends, or soak up the laid-back island vibes.
3. Kawela Bay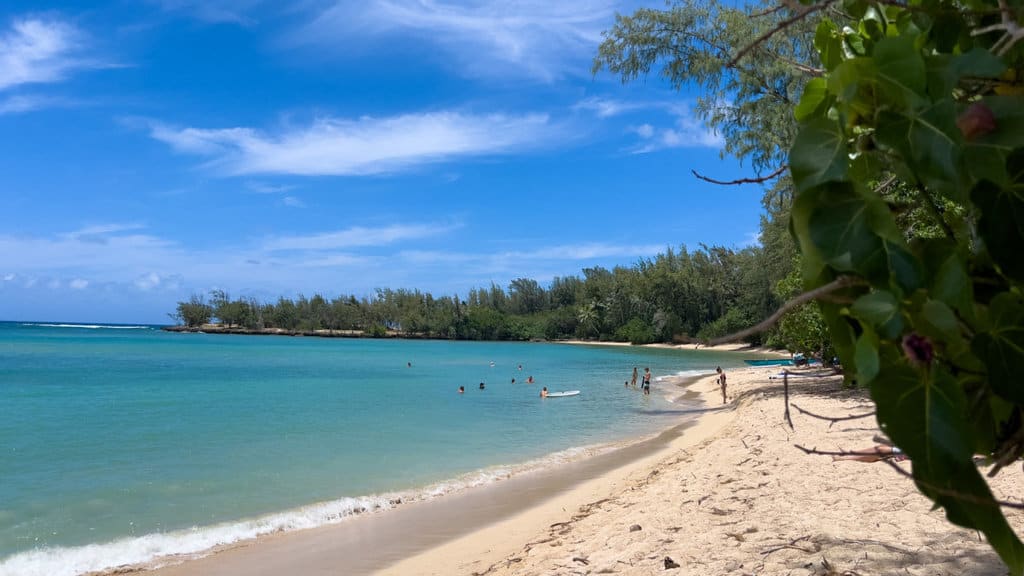 📍Google Map Address |Parking:Side of the road or inside Turtle Bay Resort|
This beautiful and serene beach isa hidden gem beach for anyone traveling to Hawaii.
The clear blue waters are perfect for swimming, snorkeling, SUP and soaking up the sun.
When you're not busy catching some rays or exploring the underwater world, keep an eye out for the local sea turtles that call this bay home.
There many near by hike trails to explore through the lush jungle trails, or simply relax on the beach with a good book and a cold drink.
When it's time to refuel, head to turtle bay resorts restaurants.
4. Haleiwa Beach Park
📍Google Map Address |Parking: Designated spots avaliable |
Haleiwa Beach Park is a laid-back vibe and a welcoming community.
It's where you can kick off your shoes, sink your toes into the sand, and let all your worries drift away.
This park offers picnic areas, restrooms, and showers, making it the perfect place to spend an entire day with family and friends.
You can even try your hand at stand-up paddleboarding or kayaking.
Plus, there are plenty of nearby food trucks and restaurants where you can indulge in some tasty local cuisine (poke bowls, anyone?).
5. Kuilima Cove
📍Google Map Address |Parking:Turtle Bay Resort |
Kuilima Cove, is a hidden gem of Turtle Bay Resort!
First and foremost, be prepared for some serious relaxation.
With its crystal-clear waters, soft sand, and gentle waves, Kuilima Cove is the perfect spot to kick back and soak up some rays.
And if you're lucky, you might even catch a glimpse of some sea turtles basking in the sun!
But don't let the chill vibes fool you – there's plenty of fun to be had at Kuilima Cove.
Snorkeling is a must-do activity here, as the cove is home to a vibrant coral reef teeming with colorful fish and marine life.
Just don't forget to pack your underwater camera!
6. Hukilau Beach Park
📍Google Map Address |Parking: Few parking spots |
Hukilau Beach Park is a popular beach for local that live near by.
This beach is perfect if you are looking to relax and enjoy the beach with faily and friends.
Even though is a beach park unfortunately there are no amenities only showers to rinse off.
One of the beaches that the water if on the warmer side.This beach is so long it great for beach walks.
Good for swimming and catching some mild yet still fun shore breaks.
7. Laniakea Beach
📍Google Map Address |Parking:Few spots avaliable across the street |
Laniakea Beach is famous for its sea turtle sightings.
Yes, you heard that right – sea turtles!
These majestic creatures can often be seen lounging on the beach or swimming in the crystal-clear waters, and they're not shy about posing for pictures.
Did you know that your not allowed to touch wildlife in Hawaii?
Here are more things you need to know before coming to Hawaii.
So remeber to stay 10 ft away & please don't touch them! (its illegal)
8. Ehukai Beach Park aka Banzai Pipeline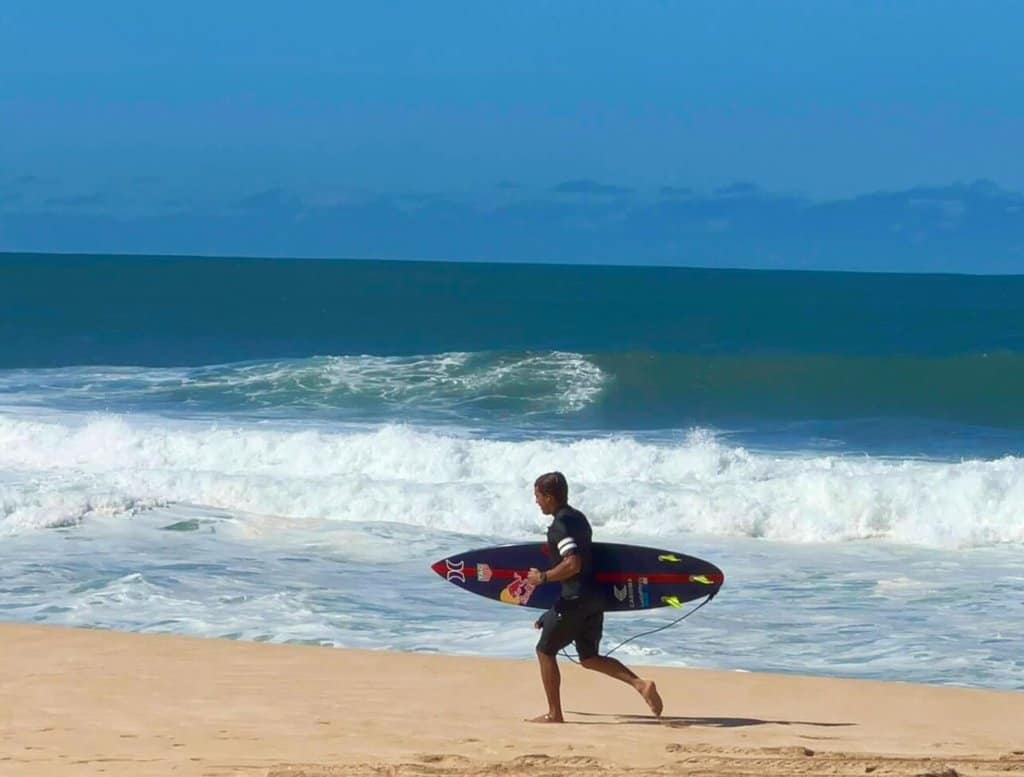 📍Google Map Address |Parking:Limited designated spots avaliable|
Ehukai Beach Park, also known as Banzai Pipeline, is one of the most famous surfing destinations in the world.
Located on the island of Oahu, Hawaii, it attracts surfers and spectators from all over the globe.
But be warned – these waves are not for the faint of heart.
They can be dangerous, and only experienced surfers should attempt to ride them.
So if you want to witness some truly epic surfing and maybe even catch a glimpse of some pro surfers in action, head on over to Banzai Pipeline on Oahu's North Shore.
North shore beaches For snorkeling on Oahu
The ocean is the calmest during the summer, making it perfect for snorkeling. These beaches offer a variety of colorful fish and even sea turtles that will make your snorkeling experience unforgettable.
9. Three Tables Beach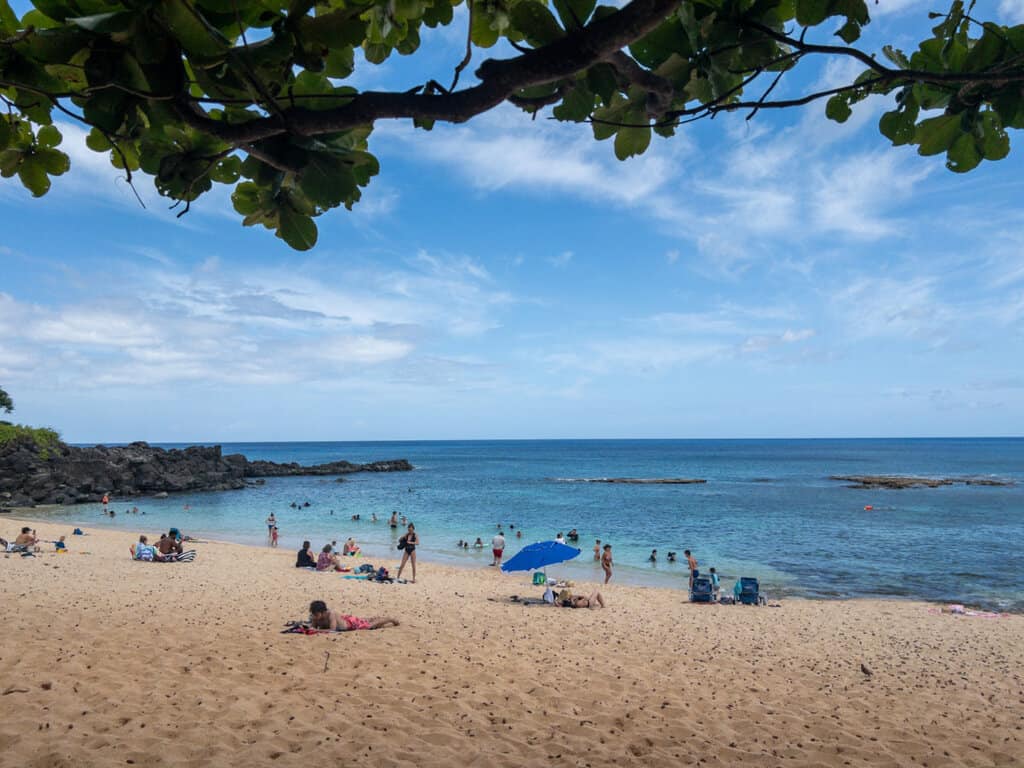 📍Google Map Address |Parking:Few designated parking spots |
If you're looking for a snorkeling adventure that will leave you breathless (literally, because you'll be underwater), look no further than Three Tables in North Shore Oahu!
It also tends to be less crowded than going right next door to Sharks Cove.
This hidden gem has crystal-clear waters teeming with vibrant marine life, making it a haven for snorkel enthusiasts of all levels.
After snokeling and relaxing on the beach take a five min walk to the near by food trucks.
There are multiple food options, like acai bowls, garlic shrimp, hamburgers, and shave ice. If you want to do a food tour, here is a list of the best ones.
10. Chun's Reef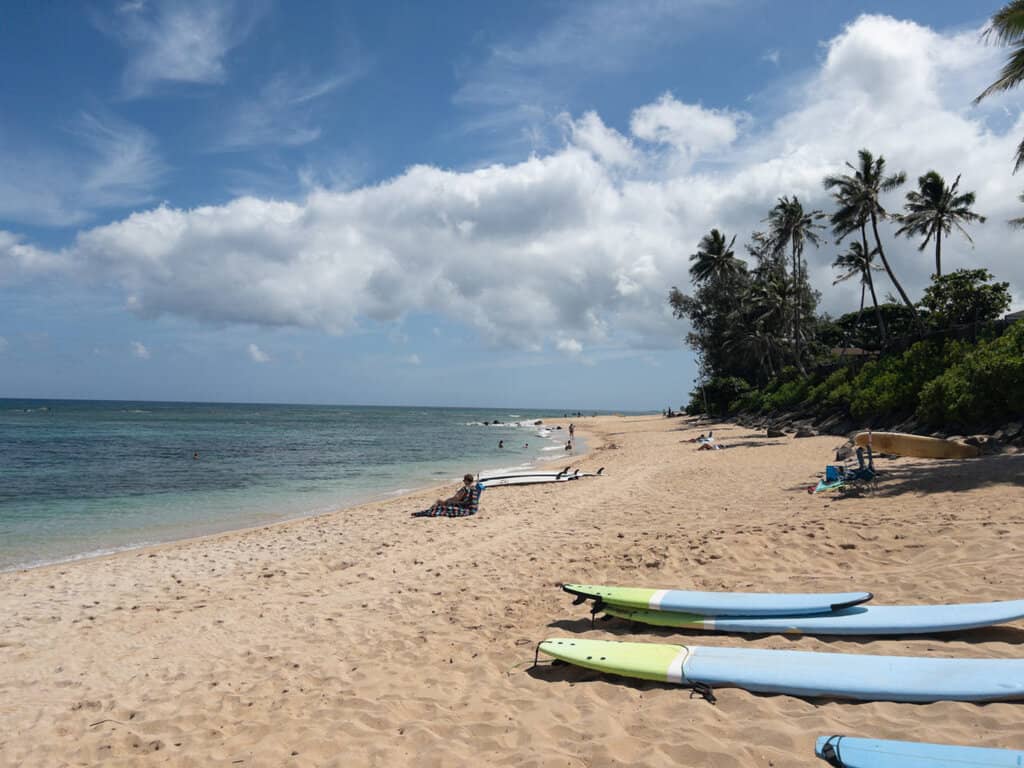 📍Google Map Address |Parking: Few spots next to the road |
Chun's Reef is a popular surf spot located on the North Shore of Oahu, and it's not just for the pros.
Anyone who loves riding the waves, or even watching others do it, should make a trip to Chun's Reef.
And One of the coolest things about Chun's Reef is the tide pools.The tide comes in and out throughout the day, creating new nooks and crannies for marine life to hide in.
But be warned – these tide pools can also be a bit treacherous. The rocks can be slippery and sharp, so watching your step (and wearing reef shoes) is important.
North Shore Beaches with Fewer crowds
11. Aweoweo Beach Park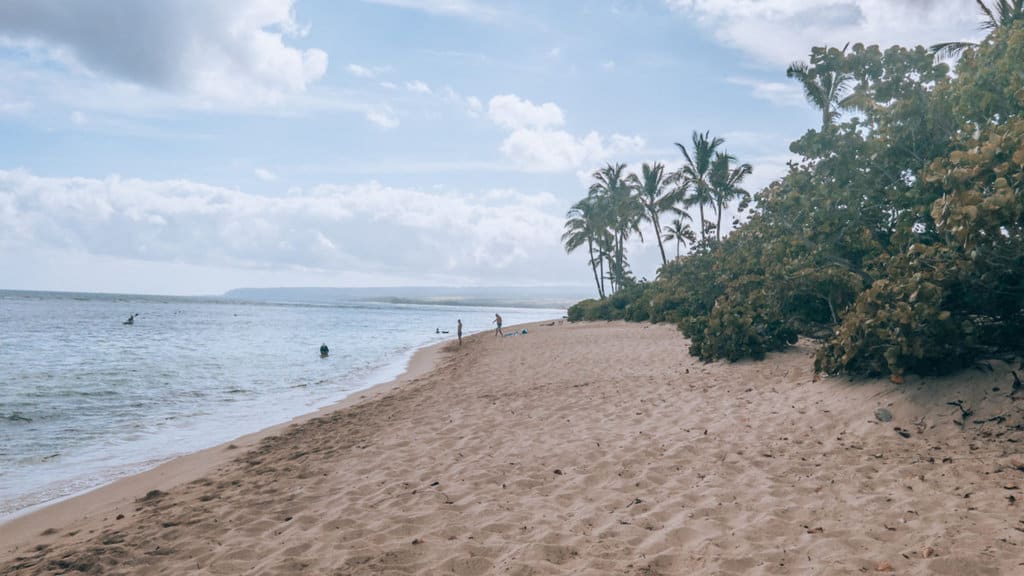 📍Google Map Address |Parking:On the neighborhood street |
Aweoweo Beach Park in the North Shore of Oahu, is hidden gem where you will find beach lovers and locals.
This beach is located right behind a residential neighboorhood.
Its a cleanand quiet beach that is attached to a park where you have picnic tables,water fountain,restrooms and showers.
It also has a playground for kids to enjoy.
This beach is perfect for the whole family seeking a day of relaxation and picnicking.
12. Ke Iki Beach
📍Google Map Address |Parking:|
Ke Iki Beach is a hidden gem nestled along the iconic North Shore of Oahu, Hawaii.
One of the most remarkable features of Ke Iki Beach is the lack of crowds.
Unlike some of the more popular tourist destinations on the island, Ke Iki retains a serene and peaceful atmosphere, allowing visitors to immerse themselves fully in the beauty of their surroundings.
The ocean here presents opportunities for various water activities, including snorkeling, surfing, and bodyboarding.
I would reccomend swimming here as the currents tend to be strong.
Ke Iki Beach is more than just a picturesque spot; it holds cultural significance as well. The area surrounding the beach is steeped in Hawaiian history and traditions, and visitors can witness the beauty of local culture during various events and ceremonies held here.
13. Lāʻielohelohe Beach Park
📍Google Map Address |Parking:Avaliable
Nestled along the picturesque coastline, Lāʻielohelohe Beach Park boasts a serene and breathtaking setting.
The soft, walkable sand invites you to take long strolls while savoring the tranquility of the surroundings.
What sets this beach apart is its peaceful ambiance and the absence of large crowds, allowing you to truly immerse yourself in the beauty of nature undisturbed.
As you venture further along the shoreline, past the rocks, you'll come across some splendid mansions that offer stunning views of majestic cliffs to the right.
However, it's important to exercise caution while enjoying the waters. The currents and undertow here can be deceivingly strong, so if you're not a confident swimmer, it's best to avoid venturing too far out into the sea.
Amenities are avaliable here to enjoy a perfect beach day.
How to get to North Shore of Oahu
There are several ways to get to Oahu's North Shore, depending on your preference and budget.
The best option is to rent a car. This will allow you the freedom to explore at your own pace and stop at all the scenic spots along the way.
The first route is to take the H1 Freeway and the H-2 Highway, which offers stunning views of historic sites, including the Dole Pineapple Plantation.
Continue on this road for about 25 miles until you reach the charming town of Haleiwa, which marks the start of the North Shore.
The second route is to take the Kamehameha Highway, which hugs the coastline and offers breathtaking views of the Pacific Ocean.
Along this route, you'll pass by several beautiful beaches and must-see sights like Hanauma Bay, Kualoa Ranch, and more!
The drive from Waikiki to the North Shore takes about an hour, but it's worth it for the breathtaking views.
If you'd rather not drive, tour companies offer day trips to the North Shore from Waikiki. These tours typically include transportation, lunch, and stops at popular spots like Sunset Beach and Haleiwa Town.
For those who want a more adventurous experience, consider taking the public bus. The bus ride is affordable and offers stunning views of the island's coastline.
Plus, you'll get to mingle with locals and hear their recommendations for hidden gems on the North Shore.
North Shore Beaches in summer vs in winter?
North shore beaches offer a unique experience depending on the season you visit.
The summer (April-October), you can expect to find crowds of sunbathers and swimmers enjoying the warm weather and calm, clear waters making the best time to visit. The water is perfect for swimming, snorkeling, or even splashing around.
In winter (November to March), You can expect swells that create massive waves in size and rough in nature, making it difficult for even experienced swimmers to navigate. But if you're a seasoned surfer or just looking to catch some epic waves, then the north shore is definitely the place to be.
With its stunning scenery and perfect surfing conditions, it's no wonder people love to visit just to watch the best surfers in the world surf .
No matter what time of year you visit, North Shore beaches offer breathtaking scenery and endless opportunities for outdoor adventure.
What to pack for north shore beaches
If you're planning a day in North Shore, don't forget to pack some essentials to make your trip a blast.
Reef-Safe Sunscreen- We want to keep our oceans clean and protect those adorable sea turtles, so skip the harmful chemicals and opt for something that won't harm our underwater friends.
Reef shoes- protecting yourself from the elements, don't forget to pack some reef shoes to avoid any sharp rocks or coral.
Snorkeling gear-If you're planning on snorkeling (which, let's be real, who wouldn't?), bring your own gear so you can explore the underwater world at your leisure.
North Shore Oahu FAQs
Is North Shore Oahu worth visiting?
Yes! North Shore Oahu is a must-visit destination for anyone looking to experience the laid-back Hawaiian lifestyle. From its legendary surf spots to its picturesque beaches and charming small towns, there's something for everyone on the North Shore.
Can you swim at the beaches in the North Shore?
Yes, you can swim at the beaches on the North Shore! Some of the best swimming spots on Oahu are located in this area. From Waimea Bay to Sunset Beach, you'll find plenty of places to take a dip and cool off from the hot Hawaiian sun. Just be sure to check lifeguard signs before you go, as some beaches can have big waves during certain times of the year.
Where is the clearest water in Oahu?
If you're on the hunt for the clearest water in Oahu, look no further than Hanauma Bay. This stunning bay is a snorkeler's paradise, with crystal-clear water that offers unparalleled views of the colorful marine life below. And if you're lucky, you might even spot a sea turtle or two! But be warned – this popular spot can get crowded, so arrive early to snag your prime snorkeling spot.
Should I spend the night on the North Shore?
Its not necessary but if want to you can.Spending the night on the North Shore offers a chance to experience the area's unique charm and relaxed atmosphere fully. Witness stunning sunsets, embrace the surf culture, and wake up to the sound of crashing waves
What is special about North Shore Oahu?
North Shore Oahu captivates with world-class surf breaks, pristine beaches, and a laid-back vibe. Turtle watching, Haleiwa Town's charm, and cultural events add to its allure. Whale watching and shark cage diving offer thrilling encounters with marine life. This Hawaiian gem is a harmonious blend of nature, adventure, and rich traditions.
Should I stay in Waikiki or the North Shore?
It all depends on what you're looking for.
Waikiki is a great choice if want to be in the center of all the action with plenty of restaurants and shops, and easy access to popular tourist destinations like Diamond Head and Pearl Harbor.
If you're looking for a more laid-back, outdoorsy vibe with some of the island's best surf spots and lush forest hikes, then the North Shore is your spot.
Ultimately, both areas have their own unique charm and appeal.
Activities to do in North Shore Oahu
Looking for some fun in the sun on oahu's North Shore? With so many things to do and no time. Here are some of our favorite things to do in North Shore Oahu that will have you experiancing hawaii like a local
Go Shark Diving Cage Free -cage-free shark diving allows for a more natural and intimate experience with these incredible creatures.But don't worry, going cage-free doesn't mean going unprotected – professional guides will be there to keep you safe and make sure you have a great time. ✅ BOOK IT HERE!
Attend a Traditional Family owned Hawaiian Luau– you'll be supporting a local business instead of a big corporate chain. Plus, these family-run operations often have a friendly and welcoming atmosphere that will make you feel like part of the ohana (family) and more authentic than generic tourist trap. ✅ BOOK IT HERE!
Visit Waimea Valley– This lush and beautiful valley is home to some of the most stunning natural scenery on the island, and it's a must-see for anyone .
More about what North Shore has to offer.
Where To Stay In North Shore Oahu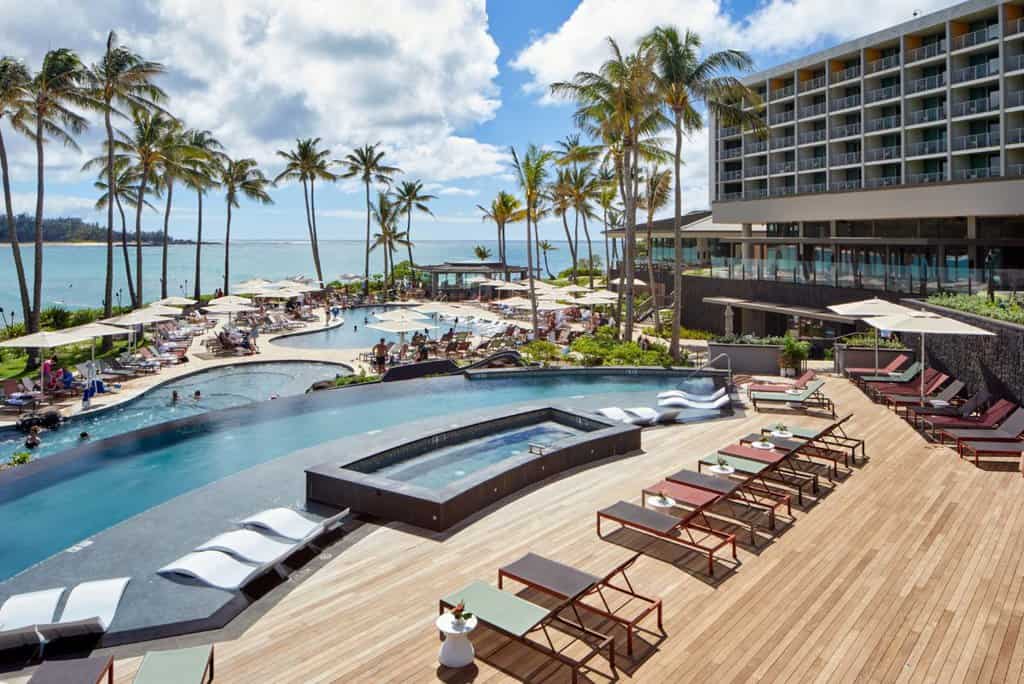 If you're planning a trip to the North Shore of Oahu, you'll want to ensure you stay in legal areas. Due to new laws and regulations, not all accommodations are legal.
Conclusion: Best North Shore Beaches On Oahu
If you're a beach lover, surfer, or underwater explorer, the North Shore of Oahu is the place to be.
With some of the best beaches in the world, there's something here for everyone.
Whether you're looking to catch some waves at Sunset Beach or explore the underwater world at Shark's Cove, the North Shore has got you covered.
And let's not forget about Waimea Bay, where surf legends have been made and tourists have been left in awe.
Are you ready for an adventure of a lifetime on the North Shore beaches of Oahu – trust us, you won't regret it!