21 Best Things to Do in Las Vegas Besides Gamble From A Local (2024)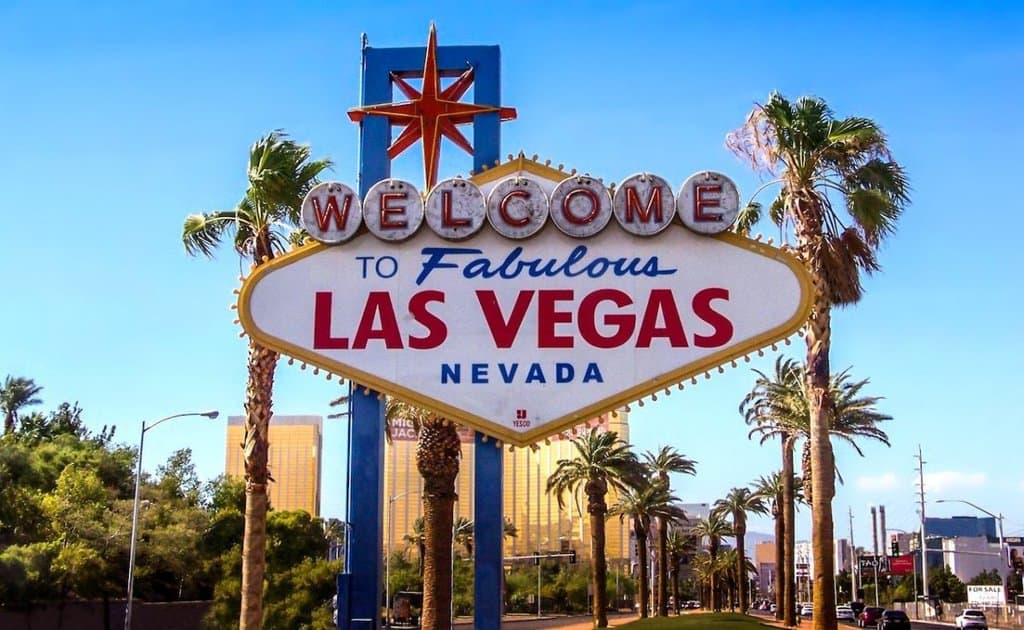 If you're looking for hidden gems and local spots that will make your trip truly unforgettable, you've come to the right place.
We know that Las Vegas may be known for its glitz and glamour, but there's so much more to discover beyond the slot machines and poker tables.
After living in Las Vegas for 20 years and with the help of other Sin City travelers, we put this list together of the best things to do in las vegas besides gambling that are worth it!
We have something for first-time visitors or returning travelers looking for fun, free, and unique activities.
So, this guide will tell you about the 21 best activities to do in Vegas!
21 Things to Do in Las Vegas Besides Gamble
1. Omega Mart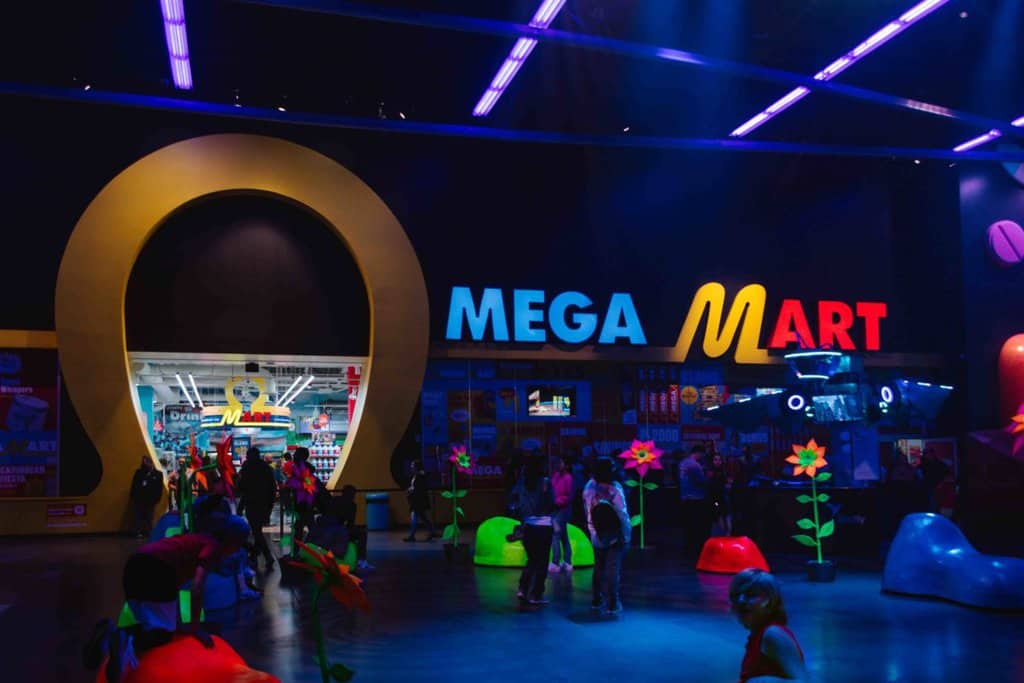 Located just off the Strip on the other side of I-15 is Area 15, a campus of art installations and activities by Meow Wolf, the highlight of which is OmegaMart. This grocery store is anything but an actual grocery store.
Inside the store, you'll discover whacky products like dehydrated water, nut-free salted peanuts, and Mammoth chunks. Soon you'll stumble upon portals to another world with dozens of unique rooms, each with their own incredible art.
OmegaMart is completely immersive with a storyline that you can take part in, or if you're looking for a casual visit, you can aimlessly stroll in and out of each room.
Be sure to stop by the bar, which is a bit hidden, although not quite a true speakeasy. It's located behind the pharmacy in the store.
One tip for visiting OmegaMart is to enhance your visit with a Boop card. This ticket add-on allows you to interact with the world in a new way with this RFID-enabled chip card.
OmegaMart is a must-do on any Las Vegas itinerary. Tickets start at $49, but exact prices vary by date and time. They're open 7 days a week, and the hours can vary. Check their calendar for the most updated information.
Recommended by Alanna from Periodic Adventures
➡️ Click HERE to book tickets to Meow Wolf's Omega Mart
2. Neon Museum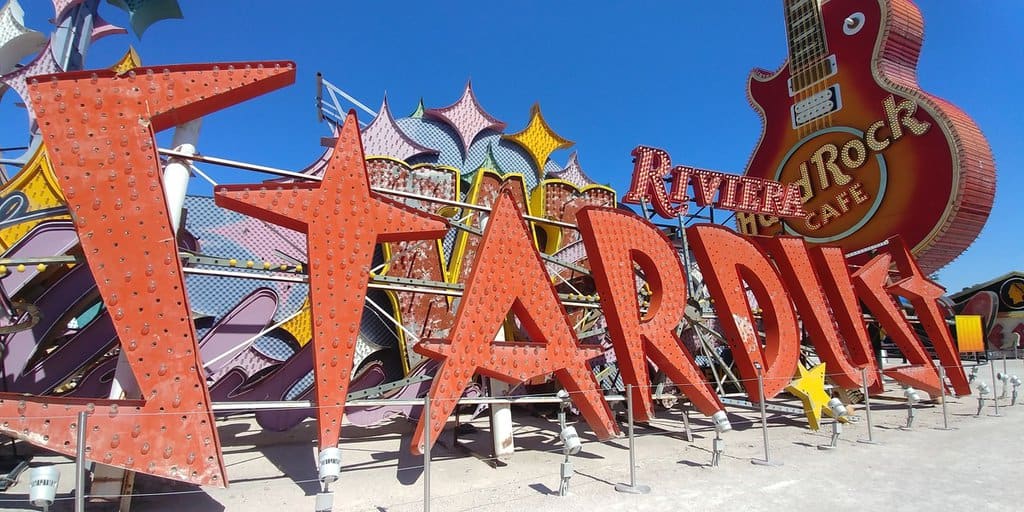 📍Google Map |RATING: 4.4/5⭐️ | BOOK IT ✅
The Neon Museum is a unique and fascinating outdoor museum collection and is an excellent alternative to gambling when visiting Las Vegas!
Since 1996, this Museum has been finding, retrieving, and preserving Las Vegas signs and now houses over 200 historic neon signs in the Neon Boneyard.
Wandering through the Neon Boneyard, visitors will see Las Vegas signs from the 1930s to the present day, including famous properties such as the Stardust, Riviera, Moulin Rouge Hotel, Golden Nugget, and Caesars Place.
Visiting the Museum offers visitors a glimpse into the vibrant and unique culture that defines Las Vegas.
Located about one mile north of Freemont Street, the Museum is open from late afternoon until late evening, seven days a week.
Specific hours change seasonally, so it's best to confirm times when purchasing tickets.
Ticket prices range from $10 to $28 per adult, depending on the type of tour experience you choose to purchase.
The best time to visit the Museum is at sunset.
As the sun sets, you can watch as many of the signs come to life and light up the sky in a vibrant display of colors.
In the evening, visitors can view the collection as part of a guided tour. If you want to wander through the signs at your own pace, General Admission tickets allow visitors time to explore and appreciate the Museum's collection during daytime hours.
In the evening, tickets can also be purchased for the spectacular augmented reality show Brilliant!
This engaging show brings 40 unrestored signs to life with music and historical footage.
For those looking for a break from the strip, the Neon Museum is a one-of-a-kind experience that only Las Vegas can offer, making it the ideal place to visit the next time you are in town!
Submitted by Julie from Toronto to Anywhere
Unique Things To Do In Las Vegas
3. Craft Cocktail Course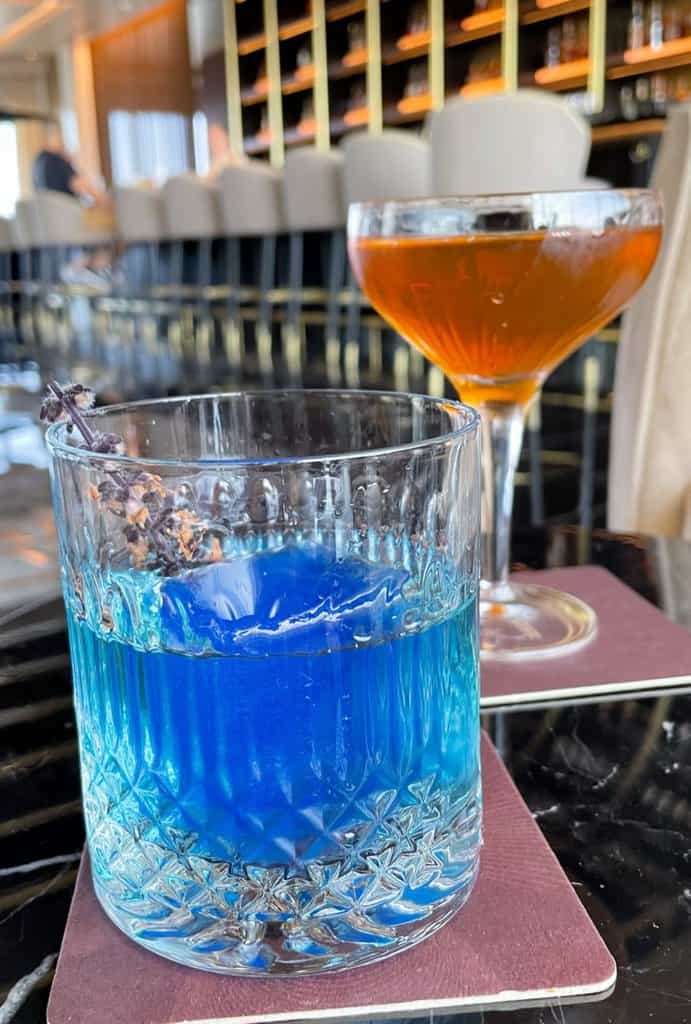 Legacy Club is an elegant cocktail bar inside The Circa Hotel in Downtown Las Vegas with a stunning view of the Strip from 60 floors high.
The Great Gatsby-inspired decor, breathtaking views, and impressive cocktails are enticing enough to justify a visit. But if you want an even more exciting experience, book the Elevated Spirits Craft Cocktail Course for a fun interactive activity.
The course is available Fridays and Saturdays and lasts two hours, from 2 to 4pm. The $125 per person charge includes a hands-on lesson with a Legacy Club mixologist with a front-row seat at the gorgeous floor-to-ceiling bar.
They will teach you how to curate the perfect cocktail, perfect your bartending technique, and share some cocktail history while you craft and enjoy three drinks.
The Legacy Club cocktail course is available by reservation only, so be sure to plan your cocktail experience in advance and make reservations online. Remember to dress up to match the classy vibe and meet the strict dress code.
Learn more about visiting Legacy Club, including where to find the bar, what to expect, and how to book your reservation.
Recommended by Hannah Falkosky of Plate & Compass.
4. Ride the High Roller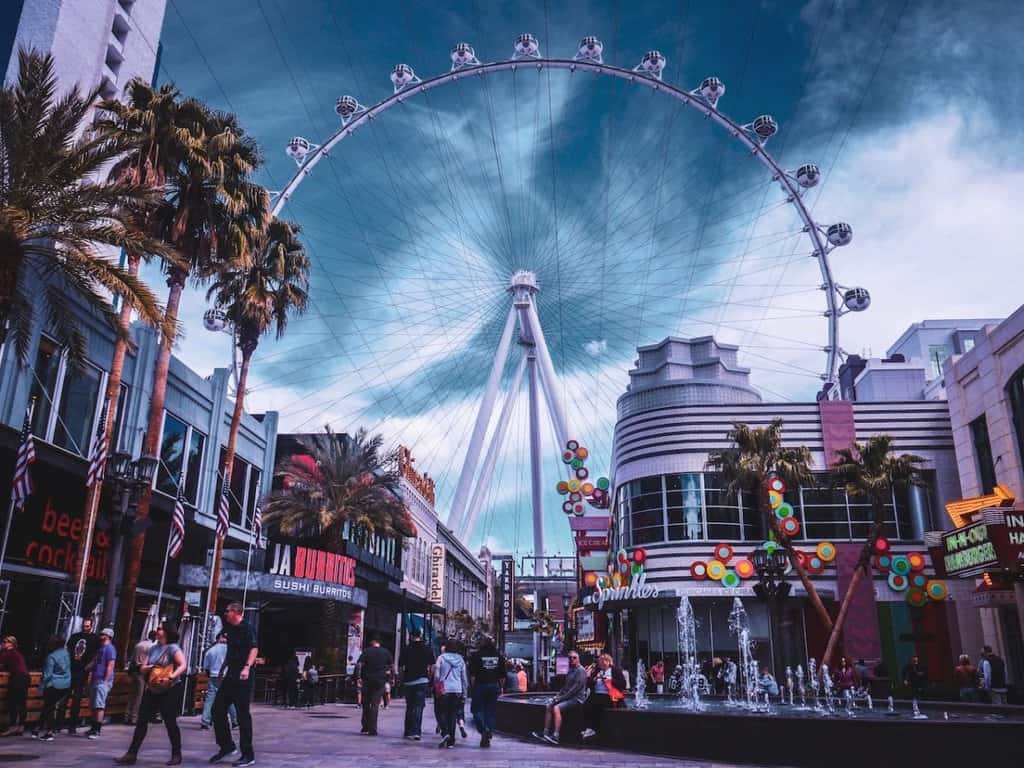 RATING: 4.5/5⭐️s |TOUR DURATION: 30min⏳| BOOK IT ✅
The incredible Linq High Roller is the second-largest Ferris wheel in the world.
This ride offers you a breathtaking ride with stunning city views.
To be honest, I did it twice this time – first during the day and then at night. Both times of day are good for me, but it ultimately depends on your desired experience.
The best time to hop aboard is during sunset. Trust me; you won't be disappointed.
During sunset, you'll be treated to a jaw-dropping display of vibrant colors as the pinks and oranges of the setting sun blend with the city's sparkling lights.
It's a picture-perfect moment that will leave you awe-inspired and reaching for your camera.
However, remember that weekends and peak times can get pretty crowded. If you prefer a more intimate experience with shorter waiting times, consider visiting during weekdays or non-peak hours.
To avoid waiting in line, be a smart traveler and snag your High Roller tickets online in advance. Prices range from $26 to $65 USD.
The Linq High Roller takes care of you like a VIP. All cabins are air-conditioned, ensuring your comfort throughout the ride.
And if you're in the mood to elevate the fun, go for the Happy Hour ticket. Not only will you enjoy a half-hour ride in specially designated Happy Hour Cabins, but you'll also be treated to an open bar with a skilled bartender serving unlimited drinks.
Pro Tip: You are allowed to bring your own outside beverages on board, but leave the glass, coolers, and cases behind.Thank, me later!
➡️ Click HERE to book your tickets before they sell out!
5. Driving Exotic Cars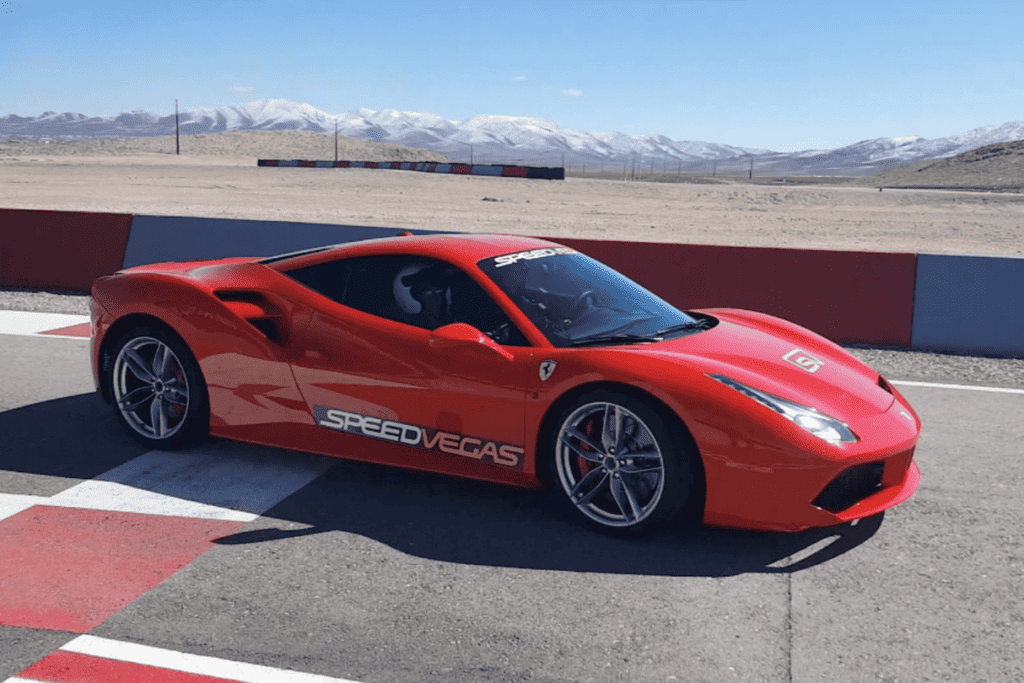 RATING: 5/5⭐️s(1000 reviews) |DURATION: 2 hours ⏳| BOOK IT ✅
Sure, it's fun to gamble when visiting gaming meccas like Las Vegas or Atlantic City, but a whole world exists outside the casinos.
And for adrenaline junkies visiting Sin City, there is no better way to get the blood pumping than getting behind the wheel of an exotic supercar on a 1.3-mile track at Speed Vegas, a short distance from the Strip.
Select anything from a Porsche Cayman GTS to a Ferrari 488 Challenge EVO. The cost depends on the car chosen and the number of laps. But you can get into one of these babies for under $200.
The experience begins by registering and showing that you are a licensed driver before receiving some classroom instruction. Once those formalities are done, you meet your professional ride-along driver/instructor.
Before unleashing in the car of your dreams, you will receive 2 complimentary laps in a Porsche Cayenne.
This lets you get a feel for the track and drive these impressive automobiles. These vehicles are unlike anything you've driven before.
Finally, you get behind the wheel of your dream machine, where you can open that engine up and enjoy the thrill of taking double apex corners, hairpin turns, 90-degree corners, and banked turns at speeds above 100 mph.
But the real rush happens when you head into the 2000-foot straightaway. If you have the mettle, you can get these high-performance vehicles up to 140 mph here. Squeal!!
Unfortunately, this experience will be over much sooner than you hope. But 5-laps are enough for you to feel the exhilaration and power of these supercars.
Recommended by Susan from AC 365 Fun
➡️ Click HERE to book for the best price driving experience package!
6. Gondola Ride at The Venetian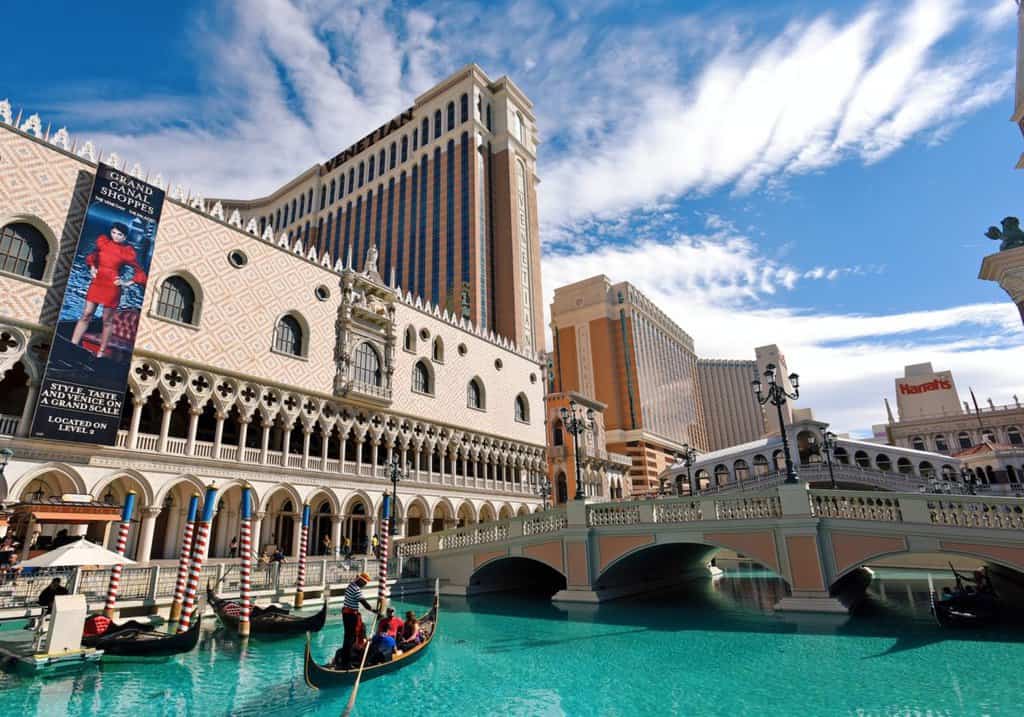 Pretend you are in Italy and enjoy a gondola ride down the canals at the Venetian Hotel in Las Vegas.
Riders have the option to take a gondola ride inside or outside at the Venetian.
Both types of gondola rides go under bridges, next to cafes, and have exciting views that are inspired by Venice, Italy.
The ticket booths open at 9:30 am, and the gondola rides begin at 10 am for indoor and outdoor rides. Tickets can also be purchased in advance and are recommended for those who want an available time.
The indoor gondola ride runs from 10 am to 11 pm from Monday to Thursday and on Sundays. The indoor gondola ride runs from 10 am until midnight on Fridays and Saturdays. The outdoor gondola ride runs from 10 am to midnight daily.
Both types of gondola rides have the same price of $39 a person. A photo package can be added, starting at $32.
Each gondola ride lasts about 15 minutes, and the gondolas seat 4 guests. The outdoor gondola ride is dependent on the weather.
Riding on a gondola at the Venetian in Las Vegas is fun for couples, families, groups of friends, and solo travelers.
It is a great way to relax, pretend you are in Italy for a while, and explore the Venetian Hotel.
Recommended by Lanie from Make More Adventures
➡️ Click HERE to book Madame Tussauds with Gondola Boat Ride
Fun Things To Do In Las Vegas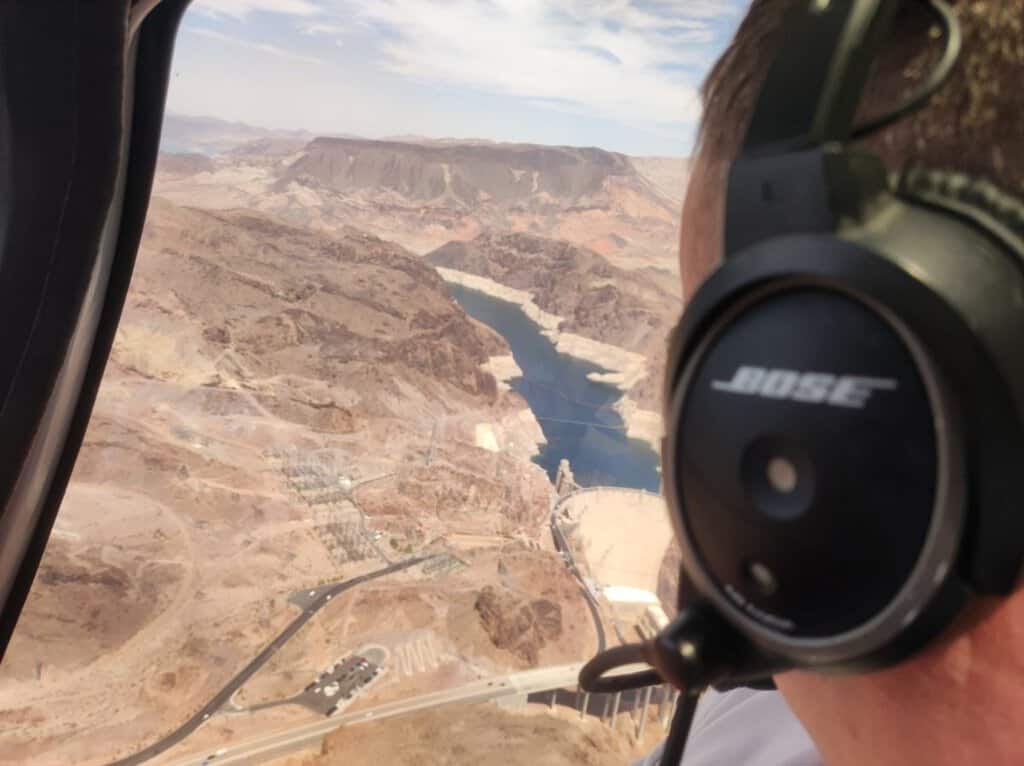 ⭐️RATING:5/5 Stars +1290 reviews |FLIGHT TIME⏳: 45 min x 2| BOOK IT ✅
A trip to Sin City would not be complete without heading to the Grand Canyon.
For many, it's a once-in-a-lifetime experience, so you may as well make the most of it and take a helicopter tour of the Grand Canyon.
There are so many great Grand Canyon helicopter tours from Las Vegas, all exceptionally highly rated.
Taking the tour is an unforgettable experience. Getting panoramic views over the iconic National Park is incredible. It's a true "pinch-me" moment. The sunset tours are especially magical.
Most tours will last for around 4 hours or so and cost between $300-500 per person, depending on what is included in the tour. Most include a lot, though.
Aside from the stunning views, what makes the helicopter tours special, is that most of them land in the Canyon for a quick meal and even some champagne. It's all but guaranteed to be the best tour you ever take.
And if that wasn't enough, you also get to fly over the Hoover Dam, Lake Mead, and on the return flight, the Las Vegas Strip.
There's no denying that these helicopter tours are expensive, but they're more than worth the high price.
It's, without a doubt, the best way to see the Grand Canyon, and seeing all the other sights is a great added bonus.
If you're looking for the best day of your life in Vegas, book a helicopter tour of the Grand Canyon.
Recommended by Josh Band From A Backpacker's World
➡️ Click HERE to book your deluxe helicopter tour
8. ATV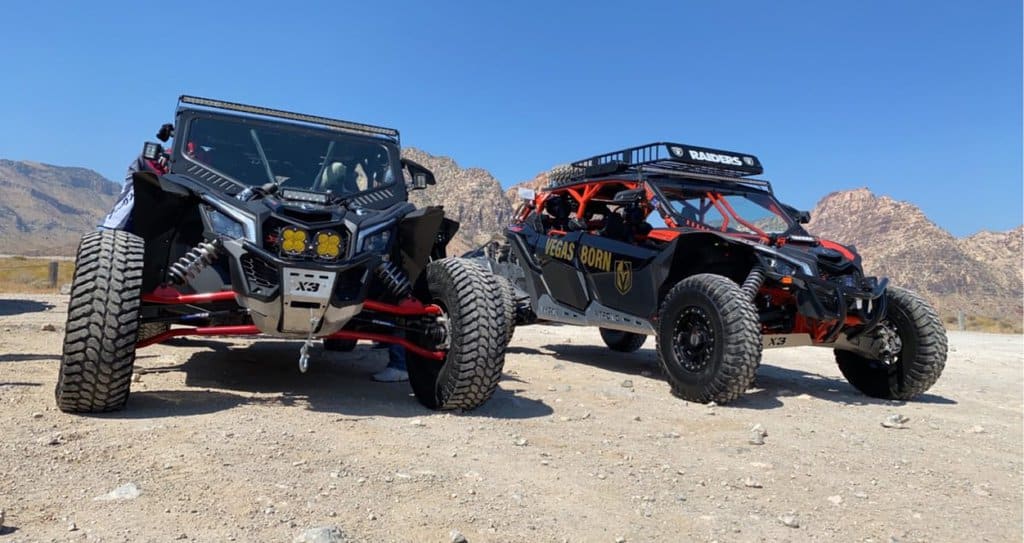 RATING: 5/5⭐️+(5000 reviews) |DURATION: 4 hours⏳| BOOK IT ✅
If you're new to ATV riding, fear not! The tour guides will put your mind at ease, providing thorough instructions and tips to get you comfortable on the ATV.
Trust me; any nerves will quickly become exhilarating once you get going.
This tour will have you conveniently picked up directly across from Mandalay Bay. From there, it will be a 45 min drive to the desert.
Before hitting the trail, a quick orientation will ensure you're familiar with the ATV and its controls.
This tour will be on a track all to yourself with the group, adding excitement and exclusivity to your experience.
For a thrilling 1.5 hours, you'll conquer the rugged terrain, explore the awe-inspiring desert landscape, feel the rush of adrenaline like never before, and take photos.
It's dirty, it's wild, and it's worth every single minute.
As you prepare for this action-packed journey, remember our
Pro Tip: bring a valid photo ID and a backpack to secure your items such as wallets, keys, hats, sunglasses, and more.
➡️ Click HERE to book the best ATV experience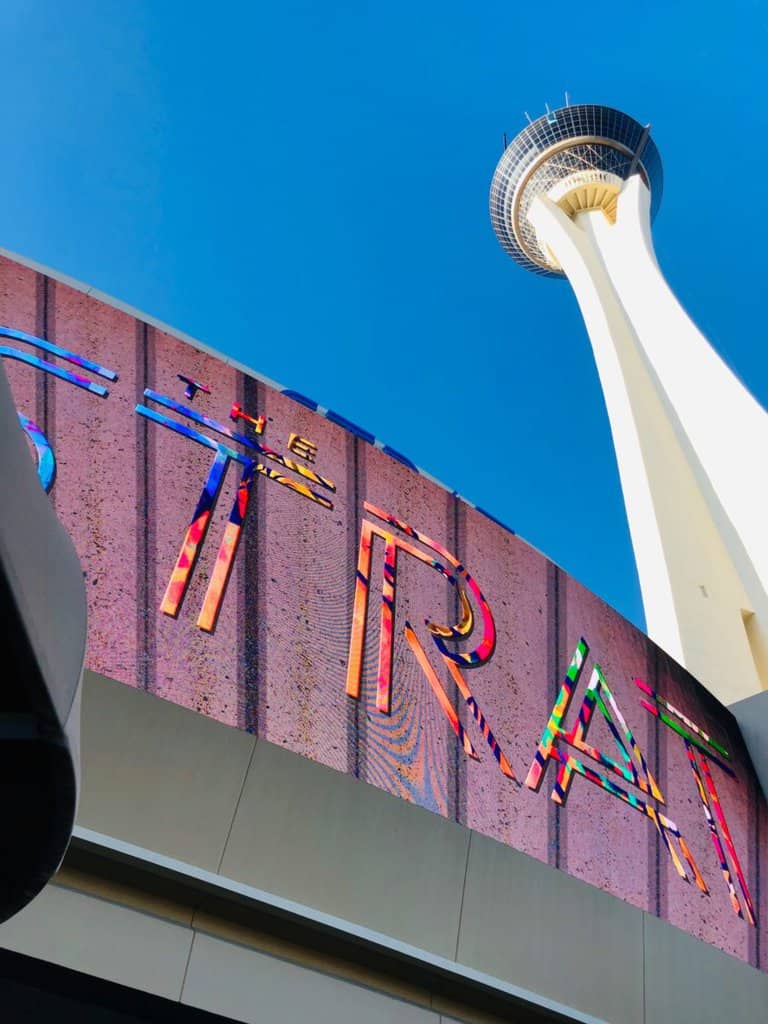 RATING: 4.5⭐️s | BOOK IT ✅
SkyJump Las Vegas is an exhilarating and adrenaline-pumping experience that offers thrill-seekers the opportunity to leap off the iconic Stratosphere Tower in Las Vegas, Nevada.
Standing at a towering height of 829 feet (253 meters), the Stratosphere Tower is one of the tallest freestanding observation towers in the United States.
SkyJump takes adventure to new heights by allowing participants to descend from the top of the tower in a controlled freefall.
The base package is $130. If you want to add photos, it's $145. Photos and videos are a total of $165. If you stay at the Stratosphere, this price drops to $100.
As you gear up for the jump, you'll receive expert guidance and a thorough safety briefing to ensure a safe experience.
You'll be harnessed to a high-speed descent wire and lowered to the launching platform.
Standing at the platform's edge, with the breathtaking Las Vegas skyline before you, adrenaline courses through your veins.
Then, with courage, you leap into the open air. The initial moment of freefall is an incredible rush as you plummet toward the ground at speeds of up to 40 miles per hour (64 kilometers per hour).
You're attached to the vertical zip line, though, so it's not an actual free fall! The wind rushes past you, and the panoramic views of the Las Vegas Strip unfold beneath your feet.
The descent is controlled, ensuring a safe landing as you gently touch the ground, filled with a sense of accomplishment that will stay with you long after the jump.
Whether you're a daredevil seeking an unforgettable experience or someone looking to conquer your fear of heights, SkyJump Las Vegas is one of the best non-gambling things to do in Las Vegas.
Recommended by Pamela from Directionally Challenged Traveler
➡️ Click HERE to book your Sky Jump
RATING: 5/5⭐️'s |DURATION: 1hour 15 min⏳| BOOK IT ✅
If you want to add something different to your Las Vegas itinerary, consider booking an escape room.
An escape room is an interactive game where you and your team are "locked in" a room, usually with a unique theme.
You're tasked with finding clues, solving puzzles, and working together as a team to escape the room before time runs out.
With dozens of escape rooms, Las Vegas is one of the best destinations for escape room fans.
Doing one with your travel mates is a great way to have fun and take a break from traditional Vegas activities like gambling and clubbing.
If you've never done an escape room, try one of the easier ones in town. Most chambers publish their difficulty level so that you can decide which room to choose.
The Escape Game Las Vegas, located in Caesars Palace, has 6 rooms with different difficulty levels.
For expert escape room players or those who enjoy scarier things, head to one of the horror-themed escape rooms in town.
One of the most popular ones is the Saw escape room, which is themed after the popular movie franchise of the same name.
The Basement is another horror-themed escape room often rated as the most challenging in town.
No matter which room you choose or if you escape, you'll have a great time with your team!
Recommended by Sydney from A World in Reach
➡️ Click HERE to book your escape room experience!
11. See A Vegas Famous Show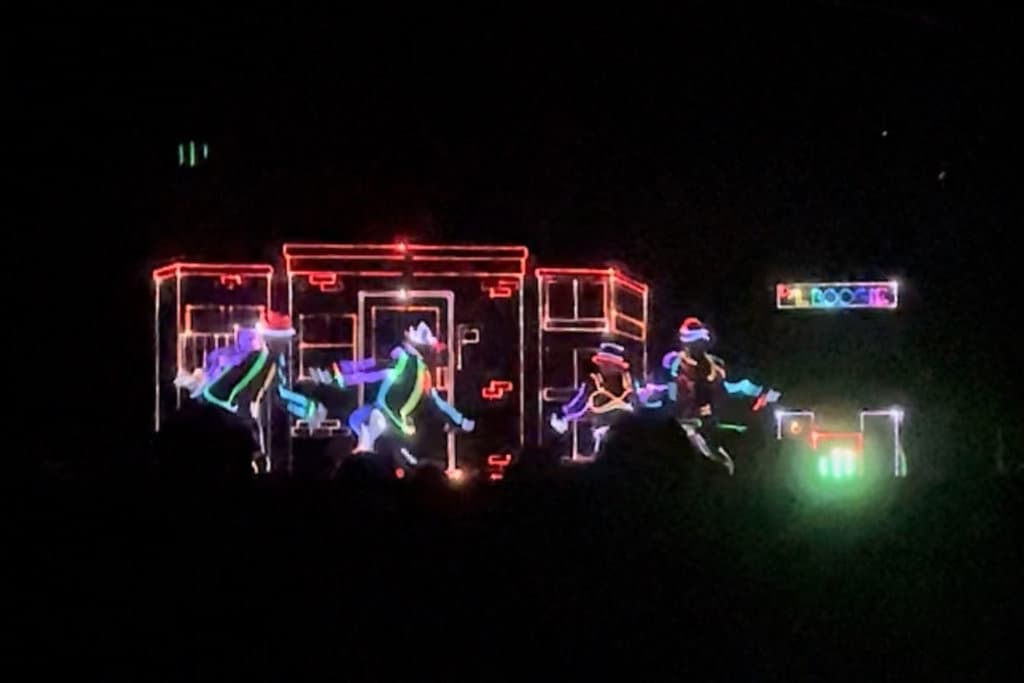 If you're looking for something to do in Vegas besides gambling, consider adding a famous Las Vegas show to your trip. Head to STRAT to catch the Illuminate show.
This family-friendly, fun, light-up dancing show with modern music. It's a great way to beat the heat and enjoy a show that will make you want to dance!
Tickets can be purchased online at the STRAT's website or at the box office, and they range from $49 for gallery seating to $109 for a VIP booth.
One of the best Las Vegas tips and tricks is to book your tickets online in advance.
However, there aren't any bad seats at this theater, so you'll have a great time no matter where you sit.
Consider going during the day to have fewer attendees; you can ask to move to a seat where nobody is for your show if there are fewer people. Performances typically occur daily from 3-4:15 pm and 7-8:15 pm.
Keep in mind that the STRAT is a bit further down on the Strip, so you may want to drive (if you have a car) or take a Lyft or Uber, or else it's a long walk.
While you're at the STRAT, be sure to head up to the SkyPod to check out the fun thrill rides that will tower you high above the rest of the city.
There are also some fun shops and a bar up there where you can drink while enjoying the view.
Recommended by KP from Lively Las Vegas
12. Brewery Hopping
One of the coolest things to do in Las Vegas besides gambling is to go brewery hopping in the Arts District.
Like many other American cities, Las Vegas has seen an explosion of craft breweries in the last 10 years. And you'll find nearly all of Sin City's breweries in the Arts District.
The Arts District is an up-and-coming Las Vegas neighborhood that really sprung out of a primarily run-down area between the northern tip of the Strip and downtown in the 2010s.
For all intents and purposes, the Arts District can be considered the area between the Stratosphere and downtown Las Vegas.
Most breweries are open daily till about 11 or 12 at night.
They are all within walking distance of each other and don't require reservations.
Some of the best breweries to try are Able Baker, CraftHaus, and Servehzah; though there are many more to choose from, they are all good.
Flights and pints of beer are on par with other major American cities. This is not a Vegas nightclub, so don't worry about paying $19 for a crappy beer.
The breweries are frequented mainly by locals. Yes, people do live in Las Vegas. So the beer prices are fair.
Or, if you want to try beers from all the breweries at once, you can head to The Silver Stamp, a hidden speakeasy across from the Little Vegas (wedding) Chapel that doesn't even have a sign on the door. You can find it on Google Maps, though.
Even if you're not into beer, the Arts District can be a fantastic place to explore. With excellent restaurants, a ton of unique cocktail bars, and trendy art studios, you'll find something far beyond the casinos on your trip to Vegas!
Recommended by Chris from Around The World With Me
13. Mob Museum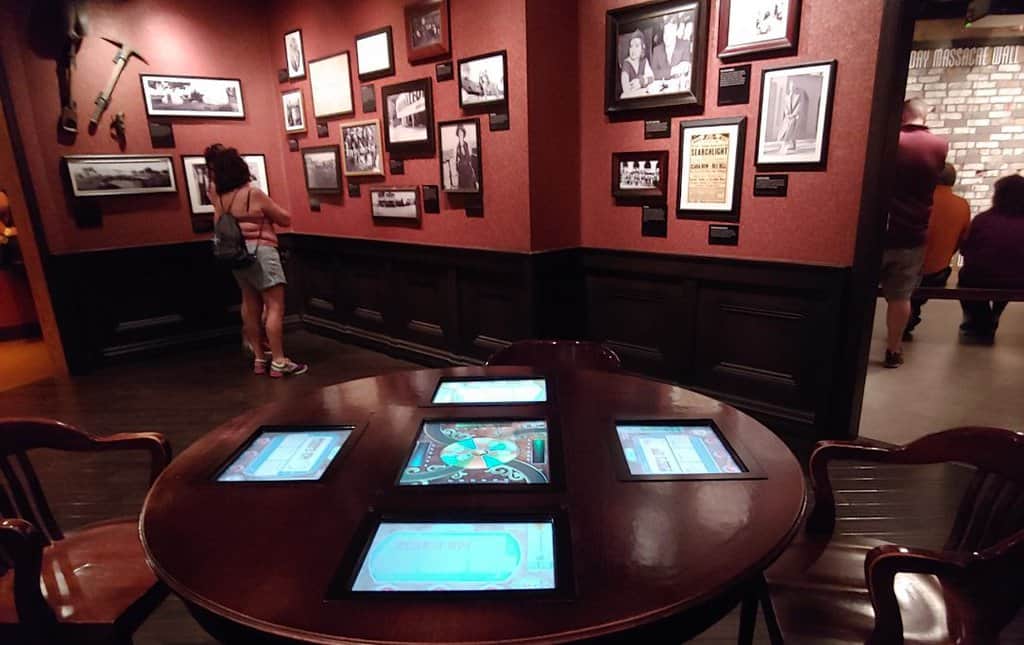 The Mob Museum in Las Vegas is a must-visit for anyone interested in America's fascinating history of organized crime.
The museum is a comprehensive look at the rise of the mob, its impact on society, and the efforts to combat it.
Located in the heart of downtown Las Vegas. It's within walking distance of many of the city's major attractions, including the Fremont Street Experience and the Neon Museum.
The Mob Museum is open daily from 9 a.m. to 9 p.m. However, it is closed on some holidays and closes early some evenings – refer to the website for updated hours.
The admission fee for the Mob Museum is $29.95 for adults, $27.95 for military personnel and law enforcement officers, and $16.95 for children ages 11-17.
Children under 10 get in for free. There are also discounts available for Nevada residents. Limited parking next to the museum is available for $8 for four hours.
To maximize your experience, plan your visit for the morning or late afternoon when less congested. Take advantage of the captivating short films that transport you to the heart of the mobster era, offering invaluable insights.
Also, set aside a minimum of two hours to fully explore this sprawling museum.
For a deeper dive, opt for a guided tour that unveils the secrets behind the exhibits. And remember to venture downstairs to the speakeasy and distillery, where hidden delights await (check separate hours!).
The Mob Museum is an immersive and engaging experience that will leave a lasting impression.
Recommended by Teresa at An Acre in the City
14. Discovering Speakeasies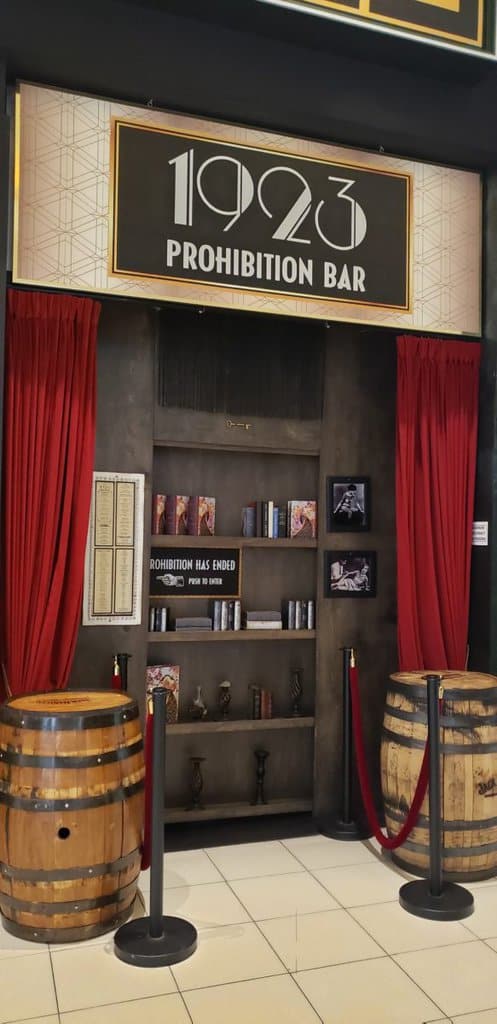 Going to all the unique speakeasies in Las Vegas is a great thing to do Las Vegas besides gambling. An old-time speakeasy was a secret bar in the 1920s where alcohol was illegally sold and consumed.
Speakeasy guests knew about the secret locations of the speakeasies that would have hidden entrances and secret passwords.
Nowadays, Las Vegas has quite a few speakeasies on the strip and downtown that are booming with thematic elements of the nostalgic era and quite fun to visit.
Some have old-fashioned cocktails, while others have bookcases that conceal their entrance. It is worth scheduling a scavenger hunt to find all the speakeasies on your Las Vegas vacation.
One of the best speakeasies in Las Vegas is the 1923 Prohibition Bar at Mandalay Bay.
While seated in your comfy lounge chair in front of a roaring video-screen fireplace, bar maids serve cocktails while dressed in their 1920s nostalgic clothing.
The Mob Museum in downtown Las Vegas also conceals a speakeasy. The entrance to the Underground Speakeasy at the Mob Museum is hidden, and guests can only be admitted once they speak the password, just to prevent the cops from uncovering the secret stash of booze!
The best time to go to a speakeasy is after a good meal at one of the famous Las Vegas buffets.
Follow it up with a great drink as you soak in the atmosphere at the speakeasy.
Recommended by Michelle Moyer from Moyer Memoirs Empty Nest Travel Adventures
Free Things To Do In Las Vegas
14. Bellagio Fountain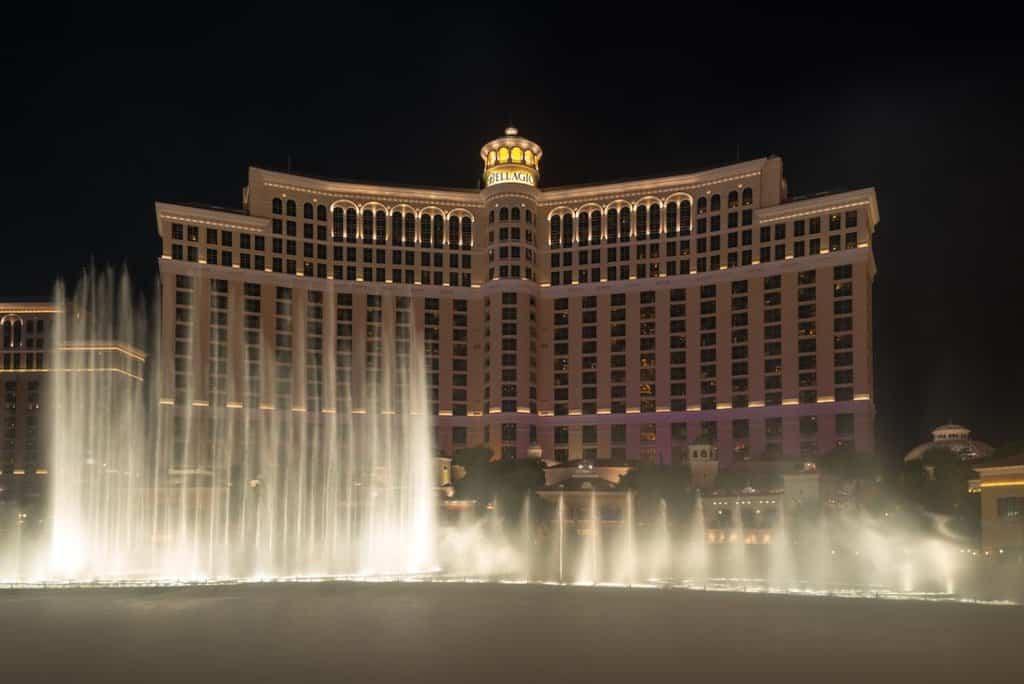 Las Vegas has become renowned for its themed casino resorts and their free attractions just as much as the gambling itself.
Arguably, one of the most famous attractions is the incredible Bellagio Fountains in the heart of the Las Vegas Strip, right in front of the Bellagio Hotel & Casino.
Its a must-visit for all first-time travelers to Sin City.
The Bellagio Fountains are an impressive array of more than one thousand fountains that shoot off jets of water up to 460 feet in the air, perfectly choreographed with dancing lights and to popular music, from Lady Gaga to A Chorus Line.
It's such a spectacle that the fountains have been featured in several movies, from Ocean's Eleven to The Hangover III.
The fountains run from 3 PM until midnight on weekdays and noon until midnight on weekends.
Before 6:30 PM, the show runs every half hour, and afterward, it increases to running every fifteen minutes.
Guests are welcome to line the sidewalks and skywalks around the 8.5-acre manmade lake and enjoy the show—totally free!
Alternatively, if you want to get away from the crowds, consider enjoying the show while partaking in one of Bellagio's restaurants with fantastic fountain views, like Lago, which serves upscale Italian fare.
If you're looking for something even more private, book a fountain view room at the Bellagio—or for something a bit more affordable, snag a room at the underrated Jockey Club that overlooks the fountains.
Recommended by Jessica Schmit from Uprooted Traveler
Things To Do Near Las Vegas
16.Hot Air Ballon Ride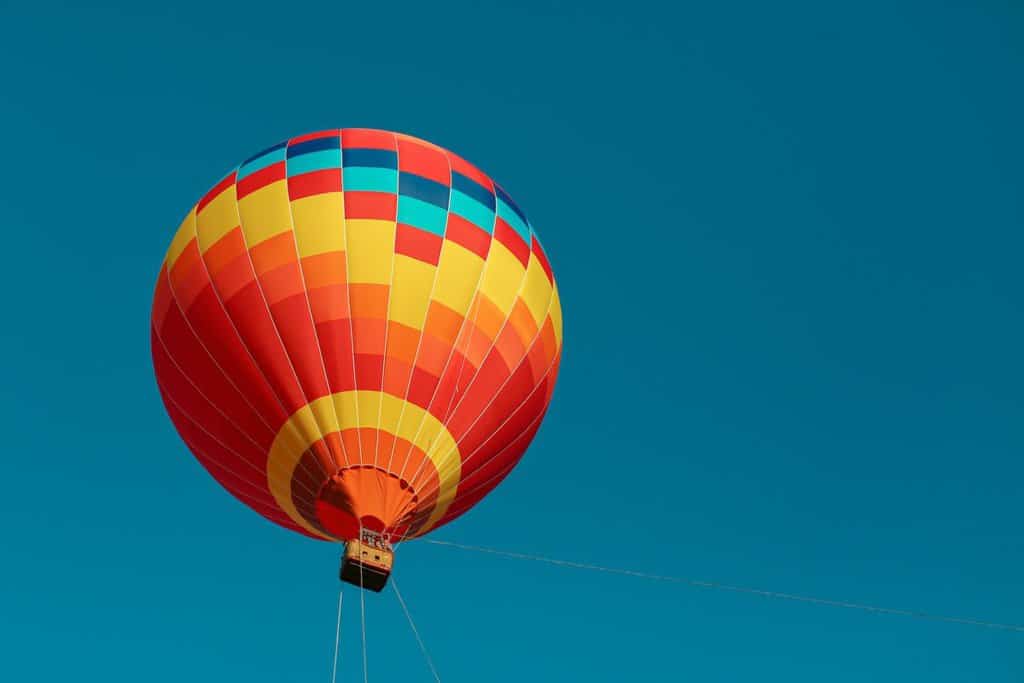 There are many things to do in Las Vegas, but some offer memorable experiences. Whether it is your birthday or honeymoon, you can find travel packages for Las Vegas.
One of those packages is a hot air balloon ride. As you soar around Las Vegas, you see its enchanting beauty in the bird's eye.
Experiencing the Mojave Desert and Pahrump's sunrise in Western Nevada at 10,000 feet and more is something not to miss.
However, the hot air balloon rides are seasonal and only available from November to February. Therefore, this is the best time to visit.
You also got to see Death Valley and the Nopah Mountain Range from afar.
The view from above is spectacular, so make sure to bring your camera and capture the moment. The tour starts about 90 minutes before sunrise and lasts 45-60 minutes.
After finishing the tour, there is a champagne toast where you set down and hear a story about how the hot air balloon was invented while drinking your favorite drink.
Note that it is unsuitable for children under five years old, pregnant women, people with back problems, people with mobility impairments, wheelchair users, a person with recent surgery, and a person over 280 Ibs (127 kg).
Pro Tip: Bring your passport or ID card, sunglasses, hat, water, comfortable clothes, and closed-toe shoes. For your safety, do not come with high-heeled shoes, sandals or flip flops, a baby stroller, luggage or large bags, alcohol, or drugs.
Recommended by Ossama from Awesome Traveler
17. Go Hiking at Red Rock Canyon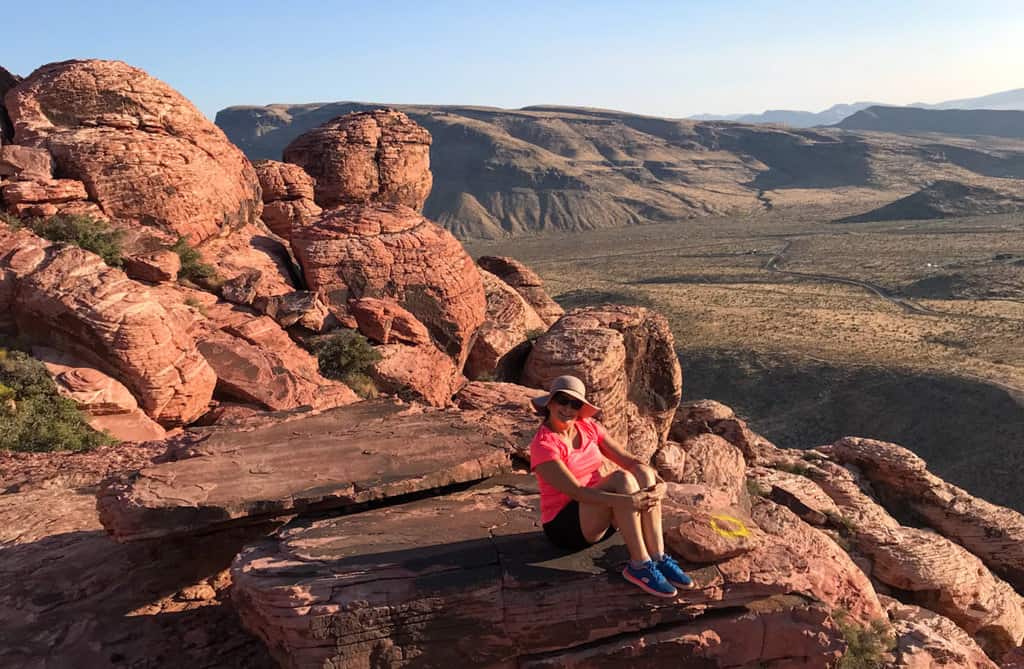 One of the most incredible outdoor experiences locals and visitors do in Las Vegas is hiking at Red Rock Canyon.
As someone who loves being surrounded by breathtaking nature, I highly recommend taking a break from the crowds of the strip to explore this stunning natural wonder.
The red sandstone cliffs, unique rock formations, and scenic trails offer an escape from the bustling strip. Whether you're a seasoned hiker or just looking for a leisurely stroll, Red Rock Canyon has something to do for everyone.
Red Rock Canyon provides ample options for hiking for all levels of ability. Currently, 26 marked hiking trails are available that cater to all levels of hikers.
Calico Hills and Calico Tanks are two of the most popular Red Rock Canyon hikes, but Ice Box Canyon is an excellent option for the warmer summer months as it provides more shade.
Non-hikers will also appreciate the 13-mile scenic drive that incorporates some of the best views in the park.
Visitors can access the scenic drive from 6am until sunset, and there is a $20 per vehicle fee to enter.
With its close proximity to Las Vegas, it's the perfect day trip or mini adventure during your vacation.
Recommended by Shannon from Three Days in Vegas
RATING: 5/5⭐️s |TOUR DURATION: 6.5 hours⏳| BOOK IT ✅
This iconic structure was constructed in 1931. It is a concrete arch–gravity dam located on the Colorado River, on the border between the U.S. states of Nevada and Arizona. It is situated about 30 miles (48 kilometers) southeast of Las Vegas, Nevada.
Hoover Dam is an impressive feat of engineering, built during the Great Depression.
It is one of the most significant concrete structures in the world and a symbol of human ingenuity.
If you are interested in architecture, history, or engineering, visiting Hoover Dam can be a fascinating experience. And if you are looking for the best day trips from Las Vegas, Hoover Dam is an excellent choice.
When visiting Hoover Dam, there are several remarkable attractions and points of interest that you can explore. Start your visit at the Visitor Center, which offers exhibits, displays about the dam's history and construction.
Explore Mike O'Callaghan–Pat Tillman Memorial Bridge adjacent to Hoover Dam. This impressive bridge spans the Black Canyon and offers spectacular views of Hoover Dam.
It's worth stopping by for a photo opportunity or to admire the engineering marvel.
Lake Mead is another attraction worth exploring. There are so many recreational activities you can enjoy, such as boating, fishing, swimming, or simply relaxing by the lake. The lake also provides beautiful scenic drives along its shores.
The best time to visit the Hoover Dam is in January and February for fewer crowds. It opens daily from 9:00 am -5:00 pm. You can purchase your ticket online.
Recommended by Imee Magbag from Journey to Nevada
➡️ Click HERE to book Hoover Dam Tour
19. 7 Magic Mountain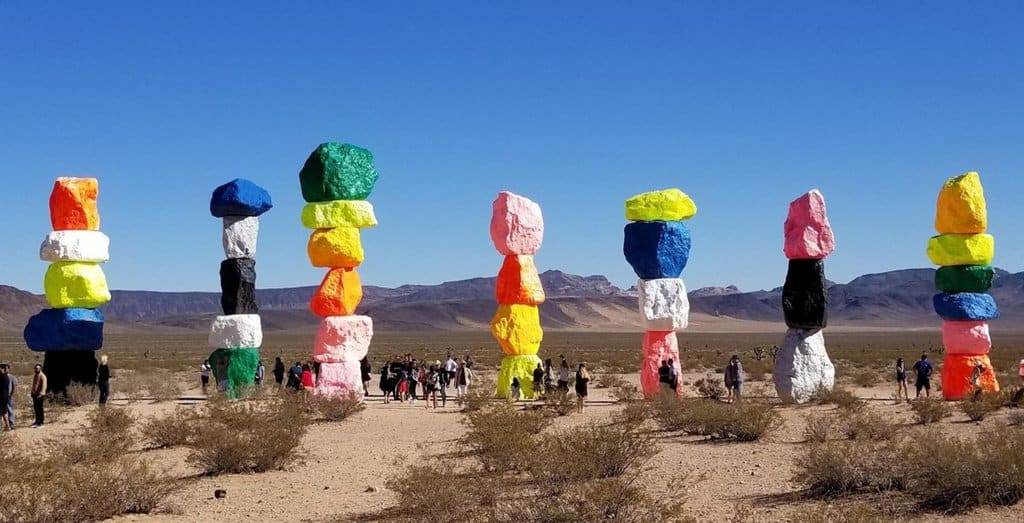 The city of Las Vegas is not limited to gambling or drive-in movies as entertainment.
The 7 Magic Mountains is a refreshing escape from the hustle and bustle of Sin City.
This public land art installation is located along Interstate 15 in the Mojave Desert, about 16 km south of Las Vegas (25 min drive). It's a vibrant limestone art exhibit by renowned Swiss artist Ugo Rondinone.
The 7 Magic Mountains is a group of colorful limestone boulders stacked one upon the other in a tower-like fashion.
The bright colors create a beautiful contrast in the middle of the barren desert soil.
There are seven towers, each with an average height range of 30- 35 ft. You can spot the rocks from far due to the eye-catching color combinations of yellows, pinks, blues, etc.
Photographers and art enthusiasts love the immersive experience of this site. As this is on public property, there is no entry fee for visiting the 7 Magic Mountains.
Visitors can walk around the installation and closely marvel at its beauty. The surrounding serenity of nature is a bonus for the trip.
Tourists are allowed here at all times. Spring (between March to May) or Autumn (between September and November) will be ideal times to visit as the weather remains moderate.
Photographers prefer to visit in the golden hour during sunrise or sunset to capture the majestic essence of the sun's rays in their shots. Be prepared with desert necessities like water and sunscreen when visiting.
Recommended by Ruma from The Holiday Story
Traveling to Las Vegas FAQs
Can you enjoy Vegas without gambling?
Yes, you can enjoy Vegas without gambling! The city offers many activities and attractions catering to all interests. The city is known for its vibrant nightlife and entertainment scene, with numerous parties, clubs, and live performances happening every night. Walking along the iconic Las Vegas Strip is an experience in itself, with its dazzling lights, extravagant hotels, and world-class restaurants.
What to stay away from in Vegas?
In Vegas steer clear of street promoters offering deals or free show tickets, as they are often associated with scams. Unlicensed taxi drivers should also be avoided to prevent overcharging or unnecessary detours. Additionally, exercising caution with excessive gambling is important to avoid financial strain. Lastly, it is advisable to stay away from illegal drugs and any illegal activities due to Las Vegas' strict laws and penalties.
Is 3 days in Vegas enough?
Yes, three days in Vegas can be enough to have a fantastic time and experience all the city offers. With its endless entertainment options, vibrant nightlife, world-class dining, and iconic attractions, there is no shortage of things to do and see in Las Vegas. Plus, with its ever-changing landscape and a constant stream of new experiences, Las Vegas is always a great place to return multiple times to see new things.
What do locals do in Vegas?
As a Las Vegas local, I can tell you that locals love to explore the hidden gems that Vegas offers, from scenic hikes in Red Rock Canyon, cooling off on a summer day at the lake, and eating delicious restaurants off the beaten path. Speakeasies are also a local favorite, where locals enjoy craft cocktails in a cozy and intimate setting. And when it comes to entertainment, bowling, and mini golfing are popular activities for locals looking for some fun with friends or family.
Is it Safe to Walk the Strip at Night?
Walking the Strip at night is generally safe, but exercising caution and being aware of your surroundings is always important. The Strip is a busy and well-lit area that helps maintain a safe environment for pedestrians. Avoid walking in non-busy streets or deserted areas, especially late at night.
Where To Stay In Las Vegas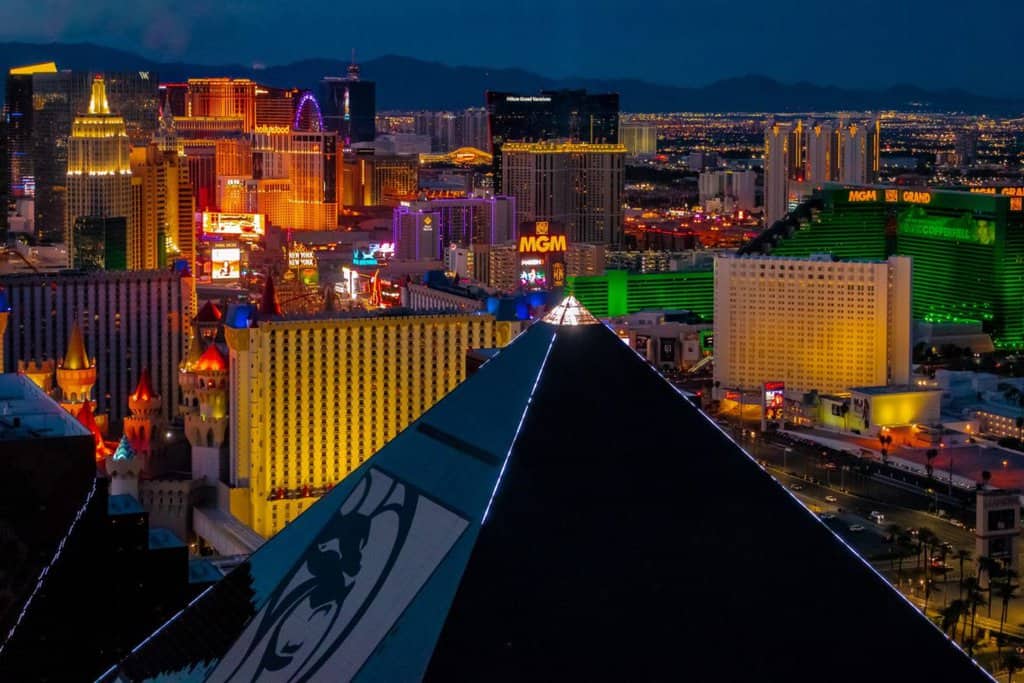 The Wynn in Las Vegas offers an unparalleled luxury experience for discerning travelers. With its exquisite design, opulent accommodations, world-class dining, high-end shopping, and a vibrant casino, it epitomizes sophistication and indulgence.
The Virgin Hotel in Las Vegas is a must-stay for travelers seeking a unique and contemporary experience. With its modern design, stylish accommodations, innovative dining options, and vibrant nightlife, it offers a refreshing twist on the traditional Las Vegas experience
Ellis Island Hotel Casino & Brewery is ideal for budget travelers due to its affordability without compromising on quality. With its affordable room rates, inexpensive dining options, and value-packed casino promotions, it offers excellent value for money.
Conclusion: Things to Do in Las Vegas Besides Gamble
Las Vegas is a city that offers so much more than just gambling.
From hidden speakeasies to thrilling helicopter rides, mixology classes, world-class spas, and incredible dining options, there are endless activities to enjoy in this vibrant city.
Whether you're looking for a unique night out or a relaxing day of pampering, Las Vegas has something for everyone.
So next time you visit Sin City, dont limit yourself to the casino floor. Explore all that this exciting destination has to offer and create memories that will last a lifetime.
And don't forget to pin this post for later, so you can refer back to it when planning your next trip to Sin City!