16 BEST HAWAII WATERFALLS TO VISIT IN 2024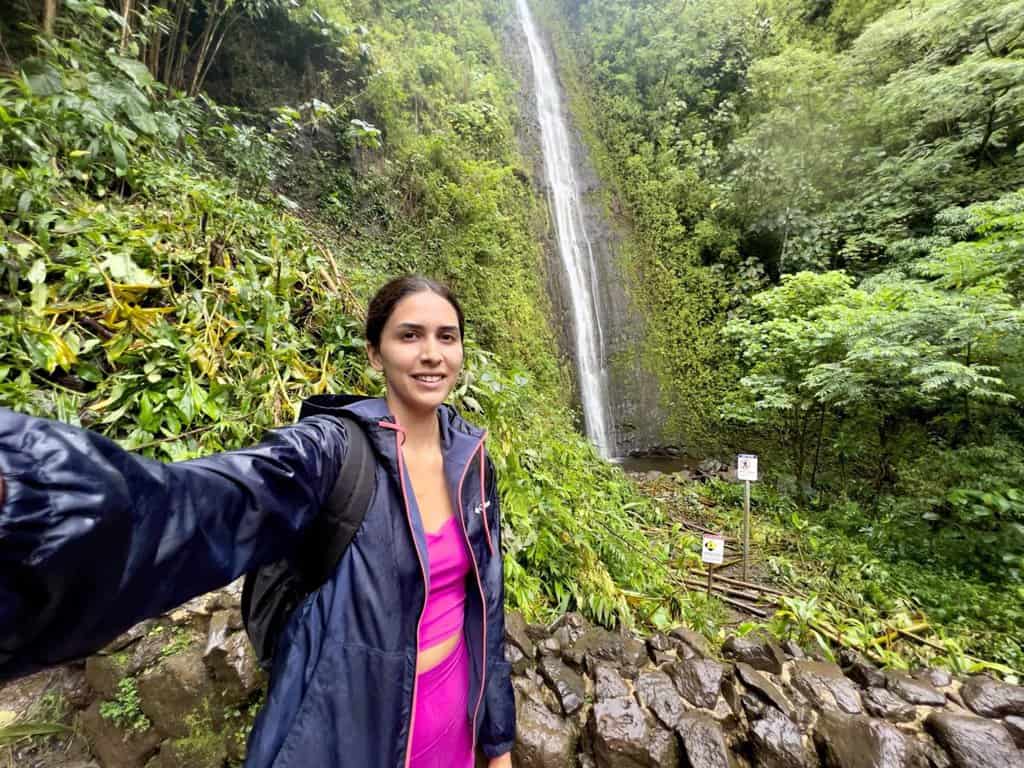 A trip to Hawaii is complete with visiting a beautiful picturesque waterfall.
When you think of Hawaii, beautiful beaches and crystal clear waters may come to mind. Hawaii is known for its most breathtaking waterfalls.
In this blog post, we'll take you on a tour of some of the best waterfalls in Hawaii, exploring their unique features and providing tips on how to visit them.
Whether you're an adventure seeker looking for a thrilling hike or simply want to relax and take in the beauty of nature, these Hawaiian waterfalls will surely leave you amazed.
These are the best must-see Hawaii waterfalls recommended by a few of my travel bloggers' friends that they have visited, and you should add them to your itinerary.
16 BEST HAWAII WATERFALLS TO VISIT
There's no denying the breathtaking beauty of Hawaii's waterfalls, make sure to add these 16 best waterfalls to your must-visit list.
1. Lulumahu Falls in Oahu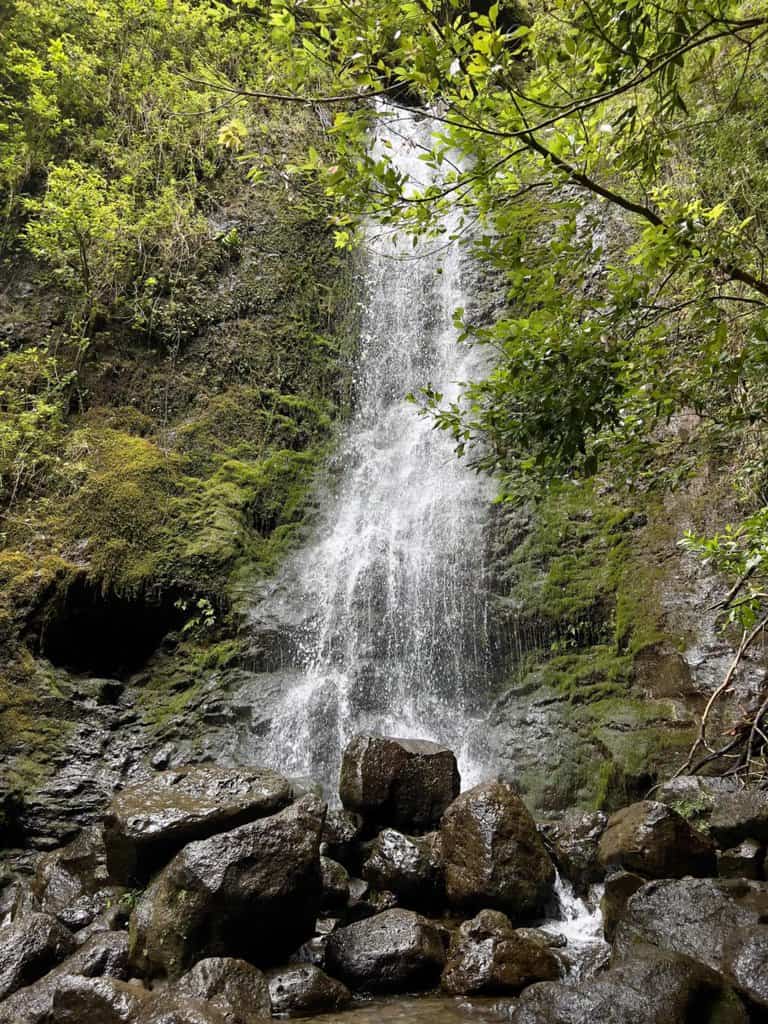 ⏳ HIKE DURATION: 90 min
🤙🏽 DIFFICULTY: Moderate
One of the most beautiful waterfalls is nestled amidst the lush landscapes of Oahu.
Lulumahu Falls is a hidden gem, treasured by locals for its serene beauty.
Tucked away just around the corner off the Pali Highway, this waterfall is a well-kept secret.
The journey to Lulumahu Falls is a moderate hike, making it suitable for all ages.
Hikers must obtain a permit before embarking on the hike, with a nominal fee of $2.50 per group.
The permit is only valid for the day of entry, adding an element of exclusivity to the experience.
While relatively straightforward, the trail can be challenging to navigate without guidance. With the help of AllTrails app navigation.
The 90-minute trek can be successfully navigated, leads hikers through bamboo forests, across streams, and climb over some big rocks.
At the trail's end, it unveils the breathtaking waterfall, where shallow pools beckon exploration and the cascading waters create a serene sanctuary.
Experience a hassle-free guided tour to Lulumahu Fall with pick-up, expert navigation, and an unforgettable adventure through Oahu's hidden gem.
2. Manoa Falls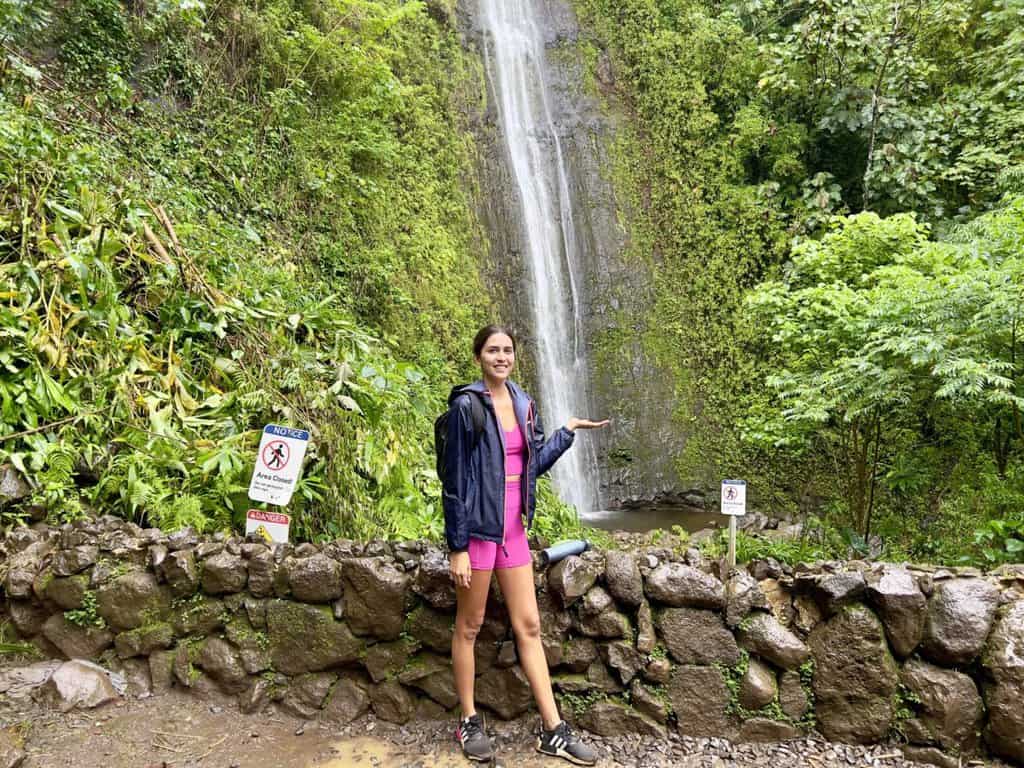 ⏳ HIKE DURATION: 60 min
💲PARKING FEE: $7
🤙🏽 DIFFICULTY: EASY
A 15-minute drive from the bustling streets of Waikiki lies the enchanting Manoa Falls, a natural spectacle boasting a 150-foot waterfall.
This easily accessible gem offers a family-friendly hike through lush green landscapes that transport you into a scene reminiscent of a cinematic paradise.
What sets Manoa Falls apart is its unique amenities; its one of the only hiking trails featuring a building equipped with a small store and restrooms.
Upon entering, there will be a small parking fee.
This is a 30-45 minute hike that immerses you in a world of vibrant foliage, accompanied by occasional rain showers.
It's advisable to come prepared with a rain jacket or umbrella, although on-site ponchos are available for purchase.
As you approach the falls, a designated stopping point is marked by a wall, adorned with a sign advising against proceeding further.
It's crucial to follow this guidance to preserve the environment and for safety reasons, as past instances have demonstrated the potential risks associated with venturing beyond the designated area.
if you want to go on a hiking tour with pickup and lunch, definitely check out this guided tour with Ross.
➡️ Click HERE to book a Manoa Falls tour with lunch
3. Waimea Falls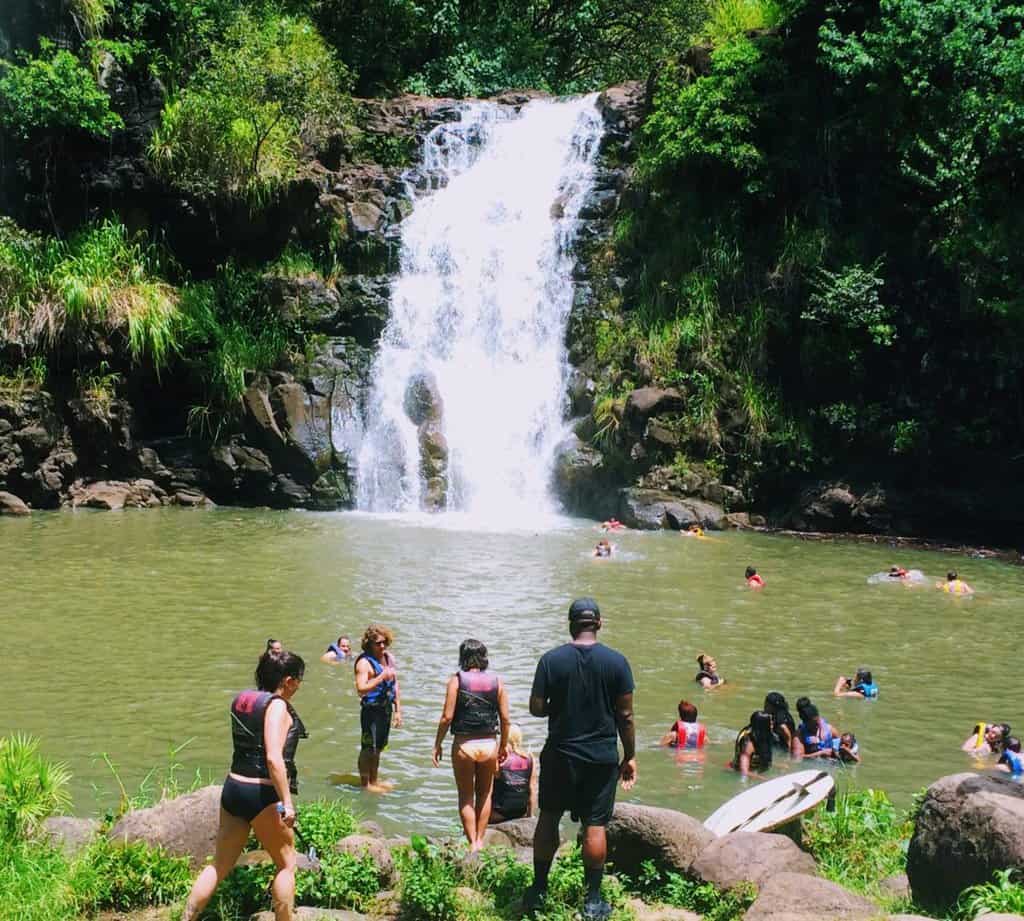 ⏳ HIKE DURATION: 30 min
💲ENTRANCE FEE: $25.00
🤙🏽 DIFFICULTY: Easy
If you're familiar with the TV show Lost, then you might already recognize Waimea Falls on the island of Oahu.
This 45-foot-high waterfall was where Kate and Jack found a locked briefcase in Season 1.
But this isn't the only reason why Waimea Falls is worth adding to your Oahu itinerary.
To get to this waterfall, you need to wander through Waimea Valley, which is a 1,875-acre botanical garden with over 5,000 tropical plants, trees, and flowers to discover.
If you walk straight to the waterfall, it'll take you around 30 to 40 minutes.
Coming back, there's a steep hill, so I'd encourage you to take the scenic route and see more of the park rather than try climbing up the hill.
When you arrive at the waterfall, you're able to rent a lifejacket and swim near the falls.
While my husband and I didn't do this ourselves, we saw many people enjoying a quick dip.
Just don't drink the water or swim with open wounds, as there are signs dotted all around warning of Leptospirosis bacteria in the water.
You need to pay to visit because Waimea Falls is located within the Waimea Valley Botanical Garden.
At the time of writing, it costs $25 per adult, and you can usually visit any day of the week between 9 am and 4 pm (except when the park is closed for national holidays).
Try and visit Waimea Falls in the morning to avoid the crowds. Especially in summer, large tour companies head here between 11 am and 1 pm most days.
We visited in mid-September at lunchtime, and thankfully, it wasn't particularly busy.
While you're here, you might enjoy a bite to eat at the onsite cafe where you'll probably see a wild peacock or two wandering around begging for scraps.
A local told us they live in the park so they're frequent visitors to the cafe.
You're not supposed to feed them but it's fun to see them suddenly appear next to you!
Recommended by Justine from Wanderers of the World
4. Likeke Falls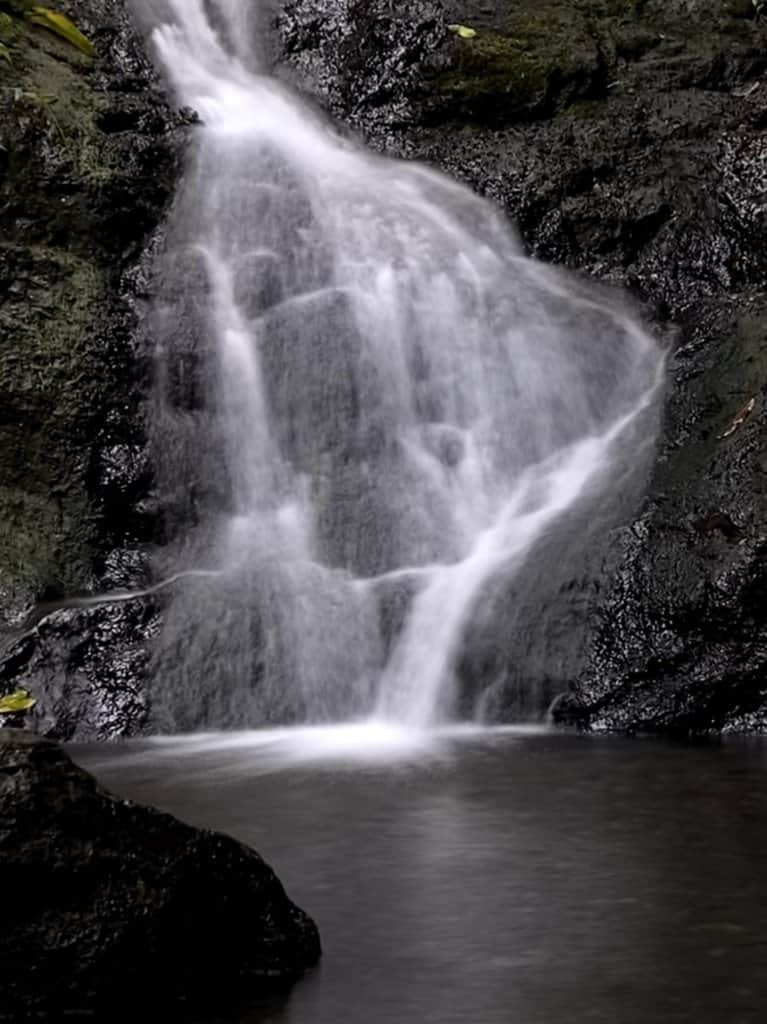 ⏳ HIKE DURATION:30 min
💲ENTRANCE FEE: Free or $10
🤙🏽 DIFFICULTY: Easy
Likeke Falls is a beautiful waterfall on the island of Oahu.
Everyone will enjoy this trail as it travels through the rainforest, it is easy and flat enough for all ages.
Because this trail is short without much elevation, this is a trail that even young kids can easily do.
We called this one chicken falls as we saw a few wild chickens along the way.
As this trail is spring fed, you will never be disappointed that there is no water in drier seasons.
Although the trail is easy, there are some roots, and it can be muddy after a rainfall.
Be on the lookout for the arrow at the tree on the right, to turn towards the falls.
The stunning waterfall tumbles into a pool that is deep enough to soak and sit, but not swim.
Along the trail you will be treated to beautiful views of the surrounding mountains and rainforest.
You will find parking either at the Koʻolau Golf Club, for 10$, or for free along Kīnāʻole Road.
Be mindful of the mud on the side of the road, if you choose to park there.
Recommended by Jessica from nextupadventure.com
➡️ Click HERE to book a hassle-free hike tour to Likeke Falls
MAUI, HAWAII WATERFALLS
5. Three Bear Falls aka Waikani Fall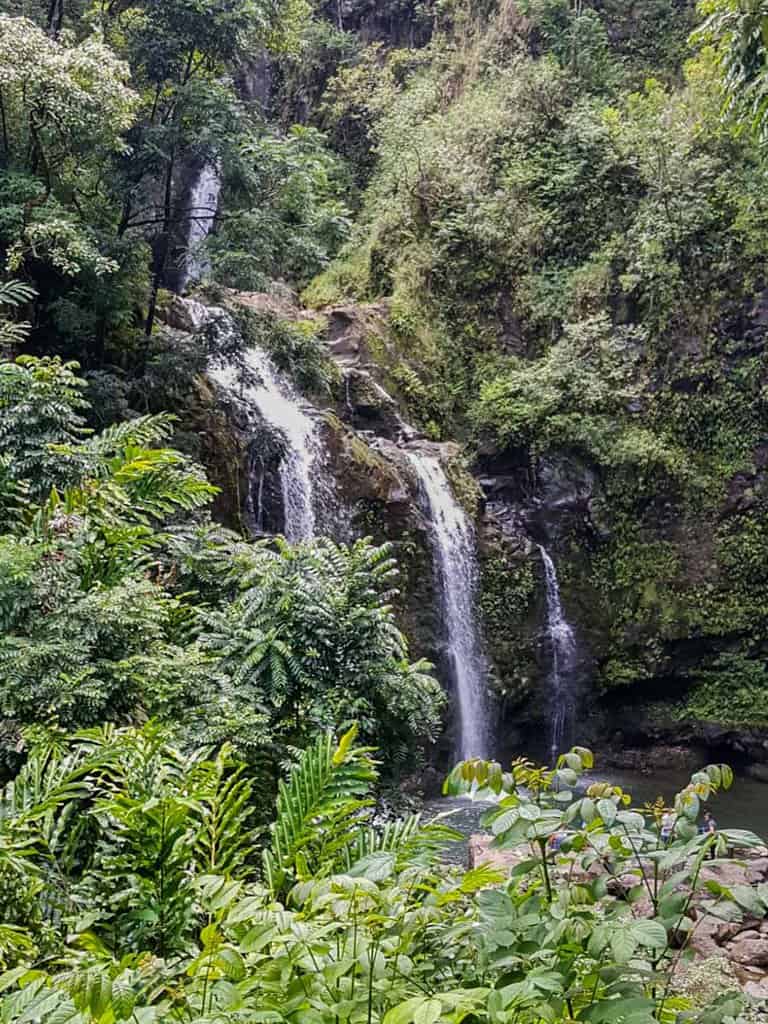 Maui is well known for its gorgeous waterfalls, and with 5 days in Maui, you should definitely drive the Road to Hana, to see some incredible nature.
One of the best waterfalls to see is the 3 Bear Falls in Maui.
You can find this waterfall located on Mile Marker 19 of Hana Highway.
Also known as the "Upper Waikani Falls," this is a three-in-one waterfall with 'Baby Bear' being the smallest waterfall on the right side.
This 3-tiered waterfall is around 70 feet tall and especially spectacular after a recent rain storm.
Just be careful visiting if there are any flash flood warnings.
The best thing about this waterfall is that the water is usually really clear.
That being said, that may vary depending on the weather and the time of the year.
Additionally, you can see it right from your car – it's that close.
Visitors will often stop by simply to take a photo before moving on, as there is limited parking, and this area gets very busy.
For those that want to stay, you may need to park the car park a mile or so ahead of the waterfall and walk back.
The path to access the waterfall is rocky and narrow, but possible to do.
After accessing the waterfall, you can enjoy snapping photos and swimming.
Jumping off of the cliffs is not advised as the surrounding area is filled with dangerous rocks.
To try to avoid busy crowds, visitors should aim to get there as early as possible.
Recommended by Samantha Oppenheimer from Find Love and Travel
6. Pools of Ohe'o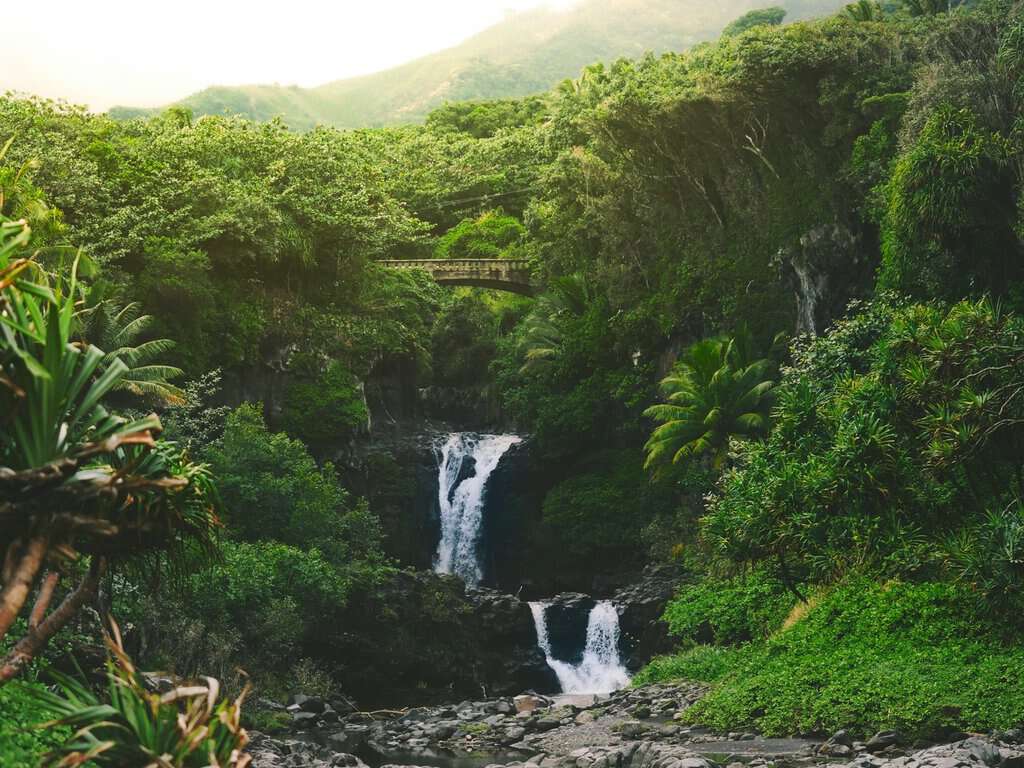 ⏳ HIKE DURATION: 15 min
💲ENTRANCE FEE: $30/vehicle
🤙🏽 DIFFICULTY: Easy
The Pools of Oheo, also known as the Seven Sacred Pools, is a best waterfall in Hawaii.
It's located in the lush Oheo Gulch within Haleakalā National Park on the island of Maui.
These tiered pools are very popular for their beauty and an unforgettable stop toward the end of the Road to Hana.
The pools are considered sacred in Hawaiian culture and a top attraction within the state.
The pools are accessible via the Pipiwai Trail, a 4-mile round-trip hike that weaves through bamboo forests.
Wear comfortable hiking shoes and bring water, though the water is not too challenging.
Swimming is no longer allowed in the pools.
Always check the weather forecast before heading to the pools. Heavy rain can cause flash floods in the area.
November through March is driest but the park may close for safety reasons during any season, as it's a rainy area.
Arrive early to avoid crowds. Before noon is best. Often, morning visits offer better lighting for photos, too.
Entry to Haleakalā National Park requires a valid park pass, which can be purchased at the entrance.
Consider obtaining an annual federal park pass for $80.
This will allow you to get in quicker and save money over time.
Though the park is open at all hours, the visitors center is open from 9:30 a.m. to 4:30 p.m.
Recommended by Eleanor of Elevate Your Escapes
7. Twin Falls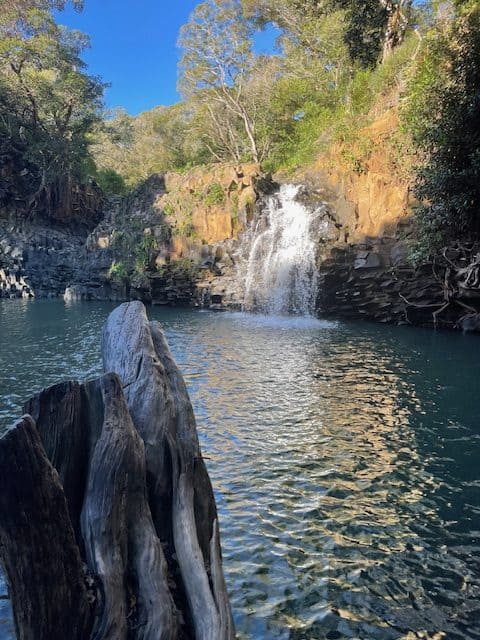 ⏳ HIKE DURATION: 60 min
💲PARKING FEE: $10
🤙🏽 DIFFICULTY: Moderate
If you are looking at visiting the island of Maui, there is a great chance that you have heard of the Road to Hana.
The Road to Hana is an entire day's activity during your trip to the island.
This windy road on the north side of Maui, Hawaii is lined with an incredible number of breathtaking sights.
Twin Falls is one of the first major stops on the road and is the perfect place to kick off your journey.
Twin Falls is home to both short and long-hiking options.
These hikes will take you to multiple beautiful waterfalls that are perfect for views, swimming and (of course) some pictures.
It is highly recommended to start your drive to Hana early in the morning so you will get to enjoy a nice refreshing quick dip in the waterfall to start your day.
Twin Falls is also a great last stop option on your Road to Hana adventure and would be a beautiful sight to end your day with.
Parking is $10.00 for Twin Falls and is available on a first-come, first-served basis.
Recommended by Monica from maxedoutPTO.com
Best Hawaii Waterfall Aka Big Island
8. Kawainui Falls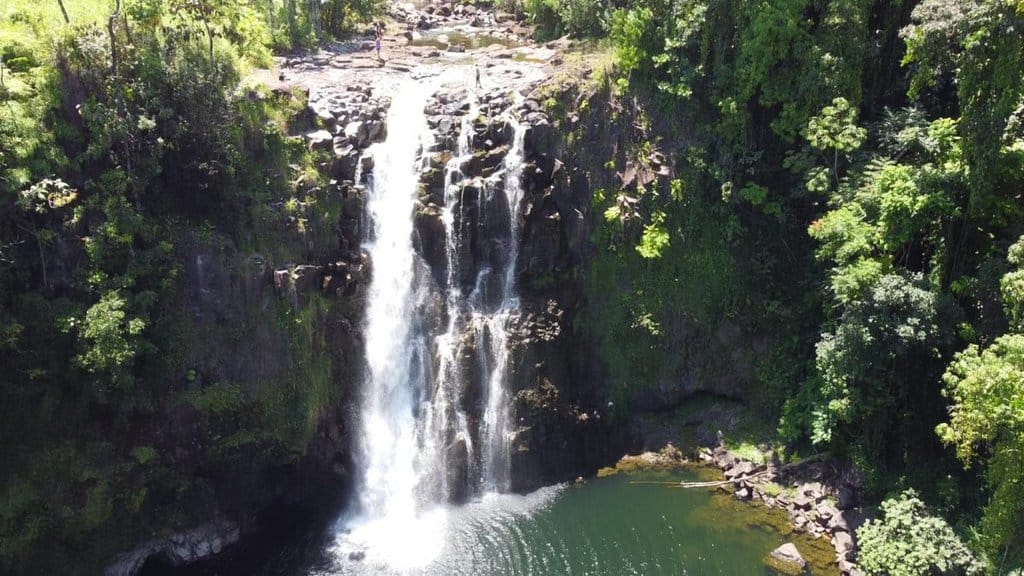 ⏳ HIKE DURATION:90 min
💲ENTRANCE FEE: FREE
🤙🏽 DIFFICULTY: Moderate
The Kawainui Lower Falls are set against some of Hawaii's most beautiful jungle scenery.
Located just south of Pepeekeo, these falls are around 30m / 100ft tall and have several shallow pools that are suitable for swimming at the top.
You may struggle to find these falls in any official guides, but be assured, they are very real and are well worth the little bit of extra effort to find them.
Following the 'Old Mamalahoa Hwy' South from Pepeekeo for around 1.5km you will come to a wooden bridge with white rails that crosses the Kawainui Stream.
There are areas on both sides of the bridge where you can park safely before making your way down to the pool that sits underneath.
There is a small falls that exit a natural lava tube on the west side of the bridge; these are fun to explore but the big drop is a short scramble southeast along the river.
You will pass lots of pools, and as you approach the drop, the jungle opens up, and the stunning panoramic views towards the coast reveal themselves.
If the conditions allow, and you have come prepared to swim, the water is an average temperature of 23°C / 73°F all year round and is gently geothermally heated.
Flash floods can and do happen without much warning and it is vitally important that you do not swim if the water is brown or if there is heavy rain anywhere in the local area.
Make sure you check the forecast before you travel and always take someone else with you if you intend to swim.
This really is a hidden gem, and the best part is it's completely free to visit and open all year round!
Recommended by Katie from Trekking the Dream
9. Waiānuenue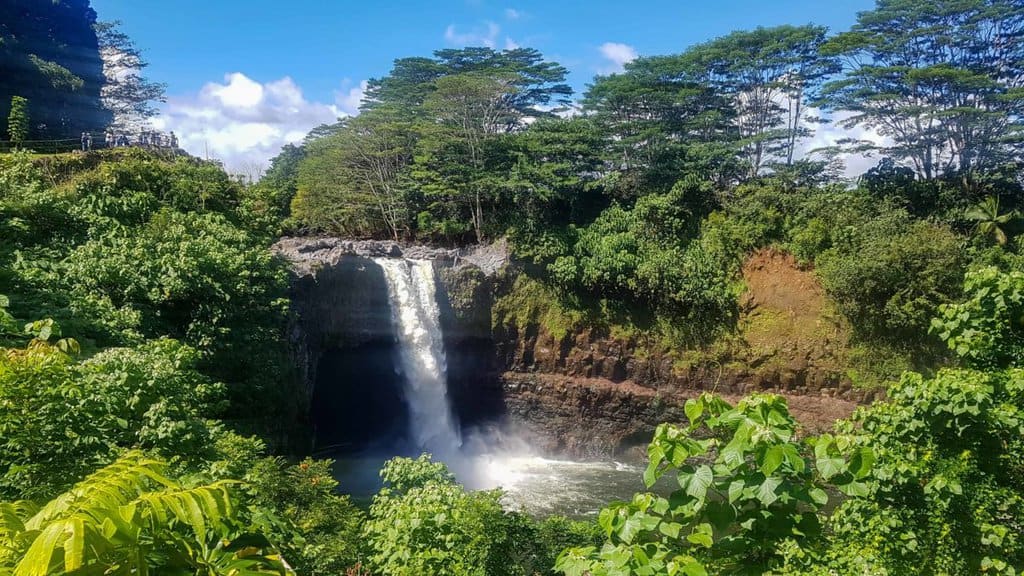 💲ENTRANCE FEE: FREE
🤙🏽 DIFFICULTY: EASY
Aptly called Rainbow Falls, Waiānuenue is an 80-foot picture-perfect waterfall on the Big Island of Hawaii, known for the rainbows that dance in the splash of the falls.
Situated on the island's east coast, just 5-minute drive from the coastal town of Hilo, Rainbow Falls cascades 24 meters (80ft) before continuing down the powerful Wailuku River.
Surrounded by lush tropical forest, the lava cave behind the falls is said to be home to the ancient Hawaiian Moon Goddess, Hina.
The whirlpools before the falls, known as Boiling Pots, are also supposedly where Maui chased the giant lizard Mo'o Kuna after saving Hina, his mother.
An easy half-mile (1km) out-and-back hike, Rainbow Falls is easily accessible and quite a popular spot.
Timing your visit early morning or late evening can help you avoid crowds.
The falls are more powerful after recent rain, and there is a higher chance of seeing rainbows if it's a sunny day.
Rainbow Falls is always open unless there are hazardous conditions, which usually result after heavy rains.
There's a small car park on-site, which is free, and there is no entrance fee.
Two wooden viewpoints offer visitors the best vantage point to see the falls from above and below.
To get to Waiānuenue, follow Waiānuenue Avenue out of Hilo, then turn right onto Rainbow Drive, which goes to the Wailuku River State Park and the parking lot.
Recommended by Lucy and Dan from Thoroughly Travel
10. Akaka Falls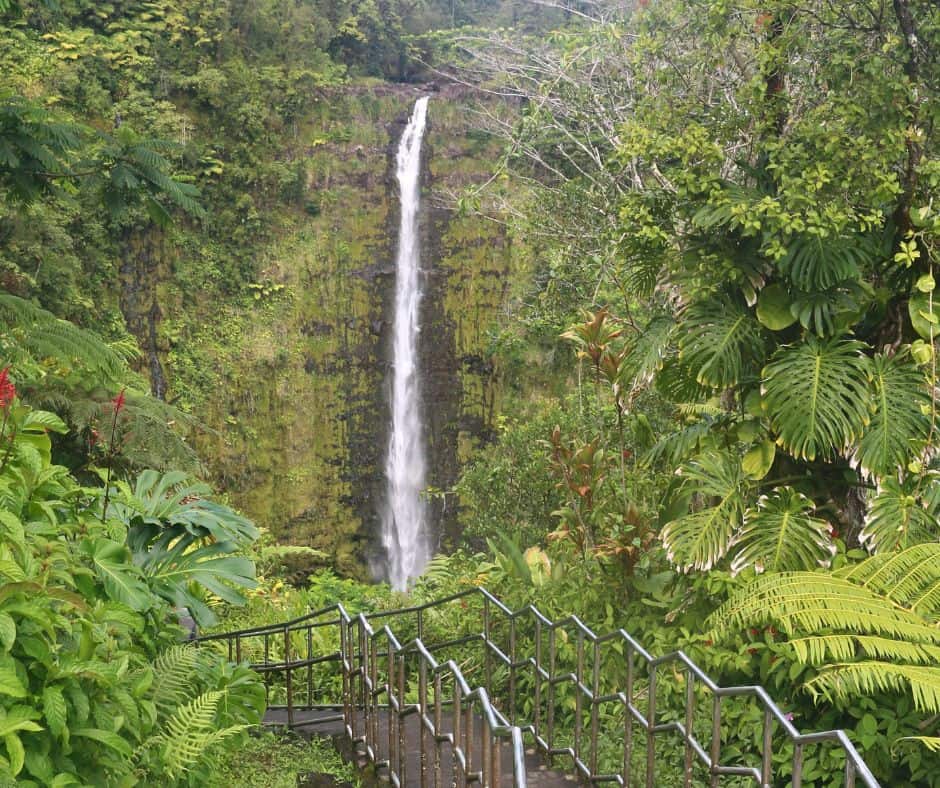 ⏳ HIKE DURATION:20 min
💲ENTRANCE FEE: $5
🤙🏽 DIFFICULTY: Moderate
Akaka Falls State Park is a must-visit waterfall for nature enthusiasts seeking a breathtaking escape in the Big Island, Hawai'i.
As you embark on the scenic journey through the park, the star attraction awaits, Akaka Falls, a stunning 442-foot waterfall cascading down a verdant cliff.
The sheer beauty and raw power of the falls make it a captivating spectacle.
To make the most of your visit, keep in mind that Akaka Falls State Park is open daily from 8:30 AM to 6:00 PM.
The entrance fee is $5/car or $1/per person if you're a pedestrian.
You'll walk along the Akaka Falls Loop Trail (about half a mile) which is paved and has railings. You'll see both Kahuna and Akaka Falls on this trip.
For a truly immersive experience, consider visiting during the early morning or late afternoon.
The soft sunlight enhances the natural beauty, casting a warm glow on the surroundings.
Additionally, the park tends to be less crowded during these times, allowing you to savor the serenity of the moment.
Akaka Falls State Park is only 25 minutes from the city of Hilo, making it an easy visit.
However, if you're staying in Kona, the drive is about two hours one way.
If you want to make it a full-day trip, you can visit Mauna Kea mountain in the middle of the island on your way to/from Akaka Falls.
Seeing two of Mother Nature's glorious creations in one day is a memorable experience.
Your journey to Akaka Falls promises not only a visual feast but also a tranquil retreat into the heart of Hawaii's enchanting landscapes, so be sure to add this waterfall to your itinerary.
Recommended by Pamela from The Directionally Challenged Traveler.
11. Wai'ale Falls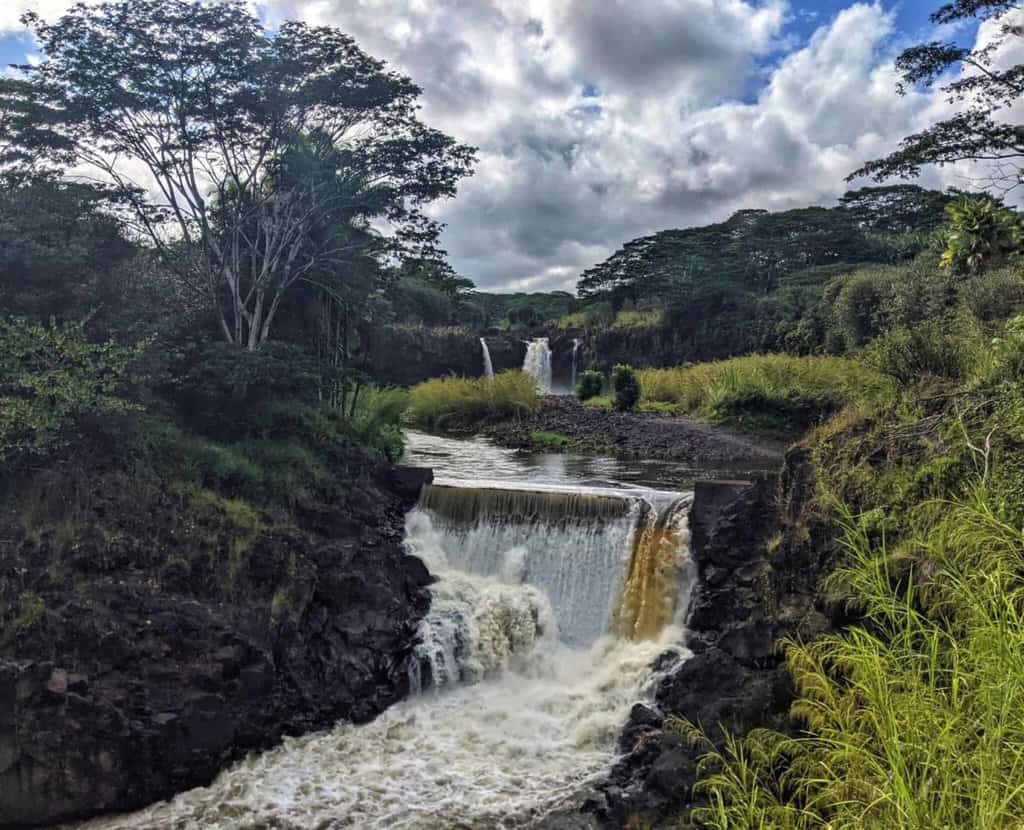 ⏳ HIKE DURATION: 20 min
💲ENTRANCE FEE: FREE
🤙🏽 DIFFICULTY: Moderate
An often overlooked waterfall on the Big Island is Wai'ale Falls near Hilo. It is on the same river and upstream from the more famous Rainbow Falls.
As you are driving on Waianuenue Ave, you'll cross the bridge over Wailuku River and you'll see the waterfall to the left.
Park along the shoulder after you've crossed and then walk on the bridge for your view.
If you are up for a short and untamed trail hike you can reach the top of the falls.
To the right of the river, where you parked your car, you'll see a faint trail leading up and into the foliage.
This narrow trail is not maintained and will have you walking through tall grass, climbing over root systems, and slipping on mud and fermented fruit.
But it's all worth it when you reach the top and you're looking down over the waterfall. There is plenty of boulder hopping upstream as well.
If there have been recent rains, you'll also see a bonus waterfall careening into a gorge side pool.
Besides hiking the waterfall, you can also swim beneath it in the river and relax on a large rocky island in the middle of the river.
Recommended by Tabitha Bailar from Travel Compositions
Best Kauai Waterfalls
12. Manawaiopuna Fall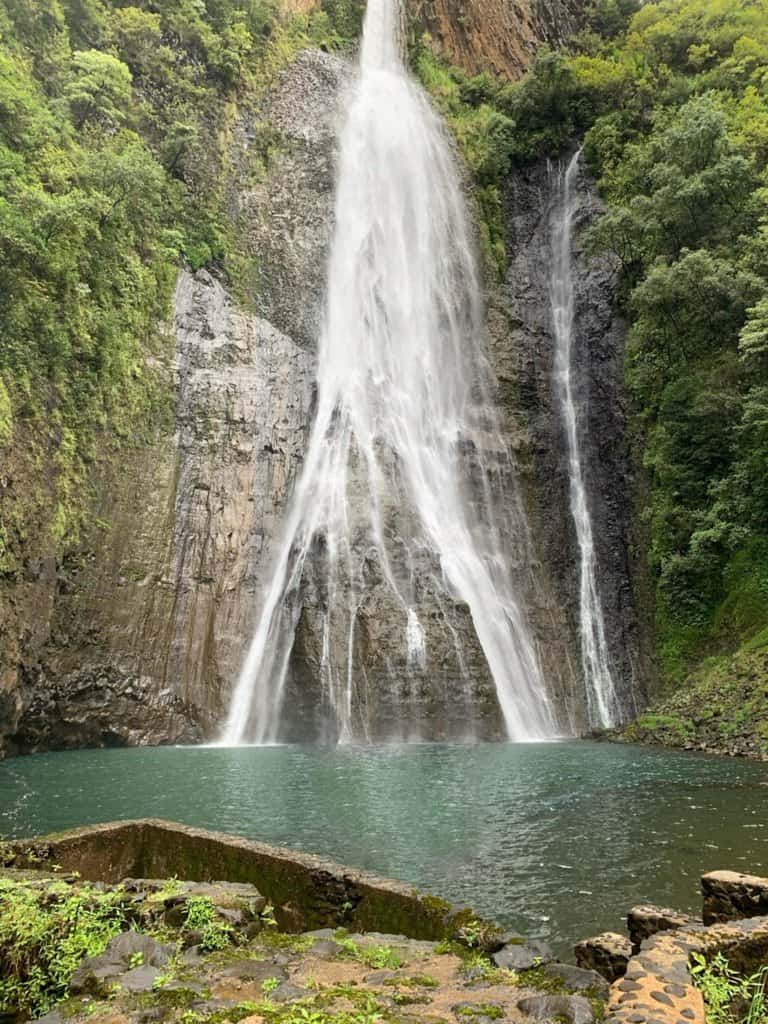 Nestled within the lush landscapes of the Hanapepe Valley, Manawaiopuna Falls, more famously known as Jurassic Falls, stands as a breathtaking testament to Hawaii's natural beauty.
What sets Manawaiopuna Falls apart as one of Kauai's best waterfalls is not just its impressive 400-foot height or the fact that it appeared in the movie "Jurassic Park".
It's the waterfall's seclusion and unspoiled surroundings that truly enchant visitors.
This majestic waterfall sits on private, undeveloped land and is surrounded by the dense tropical rainforest of the Garden Isle.
This makes for a spectacle that captures the very essence of a pristine, untouched paradise.
And the only way to witness its splendor is by embarking on a helicopter tour, echoing the dramatic aerial approach seen in "Jurassic Park."
This exclusivity adds to the falls' allure, as it remains untouched by the hustle and bustle of typical tourist spots.
Only one tour operator, Island Helicopters, has exclusive landing rights at the waterfall, so be sure to book a tour through them.
The experience of soaring through the valley with John Williams' iconic music blaring in your headphones, landing at the site, then walking up to the majestic waterfall is an experience you won't want to leave off your Hawaii bucket list.
Recommended by JJ Haglund from The Mini Van Bucketlist
13. Wailua Falls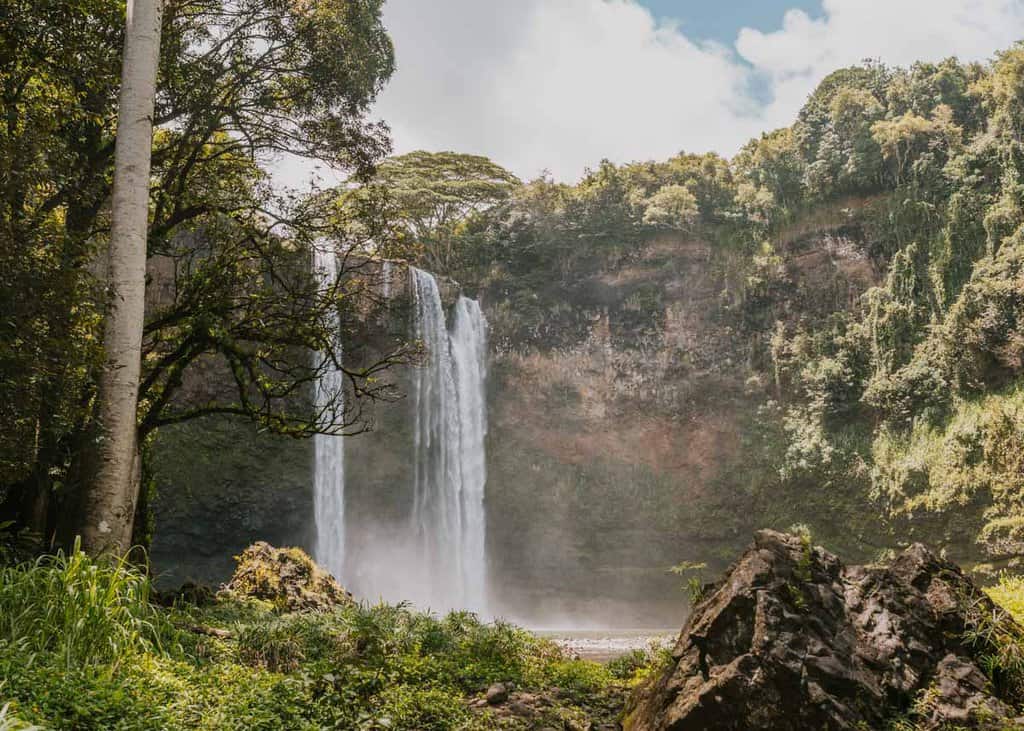 Kauai's 85-foot Wailua Falls is one of the most iconic sites on the Garden Isle.
Misty water cascades down the rugged cliffside into a 30-foot deep pool, a popular spot for swimming, though hiking down to the base of the falls is no longer legal.
Despite the Hawaiian government's attempts to block people from hiking to the base of Wailua Falls, people still do it, just like with many hikes on Oahu.
The 'trail' is more of a scramble than a hike, so expect to slip and slide around.
If you do decide to do this hike, add a good pair of hiking shoes to your Hawaii packing list.
However, since it is now an illegal hike, consider staying up at the top, where you can see the beautiful waterfall from the parking lot.
Thankfully, the view from the parking lot is stunning and very easy to access, as it is right off the road and only 12 minutes from Lihue.
Given how breathtaking Wailua Falls is and how easy it is to visit, it should be on everyone's Kauai itinerary.
Wailua Falls is free to visit and open throughout daylight hours every day.
To avoid the crowds and easily find a parking spot, get to Wailua Falls early in the morning.
Also, consider visiting Kauai during or after Kauai's rainy season, when the waterfall will be flowing most heavily with water.
Recommended by Annie Blay from Your Friend The Nomad.
14. Secret Falls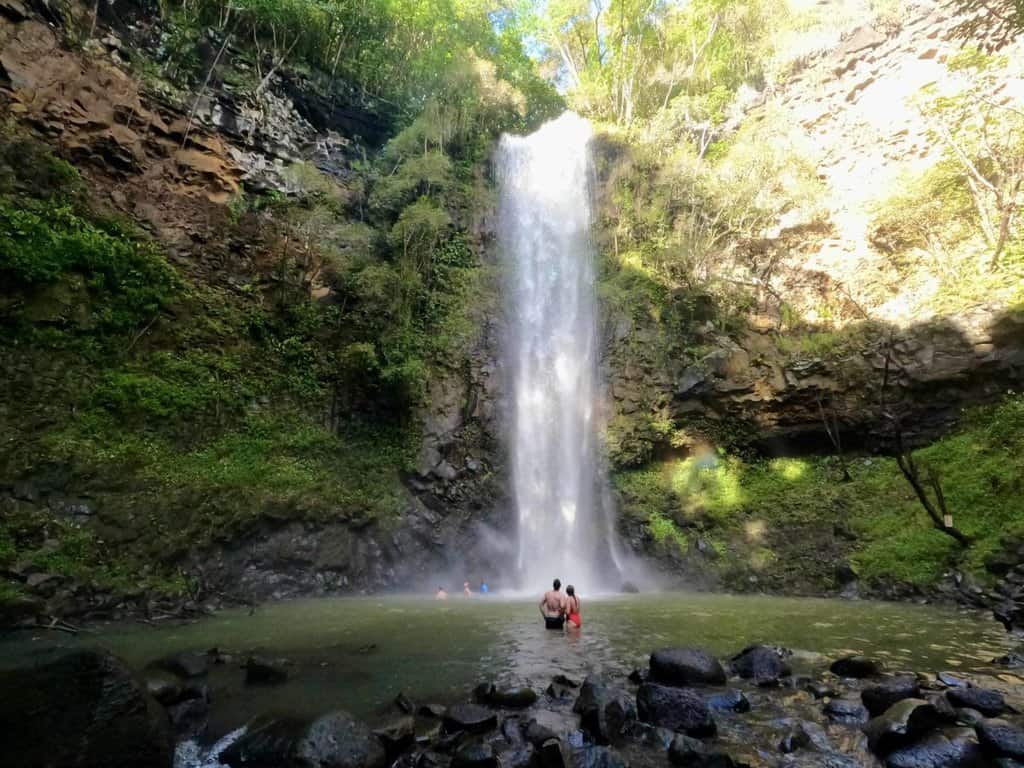 Secret Falls, also known as Uluwehi Falls, is a must-visit waterfall in Hawaii because it is a breathtaking 100 ft falls.
What makes it so special is that it requires some effort to find it.
Unlike many other waterfalls in Hawaii, you must paddle along a river and then hike to reach it.
It is possible to reach Secret Falls by booking a tour or renting a kayak, canoe, or paddle board and working your way along the Wailua River for around 45 minutes one-way.
When you reach the landing beach, you will leave your equipment and continue the journey on land, including a few river crossings.
The hike will take around 25 – 30 minutes each way.
The approximate cost to rent a double kayak is $125 (for two people), and a guided tour is $115 per person.
However, Secret Falls can only be accessed on a weekday because rental shops and tour guides are not permitted to operate on the weekend to give the Wailua River a rest.
You should be reasonably fit to tackle the journey to Secret Falls because it requires several hours of strenuous activity.
The best time to enjoy the falls is the earliest rental slot at 7:15 AM, so if you are fast, you can arrive at the waterfall before all the other tour groups and self-guided tourists.
There are some great food trucks and restaurants nearby, so if you are booking a guided tour, opt for a morning tour that does not include lunch and treat yourself to a delicious lunch nearby afterwards.
Recommend by Samantha from Continuous Roamer
Book The Best Guided Secret Falls Tour. CLICK HERE!
15. Hanakapai Falls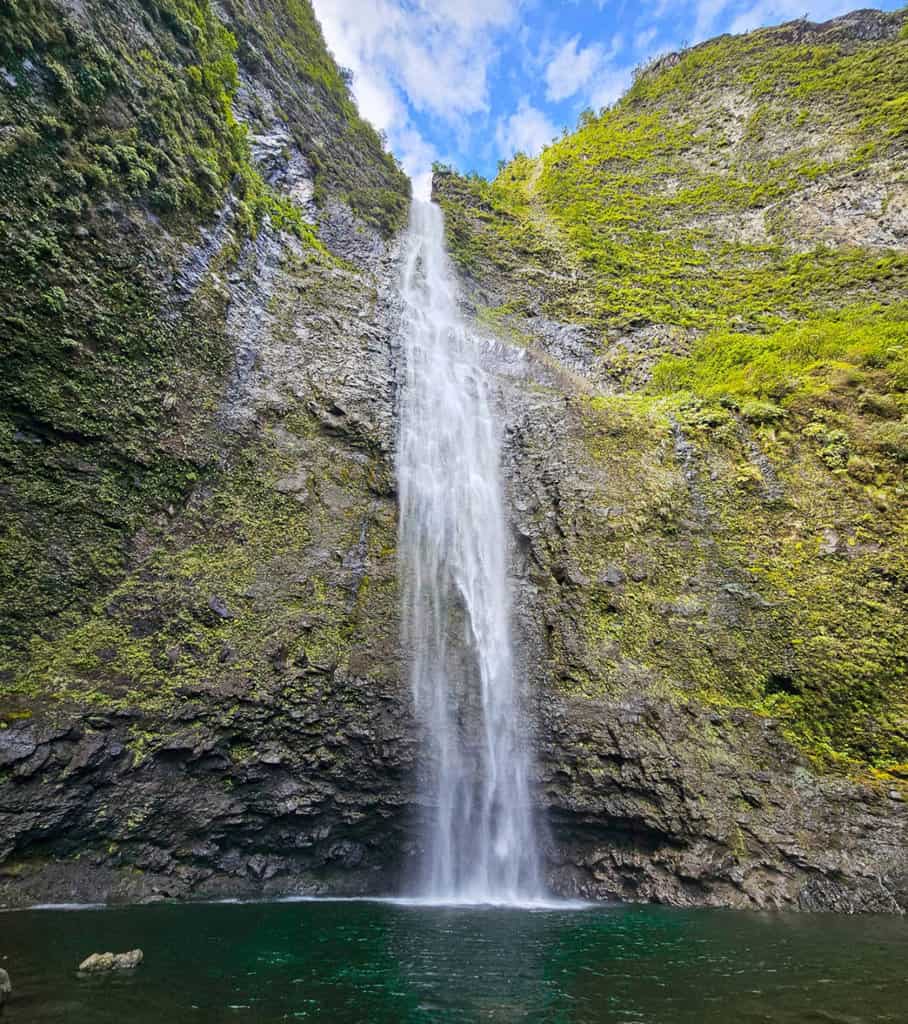 ⏳ HIKE DURATION: 4 hrs
💲ENTRANCE FEE: $ 10-35
🤙🏽 DIFFICULTY: Difficult
Hanakapi'ai Falls are tucked along the iconic Kalalau Trail on the Napali Coast of Kauai.
The impressive waterfall cascades 300 feet down a lush cliffside into a plunge pool below, that's perfect for cooling off on a hot Hawaiian day.
The only way to reach the falls is to hike in along the rugged cliff sides of the Napali Coast.
You can either hike in along the Kalalau Trail, a challenging 22-mile hike that's almost always done as a multi-day backpacking adventure.
Permits to backpack the trail are $35 per person per day and can be pretty difficult to snag.
Alternatively, if you're short on time, consider doing the 7.7 mile Hanakapi'ai Falls Trail, which can easily be done as a day hike.
You do not need a permit to hike on the trail, but you will need either a pass to park in Hāʻena State Park ($10 for each four to five hour parking slot), where the trailhead is located, or book a shuttle ($35 roundtrip) to get to the State Park.
While the hike is challenging and the logistics can be a bit complicated, the hike is absolutely worth it, taking you through lush rainforests, across stunning coastline, and, of course, to the base of the beautiful Hanakapi'ai Falls.
There's nothing quite like celebrating reaching the endpoint of a challenging hike, quite like cooling off under the spray of an epic 300-foot waterfall in a Kauain paradise.
16. Opaekaa Falls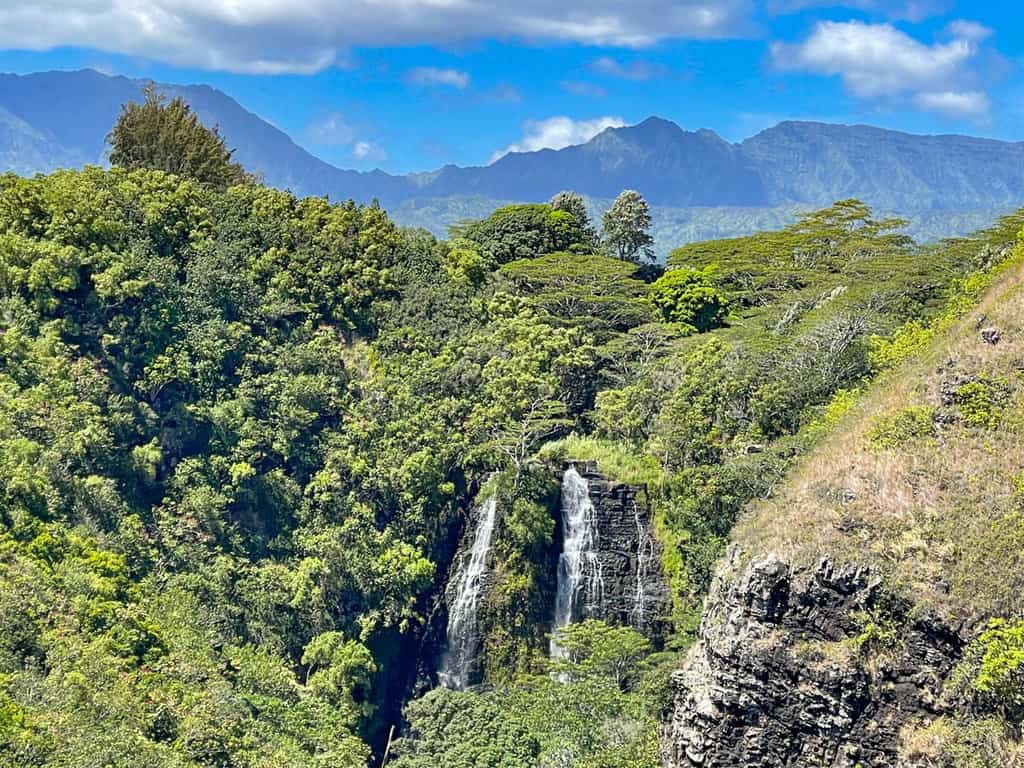 The lush Hawaiian island of Kauai is known for its many waterfalls, and Opaekaa Falls, in Wailua River State Park on the east side of Kauai, is one of the easiest Kauai waterfalls to visit.
Opaekaa Falls is visible from a roadside viewpoint, so no hiking is necessary to get a great view of this waterfall on the Opaekaa Stream. Just park in the large parking area off Kuamoo Road and walk over to the viewpoint!
Opaekaa Falls is about 40 feet wide, and falls about 150 feet into the gorge below. It is most full and powerful after rains.
You can view Opaekaa Falls any time of the day, since the viewpoint is along the road. The viewpoint is free to visit.
Even though you only get a distant view of Opaekaa Falls from the viewpoint, this Kauai waterfall is definitely worth a stop!
Note that there are no safe trails that lead to the bottom of this waterfall: the steep trail that leads to the bottom that you may see referenced online is closed.
Contributed by Dhara of Travel Hawaii with Us
Hawaii Waterfall Map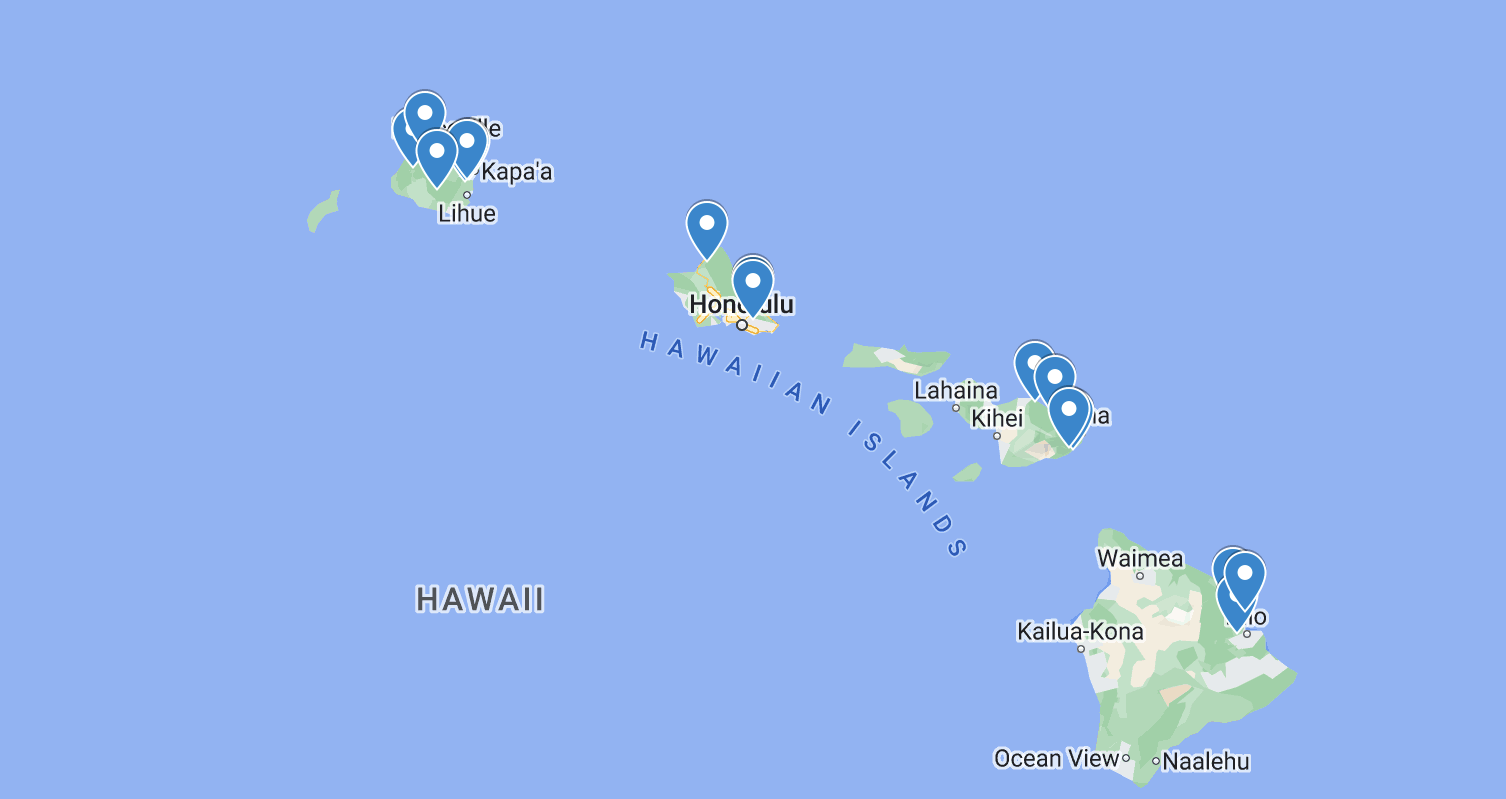 Hawaii Waterfall FAQs
Which Hawaii island has the best waterfalls?
Maui's waterfalls offer a variety of experiences, from easily accessible viewpoints to invigorating hikes through pristine landscapes. The diverse landscapes, abundant rainfall, and picturesque settings make Maui a standout destination for those seeking the best waterfall.
What is the best time of year to see waterfalls in Hawaii?
The best time to see waterfalls in Hawaii is typically during winter, from November to March. This period coincides with the rainy season.
Where can you swim in a waterfall in Hawaii?
While many waterfalls in Hawaii are admired from a distance for safety and conservation reasons, there are a few where swimming is permitted. Check local regulations, weather conditions, and safety guidelines before swimming in or near waterfalls.
Conclusion: 16 Best Waterfalls in Hawaii
From the majestic beauty of Akaka Falls to the hidden gem of Manoa Falls, countless breathtaking waterfalls are waiting to be discovered on the Hawaiian islands.
These natural wonders offer a refreshing escape from the hustle and bustle of everyday life, allowing you to reconnect with nature and experience the awe-inspiring power of cascading water.
Whether you are looking for a leisurely hike or a thrilling adventure, Hawaii's waterfalls will leave you in awe. So, which waterfall will you visit on your next Hawaii trip?
Im visiting Kauai soon and Manawaiopuna Fall really got my attention. I cant wait to visit!

So happy that you found a waterfall to add to your itinerary!